Chengdu 3 Days Itinerary - How to Spend 1 Day in Chengdu
Is 3 Days enough to visit Chengdu?
Yes, 3 days is enough to travel the highlights of Chengdu city at a relaxing pace. You can see the essence of the city first and then pay a visit to the suburb area. It's also possible to extend your tour from Chengdu to some other nearby destinations of Sichuan, like Dujiangyan, Leshan and Emeishan. If your 3 days' travel time includes the arrival and departure day, you have to organize your travel itinerary reasonably.
What you can see and do for 3 days in Chengdu?
Of course, the native-born Giant Panda is a must-see in Chengdu. Chengdu Panda Base (short for the Research Base of Giant Panda Breeding) is the world's only museum focusing entirely on critically endangered giant pandas as well as some other endangered wildlife, like red pandas, swans, peacocks and hundreds of insects. Try to visit it early and you can see pandas at their most active time. After your happy time with these white-and-black animals, visit some local hangouts to feel Chengdu's relaxing laid-back lifestyle, including People's Park where both locals and travelers like to enjoy a cup of tea and doing some daily activities (square dancing, playing cards or mahjong, chatting with friends, etc.). It is also interesting to visit Jinli Old Street to find some local traditional delicate handicrafts and featured Chengdu snacks. These three attractions always make a classic Chengdu day tour. It's also popular to have a short visit to Wenshu Temple to suck the Buddhist fragrance. If you are interested in Buddhist culture, you can also go to Baoguang Temple and Daci Temple.
Besides, visiting various museums is a good way to learn about Chengdu's history and culture, like Chengdu Museum, Sichuan Museum, Jinsha Museum, Sanxingdui Museum, Chengdu Cuisine Museum, etc. If you travel with kids, don't miss a cooking class in Sichuan Cuisine Museum. It is also worthwhile to enjoy a Sichuan Opera Show, including Face-changing performance, shadow puppetry, hand shadows and acrobatic.
You are suggested to spend 1 or 2 day to explore the highlights beyond Chengdu, like Leshan Giant Buddha, Emeishan Mountain, Qingcheng Mountain, Dujiangyan Irrigation System – four UNESCO World Heritage sites within 2~3 hours' driving distance.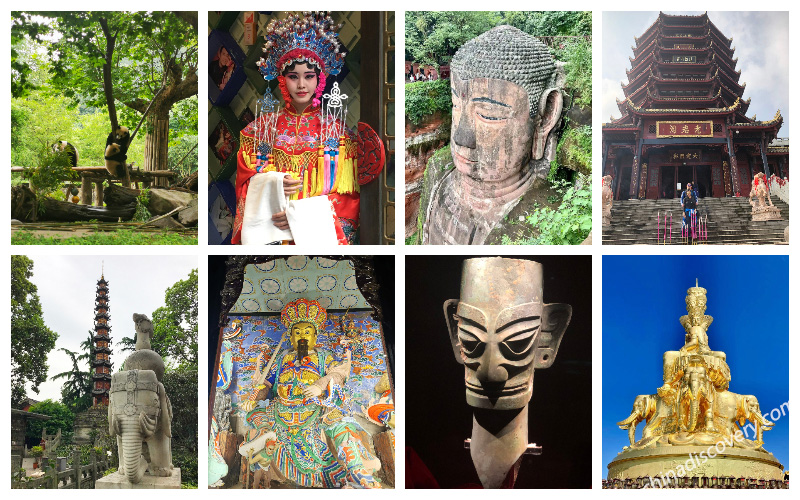 What You Can See in 3 Days
Chengdu applies to the 144-Hour Transit Visa Exemption. Visitor from 53 foreign countries who hold valid travel document & connecting flights to a third country/region can enter Chengdu from Chengdu Shuangliu International Airport, and stay in Chengdu, Leshan (Leshan Giant Buddha & Mount Emei), Ya'an (Bifengxia Panda Base), Yibin (Shunan Bamboo Forest) and some other cities (Jiuzhaigou Valley not covered) up to 144 hours without a Chinese visa. Learn more details here >
How to Organize 3 Days Chengdu Itineraries
If you get to Chengdu in the afternoon or evening on the first day and have two other days for sightseeing, you are suggested to have 3 Days Chengdu highlights tour. Just spend one morning visiting Giant Pandas and then traveling to Leshan Giant Buddha on the second day and then enjoying Chengdu City's other highlights (People's Park, Wenshu Temple and Jinli Old Street) before leaving. If you travel with family, you can add some kids-friendly experience, like Sichuan Opera Show, Panda Volunteer Program, and cooking class and so on. If you are already in Chengdu and have 3 full days to sightsee, don't miss Leshan Giant Buddha and Mount Emei in addition to your Chengdu trip. These two Buddhist sites with cultural significance will give you a visual-feasting as well mind-purifying experience. There are different ways to explore the two holy sites, like hiking, boating, photography, etc. For those interested in Taoism or China's old super engineering, Dujiangyan is a perfect choice to gain a great memory. Below are our two best 3 days (plus one day for pickup) Chengdu tours for your option:
Other Chengdu Tour Packages You May Like
3 Days allows you to see the highlights in and around Chengdu City, but you will get a more pleasant surprise if you have more time. Check our best Sichuan tours:
4 Days Chengdu & Xiling Snow Mountain Winter Tour

Chengdu / Xiling Snow Mountain / Chengdu

Want to spend a joyful winter holiday with snow fun in the warm southern China? Take this winter tour to enjoy Xiling snow fun and its best gateway city - Chengdu in one go in the most classic way! You will spend 2 days at the popular Xiling Snow Mountain covered with very thick shimmering snow to be the large-scaled alpine ski resort in south part of the entire country, and get fully stretched with the cool skiing and diverse entertaining sports on ice and snow with abundant joy and laughter. Besides, you will enjoy 1 full day in Chengdu, the national well-known "Leisure City" to feel its real laidback life style of local citizens with classic appreciation of the top must-sees before your flying home!

Check Details
4 Days Classic Leshan Buddha & Mount Emei Tour from Chengdu

Chengdu / Leshan / Mt. Emei / Chengdu

A great tour of a visual feast to explore two magnificent World Heritage Sites around Chengdu - Leshan Giant Buddha and Mount Emei in a leisure way, also visit the adorable Giant Pandas in Chengdu Research Base of Giant Panda Breeding and get other Chengdu highlights. Airport (train station) pick up and drop off, English-speaking guide, private cars are covered.

Check Details
7 Days Sichuan World Heritage with Dazu Rock Carvings Tour

Chengdu / Leshan / Mount Emei / Zigong / Chongqing

In Sichuan, the Land of Abundance, you will visit the lovely giant pandas, go to see Giant Buddha in Leshan, and climb up the magnificent Emei Mountain, explore different museums in Zigong and head to Dazu Rock Carvings in Chongqing. All are the best!

Check Details
Travel China from Chengdu with China Discovery
After your Chengdu tour, you may want to travel other destinations. Jiuzhaigou Valley is top recommended for savoring the most breathtaking waterscape and get immersed in the multi-colored forest (if you travel in autumn). For more primitive beauty and lifetime adventures, go western Sichuan. Moreover, Chengdu is a great gateway city to Sichuan's popular neighbors, including Chongqing, Shaanxi (Xian), Tibet (Lhasa), Yunnan (Kunming, Dali, Lijaing and Shangri-La)… As a leading travel agency based in Chengdu, China Discovery has helped thousands of people finish their China tour from Chengdu. Our tour package (covering one-to-one consulting service, local professional tour guide, private car with skilled driver, hotels-booking, tickets-booking) aims to deliver you a worry-free travel. See all China Tours from Chengdu>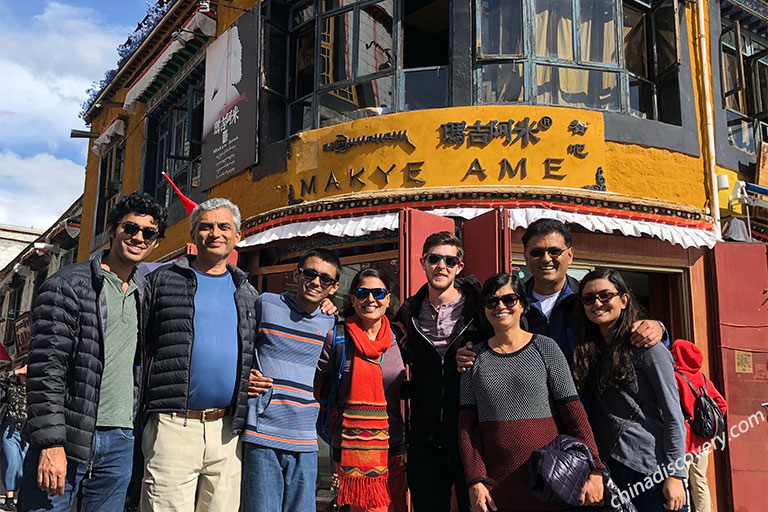 Travel Tibet with China Discovery
Keep Reading about Chengdu Itinerary Planning
Useful Chengdu Travel Guide
Popular Chengdu Tours