Chengdu 2 Days Itinerary - How to Spend 2 Days in Chengdu
Is 2 days long enough to visit Chengdu?
The answer is yes but you cannot go far beyond the city and suburb area. Fortunately, Chengdu is a city of great day trips because most of its popular attractions are located in and near the city area. You can easily visit any one of them in a half-day or a full day. All you need to do is organize your MUST-SEE and MUST-DO into an itinerary reasonably.
What you can see and do for 2 days in Chengdu?
2 days is not long enough to see all attractions of Chengdu, but long enough to get the very essence part of the city. It usually needs a half day to visit the Giant Pandas in Chengdu Research Base of Giant Panda Breeding. If you want to experience the panda keeper program, you need a full day for that. Other must-see downtown highlights include Wenshu Temple, People's Park, Jinli Old Street, and you need at least a half day for them. If you are a history buff, there are several magnificent museums to go, such as Sanxingdui Museum, Jinshan Site Museum and Chengdu Museum. You can choose one of them to visit and spend around 2 hours there. Chengdu is the delicacy hub of Sichuan cuisines. Don't miss the chance to try some authentic Sichuan dishes, especially Hotpot, Mapo Tofu, Kung Pao Chicken, etc. You can even take a cooking class in the city to learn to cook several real Sichuan cuisines if you like.
The suburb area of Chengdu is even more charming. There are many beautiful and interesting places to explore, including Leshan Giant Buddha, Qingcheng Mountain, Mount Emei, Xiling Snow Mountain, etc. Each place needs a full day to visit from downtown area. The most popular trip combinations are 1 days city tour + 1 day Leshan Giant Buddha and 1 days city tour + 1 day Qingcheng Mountain. If your destination is Jiuzhaigou, you need to plan 2 more days because it is nearly 500 km from Chengdu.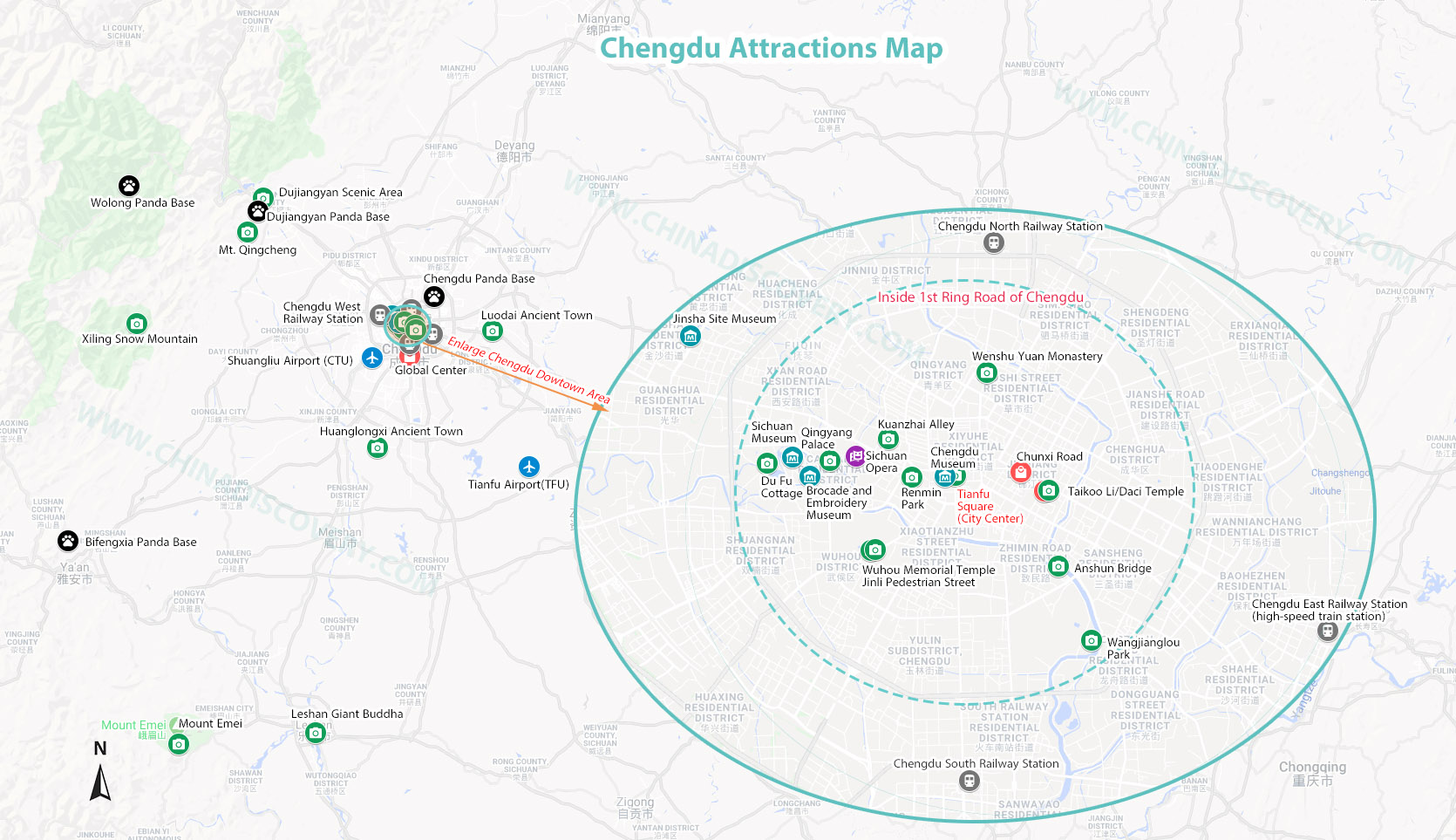 Find a conveniently located hotel to save time
Chengdu provides a variety of hotels for travelers, from the top deluxe international brand hotels, Hilton, Shangri-La, 5 star to 3-star hotels, high-quality boutique hotels to budget hostels. The major downtown Chengdu can be generally divided by 3 ring roads with Tianfu Square marking its center. First-timers are strongly suggested accommodating inside the 1st Ring area where there are 5 popular accommodation areas, including the east area (near Chunxi Road, TaikooLi, IFS, and the Anshun Bridge), the southwest area (near Wuhou Memorial Temple and Jinli Pedestrian Street), the central area (near Tianfu Square, Chengdu Museum, Renmin Park, and Kuanzhai Alley), the west area (near Dufu Cottage, Sichuan Museum, and Qingyang Palace), and the north area (near Wenshu Yuan Monastery). Among the five accommodation areas, the east area is the most recommendable choice for the beautiful cityscape along the river at night, shopping malls, accessible walking distance to the attractions and metro station, as well as the most plentiful choices on nice hotels.
Chengdu is suitable for traveling all year around
Chengdu has a subtropical monsoon climate with distinct four seasons – warm spring, hot summer, cool autumn and cold winter. The annual average temperature is 16°C / 61°F. It is available to visit Chengdu all the year around, but the best periods are from March to June and September to November when the temperature is most moderate. Seasonal wearing ideas: Shirts, long skirts and thin sweaters, windbreakers, casual clothes for springs and autumns; Sun block shirt, sunhat, cotton and linen shirts, thin T-shirts and other breathable clothes for summers; Winter coats, leather jackets, down coats, woolen hats, scarfs, gloves, sweaters and snow boots for winters.
Make fully use of 144-Hour Visa Free Policy
Chengdu applies to the 72-Hour Transit Visa Exemption. Visitor from 53 foreign countries who hold valid travel document & connecting flights to a third country/region can enter Chengdu from Chengdu Shuangliu International Airport, and stay in Chengdu, Leshan (Leshan Giant Buddha & Mount Emei), Ya'an (Bifengxia Panda Base), Yibin (Shunan Bamboo Forest) and some other cities (Jiuzhaigou Valley not covered) up to 144 hours without a Chinese visa. Learn more details here >