Chengdu 1 Day Itinerary - How to Spend 1 Day in Chengdu
Is it possible to visit Chengdu in 1 Day?
Yes, it is possible. You can travel Chengdu in 1 day, but you need to focus on the best essence of Chengdu City and aren't able to go far beyond the city and suburb area. Most of the Chengdu's popular attractions are settled in the city area, and you can appreciate the Essence of the Essence of Chengdu with a reasonable arrangement in a smart travel route.
What you can see and do for 1 day in Chengdu?
Seeing Giant Pandas must be the first thing to do if you are a first-timer to Chengdu. As the dwelling home for mover 100 Giant Pandas, Chengdu Panda Base is the world-class one. Here you can get up close and cuddly with nature's cutest animals as well as take a glimpse of the tiny new-born panda babies if you visit in June ~ September. Remember to visit pandas in the early morning when they are most active. A happy journey with Giant Pandas usually takes half a day, and then you are advised to visit People's Park where local people always hang out there for tea-drinking, playing mahjong, dancing, chatting, etc. Definitely, it's a perfect place to experience Chengdu's laidback life. After that, take a short visit to Wenshu Temple, a peacefully hidden-in-city temple with strong Buddhist atmosphere. Besides, pay a visit in Jinli Old Street or Kuanzhai Alley to see Chinese traditional decorations and enjoy the authentic taste of Chengdu snacks.
If you prefer less time in the city, you can spend the afternoon traveling Leshan Giant Buddha to see the tallest Buddha Statue in the World. You can also see Giant Pandas and enjoy one day Panda Volunteer Program in Dujiangyan Panda Base. It's available to visit Giant Pandas and Mount Qingcheng – a holy Taoist mountain in one day.
Find a Conveniently-located Hotel
In order to take full advantage of your time, it's necessary to find a hotel conveniently located in the downtown area and near the top attractions. There is a variety of hotels ranging from top luxurious 5-star ones and high-quality boutique hotels to budget hostels. Chengdu can be divided by 3 ring roads (Tianfu Square as center) and we suggest you accommodate inside 1st Ring Road. Generally, there are 5 popular accommodation areas and all of them are conveniently equipped with accessible metro stations, various restaurants and shopping malls. The central area (near Tianfu Square, Chengdu Museum, Renmin Park, and Kuanzhai Alley) is the most recommendable accommodating area if you take a trip in Chengdu City because of its walking distance to most attractions. Read more about Where to Stay in Chengdu>
Make fully use of 144-Hour Visa Free Policy
Chengdu applies to the 72-Hour Transit Visa Exemption. Visitor from 53 foreign countries who hold valid travel document & connecting flights to a third country/region can enter Chengdu from Chengdu Shuangliu International Airport, and stay in Chengdu, Leshan (Leshan Giant Buddha & Mount Emei), Ya'an (Bifengxia Panda Base), Yibin (Shunan Bamboo Forest) and some other cities (Jiuzhaigou Valley not covered) up to 144 hours without a Chinese visa. Learn more details here >
Travel with China Discovery
In order to have an efficient Chengdu tour in a single day, you are strongly suggested to travel with a travel agency, like China Discovery. Booking a tour package covering sightseeing, dining and private transfer, you are able to get rid of hustle of public transportation and troublesome navigation. As a Chengdu-based travel operator, we also master the most up-dated travel information and specialized in offering travelers incredible Chengdu experience. Our travel consultants will organize your tour according to your own travel length, interest and budget. Upon your arrival on the airport of railway station, our guide will pick you up and accompany you to every attraction and give you detailed explanations of Chengdu's history and culture.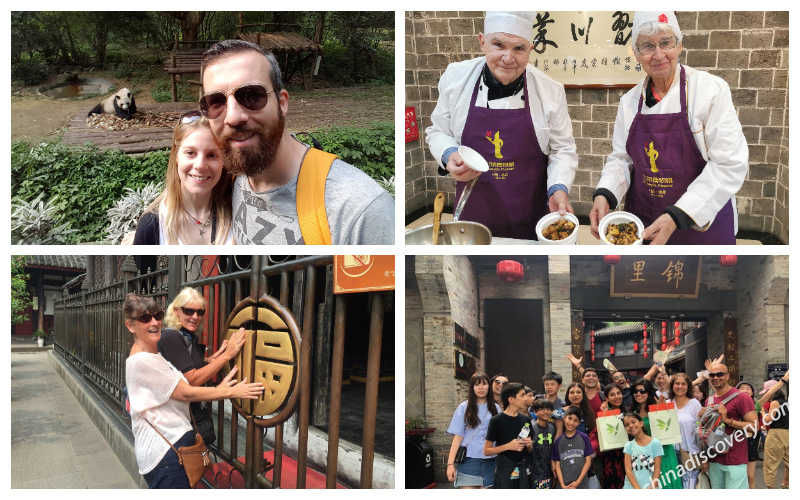 Our Clients' Happy Moments in Chengdu