Why is it Called Yandaixie Street / Yandaixiejie / Yandai Byway
"Yandai" in Chinese means small-bowled long-stemmed tobacco pipe, "Xie" means slanting, and "Jie" means street. Yandaixie Street is a 232m northeast-southwest Hutong. This distinguishes it from other east-west or north-south Hutongs, so it is called Xiejie. Then what's the connection between the street and pipe? In the Qing Dynasty (A.D. 1644 - 1911), many residents near this area grew a preference on tobacco. So many tobacco shops opened on the street. In addition, the street itself looks like a tobacco pipe. The eastern end resembles a pipe mouth, the western end which turns to the south is like the small tobacco bowl, and the narrow main street is similar to the long pipe stem. The name Yandaixie Street really matches the reality.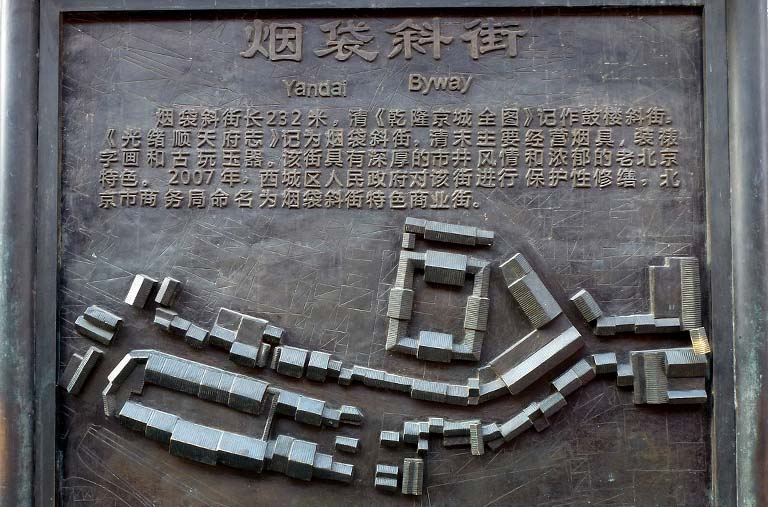 Pipe-shaped Yandaixie Street
Highlights of Yandaixie Street
Yandaixie Street is the oldest business street in Beijing and it has long been lined with various stores. In the past, there were mainly stores selling tobacco pipes, antiques, jades, and Chinese paintings. But now, here is teemed with boutiques, souvenir shops, snack houses, restaurants, cafes, and bars. The quint trinkets and all kinds of food always make people linger.
Souvenir Shops, Boutiques, and Street Food at Yandaixie Street
There is a wide range of products and snacks at Yandaixie Street. You can buy many gadgets and souvenirs such as tobacco pipe, rattle-drum, Chinese folding fan, silk scarf, Beijing Opera facial masks, clay figure Tu'er Ye (also called the Rabbit God, a deity unique in Beijing especially popular with the kids), etc. While you are walking along, there are craftsmen doing the handcraft just in front of you such as paper-cutting, sugar-figure blowing, and silver jewelry making. You can even try blowing a sugar figure by yourself. There are also watches shops not only selling but also fixing watches, and shops to buy chi-pao (a close-fitting woman's dress with high neck and slit skirt) and cosmetics. If you want to buy some Beijing specialties to bring home, there are Daoxiangcun (稻香村) and Yushiyuan (御食园) for your choice. Want to share your tour with your families and friends in a more memorable way? Why not send them a postcard at the Chinese Imperial Post Since 1896 (大清郵政信櫃)? Just stroll around while treating yourself with sugarcoated haws on a stick, old Beijing yogurt (choose the ones contained in a glass bottle), kebab, hot dog… and see what surprises you may encounter in this ancient street.
Houhai (Back Lakes) Bar Street (后海酒吧街)
Houhai Bar Street sits along Houhai, only about 100m away from the western end of Yandaixie Street. Since the first bar opened in 2000, Houhai Bar Street has become one of the most popular places for tourists and Beijing locals to spend their leisure time at night. Unlike the western bars in Sanlitun, here is the place where western and eastern cultures meet. Bars, cafes, traditional Chinese restaurants and teahouses all coexist in harmony. You can choose to sit quietly, grab a cup of drink, and chat with your friends, or step in a bar with singers or jazz on and enjoy the music. Bars like East Shore Live Jazz Café (东岸咖啡), Houhai #5 Bar Club (后海5号), and Jia Ding Fang (甲丁坊) are all popular ones.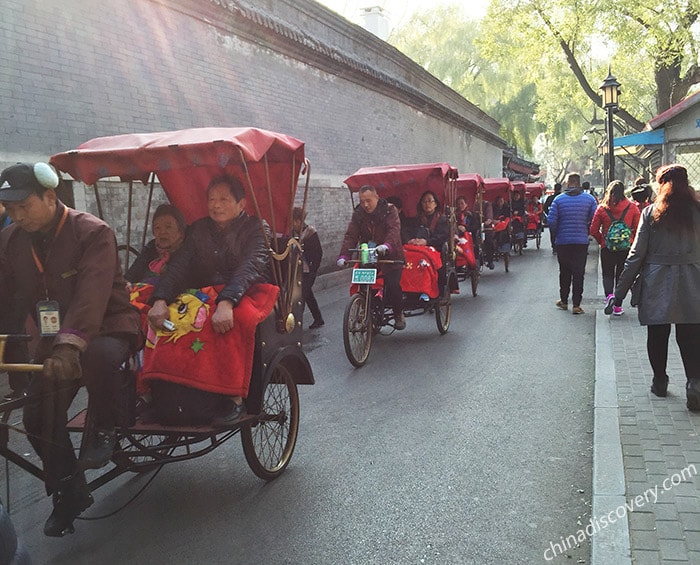 Beijing Hutong Rickshaw
Where is Yandaixie Street (烟袋斜街)
Yandaixie Street is located at Di'anmenwai Main Street, Xicheng District, Beijing (北京市西城区地安门外大街), near Houhai of the Shichahai area. Though only about 5km to Beijing center (Tian'anmen Square), the downtown traffic may hold you at least half an hour to transfer between these two places.
From Tian'anmen Square (Beijing Center): about 5km, 30 minutes' drive
From the Forbidden City: about 4km, 25 minutes' drive
From the Summer Palace: about 18km, 45 minutes' drive
From the Temple of Heaven: about 8km, 40 minutes' drive
From Beijing South Railway Station: about 12km, 50 minutes' drive
From Beijing Capital International Airport: about 30km, 1 hour's drive
How to Get to Yandaixie Street
As a busy street located in downtown area, Yandaixie Street is easy to reach by subway or by bus. Supposing you start from Tian'anmen Square, the transfer will need 45 - 60 minutes.
Subway: Take subway Line 2 to Guloudajie Station (鼓楼大街站) or Line 6 to Nanluoguxiang Station (南锣鼓巷站)
Bus: Take Bus 5, 60, 107, 124, 635 and get off at Gulou Station (鼓楼站)
Travel with China Discovery
As the route for public transportation is not fixed, please remember to double check before going there. If you want to save some time and avoid the transfer troubles, you can consider the tour packages provided by China Discovery. They will cover all the tickets, meals, accommodation, and transportation in your tour so that you can have a worry-free trip with a comfortable vehicle, skilled driver, and professional guide.>>Contact us now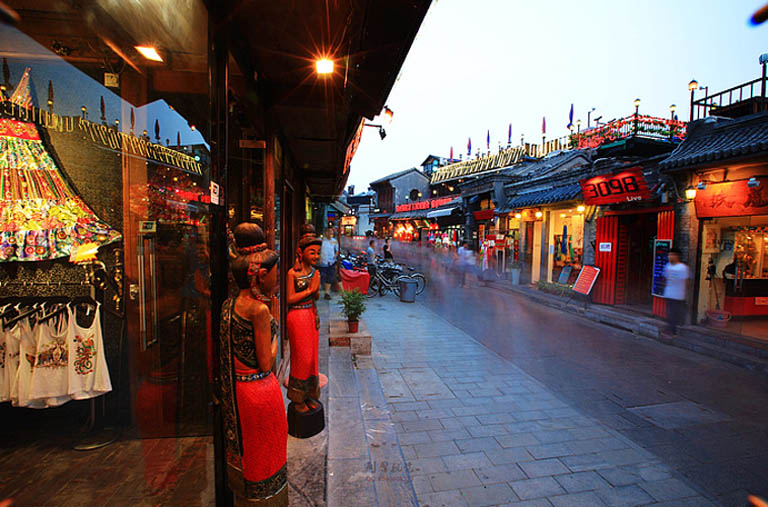 Yandaixie Street
Attractions around Yandaixie Street
Hutongs in Beijing are interlaced. Just 800m away from the eastern end of Yandaixie Street, there lies another time-honored popular Hutong, Nanluoguxiang. On your way there, you will pass by a landmark of the ancient Beijing City, the Drum Tower.
Nanluoguxiang (南锣鼓巷)
Nanluoguxiang is to the east of Yandaixie Street, about 15 minutes' walk away. It is 787m long, 8m wide, and is one of the oldest streets in Beijing with a history of over 740 years. Here is the perfect place to find out what Yuan Dynasty (A.D. 1271 - 1368) Hutongs look like. As the former center of the capital of the Yuan Dynasty, many prominent officials and eminent personages have lived here. With time passing by, the residences remain though their owners are gone. So here is also a good place to appreciate ancient architectures. Now it has been transformed into a pedestrian street full of restaurants, snack stands, and souvenir shops which is very popular with tourists.
Beijing Bell and Drum Towers (北京钟鼓楼)
Bell and Drum Towers, a national key cultural relic protection unit, is a group of ancient buildings located at the north of Beijing's north-south central axis. They are just 300m away from Yandaixie Street. The two magnificent towers are the crystallization of the wisdom and strength of the ancient Chinese working people. They were used to give the correct time in the Yuan (A.D. 1271 - 1368), Ming (A.D. 1368 - 1644) and Qing (A.D. 1644 - 1911) dynasties. In the history of the construction of the city bell and drum towers, the ones in Beijing are the largest in scale. They are one of the landmark buildings in the ancient capital Beijing, and also an important witness of the history of China in the past hundred years.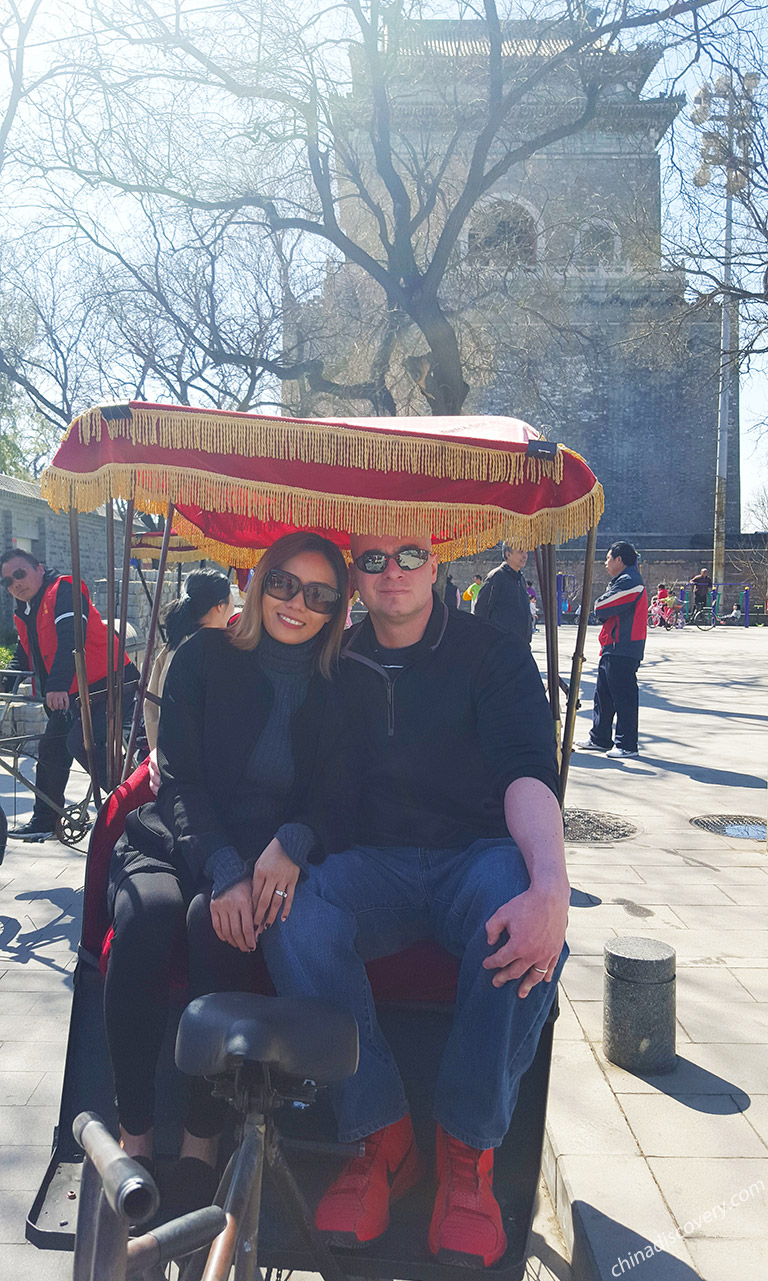 Our Customers Taking the Rickshaw at Bell Tower in Beijing
How to Plan a Beijing Yandaixie Street Tour
It only needs about 2 hours or less to look around Yandaixie Street. As there are many attractions nearby, you can take a walk along the Houhai and continue your trip to Nanluoguxiang. In the afternoon, travel northeastwards for about 2km, you will reach the Confucius Temple and go 200m further, you will get to Lama Temple. To enrich your Beijing tour, you can add another 2 days to the Tian'anmen Square, Forbidden City, Summer Palace, Jingshan Park, the Temple of Heaven, and the Olympic Park. If you have more days, you can go for an in-depth Great Wall hiking or photography tour, and explore more hidden attractions in Beijing city.
If you have any other questions or ideas, please feel free to contact us. We are specialized in customized tours according to your own interests, budgets, and traveling time. Our professional travel consultants are always ready to help!
>>5 Days Experience the Real Hutong Life of Beijing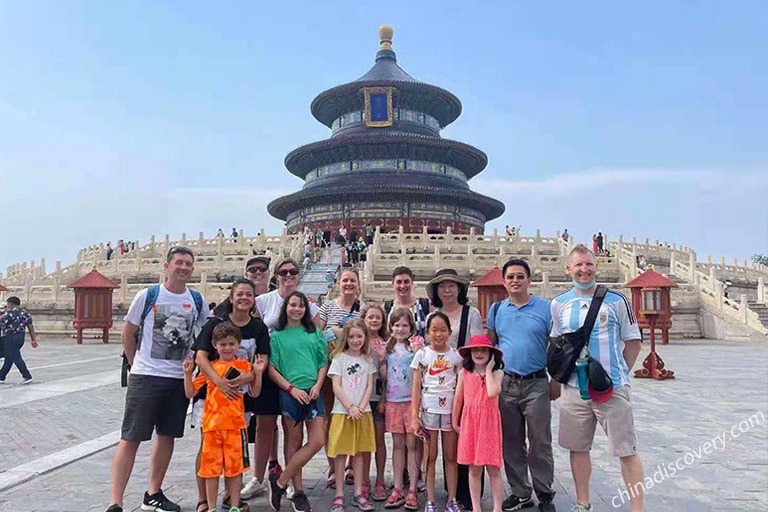 Our Customers Visiting Temple of Heaven
Keep Reading About Beijing Attractions
Top Beijing Tours & Travel Guide
Recommended Beijing Tours
Top 3 Beijing tours chosen by most customers to explore Beijing in the best way. Check the detailed itinerary, or tailor your own trip now with us.
Beijing
Start planning your tailor-made holiday to China by contacting one of our specialists. Once inquired, you'll get a response within 0.5~23.5 hours.
Customize a Trip
Have a question? Get answers from our travel experts or guests
Your Question:

Your Name:

Your Email: