Top 10 Best Beijing Restaurants | Where to Eat during Beijing Tour 2023/2024
There are countless restaurants in Beijing serving the local Beijingers and millions of visitors. It is hard to say which restaurant is the best among them, and some people would like to try the authentic Beijing cuisines while others may be fond of the international cuisines. From Peking street food to the Michelin-starred, there is one thing you should not miss, namely, Peking Duck!
Peking duck is the most representative cuisine in Beijing. Here we carefully selected several recommended duck restaurants: the most popular Dadong Restaurant, the most famous Quanjude Restaurant, the oldest Bianyifan Restaurant, and Sijiminfu Restaurant most praised by the local Beijingers. >> Learn more about top Peking Duck Restaurant
However, if you are not a Peking duck fan or you have already tried it, there are also various options for you, including the other local Beijing food restaurants, Featured Vegetarian Restaurant, the first robot restaurant, Cantonese food buffet restaurant, and the fancy European Restaurants, etc. The followings are top ten recommended Beijing restaurants, from mid-ranged ones to the fine dinings.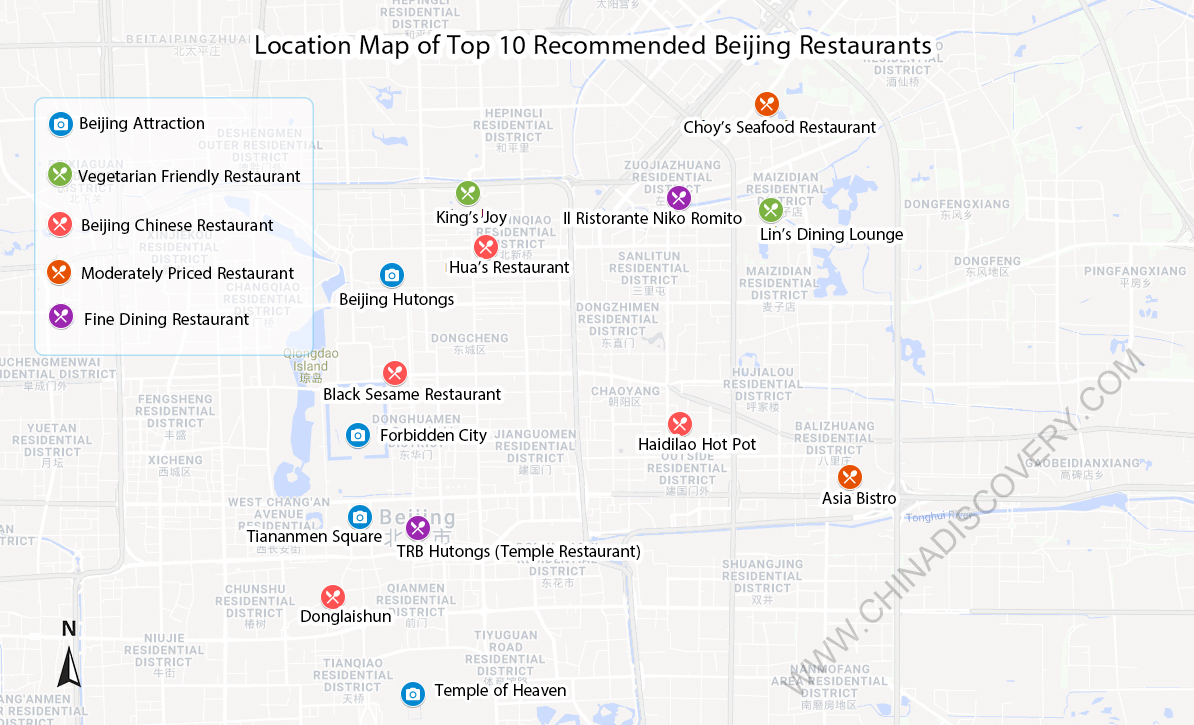 Location Map of Top 10 Recommended Beijing Restaurants
Huajiayiyuan (Hua's Restaurant) is a famous courtyard restaurant, which serves mainly Beijing food. It not only meets the appetite of local Beijingers, but also the different tastes of people from other regions. By the end of 2018, Hua's Restaurant has more than 6 branches, and there will be a performance from 19:00 to 21:00 pm every night at the main Restaurant, including the folk music performance, the stunning acrobatics performance, the tea art performance, and the Sichuan Opera performance... All the performances, traditional Beijing cuisines and the quaint courtyard , make your dining process a wonderful enjoyment.
★ Specialties: Pan-fried duck rolls, Yiyuan famous chicken, ribs with plum, braised sea cucumber with venison tendon, Buddha jumps over the wall (soup with seafood), signature lamb chop
• Chinese: 花家怡园
• Average Cost: CNY 200 per person (the price is subject to change)
• Opening Hours: 11:00am -14:30pm; 17:00am - 22:00pm
• Address: 235 Dongzhimen Inner Street, Dongcheng District, Beijing 北京市东城区东直门内大街235号(胡大饭馆旁边)
Hua's Restaurant
Donglaishun Restaurant
Donglaishun, founded in 1903, is a Beijing Muslim restaurant with a long history. The restaurant mainly serves the Beijing Halal food and the special copper stove Beijing hot pot is what made its fame. For many years, it has maintained the high standard of mutton selection. After decades of development, the instant-boiled mutton has become the second most representative food in Beijing after peking duck. Especially in winter, a boiled mutton is very satisfying. Besides the Beijing mutton hot pot, the restaurant also serves a variety of Muslim stir-fried dishes. Its representative dishes are dry-fried mutton, fried tenderloin, roast lamb kebab, chicken and tremella, roast lamb legs, white soup crumbs, hand-grabbed mutton, fried lamb tail, etc, and more than 200 kinds of dishes with some traditional snacks are also quite distinctive. At present, there are many branches in Donglaishun in Beijing. The most recommended one is to go to the branch near the temple of heaven, which is not as crowded as Qianmen store, and you can try the very authentic Beijing instant mutton as most of Beijingers would like to go.
★ Specialties: Mutton Hot Pot
• Chinese: 东来顺
• Average Cost: CNY 150 per person (the price is subject to change)
• Opening Hours: 11:00am -14:30pm; 17:00pm - 22:00pm
• Address: First Floor of Qinian Hotel, 91 Tiantan Road, Dongcheng District, Beijing 北京市东城区天坛路91号祈年饭店一层
Haidilao is a hot pot restaurant with numerous branches in Beijing and other major cities in China, while Haidilao Branch in Zhongjun World City is the first unmanned hot pot restaurant in the world that managed by different robots. The waiting area of the restaurant is like a theatre, while when you move from here to the dining area, the first thing you will notice is the surround projection background around the restaurant. The theme of surround projection will constantly change, such as the starry sky, peach garden, snowy mountain, oil painting and so on. The restaurant has no waiter and is served by only several staff who manage different kinds of robots. Among them, there are small robots delivering the food, robots in the kitchen intelligently setting the food, and robots washing the dishes. If you want to experience such a technological restaurant, feel the future restaurant dining environment, you can reserve a table in advance and then come to feel it.
★ Specialties: Hot Pot
• Chinese: 海底捞 (中骏世界城)
• Average Cost: CNY 140 per person (the price is subject to change)
• Opening Hours: 11:00am - 21:00pm
• Address: B1-04, Block E, Zhongjun World City, 9 Jinhui Road, Chaoyang District, Beijing 北京市朝阳区金汇路9号中骏世界城E座B1-04号
Hai Di Lao Hot Pot
Choy's Seafood Restaurant
Choy's seafood restaurant belongs to Beijing Marriott Hotel Northeast, reasonably priced. The seafood restaurant specializes primarily in Cantonese & Sichuan flavors. There are 6 individually designed private dining rooms, serving customers the most authentic Cantonese food buffet. This is a perfect setting for elegant dining. If you like seafood and Cantonese dim-sum, do not miss it!
★ Specialties: Lobster Dumplings, King Prawns with Mushroom, Cantonese BBQ pork, Assorted Dim Sum Combination
• Chinese: 彩海轩中餐厅
• Average Cost: CNY 140 per person (the price is subject to change)
• Opening Hours: 11:00am - 14:30pm; 17:00pm - 22:00pm
• Address: 2/F Marriott Hotel, Haihang Mansion, No.26 Xiaoyun Road A, Chaoyang District, Beijing北京市朝阳区霄云路甲26号海航大厦万豪酒店2楼
Black Sesame Kitchen began in 2008 in two small rooms in an old Beijing courtyard shared by eight families. Nowadays it has known for the personalized cooking classes and the unique Wine n' Dine communal dinners. If you would like to experience the traditional Chinese cooking and meet other expats and Chinese friends, Black sesame may be the best choice for its friendly staff and lively neighborhood atmosphere. The communal dinner is in most evening from 7pm to 10pm and the cooking class is always on Wednesday and Sundays at 11am. If you have plans for private events, it is also available to be reserved. In the quiet back alley of Beijing, you will get to try the most authentic Chinese food that every household would like to make.
★ Specialties: Pan Fried Pumpkin & Pork Dumpling, Cumin Lamb, Fish Fragrant Eggplant, Red Braised Pork, Snow Bean & Chinese Bacon, Candied Bananas & Ice Cream
• Chinese: 黑芝麻餐厅
• Average Cost: CNY 350 per person (the price is subject to change)
• Opening Hours: 11:00am - 14:30pm; 17:00pm - 22:00pm
• Address: 28 Zhong Lao Hutong | The Courtyard Institute, Beijin沙滩北街中老胡同28号
Black Sesame Kitchen
King's Joy
King's Joy is a Vegetarian Friendly restaurant, adjacent to Yonghe Palace. It is next to Confucian Temple and other cultural centers in the old city of Beijing. The restaurant is managed by the international famous culinary master who used to work at a Michelin 3-star grade restaurant. The ingredients are carefully selected, to ensure its freshness. The interior is finely designed, and the environment is comfortable and elegant. The dishes are also carefully presented and it tastes good, too. It is highly recognized by people from all walks of life for its organic and healthy vegetables. It has been awarded one of the best restaurants in the world by LA LISTE of France. Though it is adjacent to Yonghe Palace and surrounded by tourists, the overall design of the restaurant is natural and tranquil, creating a relaxing and peaceful courtyard environment in the bustling downtown area.
★ Specialties: mushroom stewed rice; Diamond tofu; rice fried Asparagus tip; Mung bean cake; Nine-layered eggplant; Shouwu Taoren soup; Matsutake soup
• Chinese: 京兆尹
• Average Cost: CNY 560 per person (the price is subject to change)
• Opening Hours: 11:00am - 14:00pm; 14:00pm - 17:00pm; 17:30pm - 22:00pm
• Address: No. 2 Wudaoying Hutong 五道营胡同2号(雍和宫5号线G口出)
As one of the leading vegetarian restaurant in Beijing, the restaurant advocates the concept of non-killing, good treatment of body and mind, provides vegetarian meals, rich kinds of drinks and snacks, and has won a wide range of praise among different walks of life. Some Fresh seasonal vegetables are picked from farms in Japan. Even rare food used in some top restaurants can be tasted at Lin's. It's recommended to try its spicy vegetarian dishes.
★ Specialties: Spicy Fish-Flavored Mushrooms
• Chinese: 霖舍
• Average Cost: CNY 200 per person (the price is subject to change)
• Opening Hours: 10:00am - 22:00pm
• Address: 58 Maizidian Street, Chaoyang District, Beijing北京市朝阳区麦子店街58号新大宗饭店二层霖舍餐厅
Lin's Dining Lounge
Asia Bistro
It's located in the east of Beijing downtown. Asia Bistro belongs to JW Marriott Hotel Beijing. It serves Breakfast, brunch, lunch, and dinner for the customers, mainly Asian Food, including Chinese Food, Japanese food, Turkey food, Indian food, etc. The most recommended part is its Japanese food there. The desserts are finely placed and the service is impeccable. If you are interested to explore the Asian food in Beijing, the buffet of Asia Bistro should not be missed!
★ Specialties: Japanese food, Indian Food
• Chinese: 亚洲新风尚餐厅
• Average Cost: CNY 300 per person (the price is subject to change)
• Opening Hours: 6:00 AM - 12:00 AM
• Address: 1F JW Marriott Hotel Beijing, No.83 Jianguo Road, Chaoyang District, Beijing, China 北京朝阳区华贸中心建国路83号北京JW万豪酒店
TRB serves contemporary European cuisine and is committed to providing the highest levels of hospitality for the guests in a lovingly restored 600-year-old temple. Therefore, it is also called temple restaurant. The Australian architectural and design firm Hassell emphasized the clean, light filled and thoroughly modern lines of what was once a television factory producing the capital's first black and white TVs. It is one of the best fine dining choices in Beijing, serving the contemporary, European food. Besides TRB Hutong located in a beijing hutong, you can also try the TRB Forbidden City which is steps away from the Forbidden City, and TRB Hulu in Taikooli area of Chaoyang District.
★ Specialties: Suckling pig, Roast duck
• Chinese: TRB 胡同
• Average Cost: CNY 800 per person (the price is subject to change)
• Opening Hours: Sun - Sat 5:30 PM - 10:00 PM; Mon - Fri 11:30 AM - 2:30 PM; Sat - Sun 11:30 AM - 3:00 PM
• Address: #23, Shatan Beijie, Dongcheng District. Beijing  北京东城区沙滩北街嵩祝寺23号
TRB Hutong
Il Ristorante Niko Romito
Open for lunch and dinner, the 70-seats restaurant offers spectacular views over a park. As one of top Italian restaurants in Beijing, Il Ristorante Niko Romito features exquisite furniture to ensure a seamless dining experience, including custom-designed Murano glass chandeliers and chairs and columns wrapped in dark-brown leather to contrast the lighter tones of the walls and floor. Hailing from the Italian region of Abruzzo, Michelin-starred chef Niko Romito is the genius behind the gourmet delicacies at Il Ristorante. For the Bvlgari Hotel Beijing, Romito established a true "canon" of contemporary Italian cooking by especially designing a new concept which preserves his fundamental philosophy of simplicity, synthesis and a quest for the quintessence of flavor. Working from his headquarter in Italy, Romito brings to the dining rooms of the Bvlgari Hotel Beijing a menu that optimally expresses the culture, elegance and vitality of "Made in Italy".
★ Specialties: Traditional veal and tomato lasagna, Crispy suckling pig with orange caramel sauce, Fine de Claire oysters and bottarga risotto
• Chinese: 宝格丽
• Average Cost: CNY 500 per person (the price is subject to change)
• Opening Hours: 06:30-10:30pm, 11:30am - 2:30pm, 6:00pm - 10:30pm
• Address: Building 2 Courtyard No. 8 Xinyuan South Road, Chaoyang District | The Bulgari Hotel Beijing, Beijing  新源南路8号院2号楼北京宝格丽酒店