Top 6 Popular Beijing Night Markets & Food Streets 2023/2024
Beyond fine dinings and restaurants in Beijing, Beijing cuisines can not be completed without the street food. Therefore, the night markets and food streets become the best places to explore Beijing street food! Among all the food streets and night markets, Wangfujing Food Street has become the most popular one for its convenient location and a great variety of snacks, especially after Donghuamen night market was closed. Besides Wangfujing Night Market, there are multiple other food streets and featured night markets, such as Qianmen food street, Guijie night market, Niujie Muslim food street, Shichahai food street zone, and Longfusi food market,etc. The following are the 6 best recommended food streets and night markets for your food hunting in Beijing!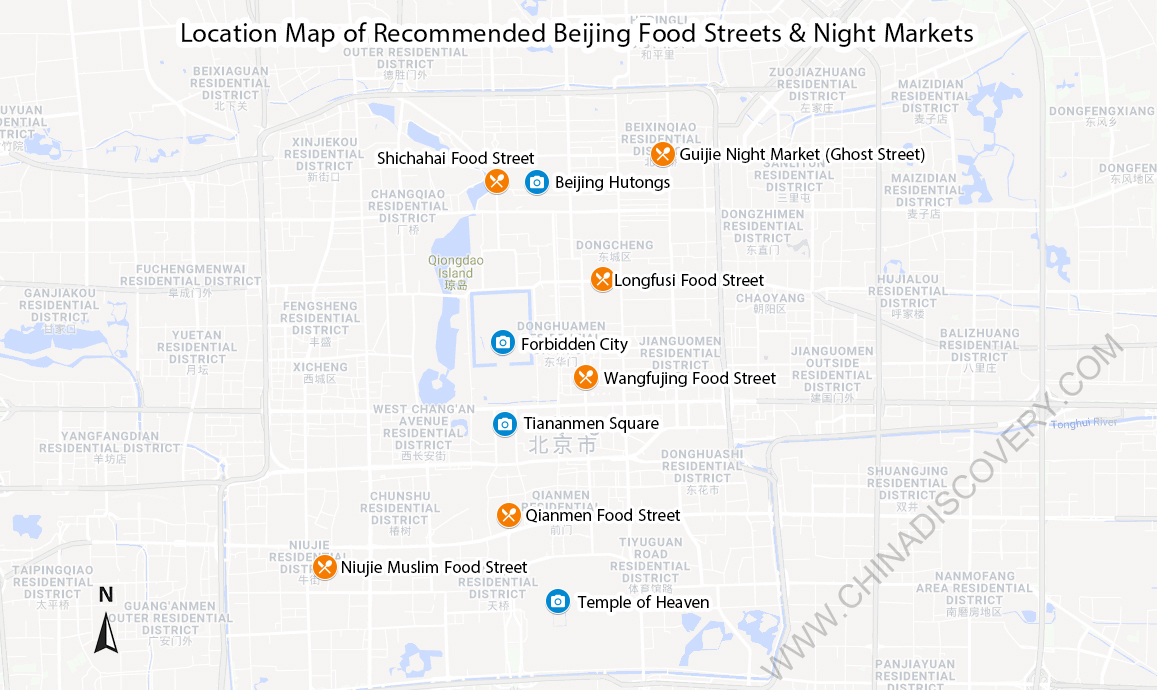 Location Map of Recommended Beijing Food Streets & Night Markets
As the most popular food street in Beijing, Wangfujing Food Street gathers almost all the famous and delicious snacks in Beijing. It covers an area of more than 2,000 square meters with complete facilities and opens 24 hours. Besides the various snacks, there are also old-styled stalls selling and making folk handcrafts. Some skilled craftsmen will show their unique skills here.
There are also stages, sometimes performing the acrobatics show, and Beijing opera, which highlight the traditional Chinese culture.
From the entrance of Wangfujing food street, that can be quickly order various takeouts and eat along the street, such as barbecue kebabs, sugar coated gourds, tea soup, pancakes and fruits, etc. Sometimes, you can even find some scary-looking insects kebabs, and deep fried scorpions here. The decoration style are unified and quite traditional , but with regional differences for each individual. You can buy snacks not only from Beijing, but also from other parts of China and snacks from other countries, like an Islamic styled Turkish barbecue stand.
• Chinese: 王府井小吃街 • Pinyin: wáng fǔ jǐng xiǎo chī jiē
• Location: Wangfujing Food Street, Dongcheng District, Beijing 北京东城区王府井小吃街
Wangfujing Food Market
Qianmen Food Street
Qianmen Snack Street, namely, Qianmen Street, is located in the south of Tiananmen Square, between Zhengyang Arrow Tower to the flyover area. This is one of the most famous pedestrian streets in Beijing. There are many time-honored restaurants in Qianmen Pedestrian Street and the surrounding hutongs, such as Quanjude (全聚德), BianyiFang (便宜坊), Donglaishun (东来顺), Liubiju(六必居), etc. You can eat the traditional delicacies of Beijing. There are also many snacks and pastry shops in the street, such as Wu Yutai ice cream(吴裕泰冰淇淋), Beijing yogurt (北京老酸奶), Daoxiangchun (稻香村), etc. and foreign cafes and fast food brands such as Haagen Dazs, Starbucks and KFC can also be seen here. On Qianmen Street, there are Beijing Camera Factory, China Crown Hat Culture Museum and other old shops and buildings. Traditional art performances such as Chinese cross-talk and storytelling shows in various kinds of tea houses are interesting to see, though they may be hard to understand. After trying the delicious food, you might as well go shopping to experience the traditional life in the ancient capital.
• Chinese: 前门小吃街 • Pinyin: qián mén xiǎo chī jiē
• Location: Qianmen Street, Dongcheng District, Beijing 北京东城区前门大街