Discover 798 Art District / 798 Art Zone
798 Art District is a new landmark and a gathering place in Beijing for young people who love art and culture. This area is known as 798 but actually it is an innovative park renovated from the old state-owned electronics industry factories called 718 Joint Factory and Factory 798 is one of them.
Since 2001, artists from around and outside Beijing have been gathering in Factory 798. Their unique artistic vision has found the advantages of this place for artistic work. They rent and make full use of the German Bauhaus-style original factory buildings. With a little furnishing and decoration, they successfully turn these decommissioned factories into a special space for art exhibition and creation. 798 Art District is now home to nearly 200 galleries, exhibitions, art centers, and independent artists. You can find many creatively designed architectures, stylish boutiques, cafes and restaurants here.
798 Art District Tourist Map (Click to Enlarge)
Where is 798 Art District
798 Art District, covering an area of over 600,000㎡, is located in #2 Jiuxianqiao Road, Chaoyang District, Beijing (北京市朝阳区酒仙桥路2号), around Dashanzi area. So it is also called Dashanzi Art District (DAD). Transformed from old factories, 798 Art District is a little far from downtown Beijing. But the relatively remote location provides a quiet environment and enough space for the artists.
From Tian'anmen Square (Beijing Center): about 20km, 1 hour's drive
From the Forbidden City: about 16km, 50 minutes' drive
From the Temple of Heaven: about 20km, 1 hour's drive
From the Summer Palace: about 25km, 1 hour's drive
From Lama Temple: about 10km, 35 minutes' drive
From Beijing South Railway Station: about 25km, 1 hour's drive
From Beijing Capital International Airport: about 18km, 40 minutes' drive
798 Art District Location Map (Click to Enlarge)
Experience Trendy Art at 798 Art District
798 Art District is a place full of art renovations, graffiti walls, exhibitions and galleries. You can feel the artistic aura all over the zone. The places listed below are just some typical ones of them. A more attractive and artistic 798 is waiting for you to explore.
798 Art Factory / Space (798艺术工厂/时态空间)
Opening hours: 11:00am – 21:00pm
798 Art Factory was founded by Huang Rui in 2003, with an area of more than 1200 square meters. It is originally an industrial factory designed by East Germany and built by the Soviet Union in the 1950s. This old Bauhaus building is the most typical one with time characteristics in 798 Art Zone. 798 Art Factory remains its original appearance and basic features to the greatest extent. You can still see the red communist slogans on the wall. The huge cast-in-place structure is simple but practical. Now it is divided into several areas including the Exhibition Space, Lounge, Old Factory Bar & Restaurant, etc. Forward-looking and contemporary art exhibitions and activities are held here every now and then.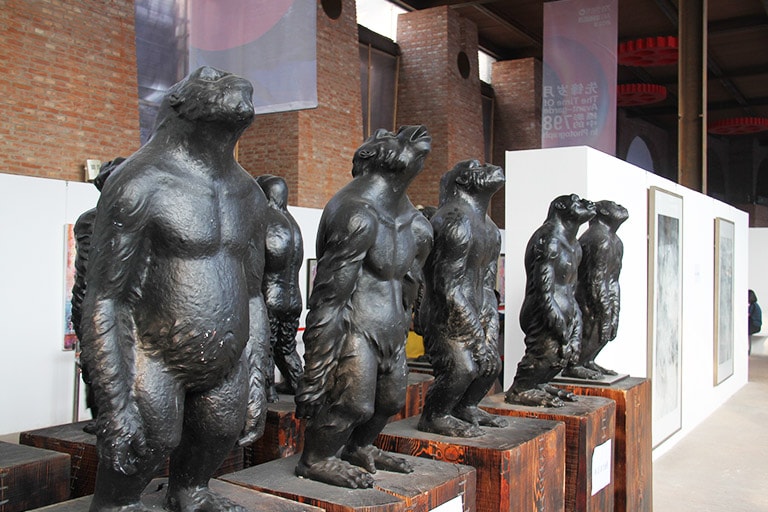 798 Art Factory
BTAP (Beijing Tokyo Art Projects 东京画廊)
Opening hours: 10:00am – 18:00pm, Tuesday ~ Satuaday
BTAP was established in October, 2002 by Yukihito Tabata with the intention of seeking young and promising artists from China, Japan, Korea and other Asian countries. In recent years, BATP has introduced some Chinese artists to exhibit at major international art fairs such as ARCO, Art Cologne. BATP itself has organized more than 13 exhibitions themed in architecture, sculpture, oil painting, and performance art. BTAP's short-term goal, which has been achieved, is to work with young international art critics, planners and artists. Now BTAP and Mr. Yukihito Tabata are committed to the long-term plan, hoping to keep promoting exchanges among Asian cities, including Beijing, Tokyo, Seoul, Taipei, etc.
Beijing Tokyo Art Projects
Ullens Center for Contemporary Art (UCCA 尤伦斯当代艺术中心)
Opening hours: 10:00am – 19:00pm, Tuesday to Sunday
UCCA was founded by Belgian collector Guy and Myriam Ullens in 2007. It covers an area of 8,000 square meters, including a large 1800㎡ exhibition hall and several other exhibition halls of different sizes, a lecture hall accommodating 150 people with film projection and simultaneous interpretation equipment, UCCASTORE, Story Café, UCCA Education—Creative Studio, and other public space for gatherings, meetings and various brand activities. In 2018, UCCA upgraded its building space in an all-round way. It created a new exhibition hall to display young artists' works and an open exhibition space for semi-permanent exhibits. Every week, there will be some activities such as playing art films.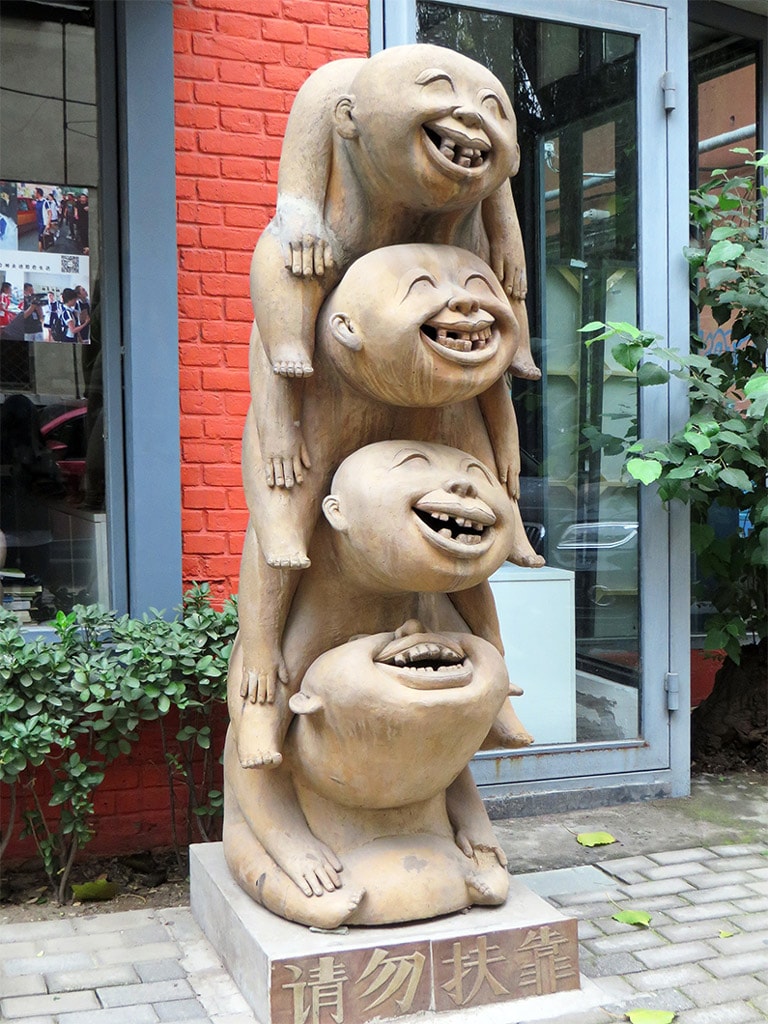 Ullens Center for Contemporary Art
Pace Beijing (佩斯北京)
Opening hours: 10:00am – 18:00pm, Tuesday ~ Saturday
Pace Beijing was established in 798 Art District in 2008, a branch of the famous and high-standard Pace Gallery from New York. Based on the large sawtooth-shaped Bauhaus-style workshop, architect Richard Gluckman transformed it into a memorial building featuring in both reminiscence and modernity. Pace Beijing has established cooperative relationships with many noted artists such as Zhang Xiaogang, Yue Minjun, Sui Jianguo, Li songsong, etc. It has successfully hosted many influential exhibitions of these artists. In 2012, the world-famous photographer, Hiroshi Sugimoto, chose Pace Beijing to hold his first solo exhibition in China.
Pace Beijing
Murals, Graffiti, and Sculptures Scattered around 798 Art District
798 Art District gets its reputation as a paradise for artists not only because of the diverse galleries. The murals, graffiti, and sculptures that you can come across around the zone bring people closer to art, and they are open to public all day. Just wondering about, you will see the encaged dinosaurs, giant human-shaped sculptures in different postures and colors, and many other forms of street arts. We may not know the authors, but we can capture their distinctive personalities from all these creative designs and bold ideas which impress both our eyes and minds.
Cafes and Restaurants in 798 Art District
Even if we don't know art, we can still feel the avant-garde atmosphere as soon as we step into 798 Art District. It seems that eating here is not only to satisfy your hunger. Every restaurant is a work of art with unique style. Here you can enjoy delicacy from China, Japan, Korea, Italy, France, Russia and many other countries.
Ace Café
Ace Café mainly serves coffee and drinks. It is a renowned haulage motor themed restaurant originated in London. This is its first branch in China and is transformed from the original 751 railway station in 798 Art District. Ace Café is probably one of the coolest buildings in 798. Why? Because it is deformable like it can breathe! Apart from remaining the heavy metal theme and maintaining as much as possible the main structure of the original 751 station, its designer Mr. Li Daode and his team dEEP Architects hope to revive the cold buildings through digital technology and mechanical engineering technology. So they design a remote controlled mental wall. When it is fully opened, you can see the flat wall become a complex metal structure, like a metal rose in full bloom, which symbolizes the spirit of rock and locomotive culture.
Ace Café
At Café (爱特咖啡)
At Café gains its reputation from itself as much as from its owner, Huang Rui, a well-known contemporary Chinese artist. He is one of the founders of the "Stars" in 1979, which is regarded as the beginning of Chinese contemporary art and the symbol of the independence of Chinese contemporary artists. He usually uses age-specific symbols like Maoist slogans in his works to show the illusory side of today's society. And his restaurant follows the style, too. The slogans and old magazine covers on the wall can easily bring people back to the China in the last century. However, it doesn't serve traditional Chinese dishes but is a place to have coffee, pizza, and other international meals like tuna sandwich and Hungarian rice with beef.
At Café
Shenji Restaurant (沈记菜馆)
Unlike the previous two, Shenji Restaurant is more like a traditional Chinese restaurant run by Mr. Shen who grew up in 798. He witnessed the changes of this area in the past few decades. So many people would chat with him to know more about 798. Mr. Shen is a people person, which makes the guests feel at ease when eating here. Shenji Restaurant is also famous for its red-cooked pork, which is made from the best part of the pork and by family recipe. Many guests come all the way just to try this dish. If you happen to be in Shenji Restaurant, do not miss that.
Shenji Red-cooked Pork
How to Get to 798 Art District
798 Art District is about 20km (1 hour's drive) to the northeast of central Beijing (Tian'anmen Square). Getting there by public transportation will take you about 1.5 hours. You can take subway Line 14 to Jiangtai (将台) station first, then get out from Exit A and walk about 400m to get to Jiangtai Lukou Bei (将台路口北) to take bus 991, 401, or 988 and get off at Dashanzi Lukou Nan (大山子路口南).
The complex transfer can be annoying sometimes and the route is not fixed. Please remember to double check before going there. If you want to save some time and avoid all the transfer troubles, you can consider travelling with China Discovery so that you can have a worry-free tour with a comfortable vehicle, skilled driver, and professional guide.
How to Plan a Beijing 798 Art District Tour
As many shops and galleries at 798 Art District usually open after 10:00am, you can have a good rest in the morning or visit some attractions downtown such as the Tian'anmen Square and the Forbidden City before going to 798. Then spend about 2 hours exploring this artistic place and taking some creative pictures. 798 Art District is only one attraction in Beijing. To enrich your Beijing tour, you can add another day to the Summer Palace and the Temple of Heaven. If you have more days, you can go for an in-depth Great Wall hiking or photography tour, and explore more hidden attractions in Beijing city.
If you have any other questions or ideas, please feel free to contact us. We are specialized in customized tours according to your own interests, budgets, and traveling time. Our professional travel consultants are always ready to help!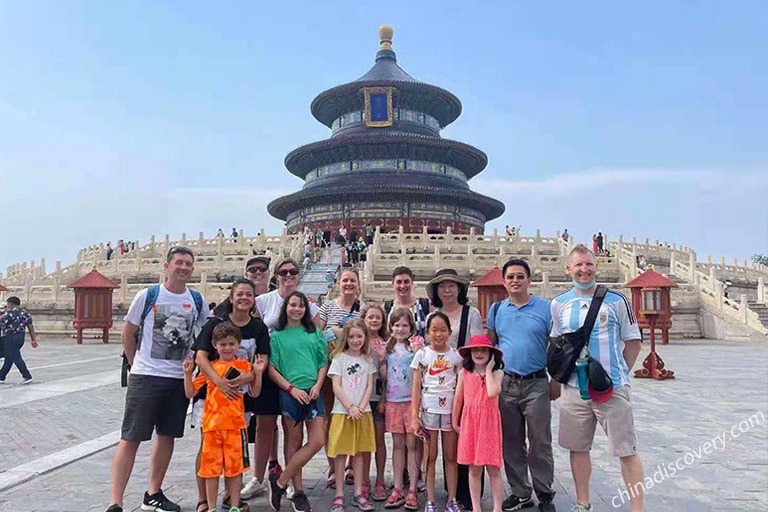 Temple of Heaven
Recommended Beijing Tours
Top 3 Beijing tours chosen by most customers to explore Beijing in the best way. Check the detailed itinerary, or tailor your own trip now with us.
2 Days Mutianyu and Jinshanling Great Wall Hiking

Beijing / Mutianyu / Jinshanling
Start planning your tailor-made holiday to China by contacting one of our specialists. Once inquired, you'll get a response within 0.5~23.5 hours.
Customize a Trip
Have a question? Get answers from our travel experts or guests
Your Question:

Your Name:

Your Email: