Xian to Pingyao | Pingyao to Xian Transportation 2023/2024
The ancient capital Xian in Shaanxi Province and the world cultural heritage site Pingyao in Shanxi Province are both in northern China and only about 500km away, so many tourists who are interested in the history, culture, and architecture of ancient China will take a trip to both cities. The most recommended way to transfer between them is by high speed train. This article has provided you with specific Xian Pingyao transportation information to help you better plan your tour.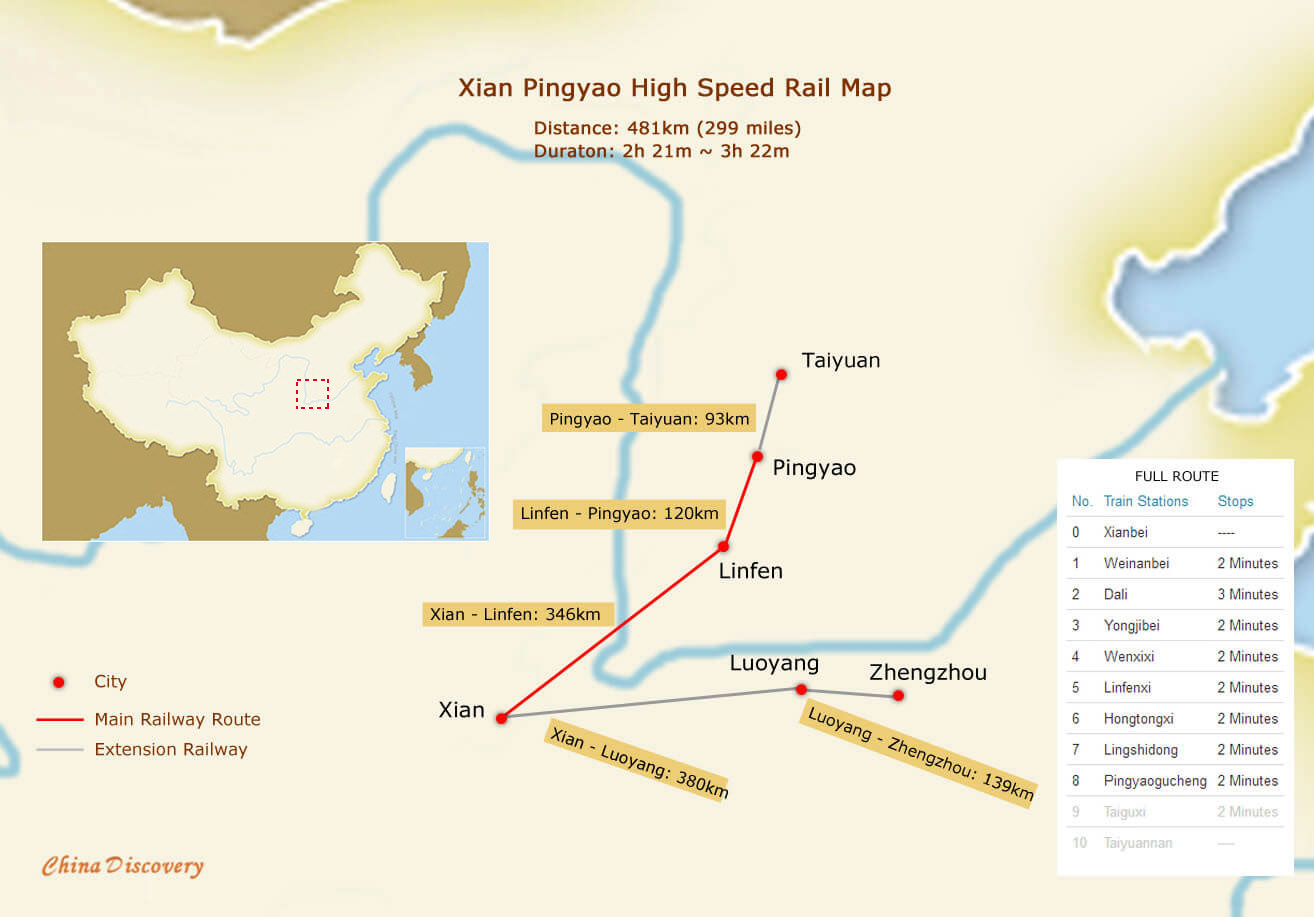 Xi'an Pingyao Transfer Map
Xian Pingyao Flights - No Direct Flights
People can't take a flight to Pingyao directly because there is no airport in Pingyao. The nearest airport is Wusu International Airport in Taiyuan. But there is no direct flight between Xian and Taiyuan, either. You may need to take a connected flight and make a stop in other cities such as Yinchuan. As a matter of fact, there is no need to fly there because of the short distance and with the convenient and fast high speed trains.
Xian Pingyao Trains - Recommended
There are over 10 pairs of trains running between Xian and Pingyao. 2 are overnight normal trains that run between Xian Railway Station and Pingyao Railway Station. The rest are high speed D-trains that will finish the transfer in 2.5-3h and operate between Xianbei Railway Station and Pingyaogucheng Railway Station.
Xian to Pingyao Trains
The earliest high speed train departs around 7:30 am and the last one leaves at 7:00 pm. If you want to try the overnight train, a sleeper ticket of K238 is recommended. The part of the schedule listed below is for your reference only. For real-time train information, please check Xian to Pingyao Train Schedules>>
Referential Currency: RMB=1USD
Train No.
Departure / Train Staiton
Duration
Seat Type / USD Price / Availability
Note: Train information is subject to final confirmation due to the delay of data occasionally.
Xianbei Railway Station (西安北站) - High-Speed Railway Station
Location: Yuanshuo Road, Weiyang District, Xian City (陕西省西安市未央区元朔路)
Xianbei (Xian North) Railway Station is about 15km (50 minutes' drive considering the traffic situation) to the north of Xian downtown around the area of Ancient City Wall and Bell Tower. Though not situated in city center, Xian North Railway Station is well connected with other parts of Xian by subway and bus.
To Xi'an downtown (Ancient City Wall): about 15km, 50 minutes' drive; or take subway Line 2, about 45 minutes.
• Useful Links: Xi'an Railway Stations | Xi'an Transportation | Xi'an Tours
Xi'an North Railway Station
Xian Railway Station (西安站)
Location: No. 44 Huancheng North Road, Xincheng District (西安市新城区环城北路44号)
Xi'an Railway Station is an old railway station with a history of over 80 years. At present, it operates both high speed trains and normal trains to other cities, like Beijing, Shanghai, Guangzhou, Chengdu, Tianjing, Lanzhou, Dunhuang, etc. The trains to Lhasa from Shanghai and Guangzhou also take a stop at Xian Railway Station, so it is available to take a train from Xian to Lhasa via Qinghai Tibet Railway directly.
To Xi'an downtown (Ancient City Wall): about 5km, 20 minutes by car, 40 minutes by bus. But if you are at the North Gate of Ancient City Wall, you can just walk there; they are about 1.5km apart.
Xi'an Railway Station
Pingyaogucheng Railway Station (平遥古城站) - High-Speed Railway Station
Location: Wenjing Avenue, Pingyao County, Jinzhong City, Shanxi Province (山西省晋中市平遥县文景大道)
Pingyaogucheng Railway Station is a high speed railway station built in 2014. It is located about 10km southwest of Pingyao Ancient City. It now mainly serves Datong-Xian High-Speed Railway, which greatly shortens the transfer time between Pingyao and Datong, Taiyuan, Xian, Beijing, etc.
To Pingyao Ancient City: about 9km, 20 minutes' drive; Bus No. 108 will take about 50min.
• Useful Links: Pingyao Railway Stations | Pingyao Transportation | Pingyao Tours
Pingyaogucheng Railway Station
Pingyao Railway Station (平遥站)
Location: #14 Zhongdu Road, Pingyao County, Jinzhong City, Shanxi Province (山西省晋中市平遥县中都路14号)
Pingyao Railway Station is an old railway station built in 1933 and only operates normal trains. It is only about 1.5km from Pingyao Ancient City so you can easily walk there. People can take trains to Beijing, Xian, Chongqing, Chengdu, etc. here but most of them are overnight trains and take at least twice the time you may spend by high speed train.
To Pingyao Ancient City: about 1.6km, 20 minutes' walk.
Pingyao Railway Station
How to Plan a Xi'an Tour
Biking on Xian Ancient City Wall
How to Plan a Pingyao Tour
The whole Pingyao Ancient City is listed as a world cultural heritage site, so you can spend a night at Pingyao and explore the city more thoroughly. You can start from the Ancient City Wall of Pingyao, where you can have a panorama view of this town. Then move on to the Rishengchang Former Bank, which shows you the original bank system in the past. After that, take a stroll on the traditional Ming and Qing Street and visit Shuanglin Monastery, where you can see a large amount of clay figures and wooden sculptures of various gods, goddesses and saints. On the next day, you can go to Qiao's Family Compound to see what a rich family is like in the past and then visit the Zhangbi Ancient Castle, where a series of tunnels were dug to hide out in times of war in over 1380 years ago.
☛ 2 Days Classic Pingyao Tour ☛ 3 Days Pingyao Discovery Tour ☛ 4 Days Essence of Datong & Pingyao Tour☛ 6 Days Essence of Shanxi Tour
Pingyao Ancient City
Travel with China Discovery
If you have other ideas or questions about a Xi'an Pingyao Tour, please feel free to contact us. We are also specialized in tailor-made tours that fit you best according to your own interests, requirements, traveling time, etc. We will provide you with reliable drivers, professional guides and comfortable vehicles. Each time you transfer to another city, our local guide will escort you to and wait for you at the train station or airport. You don't need to worry about the tickets, transportation, meals, accommodation or any other problem; all you need to do is just enjoying your trip!
Recommended Xian Pingyao Tours:
☛ 4 Days Ancient Pingyao & Xian Tour
☛ 8 Days Beijing Xian Tour with Pingyao Ancient City
☛ 9 Days Ancient Treasures of China Tour (Beijing / Datong / Pingyao / Xian)
Recommended Xian Pingyao Tours
Top 3 Xian Pingyao tours chosen by most customers to explore Xian Pingyao in the best way. Check the detailed itinerary, or tailor your own trip now with us.
4 Days Ancient Pingyao & Xian Tour

Pingyao / Xian
Start planning your tailor-made holiday to China by contacting one of our specialists. Once inquired, you'll get a response within 0.5~23.5 hours.
Customize a Trip
Have a question? Get answers from our travel experts or guests
Your Question:

Your Name:

Your Email: