Beijing Summer Travel - Time, Weather, Where to Go & What to Do
With a long summer break, many people will take a trip at that time. As an ancient city with long history, profound culture, numerous national-class attractions, Beijing has always been on the travel list of tourists from the world. So what's summer like in Beijing? What should we know about traveling Beijing in summer? Do we need to worry about the summer heat? Are there any recommended places to go? This article will solve all the puzzles before you take a Beijing summer trip.
When is Summer in Beijing
Generally speaking, summer in China is from June to August, but the actual division varies from city to city. Climatologically, if the average temperature of every 5 days is above 22℃, then it is considered as summer. According to this criterion, summer in Beijing is roughly from Mid-May to Mid-September, covering about one third of a year.
Beijing Summer Weather & Temperature
Summer in Beijing is usually hot and rainy. In May, summer approaches and there is an obvious temperature climbing-up. The average temperature at day is about 25℃ and can still be a little chilly at night. When in June, the average temperature rises to 30℃. Most days are sunny or cloudy and it is suitable to take a trip. July (average temperature 33℃) and August (average temperature 32℃) are the hottest months in a year and at the same time gather most of Beijing's rainfall. According to the data in 2018, half of the time in these two months is raining. But if you catch a sunny day during your trip, you will see a shiny and bright Beijing in the sunlight. In September, it is still a little hot but the temperature is beginning to drop (average temperature 26℃). There will be little rain and much sunshine at that time.
Beijing Summer Travel Tips:
1. Summer is the rainy season of Beijing; remember to check the weather forecast before your trip. Check more details about Beijing Weather Forecast >>
2. Try to reduce outdoor activities from 12:00 to 14:00 when the ultraviolet rays are strong. Remember to take enough water, umbrella, sun-protective clothing, and put on sunscreen cream before you go out.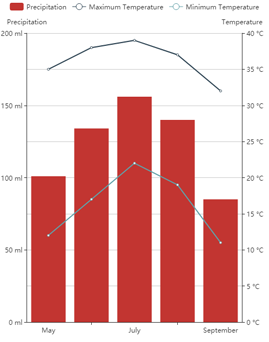 Beijing Summer Temperature (click to enlarge)
Places to See & Things to Do in Beijing Summer
Beijing itself is a comprehensive museum of Chinese culture and history with beautiful scenery. They are basically worth visiting all year round. Here we have selected some of them that you can not miss in summer.
Roam Around the Imperial Garden in the Forbidden City
Forbidden City (also known as Palace Museum) can be considered as a symbol of Beijing. It is an imperial palace of 24 emperors in the Ming (A.D. 1368-1644) and Qing (A.D. 1616-1912) Dynasties. Both the design and building craft represent the highest level of Chinese architecture. It covers an area of 720,000 square meters, with a construction area of about 150,000 square meters and more than 70 palaces and 9,000 houses.
In summer, it is best to visit the spacious Forbidden City in the early morning when it opens at 08:30 (not open on Monday). In this way, you can avoid both the summer heat and the crowds. When the temperature gets high at noon, you will probably have finished your tour at the front part, including the Hall of Supreme, Hall of Middle Harmony, Hall of Preserving Harmony, etc. and come to the cooler Imperial Garden. This is a place filled with verdant pines, cypresses, bamboos, blooming flowers, and grotesque rockeries. Roaming around here, all the summer heat will be put behind.
✔ 2 Days Beijing Layover Highlights Tour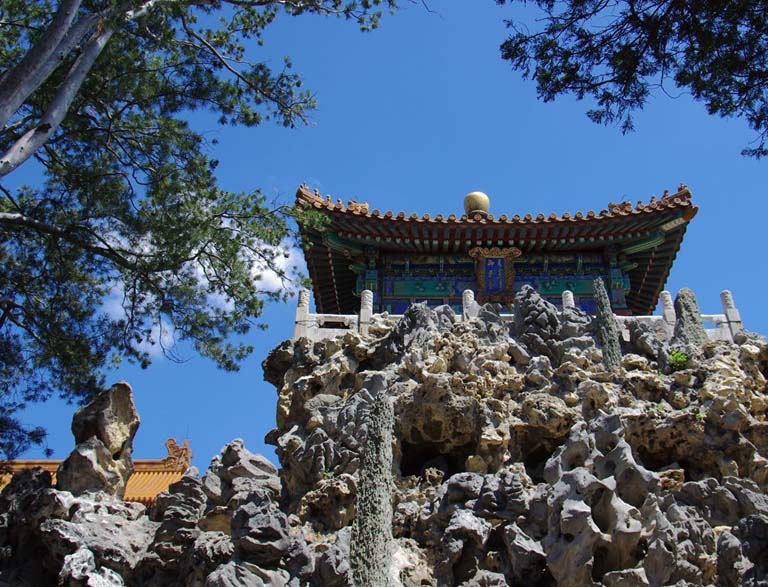 Imperial Garden in Summer
Admire the Great Wall with Expansive Green Trees
The Great Wall is a miracle created by millions of ancient Chinese people. This previous military defense project stretches 21196.18km and is all built by manpower. It consists of several sections, such as Badaling Great Wall, Mutianyu Great Wall, Simatai Great Wall, etc. Among them, Badaling is the most famous and frequently visited one, especially in the summer peak season. If you want to have a better view, Mutiayu Great Wall built in 1368 is a good choice. It is so far the longest great wall section in China. There are fewer tourists but the natural sight is stunning. Standing on Mutianyu Great Wall in summer, there is a boundless stretch of lush forests as far as your eyes can see. It is like there is no end of the wall, or the trees. Your mind will be refreshed and opened with this wide sphere of vision.
✔ 4 Days Classic Beijing Tour with Great Wall Hiking
✔ 6 Days Classic Beijing Tour with In-depth Great Wall Experience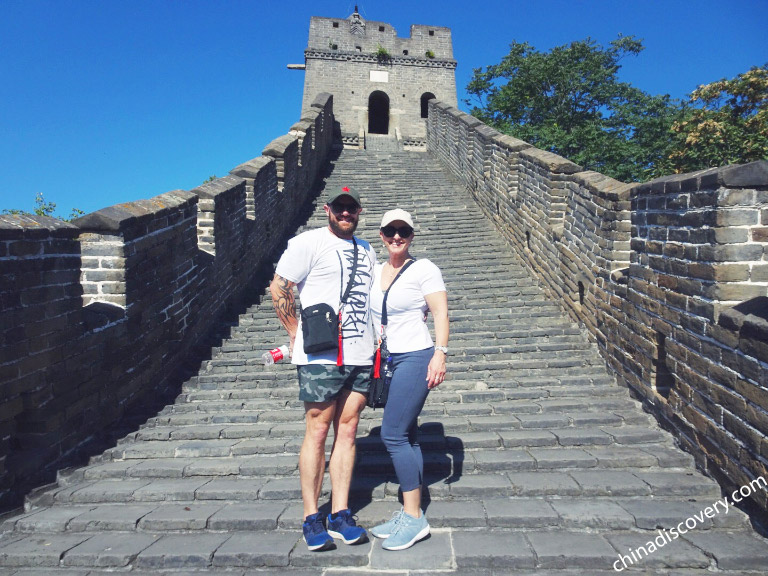 Mutianyu Great Wall in Summer
Boating on Kunming Lake in the Summer Palace
Speaking of summer, how can we forget the pleasant Summer Palace? Compared with the Forbidden City, the Summer Palace is more like a leisure garden serving as a getaway from daily routines for the emperors and empresses. This 293-hecter garden is embellished with lakes, bridges, pavilions, corridors, trees, etc. Time slips away easily when indulging yourself at the spacious park. Don't try to explore every corner here because it will take several days and your feet will ache. But it is truly an enjoyment to take a boat trip on Kunming Lake, which is glistening in the summer sunshine. Kunming Lake covers an area of more than 3/4 of Summer Palace. On the boat, you can have an overview of the palace at ease.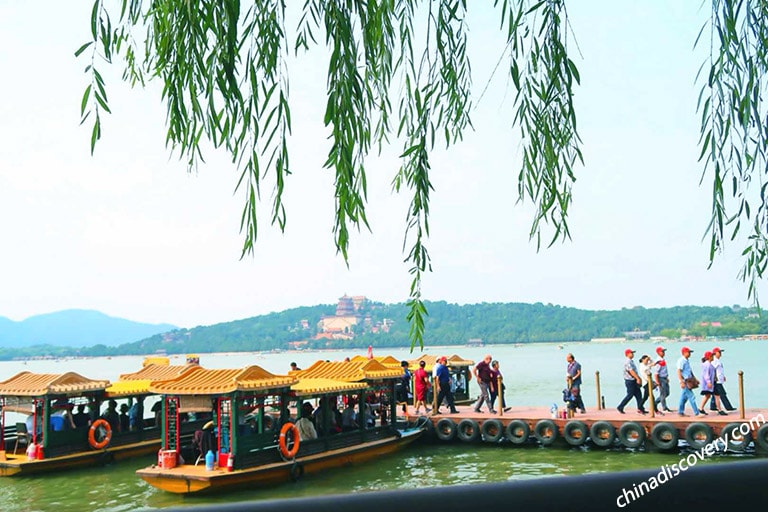 Summer Boating on Kunming Lake
Dance with the Lotuses in Beihai Park
If to pick one kind of flower to represent summer, lotus should definitely be on the list. It is the most beautiful time of the ponds with contiguous lotus leaves dotted with lotus buds or blooming lotuses. The encounter of pink, white, and green is a most delightful summer scene.
Beihai Park used to be a royal park where the royal members appreciate the lovely lotuses, but now, it is open to every one with an entrance fee of only CNY 10. There is an annual Lotus festival in Beihai Park approximately from late June to middle August, when the flowers are in full bloom. So it is the best time to go there. During that time, there will be many activities such as lotus painting and many other lotus species will be introduced here from other countries. Beihai Park is just 800m away from the Forbidden City, so you can visit them in one day; go there on a summer afternoon when the sunlight weakens and the pond of lotuses dance in the breeze.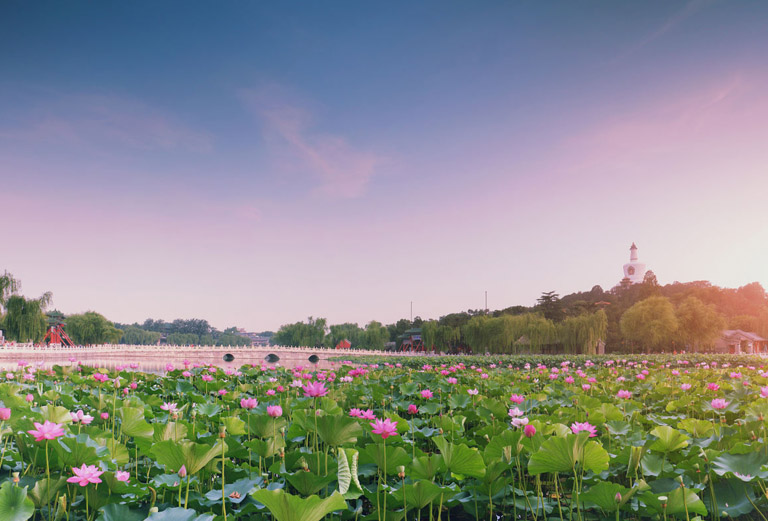 Beihai Park in Summer
Shuttle Back and Forth in Shadowy Hutongs
Beijing Hutong originated in the Yuan Dynasty (A.D. 1271-1368) and there were once more than 6000 of them. Hutong is the organized pathway between the quadrangle courtyards and effectively enhances the harmony of neighborhood relations. They look the same from the outside, but their 700 years' history endows them with different characteristics. Hutongs are usually very close to downtown. Beijing people have special feelings for Hutongs. They are not only the pulse of the city, but also the place where Pekingers live and grow. They have even formed their own Hutong culture. In summer, the street-side trees and dwellings will provide you with some shade places. You can hire a rickshaw to shuttle back and forth in these shadowy Hutongs, and talk casually with the rickshaw drivers. They are usually local people and know a lot about the origins and stories of the Hutongs.
✔ 5 Days Beijing Essence Tour with Real Hutong Life Experience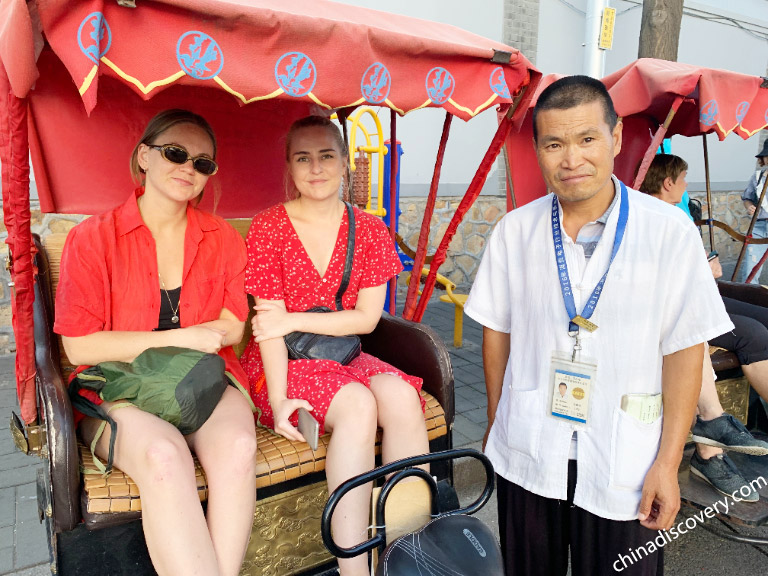 Beijing Hutong in Summer
Escape the Heat in the Mountain Resort of Chengde
Chengde is to the northeast of Beijing with a distance of 225km (3 hours' drive). With the efforts of three emperors, the construction of Chengde Mountain Resort started in 1703 and lasted 89 years. The Qing emperors built this resort to escape the summer heat and deal with government affairs. It consists of four parts, which are palaces, lakes, plains, and mountains. Contrasting with other imperial gardens, its site selection and overall design are based on the natural geography. It lays more emphasis on the nature, which can also be seen through its decoration. Brick grey tiles and natural wood are widely used in its construction, casting a simple but elegant and dignified aura around the resort. Though built in the north, Chengde Mountain Resort integrates the essence of northern and southern architectural art. It is a perfect place to spend the summer.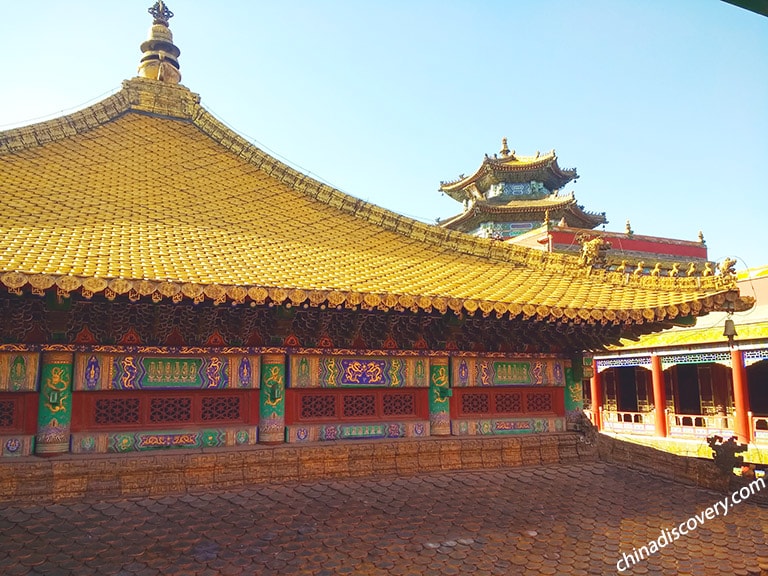 Chengde Mountain Resort in Summer
How to Plan a Beijing Summer Tour
With so many attractions to see, it is very important to well plan your Beijing trip. You can start by visiting Tiananmen Square, now the largest city plaza in the world, and then go to see one of the world's five most important palaces – the Forbidden City. After lunch, spend an enjoyable time in the Summer Palace, the largest and best-preserved royal garden in China. At night, you can watch a wonderful Kungfu Show in the Red Theater or enjoy the classic Chinese art performance of Beijing Opera at Liyuan Theater. On the next day, get ready to a take a hiking trip on the Great Wall, one of the Seven Wonders of the World. Then continue your trip to Sacred Way, a 7-kilometer-long passage leading to the Imperial Tombs of 13 Emperors of Ming Dynasty. After that, on your way back to Beijing, you can stop by at the Beijing Olympic Village to view its famous Bird's Nest and Water Cube. On the last day, pay a visit to the Temple of Heaven, originally a site used to pay homage to Heaven and pray for good harvests. Then get back to the central city to one of the best lotus viewing sites, Beihai Park, or hop on a rickshaw to experience the typical Beijing Hutongs. If you have more days, you can go for an in-depth Great Wall hiking or photography tour, or add two days to visit Chengde Mountain Resort.
☛ 4 Days Classic Beijing Tour Package
☛ 6 Days Classic Beijing Xian High-speed Train Tour
☛ 8 Days Best of China Tour (Beijing/Xian/Shanghai)
For people spending summer in China for the first time, you can together visit the other top classic destinations including Shanghai, Xian and Chengdu. And for those travelers visiting China in summer for the second or third time, most of them prefer to discover Zhangjiajie (3-5 days), Jiuzhai Valley (2-3 days), Yangtze River Cruise (4-5 days), Emeishan (1-2 days), Tibet (3-11 days), Guilin / Yangshuo / Longsheng (3-6 days), Huangshan (3-5 days), etc. to see the emerald top landscape and brilliant culture in China with lower temperature. If you want to enjoy a cool summer vacation with refreshing nature like mountains, forests, grassland, water, and other seasonal landscapes, you are recommended plan an itinerary to Guizhou (3-7 days), Yunnan (5-9 days), Inner Mongolia (3-6 days) and Qinghai (3-6 days), etc. to escape from the summer heat. Check all China Summer Tours >>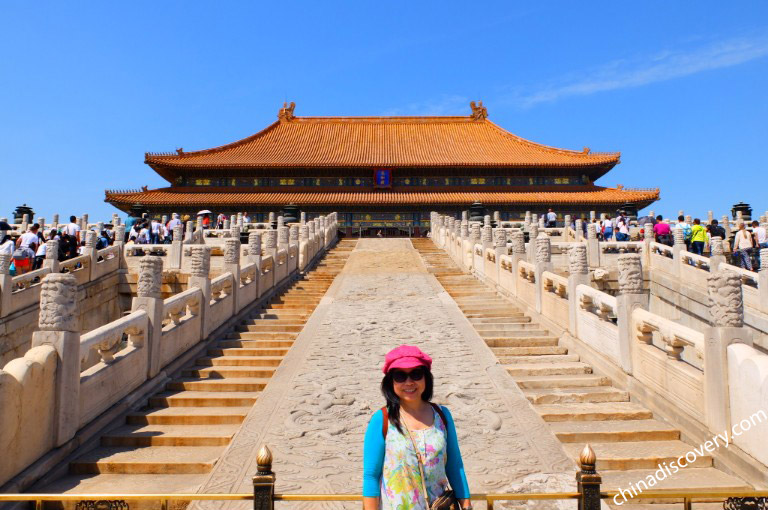 Forbidden City in Summer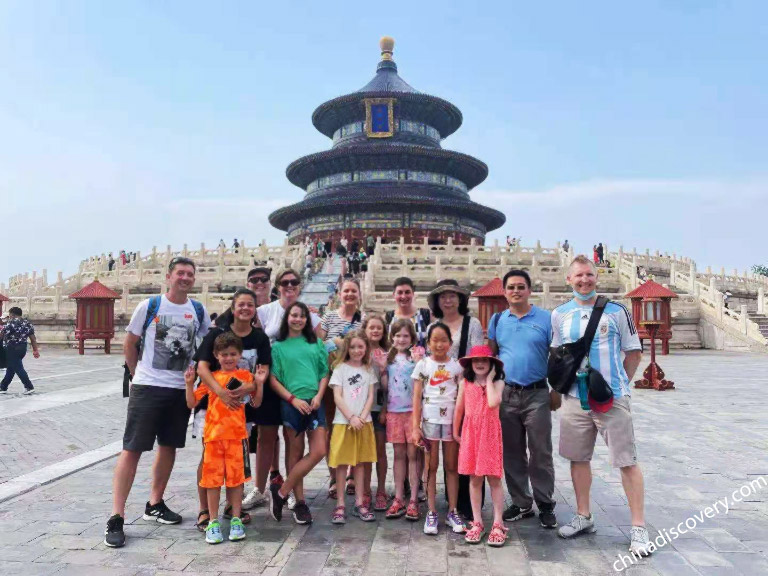 Temple of Heaven in Summer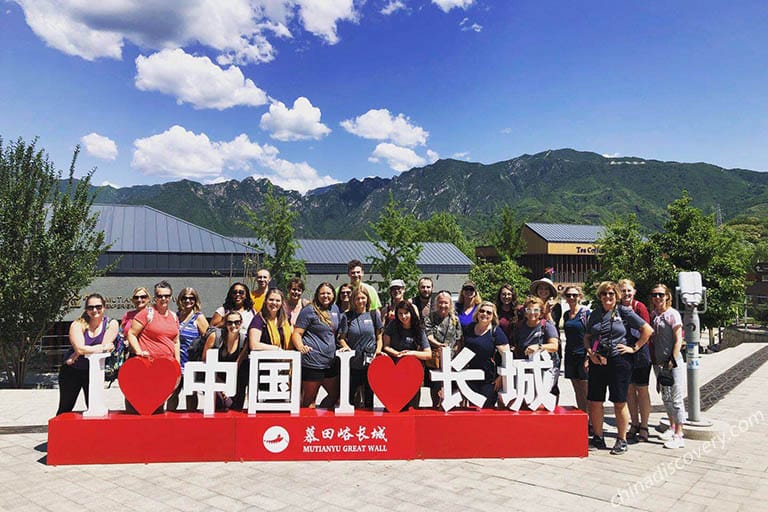 Our Tailor-made Group Tour to Mutianyu Great Wall, Beijing
Travel with China Discovery
If you have other ideas or questions about a Beijing Tour, please feel free to contact us. We are also specialized in tailor-made tours that fit you best according to your own interests, requirements, traveling time, etc. We will provide you with reliable drivers, professional guides and comfortable vehicles. You don't need to worry about the tickets, meals, accommodation or any other problem; all you need to do is just enjoying your trip!
We have helped many global travelers enjoy their memorable wonderful trips to Beijing for the past few years. Among them, a special team of over 50 VIPKID teachers from North America traveled with us to see their dear studends in China with amazing experience in Beijing and shared us their special travel story! Travel with China Discovery to create your great China trip memories!
Keep Reading about Beijing Weather Top Beijing Tours & Travel Guide
Recommended Beijing Tours
Top 3 Beijing tours chosen by most customers to explore Beijing in the best way. Check the detailed itinerary, or tailor your own trip now with us.
Start planning your tailor-made holiday to China by contacting one of our specialists. Once inquired, you'll get a response within 0.5~23.5 hours.
Customize a Trip
Have a question? Get answers from our travel experts or guests
Your Question:

Your Name:

Your Email: