Beijing Spring Travel - Time, Weather, Where to Go & What to Do 2023
As we all know, spring is the time when temperature increases and everything comes to life. If you intend to meet a colorful Beijing, no season is better than spring. Spring is short in Beijing (about 2 months), but there is so much to see and do thanks to the temperate weather and appealing scenery. This article has introduced the weather, selected attractions and activities, and recommended tour plans for your reference to help you enjoy your Beijing spring tour to the fullest.
When is Spring in Beijing
There are many ways to divide seasons. In the sense of Chinese solar terms, spring begins at the Beginning of Spring (early February) and ends at the Beginning of Summer (early May). But in February, Beijing is still cold and shows more signs of winter. So it is more reasonable to divide the four seasons climatologically, that is to say, spring is when the average temperature of every 5 days is between 10℃ and 22℃. According to this standard, spring in Beijing is from mid-March to mid-May.
Train S2 Running in Beijing Spring
Beijing Spring Weather & Temperature
The weather of Beijing in spring is capricious, but generally temperate and windy. Influenced by frequent cold and warm air activities, the temperature varies greatly between day and night. So even though it is warmer than winter, you still need to bring a coat or sweater to Beijing in spring. According to the data in 2018, there are no rainy days in March (average temperature 13℃), 4 rainy days in April (average temperature 20℃), and 5 in May (average temperature 25℃), which means it is favorable for trips.
What to Wear & Pack
What to wear: In March and early April, overcoat and sweater is a must. In late April and May, you can change it to a light coat or jacket with a long-sleeved blouse or long dress. Apart from that, trousers, comfortable sneakers or boots are also advisable.
What to pack: Except for the essential items like your passport, visa, credit card, etc. in spring, you should take a light hat, sunscreen cream, facial cream, lip protector, or a face mask.
Beijing Spring Travel Tips:
1. The weather of Beijing in spring is changeable, so remember to check the weather forecast before your trip.>>Beijing Weather Forecast
2. There sometimes may be strong wind and your skin may feel dry, it is advisable to put on some facial cream before you go out.

Beijing Highest & Lowest Temperature in Spring Day by Day (Updated in 2018, Click to Enlarge)
Places to Visit in Beijing Spring
Forbidden City (Gugong 故宫)
Adress: No.4 Jingshanqian Street, Dongcheng District, Beijing (北京市东城区景山前街4号)
Entrance Fee: CNY 60
Located in the center of Beijing City, the Forbidden City is an imperial palace of 24 emperors in the Ming (A.D. 1368-1644) and Qing (A.D. 1616-1912) Dynasties. As the name implies, it used to be forbidden from ordinary people, but even such a solemn place could show its softer side in the gentle spring. The genial sunshine, pleasant wind, and lovely flowers all show a special charm of the Forbidden City. Except for the genuine design, valuable exhibitions, and high-level construction crafts, the Imperial Garden (御花园), Jianfu Palace (建福宫), Palace of Compassion and Tranquility (慈宁宫), and other gardens scattered here with colorful pear blossoms, peach blossoms, lilac, crabapple, peony, etc. are really worth a visit in spring.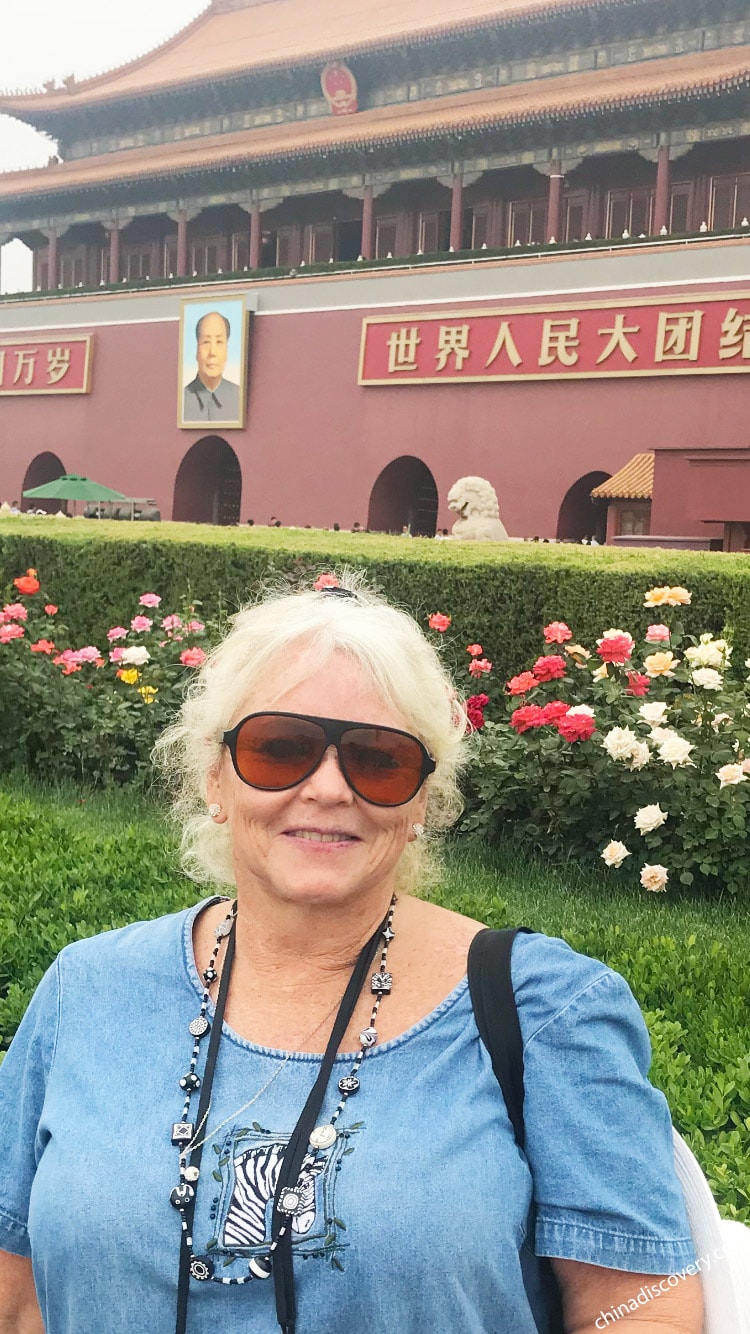 Forbidden City in Spring
Summer Palace (Yiheyuan 颐和园)
Adress: 19 Xin Jian Gong Men Rd, Haidian District (海淀区新建宫门路19号)
Entrance Fee: CNY 30
Everyone who comes to the Summer Palace will marvel at its pleasant environment. It is mainly composed of the verdant Longevity Hill and the vast Kunming Lake. In spring, new buds begin to appear in the willows, and peach blossoms sprout lively along the West Dyke. In front of Leshou Palace where the Empress Dowager Cixi once lived, there is a vast area of magnolia trees. Magnolia is the prelude of spring, pure and fresh, gentle and innocent. Just overnight, thousands of them climb up to the trees and decorate the spring world quietly. At present, there are more than 80 magnolia trees blooming in the Summer Palace.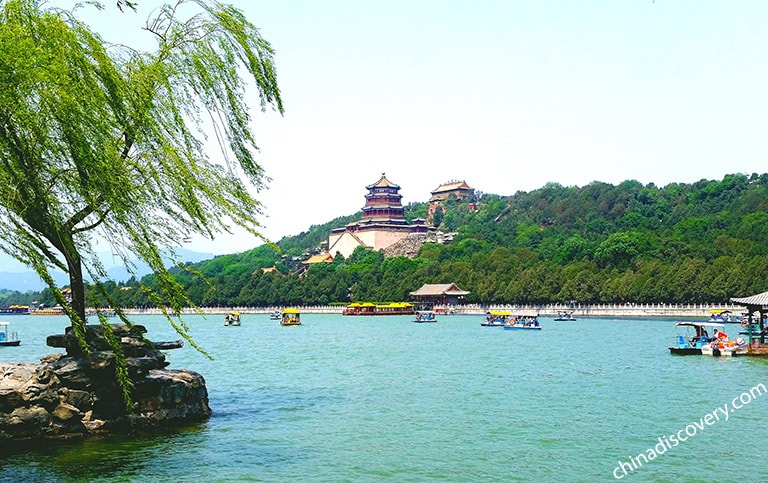 Summer Palace in Spring
Temple of Heaven (Tiantan 天坛)
Address : Tiantan Road, Dongcheng District, Beijing (北京东城区天坛路)
Entrance Fee : CNY 15
Temple of Heaven was firstly built in 1420 for emperors to pay homage to Heaven and pray for a year of rich harvest. It is the largest sacrificial site in the world with an area of 273 hectares. But nowadays, no fete ceremonies are held here. Temple of Heaven is more like an urban park. Its comfortable environment attracts many citizens nearby to come here to do morning exercise like playing Thai Chi or dancing. There is an apricot grove that not many people know, but it is the largest one in downtown Beijing. It is worth mentioning that most of the apricot trees were planted in the Qing Dynasty (A.D. 1616-1912) with beautiful shapes. So it is quite a scene when the apricot trees are in full bloom in spring, especially from late March to mid-April.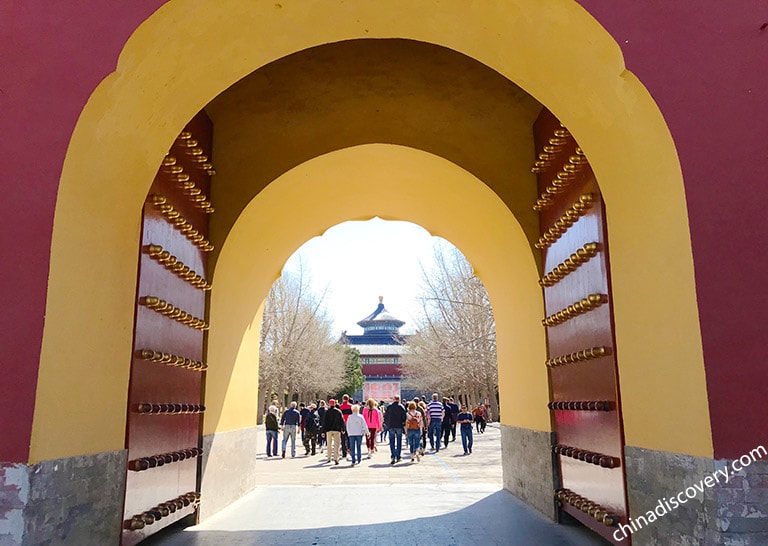 Temple of Heaven in Spring
Mutianyu Great Wall (慕田峪长城)
Address: Mutianyu, Bohai Town, Huairou District, Beijing (北京市怀柔区渤海镇慕田峪)
Entrance Fee: CNY 40
As an icon of Beijing, even China, the Great Wall enjoys a high reputation both at home and abroad. It is divided into several sections. The 5400m Mutianyu Great Wall is the longest one. It is located in Huairou District, 73 kilometers away from downtown. In this scenic area, the vegetation coverage rate has reached 90%. From March, the peaches, apricots, rhododendron and other wild flowers begin to bloom all over the mountains. When it comes to mid-April, there are thousands of them swaying in the breeze, creating a long corridor of flowers. Hiking there, visitors can enjoy the magnificent winding Great Wall and the brilliant spring flowers at the same time, which is really a relaxation to your body and mind.
>>4 Days Classic Beijing Tour with Great Wall Hiking
>>6 Days Classic Beijing Tour with In-depth Great Wall Experience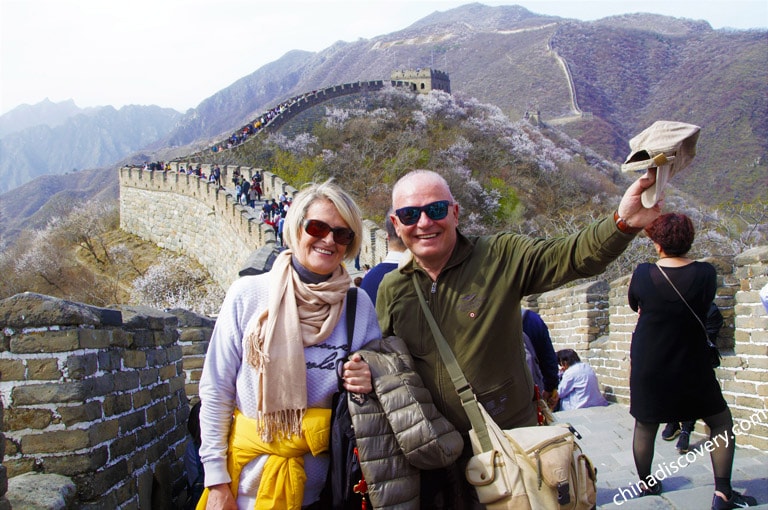 Mutianyu Great Wall in Spring
Beijing Botanical Garden (北京植物园)
Address: Wofosi Road, Xiangshan, Haidian District, Beijing (北京市海淀区香山卧佛寺路)
Entrance Fee: CNY 10
Beijing Botanical Garden is in the northwestern part of Beijing, about 23km from downtown. It covers an area of 400 hectares with over 10000 species of plants. Beijing Botanical Garden has always been famous for its peach blossoms, and is the place with the largest variety of peach blossoms in the world. Every March, there will be a Beijing Peach Blossom Festival lasting about 40 days. During that time, visitors can enjoy tens of thousands of peach blossoms varying in more than 70 brands.
Beijing Botanical Garden in Spring
Yuyuantan Park (玉渊潭公园)
Address: No. 10, West 3rd Ring Mid-Road, Haidian District (北京市海淀区西三环中路10号)
Entrance Fee: CNY 10
Yuyuantan Park is in the west of Beijing, 12km from downtown. It has the largest cherry garden in China. At the beginning of April, hundreds of early cherry are in full bloom, with white petals blooming like snow on the branches. The annual Cherry Blossom Festival (usually from mid-March to late May) has become one of the most popular spring activities in Beijing. In order to offer tourists a more worthy experience, Yuyuantan Park has spared no efforts in increasing self-breeding varieties and introducing domestic ones. At present in 2019, there are nearly 40 varieties of cherry blossoms blooming in the park one after another. Visitors are able to appreciate the beauty and romance of cherry blossoms throughout the whole spring.
Yuyuantan Park in Spring
Things to Do in Beijing Spring
Admire the Beauty of Flowers
Spring is the time you can see most species of flowers, what a pity is it if you just let this kind of beauty slip away? When the once lifeless and bare trees are now dotted with white, purple, pink, or red flowers, it not only is a pleasure to the eye, but also brings people hope and faith of a brand-new year. They will be at your company throughout the whole spring. Except for the places mentioned above, other places like Jingshan Park, Beihai Park, Fenghuang Valley, Dajue Temple, Taoranting Park are all good choices to spot the various flowers.
Beautiful Flowers in Full Bloom in Beijing
Have an Outing in the Parks
There are more than 100 parks in Beijing such as Zhongshan Park, Jingshan Park, Taoranting Park, Xiangshan Park, etc. Each of them is equipped with lush trees, blooming flowers, and calm lakes, making them ideal outing destinations. In spring, you can take a walk on the tranquil paths, invite some friends for an afternoon picnic, idle away on a drifting boat, or just sit under a tree watching the flowers floating down. If you want to take a step back from the hustling routine or try to have some quality time with your families and friends, the parks in Beijing won't let you down.
Taoranting Park in Spring Sunset
Visit Beijing by Bike
Are you a biking lover? Have you ever thought about visiting Beijing by bike? Spring is probably the best time to take a biking tour in Beijing with temperate weather, gentle breeze, and little rain. Now in Beijing, sharing bikes can be seen everywhere. You can rent a bike at a low cost (usually the first hour is free, an extra CNY 1 for every extra hour) simply by scanning a QR code. With a bike, your Beijing tour will be more flexible. You can explore the interwoven Hutongs at ease, ride to the entrance gate of a near park, or stop by at any attractions to take photos or have a walk. The spring breeze blowing over your cheek will easily lighten your mood.
Sharing Bikes in Beijing
Fly a Kite High in the Sky
When we were young, most of us had the experience of flying a kite in the field. Do you still remember the excitement when you saw your kite flying up high in the sky? Now you can re-experience that joy again. The spring wind in Beijing provides a perfect opportunity to fly a kite, especially in the Olympic Forest Park. Built originally for the 2008 Olympic Games, now it has become an outdoor aerobic bar for Beijing citizens. There is plenty of space for kite flying. You can choose a kite with your favorite pattern, and then get ready to run with the wind.
Fly a Kite in Beijing
How to Plan a Beijing Spring Tour
With so much to explore in spring, it is very important to well plan your Beijing trip. You can start by visiting Tiananmen Square, now the largest city plaza in the world, and then go to see one of the world's five most important palaces – the Forbidden City. After lunch, spend an enjoyable time in the Summer Palace, the largest and best-preserved royal garden in China. At night, you can watch a wonderful Kungfu Show in the Red Theater or enjoy the classic Chinese art performance of Beijing Opera at Liyuan Theater. On the next day, get ready to a take a hiking trip on the Great Wall, one of the Seven Wonders of the World. Then continue your trip to Sacred Way, a 7-kilometer-long passage leading to the Imperial Tombs of 13 Emperors of Ming Dynasty. After that, on your way back to Beijing, you can stop by at the Beijing Olympic Village to view its famous Bird's Nest and Water Cube. On the last day, pay a visit to the Temple of Heaven, originally a site used to pay homage to Heaven and pray for good harvests. Then get back to the central city to experience the typical Beijing Hutongs. If you have more days, you can go for an in-depth Great Wall hiking or photography tour.
>>4 Days Classic Beijing Tour Package
>>6 Days Classic Beijing Xian High-speed Train Tour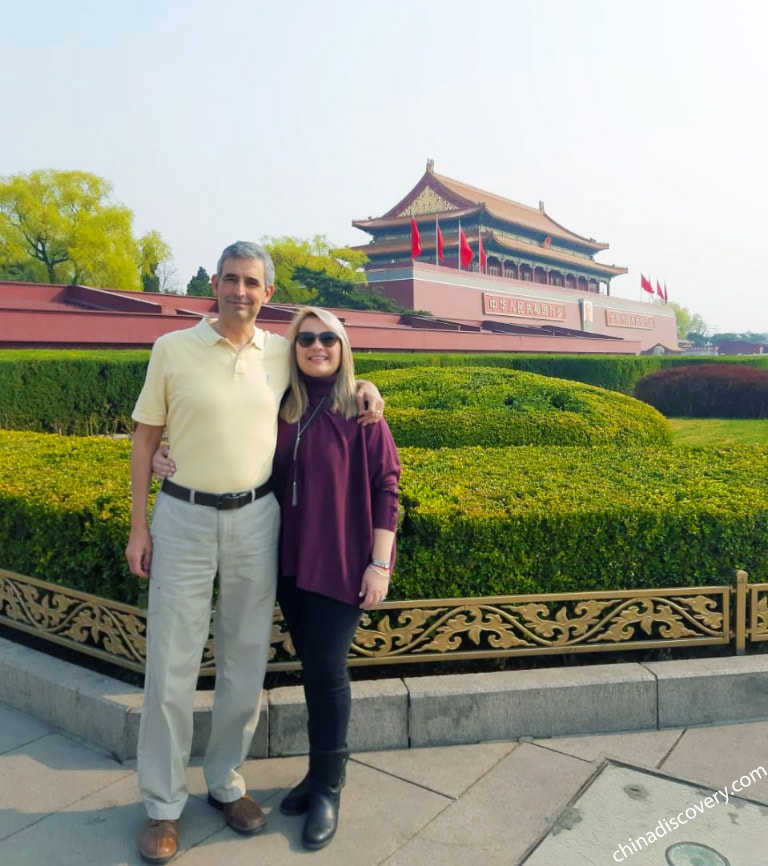 Beijing Spring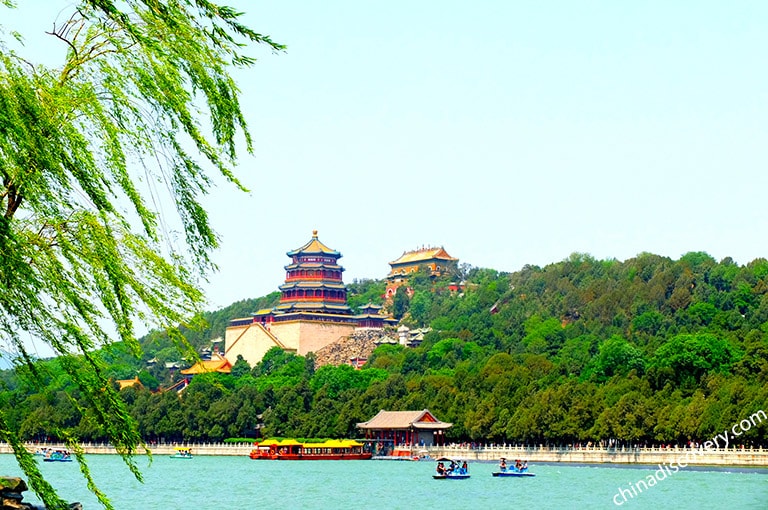 Willows Swaying Along Kunming Lake
Travel with China Discovery
If you have other ideas or questions about a Beijing Tour, please feel free to contact us. We are also specialized in tailor-made tours that fit you best according to your own interests, requirements, traveling time, etc. We will provide you with reliable drivers, professional guides and comfortable vehicles. You don't need to worry about the tickets, meals, accommodation or any other problem; all you need to do is just enjoying your trip!
Keep Reading
Recommended Beijing Tours
Top 3 Beijing tours chosen by most customers to explore Beijing in the best way. Check the detailed itinerary, or tailor your own trip now with us.
8 Days Best of China Tour (Flight/Bullet Train Covered)

Beijing / Xian / Shanghai
Start planning your tailor-made holiday to China by contacting one of our specialists. Once inquired, you'll get a response within 0.5~23.5 hours.
Customize a Trip
Have a question? Get answers from our travel experts or guests
Your Question:

Your Name:

Your Email: