Best Time to Visit Beijing
As the capital of China, nourished by the long history and the wonderful culture, Beijing has numerous cultural heritages and multiple scenic sites. There are always countless people gathering at the scenic area on weekends and holidays. Generally speaking, Beijing is a city you can go to visit whenever you want and the best time to visit Beijing is in autumn, from mid-September to November. During this period, it is neither too hot nor too cold, and it has changed from peak season (May to Sept) to off-season (Oct to April), so the number of tourists has been relatively going down, which allows a better travelling experience for most of the travellers in Beijing.
The Second Best Time to Visit Beijing
If it is not possible to schedule your Beijing tour in the best time, we also recommend you May and the early June as a backup choice, for the comfortable temperature and the low population density in the scenic sites.
Besides travelling in autumn and spring, if you don't mind the cold weather, we also recommend that you can visit Beijing from Christmas break to the Spring Festival (Chinese New Year), namely from the late Dec to the early Feb, which is a period of time you can involve yourself in the atmosphere of the Chinese New Year. Many people who work in Beijing will leave for hometown thereafter. The population of the city is relatively smaller. Since it often snows, appreciating the white snow in the backdrop of the red royal buildings is quite stunning.
According to the different types of scenic spots in Beijing, there may be a little bit difference in the optimal visiting time. Air quality and weather conditions, as well as hotel prices, also affect your travelling arrangements. The followings are various factors we have analyzed for you to decide the best visiting time.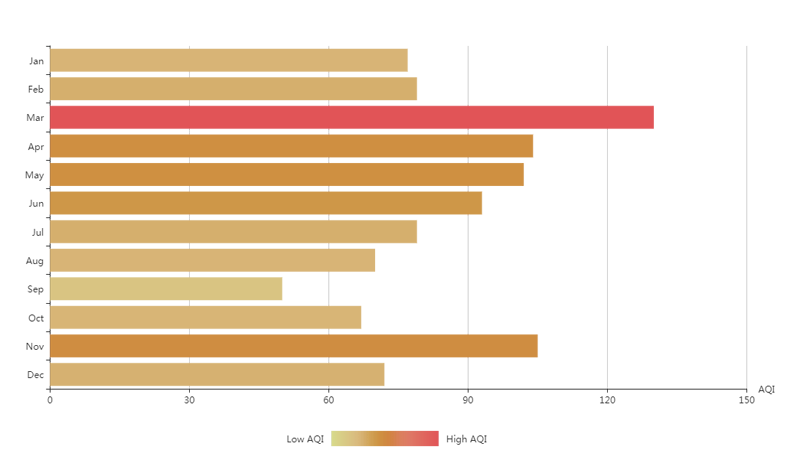 Average AQI: The sandstorm occurs occasionally in Spring, and March is recorded as the month with the worst air quality. The Best AQI month is September. The average AQI from March to June is over 100. Travellers who will do outdoor activities are suggested to wear a mask. As billions of money has been put into improve the air quality, the AQI gets a lot better since 2017.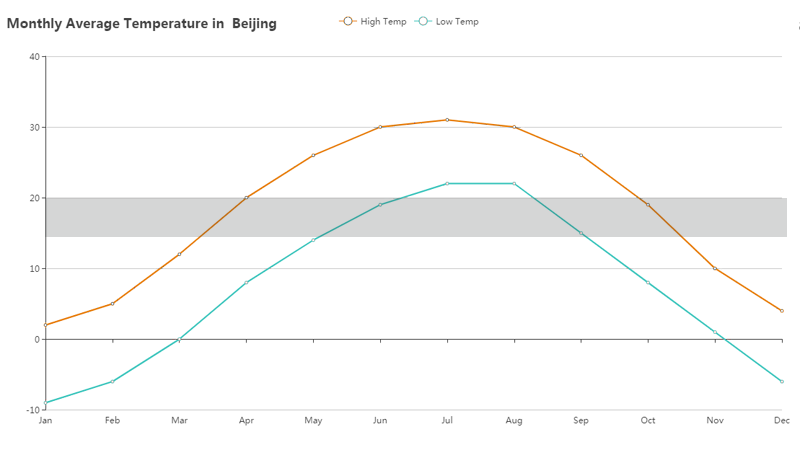 Average Temperature: The gray area in the graph ranges from 15 to 20 degrees Celsius, which is a comfortable zone for most of the people. From the mid-March to the end of May and from September to the mid-October are both overlapped by the comfortable temperature square. The other time zones are either too hot or too old.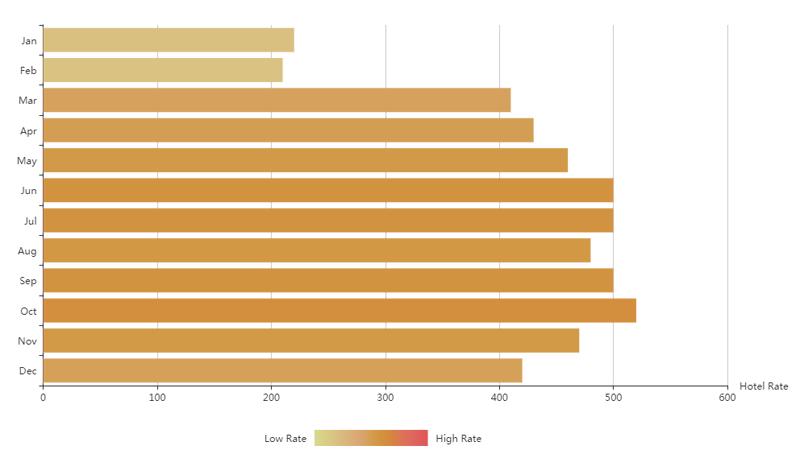 Average Nightly Hotel Rate: Knowing the night rate in Beijing, we are possibly able to to gauge the population in Beijing: From June to October is the busiest time, and the average nightly rate is around CNY 500, while January and February are the least busy months, and the cost for one night is about 50% off, compared with the rate in peak-season.
Best Time to Visit Beijing Great Wall
Located in the northwest suburbs of Beijing, the Great Walls that open to the public mainly include the Badaling Great Wall, Mutianyu Great Wall, and Jinshanling Great Wall, etc.
Spring and Autumn are the most suitable time for hiking, but occasionally it will be sandstorm in Beijing in spring, therefore it's necessary to check the weather forecast in advance to avoid the extreme weather. Hiking on the Great wall during the mid-October to mid-November, you may encounter the spectacular sunrise/sunset. In winter, although the coldness almost wiped away all the vibrant plants, you can also appreciate the snow-covered Great Wall, stretching afar zigzag, like a white dragon lying on the mountains.
In summer (especially in July and August), if you go to the Great Walls without planning ahead of time, you might be jammed with the massive tourists in the narrow trails. Generally, the most famous Badaling Great Wall also bears the most of people, and going to the nearby Mutianyu Great Wall or Jinshanling Great Wall might be much wiser. If you do not want to squeeze yourself there and pant in the sultry summer air, we would recommended you to start visit it from the early morning and head back by the noon, since more and more people will flood into it as the afternoon approaches.>>Learn More about the Best Time to Visit Great Wall
Top Recommended Great Wall Hiking Tour
>>2 Days Mutianyu and Jinshanling Great Wall Hiking
>>2 Days Jinshanling and Simatai Great Wall Wild Hiking
>>4 Days Classic Beijing Tour with Great Wall Hiking
Best Time to Visit Scenic Sites in the City
Besides the Great Walls, you can also enjoy the historical and architectural relics of ancient Chinese palaces in the city, including the Forbidden City, Temple of Heaven, Tiananmen Square, Summer Palace, and so on. These scenic spots are relatively less affected by the weather, and are splendid and attractive in all the seasons. Trying to avoid the crowd, the sandstorms and thunderstorms, you will have a great time at these scenic sites for most of the time.
Worse Time to Visit Beijing
Although the best time to visit Beijing varies, affected by multiple factors, the following Times are certainly less recommendable for the newcomers in Beijing. However, with a thoughtful plan and professional guidance from our experienced travel consultant, thousands of customers from China Discovery have had a great experience in Beijing even in a bad timing. >> Contact Us Now to Plan Your Beijing Tour!
National Holiday
Chinese National Day holidays usually start on October 1st and end on October 7th. A large number of tourists travel around China during this week. As a popular scenic city, Beijing shares millions of tourists. Both scenic spots and transportation junctions are very crowded. It is recommended to stay indoors in the first week of October and avoid traveling anywhere.
Labor's Day
Labor's Day is usually on May 1st. A large number of tourists will go to Beijing in the early May. Tourist attractions are often filled with people from all over the country.
Summer Holidays
Most schools in China have their summer break from the beginning of July to the end of August. Families often travel in Beijing together. Even on weekdays, the scenic spots are very crowded. Moreover, July and August are hot and thunderstorms and rainfalls are intense, and most of the scenic spots in Beijing are outdoor attractions, which challenges a lot visitors to plan their Beijing tour to avoid the crowd and bad weather.
Insider Tips
● It is very cold in Winter, and the night gets colder, reaching sub-zero temperatures, but almost every household in Beijing has a heating system indoor. Please keep warm and do not stay outdoors for too long.
● When the sandstorm occurs in spring, it will make the air quality a lot worse in Beijing. If you notice the air quality is getting bad, please stay indoors and close all your windows. If you need go out , please wear a mask.
● Rainfalls are intense in summer, and thunderstorms always come all of sudden. Please take your umbrella before going out.
● Beijing is dry nearly all year round. Drinking more water may be helpful for your body moisturizing.
● During the Chinese New Year, the population in Beijing may go down dramatically. Many shops and restaurants will be closed, which may cause many inconveniences for you. Please purchase the goods you need before the Spring Festival holidays.
How to Plan Your Beijing Tour
As the capital city of China for centuries, Beijing is an internatinal metropolis with numerous historic scenic sites. You can visit the Forbidden City to witness the royal buildings of the ancient China empire, hike on the incredible Great Wall, and wander along the traditional hutongs to experience the authentic local life...all of your dreams about Beijing can be tangible in our Beijing tours.
In only 2 or 3 days, you can have a trip in Beijing which will cover the most popular attractions - Forbidden City, Great Wall, Temple of Heaven, Summer Palace, Hutongs, which is available for to 144 Hours Visa-free for Transit in Beijing. If you have more time, you can go for an in-depth Great Wall hiking or photography tour, and explore more attractions in the city.
Also, you can easily travel from Beijing to any other hot travel destinations in China by flight or train, such as Xian, Shanghai, Guilin, Lhasa, Hong Kong, etc. China Discovery has designed many classic China tour packages including Beijing for you. Let us customize one for you.>> Contact Us Now
Top-Recommended Beijing Tour
>>2 Days Beijing Layover Highlights Tour
>>3 Days Beijing Essential Short Stay Tour (Visa Free)
>>4 Days Classic Beijing Tour Package
Travel with China Discovery
If you book a tour from China Discovery, our skilled driver and knowledgeable guide will pick you up at the airport or railway station and escort you to your hotels, restaurant, the pier and other tourist destinations. You won't need to worry about the complicated transportation anymore and just focus on sightseeing.>>Contact us now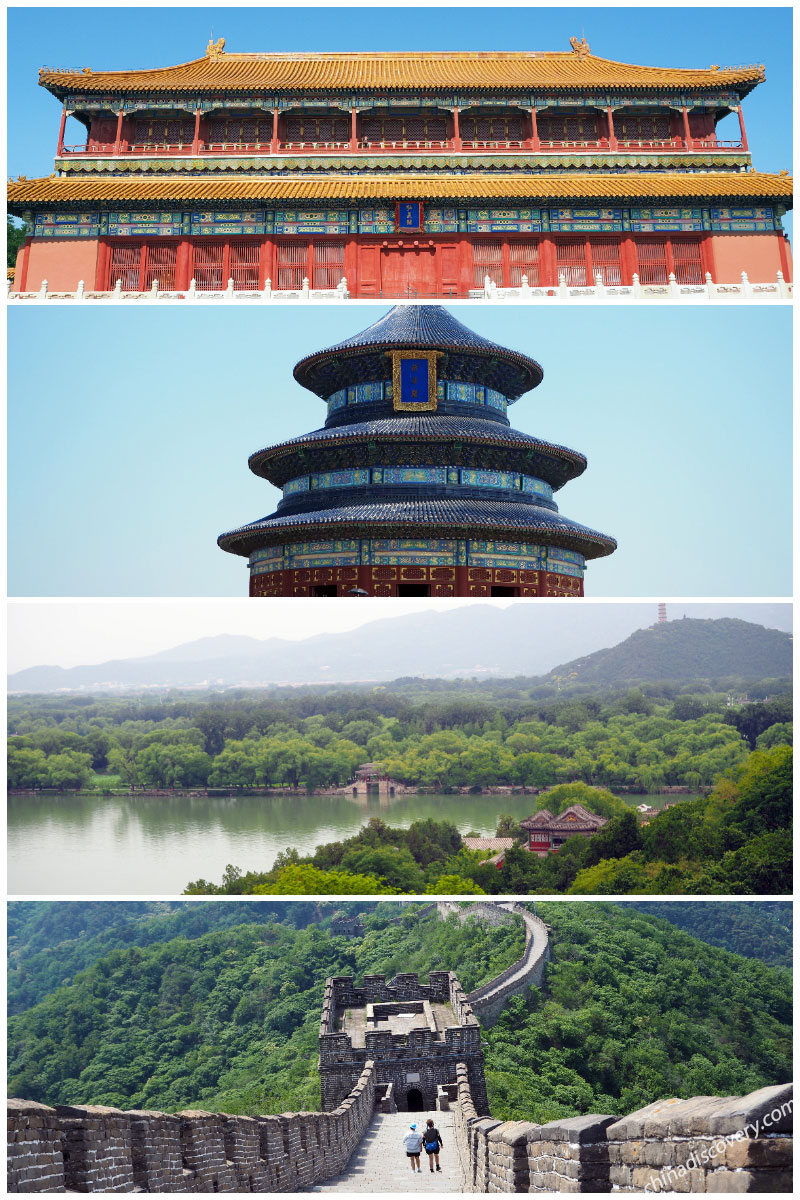 Beijing Attractions
Keep Reading about Beijing Weather Top Beijing Tours & Travel Guide
Recommended Beijing Tours
Top 3 Beijing tours chosen by most customers to explore Beijing in the best way. Check the detailed itinerary, or tailor your own trip now with us.
Start planning your tailor-made holiday to China by contacting one of our specialists. Once inquired, you'll get a response within 0.5~23.5 hours.
Customize a Trip
Have a question? Get answers from our travel experts or guests
Your Question:

Your Name:

Your Email: