Summer Palace Maps 2023
The Summer Palace, known as the "Royal Garden Museum", is a vast imperial palace consisting of lakes, gardens, and pavilions. It used to be a temporary dwelling palace of the emperors or empresses when away from the capital. So the environment is quite pleasant and it is suitable to visit all year round. As it is a little far from downtown and covers a large area, here we have provided you with the location map and tourist map to better explore the Summer Palace.
Summer Palace Location Map
The Summer Palace is located in the western suburb of Beijing, about 20 kilometers away from Tiananmen Square. It will need about 40 minutes to drive there from central Beijing. You can also take subway Line 4 or public buses to get to the northern gate of the Summer Palace, which will need 1-1.5 hours.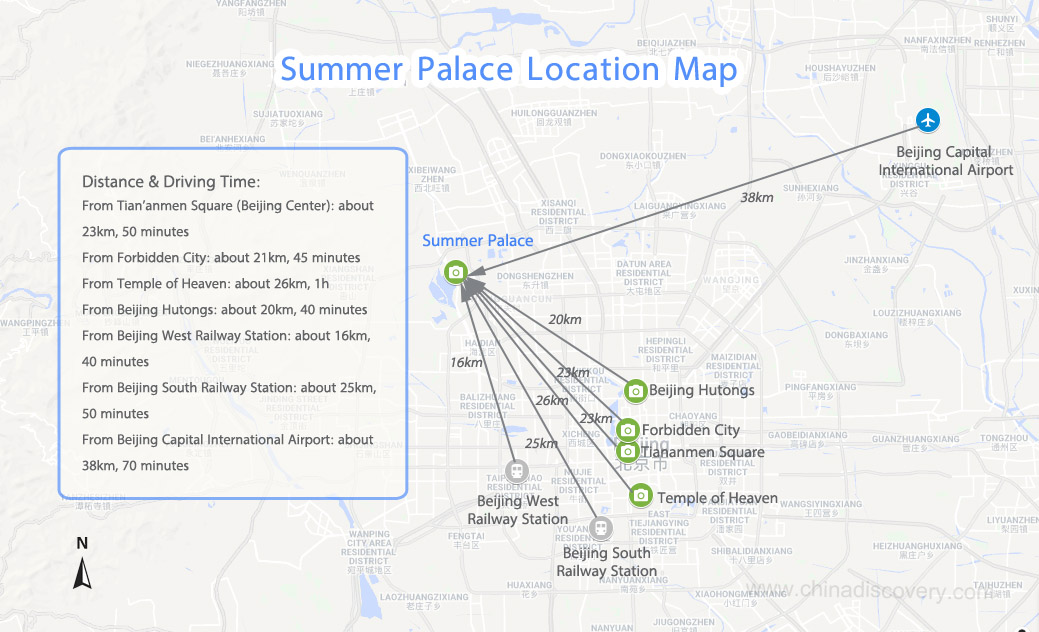 Summer Palace Location Map
Summer Palace Tourist Map
The Summer Palace is mainly dominated by Kunming Lake and Longevity Hill. It covers an area of about 290 hectares, 3/4 of which is water. There are six gates in total: the North Gate (北宫门), the East Gate (东宫门), Xinjiangongmen (新建宫门), the North Ruyi Gate (北如意门), the South Ruyi Gate (南如意门), and the West Gate (西门). The former three are the most recommended.
The North Gate is close to Longevity Hill. After passing through Suzhou Street (苏州街), you can climb up to the Tower of Buddhist Incense (佛香阁) to have a panorama view of the Palace. Then walk to the Long Corridor (长廊) and appreciate the view of mirror-like Kunming Lake. If you enter from the East Gate, it is easy to get to the Hall of Joy and Longevity (乐寿堂), where the Empress Dowager Cixi once lived. Here you can either go up to the hill or wander along the East Dyke (东堤). Xinjiangongmen will lead you direct to the famous 17-Arch Bridge (十七孔桥), a 150m bridge carved with more than 500 different stone lions on the railings. Taking a boat trip there will be very relaxing and save you much time.>>Check More About Summer Palace
How to Plan a Beijing Summer Palace Tour
It usually takes at least half a day to visit around the Summer Palace. For the rest of your tour, you can explore the best highlights of Beijing in many flexible ways. Generally speak, 2 - 4 days are sufficient. You can visit Tiananmen Square, now the largest city plaza in the world, and Forbidden City, one of the world's five most important palaces before you go to the Summer Palace. Then spend another day hiking the famous Mutianyu Great Wall and having a walk at the Sacred Way on your way back to central Beijing. On the third day, you can have some leisure time at the Temple of Heaven and hop on a rickshaw to experience the typical Beijing Hutongs.
If you have more days, you can go for an in-depth Great Wall hiking or photography tour, and explore more hidden attractions in the city, or even travel a little further to other cities in China such as Xi'an and Shanghai. If you have other ideas or questions about Beijing Tour, please feel free to contact us. We are also specialized in tailor-made tours that fit you best according to your own interests, requirement, traveling time, etc.
Forbidden City
Recommended Beijing Tours:
>>2 Days Beijing Layover Highlights Tour
>>3 Days Beijing Essential Short Stay Tour
>>4 Days Classic Beijing Tour Package
Keep Reading about Beijing Maps
Top Beijing Tours & Travel Guide
Recommended Beijing Tours
Top 3 Beijing tours chosen by most customers to explore Beijing in the best way. Check the detailed itinerary,or tailor your own trip now with us.
2 Days Mutianyu and Jinshanling Great Wall Hiking

Beijing / Mutianyu / Jinshanling