Mutianyu Great Wall Maps 2023
Built in 1368, Mutianyu Great Wall has a long history and splendid culture. It is one of the best-preserved parts of the whole Great Wall. To better plan your Mutianyu trip, here we have provided you with its location map, transportation map, tourist map, hiking map, and cable car, chairlift & toboggan Map.
Mutianyu Great Wall Location Maps
Mutianyu Great Wall is located in Bohai Town, Huairou District, about 74km north of Beijing downtown. It links Gubeikou in the east and Juyongguan in the west. The maps below show the location of Mutianyu in Beijing and other sections of the Great Wall.
Mutianyu Great Wall Transportation Map
There are usually three ways to get to Mutianyu Great Wall from downtown.
By car (Option 1) - fast & more comfortable, about 2 hours
Taking a taxi from Beijing downtown to Mutianyu Great Wall will need at least CNY 250. But not many taxi drivers are willing to go there because it is too far. If you want to save all the transportation troubles, you can choose the private car service provided by China Discovery. We will pick you up from your hotel and send you to the great wall safely with comfortable vehicles, skilled drivers, and professional guides.>>Contact Us Now
By bus (Option 2, 3, 5) - cheap but longer, 2.5-3 hours
There are three bus choices. The first one: Mutianyu Shuttle Bus. You can get on at Beijing Tourist Distribution Center 北京旅游集散中心 (Address: Near Metro Line2 Qianmen Stop Exit C 前门正阳门箭楼西南角近地铁2号线C口出) and get off at Mutianyu Great Wall Parking Lot 1. The second one: Bus 916. You can get on the bus at Dongzhimen Wai stop to Huairou North Rd. Then transfer to Bus h23/36/50/24/35 to Mutianyu Roundabout which is only 200m away from the scenic area. The third one: Bus 867. It is a nonstop bus from Dongzhimen Wai stop (东直门外站) to Mutianyu but only opens during the peak season (April to the mid-November)
By train (Option 4) – about 3 hours
You can take a train (about 1 hour) from Beijing or Beijing East Railway Station to Huairou Railway station, and then take a cab or bus to Mutianyu Great Wall Scenic Area.
>>Know More About How to Get to Mutianyu Great Wall
>>How to Get to Mutianyu from Jiankou | Jiankou to Mutianyu Hike
Mutianyu Great Wall Tourist Map
Mutianyu Great Wall, the longest great wall section, stretches 5400m, with 2250m open to the public and densely dotted 23 watchtowers. The Zhengguan pass with 3 watchtowers standing side by side on the eastern part is rarely seen at other great walls. Other famous tourist sites like Flying eager, Jiankou (Arrow Nock) are on the west side of Mutianyu Great Wall.
Mutianyu Great Wall Cable Car, Chairlift & Toboggan Map
There are three means to ascend and descend Mutianyu: Cable car, Chairlift, and Toboggan ride.
1. Cable car is near the north ticket office. You can get to Watchtower 14 from here. It is an enclosed cabin which can take 6 passengers at the same time. It runs from 8am to 5pm in summer, and 8:30am to 4:30pm in winter. The ticket for one way cable car is CNY 100, for a round-trip ticket is CNY 120.
2. Chairlift is like an open cable car where people can sit side by side. It can get you to watchtower 6 or get you down from there in about 10 minutes. It also runs from 8am to 5pm in summer, and 8:30am to 4:30pm in winter. The ticket for one way chairlift is CNY 100, for a round-trip ticket is CNY 120.
3. Toboggan (or slide way) next to the chairlift is only used to get down the Great Wall. It is fun and adventurous. You can control the speed by yourself when diving along the 1680m pathway. Both single and double carts are available so that the adult can keep the child accompany during the ride. It opens from 8:00 to 16:50 on weekdays (Monday to Friday) and 8:00 to 17:00 on weekends. If you buy a round-trip ticket for chairlift, you can take the chairlift up and then take the toboggan down.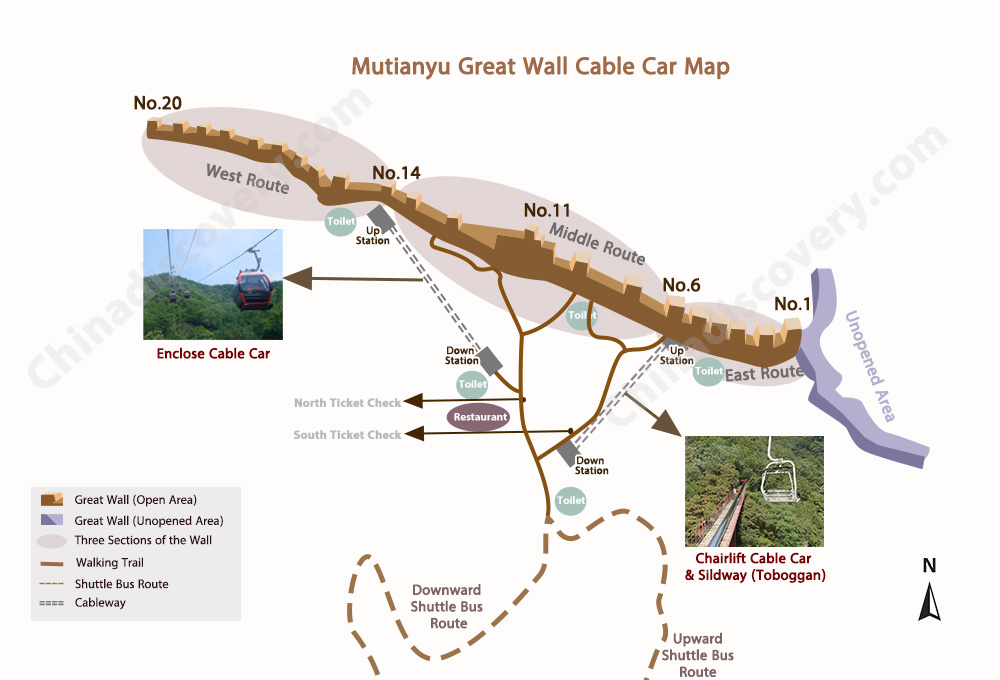 Mutianyu Great Wall Cable Car, Chairlift & Toboggan Map
Mutianyu Great Wall Hiking Map
The 2250m open to the public is available for hiking. It takes about 3 hours to walk from the first tower on the eastern edge to the 23th tower on the western edge. Watchtower 14 to 23 is the most beautiful part. You can take cable car to watchtower 14 then hike to watchtower 23 and return to 14. It will take about 1.5-2 hours. Here you can take the cable car down or keep hiking to watchtower 6, which will need about 50 minutes. Then comes your second choice, you can either take the chairlift or toboggan down, or spend another hour hiking to the easternmost watchtower 1.
Apart from that, there are two hiking paths to the great wall from the ticket office. The north hiking passage will lead you to watchtower 8 and 10, and the south one is to Watchtower 6 and 8. But this 1-hour hiking is not very recommended because it will consume much of your energy and when you get up to the Great Wall, you may be too tired to fully appreciate the scenery.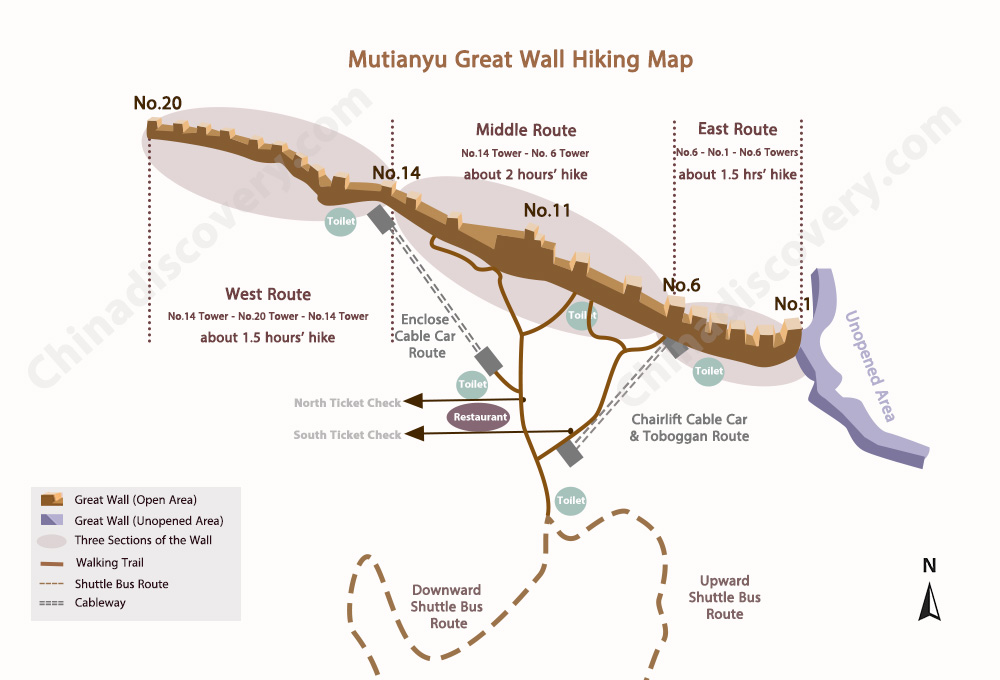 Mutianyu Great Wall Hiking Map
How to Plan a Mutianyu Great Wall Tour
One day is enough to full explore Mutianyu Great Wall. It is recommended to start your trip early to avoid the traffic jam and crowds. When you get to the ticket office, you can take a 10-minute shuttle bus or walk to the entrance (about 3km). Then the rest of the day is free for you to hike the great wall according to your own pace. If you want to see more of other Great wall sections, you can add another day to Jinshanling Great Wall.
Generally speaking, it is advised to spend another 2-3 days visiting other tourisit sites in Beijing city, such as one of the world's five most important palaces – the Forbidden City, the largest and best-preserved royal garden in China - the Summer Palace, the largest sacrificial site Temple of Heaven, and the magnificent Mutianyu Great Wall.
If you have any other questions about Mutianyu Great Wall or Beijing tours, please feel free to contact us. We are specialized in tailor-made tours according to your own requirements, interests, traveling time and budgets.
Other Recommended Beijing Tours:
>>2 Days Beijing Layover Highlights Tour
>>3 Days Beijing Essential Short Stay Tour
Best Great Wall of China Tours >>
Great Wall of China Maps
Great Wall of China Guide
Recommended Beijing Tours
Top 3 Beijing tours chosen by most customers to explore Beijing in the best way. Check the detailed itinerary,or tailor your own trip now with us.
2 Days Mutianyu and Jinshanling Great Wall Hiking

Beijing / Mutianyu / Jinshanling