Beijing Hutong Maps - Updated and Downloadable 2022
Many visitors in Beijing will ask: "Where is Beijing Hutong?" Actually, there are hundreds of them interlaced in Beijing. They are alleys lined with traditional Chinese quadrangle courtyards where Beijing people live. Having a history of several hundred years, Hutongs are like an encyclopedia of Beijing. Every brick, tile, and courtyard there has their own story to tell. If you want to have a deeper understanding of Beijing and Beijing people, go for the Hutongs. Here are the maps of main Hutongs in Beijing to help you better plan a Hutong tour.
Top 10 Beijing Hutongs Location Map
Most Hutongs gather in the downtown areas of Beijing, in Dongcheng and Xicheng District, within 2rd Ring Road. Among the numerous Hutongs, the 10 most popular ones are: Nanluoguxiang (南锣鼓巷), Yandaixie Street (烟袋斜街), Mao'er Hutong (帽儿胡同), Guozijian Street (国子监街), Liulichang Cultural Street (琉璃厂文化街), Jinyu Hutong (金鱼胡同), Dongjiaomin Lane (东交民巷), Xijiaomin Lane (西交民巷), Ju'er Hutong (菊儿胡同), and Bada Hutong (八大胡同). >>Know More About Hutong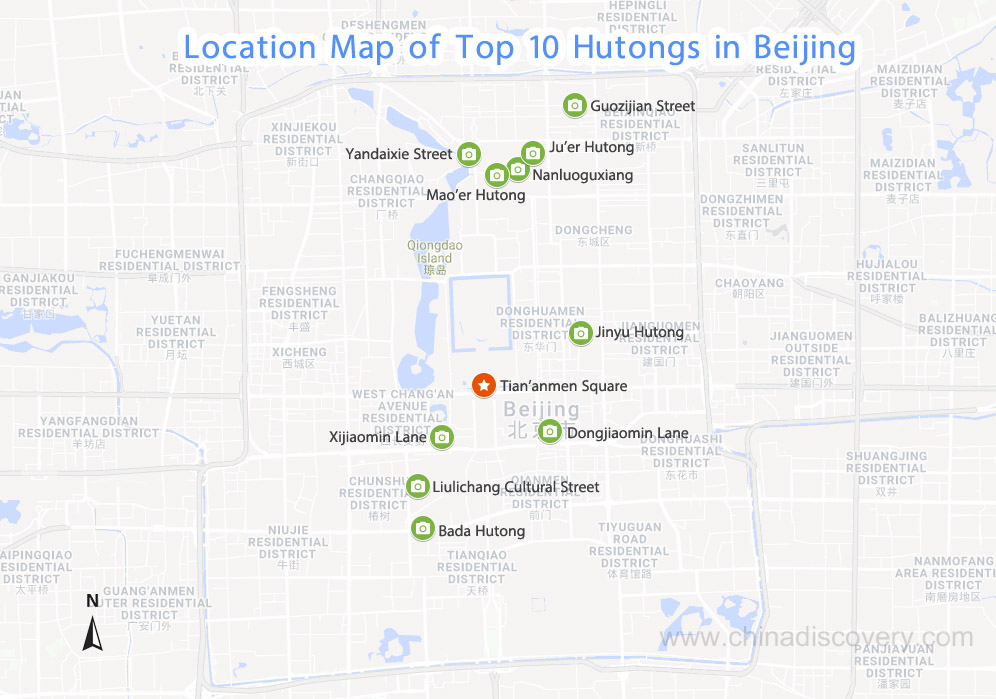 Top 10 Hutongs in Beijing
Maps of Recommended Hutongs in Beijing
Speaking of Beijing Hutong, Nanluoguxiang is always the first one to pop into people's mind. It is undisputedly the most visited Hutong in Beijing. You can find all kinds of souvenirs, snacks, and many former residences of previous princes, generals, artists, and other celebrities here. Mao'er Hutong and Ju'er Hutong are also in this area. If you prefer somewhere quieter but also authentic, the nearby (about 15 minutes' walk) Yandaixie Street is a good choice and you can appreciate the scenery of Houhai (Back Lakes) when you walk there.
How to Plan a Beijing Hutong Tour
Beijing Hutongs are open to the public all day for free. It only needs about 2 hours or less to look around one Hutong. You can start your Hutong tour from Nanluoguxiang. As there are many attractions nearby, you can continue your trip westwards to another Hutong, Yandaixie Street, or travel northeastwards for about 2km to the Confucius Temple and Lama Temple. To enrich your Beijing tour, you can add another 2 days to the Tian'anmen Square, Forbidden City, Summer Palace, Jingshan Park, the Temple of Heaven, and the Olympic Park. If you have more days, you can go for an in-depth Great Wall hiking or photography tour, and explore more hidden attractions in Beijing city.
If you have any other questions or ideas, please feel free to contact us. We are specialized in customized tours according to your own interests, budgets, and traveling time. Our professional travel consultants are always ready to help!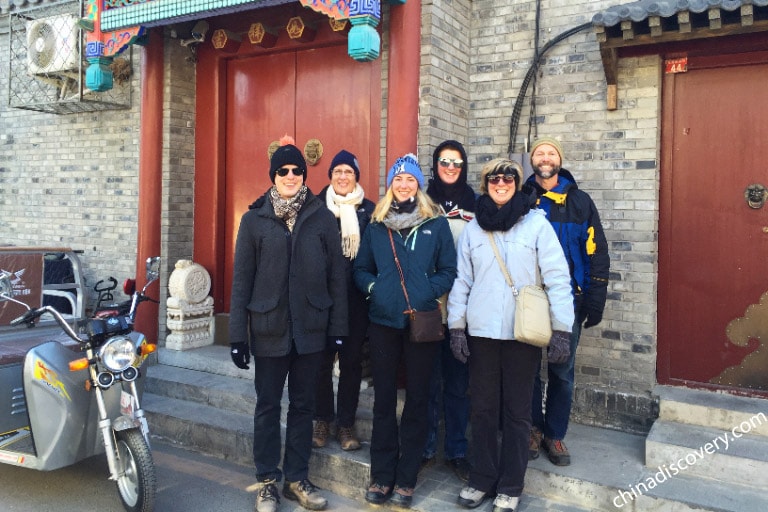 Prosperous Scene at Yandaixie Street
Recommended Beijing Hutong Tours:
>>3 Days Beijing Essential Short Stay Tour (Transit Visa Free)
>>4 Days Classic Beijing Tour Package
>>5 Days Experience the Real Hutong Life of Beijing
Keep Reading about Beijing Maps
Top Beijing Tours & Travel Guide
Recommended Beijing Tours
Top 3 Beijing tours chosen by most customers to explore Beijing in the best way. Check the detailed itinerary,or tailor your own trip now with us.
6 Days Leisure Beijing Photography Tour

Beijing / Great Wall
3 Days Beijing Walking Tour

Beijing