Beijing Districts Map 2023
Beijing covers an area of 16410.54km². It is divided into 16 districts, namely Dongcheng (东城), Xicheng (西城), Chaoyang (朝阳), Fengtai (丰台), Shijingshan (石景山), Haidian (海淀), Mentougou (门头沟), Fangshan (房山), Tongzhou (通州), Shunyi (顺义), Changping (昌平), Daxing (大兴), Huairou (怀柔), Pinggu (平谷), Miyun (密云) and Yanqing (延庆). Here is the map showing the location of all the 16 districts.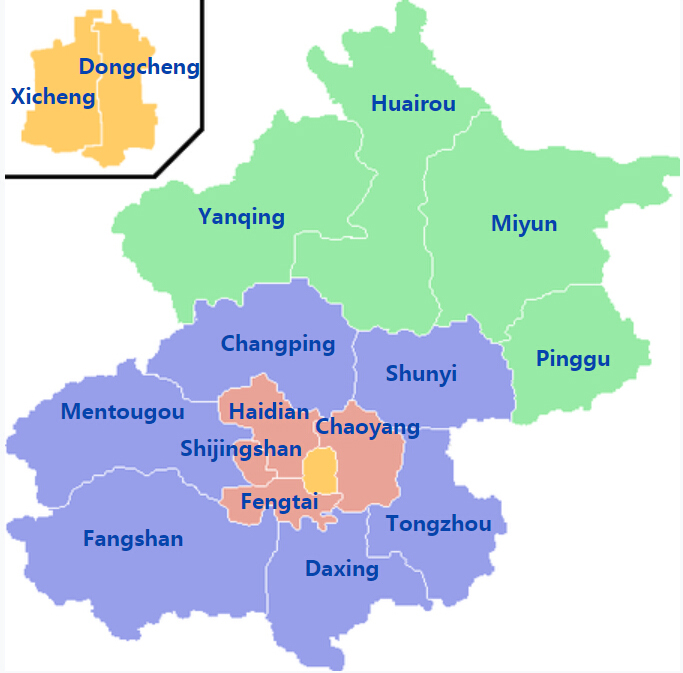 Beijing Districts Map
Main Districts in Beijing
Beijing has 16 districts in total. The downtown area of Beijing includes Dongcheng, Xicheng, Chaoyang, Fengtai, Shijingshan, and Haidian. They are also where the main attractions locate. But the famous Great Wall lies in the remoter districts such as Changping, Huairou, Yanqing, and Miyun.
Dongcheng District (Dōngchéng Qū 东城区)
Dongcheng District, with a total area of 41.84 square kilometers, is located in the eastern part of Beijing's central urban area, bordering Chaoyang District in the east and north, Fengtai District in the south, and Xicheng District in the west. Dongcheng District is the area with the densest cultural and history relics and monuments in Beijing. The prestigious Forbidden City, Temple of Heaven, Drum Tower and Bell Tower, Nanluoguxiang can all be found here. There is also a busy Wangfujing Pedestrian Street where you can meet many time honored brand stores.
>>2 Days Beijing Layover Highlights Tour
Xicheng District (Xīchéng Qū 西城区)
Xicheng District (50.7km²) is located in the west of the central area of Beijing, just next to Dongcheng District. It borders Haidian and Fengtai. There are many scenic spots in Xicheng District, such as Great Hall of the People, Jingshan Park, Beihai Park, Yuetan Park, Taoranting Park, Beijing Grand View Garden, etc. If you are interested in Chinese painting and calligraphy, you can spend some time at Liulichang Culture Street, an ancient street market lined with stores for books, paintings, and antiques.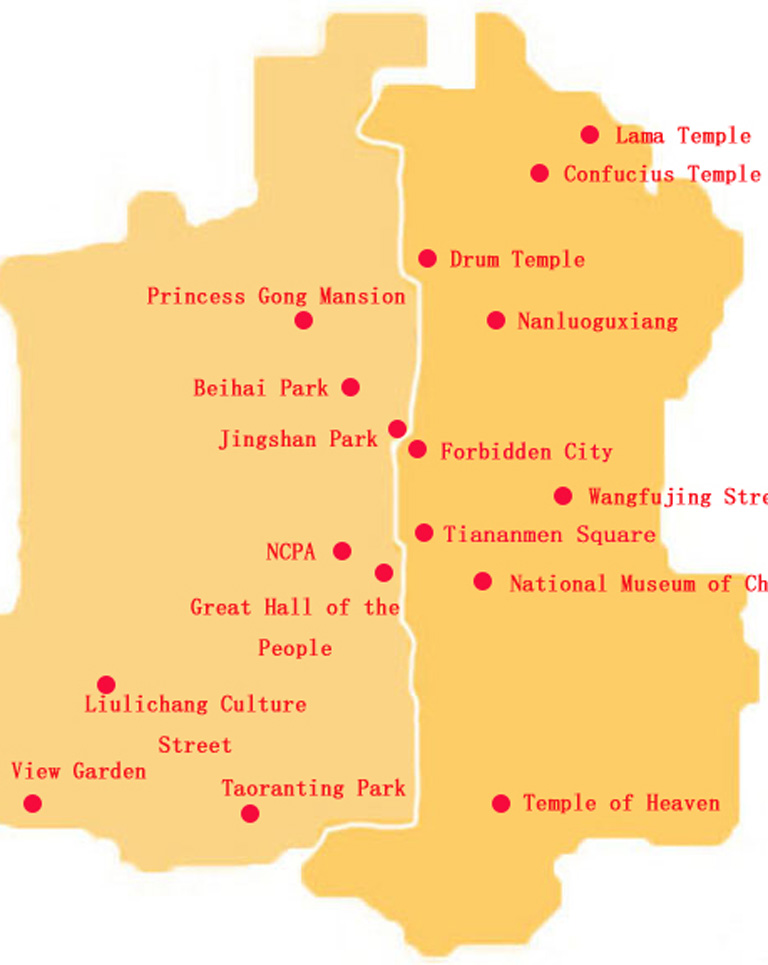 Main Attractions in Dongcheng & Xicheng
Chaoyang District (Cháoyáng Qū 朝阳区)
Chaoyang District lies in the east of Beijing. With an area of 470.8km², it is the largest district in downtown Beijing. Chaoyang District is probably the most suitable place to see a modern Beijing. The renowned CBD, a large number of foreign embassies, the fashion life landmark Sanlitun, and upscale residential quarters have made Chaoyang a hot spot for celebrities to get together. It is also an important industrial base (including textile, electronics, chemical, machinery manufacturing, automobile manufacturing and other industrial bases) in Beijing.
Fengtai District (Fēngtái Qū 丰台区)
Fengtai District (305.87km²) is in the south of Beijing, bordering Chaoyang District in the east, Dongcheng District, Xicheng District, Haidian District and Shijingshan District in the north, Mentougou District in the northwest, Fangshan District in the southwest and Daxing District in the southeast. It may not as famous as Dongcheng or Chaoyang, but you will love the pleasant environment at the Beijing Garden Expo and the Museum of Chinese Gardens and Landscape Architecture.
Shijingshan District (Shíjǐngshān Qū石景山区)
Shijingshan district is in the west part of Beijing, only 15km from Tiananmen Square. Though small in area (84.38km²), it is the district with the most abundant forest resources, the highest green coverage rate and the highest per capita public green space in Beijing. 23% of Shijingshan area is covered by mountains and the urban green coverage rate has reached 47.09%. Chinese people always have a special feeling for mountains because they believe they are closer to the immortal world. So Shijingshan has long been an important historical and cultural town in Western Beijing.
Haidian District (Hǎidiàn Qū 海淀区)
Haidian District is located in the west and northwest of Beijing urban area, covering an area of 430.8 square kilometers. Haidian District is a place many Chinese students yearn for because it is home to several top-ranking universities such as Peking University, Tsinghua University, Renmin University of China, Beijing Normal University, etc. You can have a tour around the universities to feel the vitality of the youth. There are also some famous places of interest like the Summer Palace, Old Summer Palace (Yuanming Yuan), and Fragrant Hills Park.
>>4 Days Classic Beijing Tour Package
Chanping District (Chāngpíng Qū 昌平区)
Changping District locates in the northwest of Beijing and spans a vast area of 1352km². It has a history of more than 2,000 years since being set up as a county in the Western Han Dynasty (202 B.C. – A.D. 8). The Ming Tombs and Juyongguan Great Wall in this district have been listed on the World Heritage List, and Xiaotangshan is a famous hot spring town. It will be quite refreshing to take a hot spring bath after hiking the Great Wall.
Huairou District (Huáiróu Qū 怀柔区)
Huairou District (2122.6km²) is at the southern foot of Yanshan Mountain, northeastern Beijing. It borders Miyun District in the east, Shunyi District and Changping District in the south, Yanqing District in the West and Hebei Province in the north. Huairou District is mainly famous for the Mutianyu Great Wall and Yanqihu Lake where the APEC meeting was held in 2014.
>>2 Days Mutianyu and Jinshanling Great Wall Hiking
Yanqing District (Yánqìng Qū 延庆区)
Yanqing District (1993.75km²) is located in the northwestern part of Beijing, adjacent to Huairou District in the East and Changping District in the south. It is known as the "Summer Capital" of Beijing because it is usually much cooler than Beijing downtown in summer. Badaling Great Wall in this district has attracted thousands of tourists there every year.
Miyun District (Mìyún Qū 密云区)
Miyun District is located in the northeastern part of Beijing, on the border of where the Yanshan Mountains and the North China Plain meet. It is a major gateway to Inner Mongolia and Northeast China, which shows the importance of Miyun in the history of China. So it is not surprising to know that there is another section of the Great Wall, Simatai Great Wall. If you are not in a hurry, you can spend a night at the nearby Gubei Water Town and appreciate the night scenery of the Great Wall.
>>2 Days Jinshanling and Simatai Great Wall Wild Hiking
How to Plan a Beijing Tour
Generally speak, 2 - 4 days are sufficient to explore the best highlights of Beijing. You can visit Tiananmen Square, now the largest city plaza in the world, Forbidden City, one of the world's five most important palaces, and Summer Palace, the largest and best-preserved royal garden in China on the first day. Then spend another day hiking the famous Mutianyu Great Wall and having a walk at the Sacred Way on your way back to central Beijing. The third day is free for you to have some leisure time at the Temple of Heaven or hop on a rickshaw to experience the typical Beijing Hutongs.
If you have more days, you can go for an in-depth Great Wall hiking or photography tour, and explore more hidden attractions in the city, or even travel a little further to other cities in China such as Xi'an and Shanghai. If you have other ideas or questions about Beijing Tour, please feel free to contact us. We are also specialized in tailor-made tours that fit you best according to your own interests, requirement, traveling time, etc.
Forbidden City
Recommended Beijing Tours:
>>2 Days Beijing Layover Highlights Tour
>>4 Days Classic Beijing Tour Package
>>8 Days Best of China Tour (Beijing / Xian / Shanghai)
Keep Reading about Beijing Maps
Top Beijing Tours & Travel Guide
Recommended Beijing Tours
Top 3 Beijing tours chosen by most customers to explore Beijing in the best way. Check the detailed itinerary,or tailor your own trip now with us.
2 Days Mutianyu and Jinshanling Great Wall Hiking

Beijing / Mutianyu / Jinshanling