Mutianyu Great Wall Toboggan – Most Exciting Way to Travel the Great Wall
Mutianyu Great Wall is one of the most famous sections of the Great Wall of China. Located in the precipitous forested countryside, it's less touristy and crowded than popular Badaling Great Wall. Traveling to Mutianyu Great Wall is a wonderful experience because you can admire the majestic architectural wonder as well as fantastic natural scenery. What's more, you can also have a great speed-slide experience if you want to try something different. After your memorable hiking on Mutianyu Great Wall, taking a toboggan down to the bottom can not only save your energy, but also give you an exciting trip.
The speed slide (also known as toboggan) is a form of transportation to take you from No.6 watchtower to the foot of Mutianyu Great Wall. It is more regarded as a new sport and an entertainment for fun. Making use of the principle of acceleration of gravity, the toboggan with pulley and tramcars will drive you down. It is available to control the speed with a handle. Many travelers, especially the young people quite enjoy ridding a toboggan.
Facts of Mutianyu Great Wall Toboggan
Route: No.6 Watchtower to the foot of Mutianyu Great Wall
Cableway Length: 1,580 meters (5184 feet)
Riding Time: About 5 ~ 10 minutes (depending on your speed)
Maximum Capacity: : One adult and one child at most
Operating Hours: 08:00 ~ 18:00 in summer and 08:30~ 16:40 in winter
One-way Tickets: 100RMB for adults and 50RMB for children (shorter than 1.4m)
Round Way Ticket (go up by chairlift): 120RMB for adults and 60RMB for children (shorter than 1.4m)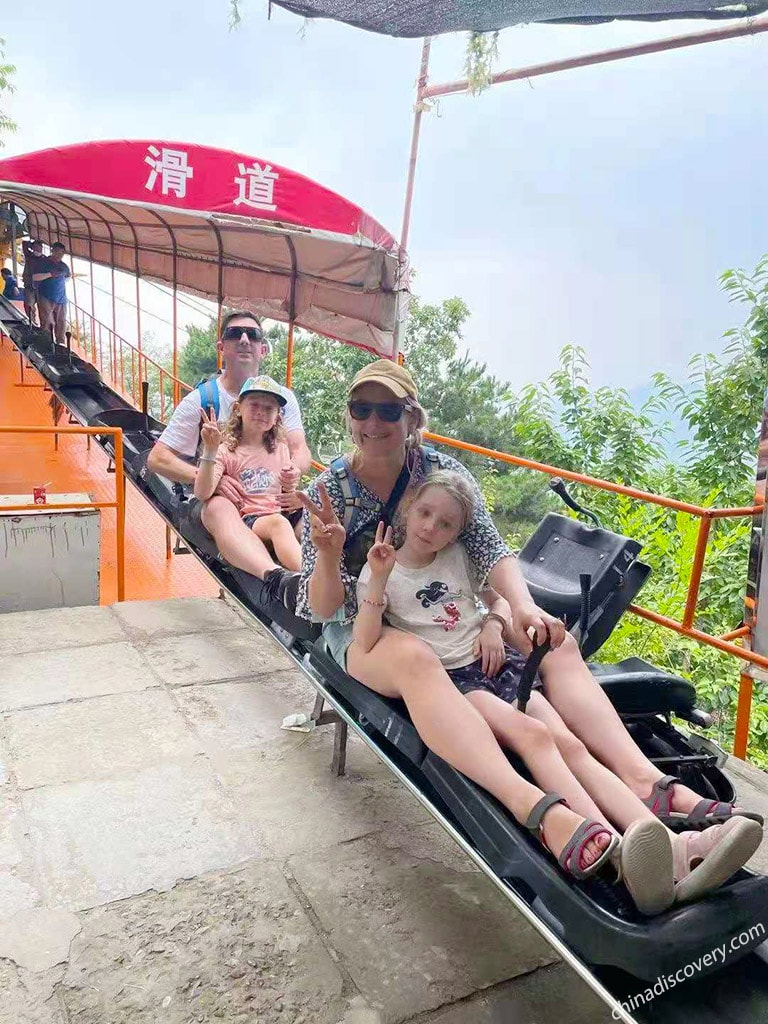 Our Guest from New Zealand Taking Mutianyu Toboggan (Jul. 2021)
How to Drive Mutianyu Great Wall Toboggan
There is a handle equipped in every toboggan. Firstly, sit steadily on the toboggan and put your two legs on the two sides of the handle. Before you move, hold the handle. Then control the speed according your own interest. You can push the handle forward to speed up or pull the handle back to brake. Remember to keep a safe distance of at least 35 meters from the passenger in front of you to avoid a rear impact. When you get around the corner, you can lean a bit toward the center point to keep balance.
How to Plan a Mutianyu Great Wall Tour with Toboggan Experience
Get to Mutianyu Great Wall Scenic Area: or independent travelers, it is top recommended to take the Mutianyu Shuttle Bus (慕巴士) from Beijing Qianmen Tourist Center (北京前门旅游集散中心) to Mutianyu Scenic Area. Some public buses like No. 916 and No. 867 are also available to take you from Beijing city to Mutianyu Great Wall. Learn more about How to Get to Mutianyu Great Wall>
Hike or take a cable car to Mutianyu Great Wall: If you want a full hiking journey, you can hike from the North Entrance to No.8 Watchtower or No.10 Watchtower via North Passage directly, or from South Entrance to No.8 Watchtower or No.6 Watchtower via South Passage. Usually, the hiking takes about 40 ~ 60 minutes. Cable car is a great substitute to take you the great wall if you want to spend more time hiking on the wall. Enclosed cable car and uncovered chairlift are both available. Read more about Mutianyu Great Wall Cable Cars>
Ride a Toboggan to the Foot of Mutianyu Great Wall: After the hiking and sightseeing experience on Mutianyu Great Wall, it's time to leave. You need to turn back to No.6 Watchtower and take a toboggan down to the bottom.
Travel Mutianyu Great Wall with Other Attractions: If your time permits, you can visit Sacred Way, a 7-km-long road leading to the Imperial Tombs of 13 emperors of Ming Dynasty. On your driving back to Beijing city, you are also suggested to take a stop for a view of the world-know architecture of Bird's Nest and Water Cube.
Recommemded Beijing Tours with Mutianyu Great Wall:
>> 2 Days Beijing Layover Highlights Tour
>> 3 Days Beijing Essential Short Stay Tour (Visa Free)
>> 4 Days Classic Beijing Tour Package
Tips for Mutianyu Toboggan
1. The enclosed cable car and toboggan are not operated by the same company, so if you ascend Mutianyu Great Wall with an enclosed cable car and descend by toboggan, you need to buy two one-way tickets at 200RMB totally. If you get up by chair Lift and get down by toboggan, you just need a round-way ticket which cost 120RMB.
2. A kid under the age of 10 has to be accompanied by a parent and the double toboggan is available for one kid and one adult; people older than 60, pregnants, patients with some special disasters (like high blood pressure, heart disease, lumbar spondylosis, etc.) are not permitted to ride a toboggan.
3. In the rainy or snowy days, the speed slide will be closed. If it rains on your ridding, please stop moving and evacuate under the guidance of the staff.
4. For your safety, it's not permitted to stop, take photos, use cellphones and drop off the toboggan for nothing.
5. Since the toboggan is less chosen by travelers than cable cars, you don't need to queue usually. But in the peak season, especially Chinese holidays like May Day, Qingming Festival and National Day, you may need to about 0.5~1 hour to wait.
Recommended Beijing Tours
Top 3 Beijing tours chosen by most customers to explore Beijing in the best way. Check the detailed itinerary, or tailor your own trip now with us.
Start planning your tailor-made holiday to China by contacting one of our specialists. Once inquired, you'll get a response within 0.5~23.5 hours.
Customize a Trip
Have a question? Get answers from our travel experts or guests
Your Question:

Your Name:

Your Email: