How to Get to Great Wall of China 2023
As a world-famous manmade wonder, Great Wall of China has long been a must-be-visited sight. These centuries-old structures have attracted numerous tourists and many world leaders (like Queen Elizabeth II of UK, former Prime Minister Margaret Thatcher of UK, former Prime Minister Fukuda Takeo of Janpan, former president Richard Nixson of United States, former president Barack Obama of United States, etc.). Visiting Great Wall, you can not only appreciate the wisdom crystallization of the ancient people but also enjoy the surrounding wonderful landscape. According to your point of departure and interested parts of Great Wall, you can travel Great Wall in different ways.
Location of Great Wall
Great Wall is one defense line stretching from northwestern to northeastern areas of China. It is made of many segments scattered in different provinces and cities, including Qinghai, Inner Mongolia, Ningxia, Gansu, Shaanxi, Beijing, Tianjin, etc. Currently, Great Wall always refers to the Great Wall of Ming Dynasty located in or around Beijing. The most popular parts are about 60 ~ 160km away from Beijing downtown area. Check more about Where is Great Wall of China Locate>
How to Get to Beijing
Tourists usually choose to travel some sections of Great Wall in their first come. They may fly to Beijing from their country, or take a domestic flight or train to Beijing, and then visit Great Wall.
Flights to Beijing
Beijing Capital International Airport (北京首都国际机场, IATA:PEK,ICAO:ZBAA), the main airport used in Beijing, serves over 160 international and domestic flights every day. Travelers can fly to Beijing from most big international cities of Europe, America, Asia and Oceania. It is quite convenient to take a flight from New York, Washington, Los Angeles, Paris, London, Sydney, Moscow, Rome,, Singapore, Tokyo, Seoul, etc.
Some travelers may choose to take an international flight to Shanghai, Hong Kong, Guangzhou or some other cities firstly. It is also quite easy to fly to Beijing from these cities. Usually, Shanghai operates 50 daily flights to Beijing while Hong Kong and Gaungzhou operates over 20 daily flights to Beijing. Besides, there are available nonstop flights to Beijing from Xian, Guilin, Chongqing, Kunming, Huangshan, Zhangjiajie, Chengdu, etc. as well, so you can efficiently transfer to Beijing after your journey in these popular tourist cities. Check more about Flights to Beijing>
Currently, most of the international and domestic flights will land at Beijing Capital International Airport. It is located in Jingchang West Road, Chaoyang District, Beijing City (北京市朝阳区机场西路), about 30km (1.5 ~ 2 hours' driving) away from Tiananmen Square.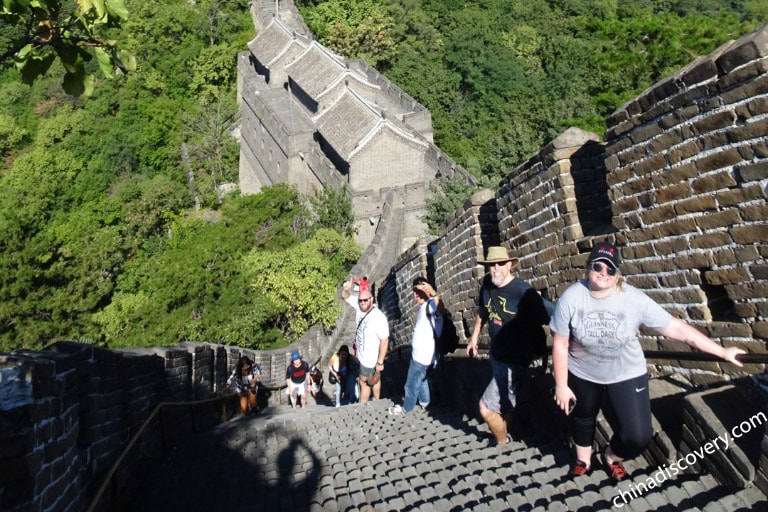 Beijing International Capital Airport
High Speed Trains to Beijing
In modern China, traveling by high speed trains becomes a fashion. It not only provides efficient comfortable transfer, but also gives you an opportunity to see the natural landscape and villages along the road. As the capital city of China, Beijing can be reached by high speed trains from most cities, including Shanghai (about 5hrs), Xian (about 5hrs), Chengdu (about 8hrs), Guangzhou (8 ~ 10 hours), Hong Kong (about 9hrs), Harbin (about 7hrs), Tianjin (30 ~ 60 minutes), Hangzhou (about 5 hours), Nanjing (4.5 hours), Suzhou (5.5 hours), Huangshan (6.5 hours), Chongqing (12 hours), Shenzhen (about 8.5-10.5 hours), Xiamen (11.5 hours) and so on. It is most popular to take a high speed train to Beijing from Shanghai and Xian. Check more about Beijing High Speed Trains>
Most high speed trains arrive at Beijing South Railway Station (北京南站) and Beijing West Railway Station (北京西站). Beijing South Railway Station is located No.12, Yongwai Chezhan Road, Fengtai District (北京市丰台区永外车站路12号), 7km (about 30minutes' driving) away from central Beijing City. It can be reached by metro Line 14 and many public buses. Beijing West Railway Station is located No.118, Lianhuachi East Road, Fengtai District, Beijing City (北京市丰台区莲花池东路118号), 8km (about 30 minutes' driving) from Beijing City center. It can be reached by metro Line 7, Line 9 and many public buses. Check more about Bejing Railway Stations>
Beijing High Speed Rail Map (click to enlarge)
Beijing South Railway Station
Get from Beijing to Great Wall of China
Top recommended sections of Great Wall in Beijing suburb include Mutianyu Great Wall, Badaling Great Wall, Huanghacheng Great Wall, Jinakou Great Wall, Juyongguan Great Wall, Simatai Great Wall, Jinshanliang Great Wall and Gubekou Great Wall, etc. It is available to get to these sections of directly from Beijing.
Some travelers will start their journey to Great Wall as soon as they reach Beijing while others prefer a good rest in the hotel in Beijing City and then start a journey to their favorite Great Wall. Those travelers who want to make full use of they tour time will travel to Great Wall Beijing Airport and railway stations directly. Check the different transfer from Beijing Airport, Beijing South Railway Station and Beijing West Railway Station to Great Wall.
Travel by Private Driving – Top Recommended
The most convenient way is to travel with a travel agency like China Discovery. We will pick you at your hotel, airport or railway station and escort you to Great Wall. You don't need to worry about the complicate transfer and just focus on sightseeing. The direct driving from Beijing city to different great wall may take about 1.5 ~ 3.5 hours. Mutianyu Great Wall is frequently-chosen by foreign travelers, and it needs about 2.5 hours usually. The c losest Great Wall to Beijing is Juyongguan Great Wall and you can get there within 1.5 hours usually. If you want to visit Jinshanling Great Wall, it takes about 3 hours.
Beijing to Great Wall Map (click to enlarge)
Use Public Transportation
For independent travelers, it is also available to use public transport to reach great wall, but it will quite complicate. Mutianyu, Jinshanling and Simatai can be reached by tourist buses, but you need to transfer to Dongzhimen Wai Bus Station early. It is also available to take a sightseeing train to Badaling Great Wall from Beijing Railway Station. With several times transfer, you can also get to different sections of Great Wall by bus. Please note that, most bus stations are reported in Chinese only and you may have some trouble in getting off at the right stops. If you insist on public transport, remember to get familiar with the bus routes in advance.
How to Plan a Great Wall Tour
Plan a Great Wall of China Hiking Tour
If you are a Great Wall fan or a serious trekker, you can spend several days exploring the beauty of different sections of Great Wall. It is recommended to trek the Great Wall with less crowds and greater wild original feature, including Mutianyu Great Wall, Jinshanling Great Wall, Simatai Great Wall, Huanghuacheng Great Wall and so on. If your time is limited, you can spend half a day trekking Mutianyu Great Wall which allows you to see the best views of Great Wall can get rid of the crowds. The trekking on Mutianyu Great Wall is short but enjoyable. If you have two days, you can hike Mutianyu first and then drive to Jinshanling. On the next day, you can start your Jinshanling hiking. If you want to admire some real wild landscape, you can trek Jinshanling and Simatai in two days.
>>2 Days Mutianyu and Jinshanling Great Wall Hiking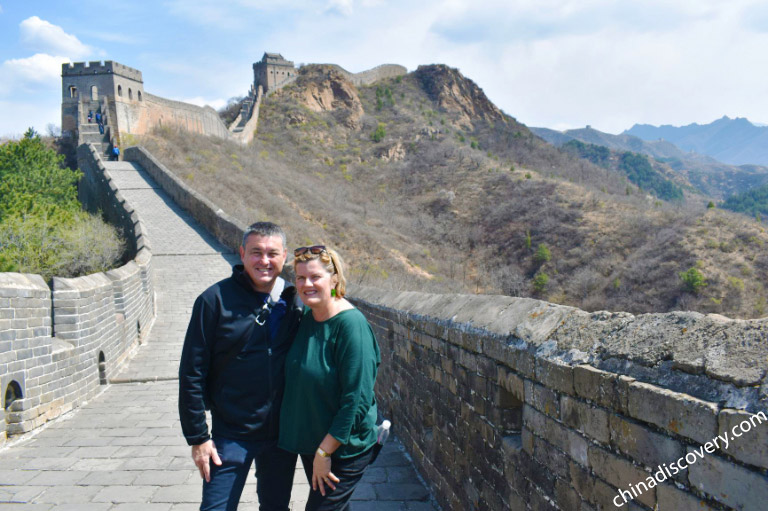 Simatai Great Wall in Spring
Plan a Beijing Tour with Great Wall Experience
As the ancient and present capital city, Beijing never failed to satisfy travelers' desire for China's long history and rich culture, including the sprawling palace complex & museum, iconic lakeside retreat for royalty, famed & historic temple complex, etc. A classic Beijing tour with Great Wall experience takes about 2 ~ 4 days.
With 2 full days, you are able to see the essential landmarks of Beijing City. In the morning of the first day, you can pay a visit Temple of Heaven which once was used to pay homage to heaven and pray for harvest but now becomes a park for locals. Then drive to Mutianyu Great Wall, a less crowded but well-preserved segment of Great Wall. On your way back to Beijing, you can take a stop to enjoy the magnificent architecture of Bird's Nest and Water Cube. On the next day, you will firstly visit Forbidden City where the 24 emperors used to live in. Then drive to traditional Hutongs for a wonderful stroll or a rickshaw riding experience. In the afternoon, you can have an enjoyable time in Summer Palace – the largest royal garden in china.
If you have more days, you can travel at a leisure pace, or explore more attractions, like 798 Art Zone - a group of old military factory buildings with unique architectural style, Jingshan Park which delivers a panoramic view of Forbidden City, Lama Temple - a combination of Chinese and Tibetan style, and numerous museums. Check more about Things to Do in Beijing>
>> 2 Days Beijing Layover Highlights Tour
>> 3 Days Beijing Essential Short Stay Tour (Visa Free)
Featured Architecture of Beijing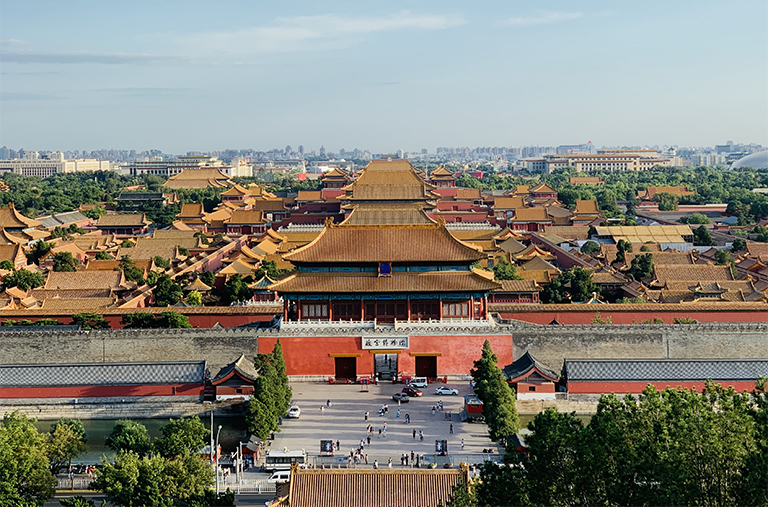 Seeing Forbidden City from Jingshan Park
Travel with China Discovery
Since all the sections of Great Wall are located in the outskirts of Beijing, they are not reached convenient. If you want to get rid of hustle of public transportation and troublesome navigation, you can book a private tour package which covers sightseeing, dining and transfer from us. Our private driver and tour guide will escort you to Great Wall with speed and convenience and take care of all the details. You just need to focus on sightseeing.
With several years' experience, we have helped many travelers finished their Great Wall. If you have any new travel ideas, feel free to contact us and we can customize a unique tour according to your own needs.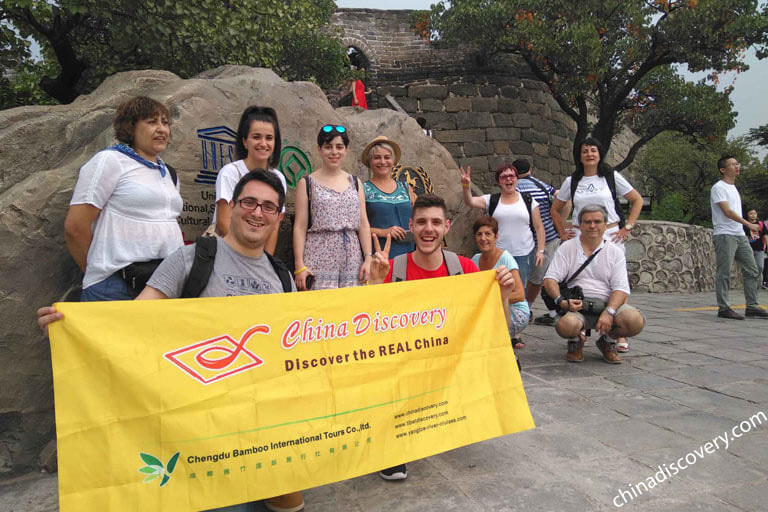 Maria's group from Spain traveled Mutianyu Great Wall
Recommended Beijing Tours
Top 3 Beijing tours chosen by most customers to explore Beijing in the best way. Check the detailed itinerary, or tailor your own trip now with us.
Start planning your tailor-made holiday to China by contacting one of our specialists. Once inquired, you'll get a response within 0.5~23.5 hours.
Customize a Trip
Have a question? Get answers from our travel experts or guests
Your Question:

Your Name:

Your Email: