Get from Jinshanling to Simatai | Jinshanling to Simatai Hike 2024
Jinshanling Great Wall is located in Hualougou, Bakeshiyin Town, Luanping County, Heibei (河北省承德滦平县巴克什营镇花楼沟村), about 130km to Tiananmen Square (about 3.5h by car), while Simatai Great Wall is northern Miyun District, Beijing, adjacent to Gubei Water Town. It is about 16km to Jinshanling Great Wall (about 0.5h by car).
Since they are right close to each other, some travellers will choose to hike from Jinshanling Great Wall to Simatai Great Wall.
Jinshanling to Simatai Hike
Jinshanling Great Wall is one of the best hiking sections with both good facilities and well-preserved hiking paths, while Simatai Great Wall is next to Guibei Water Town which offers amazing scenery with the stunning cultural heritage of the northern Chinese. Both of them are less crowded and more "natural", comparing with the great wall sections closer to the Beijing downtown. Many people would like to hike from Jinshanling to Simatai, and the whole hiking route is about 10km, which takes up to 4 hours. However, it is not recommended to hike from Jinshanling to Simatai and there are very few tourists who are able to make the long trek out.
There is a section a wild path in the border between Heibei Province and Beijing. Along the wild path connecting the two great walls, you will see the condition of the trail, deteriorated and quite rocky with loosen bricks and stones. If you come to visit Jinshanling and Simatai for the first time or you are there to explore with children, it's very risky to travel independently. Especially in the border section, it is very complicate to coordinate the first aid team to reach you if any emergency happened. It's not a wise decision to put yourself into the risk of the wild great wall paths or just for the sake of wild ancient Great Walls protection.
However, you can always travel the two great walls respectively. Jinshanling area offers the finest hiking trail, and it is more tourist friendly with cable car available. Stretching over 6 kilometers, Simatai Great Wall is rugged and unrestored with steep mountains and some scenic ruins, which is adventurous and challenging. You are recommended to have at least two days to travel both of them.
>>2 Days Jinshanling and Simatai Great Wall Wild Hiking
>>4 Days Beijing Essence Tour with Simatai Great Wall Night Sightseeing
Our Guests from Australia Visiting Simatai Great Wall (2019)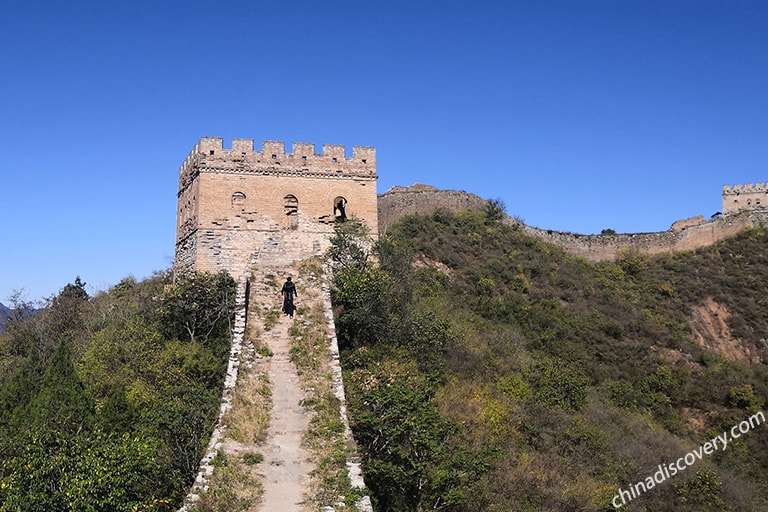 Jinshanling Great Wall Photo by Our Customer
Travel with China Discovery - Top-Recommended
To connect both sites, the only way is to take a private car or cab, since there is no public bus running across different provinces. The whole duration by car will be around half an hour. However, It is hard to find the cab in the suburban area, and you may encounter language barriers while talking with the driver . China Discovery offers private car service for every customer visiting Beijing. Our skilled driver and experienced guide will pick you up from Jinshanling section to Simatai. It's time-saving (about half an hour) and much more safe and you will be escorted all the way to Simatai Great Wall with comfortable travelling experience and professional travelling guidance.>>Contact Us Now
Useful Links:
>>Jinshanling Great Wall Maps | >>Simatai Great Wall Maps
>>How to get to Jinshanling Great Wall | >>How to get to Simatai Great Wall
How to Plan a Great Wall Hiking Tour
Besides Jinshanling Great Wall and Simatai Great Wall, there are many other great walls offering you the same marvellous views, including Mutianyu Great Wall, Badaling Great Wall and Jiankou Great Wall. Trekking on steep mountain ridge of Jiankou Great Wall, exploring the lakeside Huanghuacheng Great Wall and the representative Mutianyu Great Wall, admiring the famous and renovated Badaling Great Wall, you can encounter different sparking sides of each section and commemorate the man-made wonder of the ancient Chinese people. China Discovery offers you tailor-made tour service, and you can fully experience all the famous great walls in 2 days. If you have more time, it's also recommended to explore other attractions in Beijing, such as the Forbidden City, Summer Palace, the Temple of Heaven, and More!
Top-Recommended Great Wall Hiking Tour
>>2 Days Mutianyu and Jinshanling Great Wall Hiking
>>2 Days Jinshanling and Simatai Great Wall Wild Hiking
Best Great Wall of China Tours >>
Recommended Beijing Tours
Top 3 Beijing tours chosen by most customers to explore Beijing in the best way. Check the detailed itinerary,or tailor your own trip now with us.
2 Days Mutianyu and Jinshanling Great Wall Hiking

Beijing / Mutianyu / Jinshanling
2 Days Jinshanling and Simatai Great Wall Scenic Hiking

Beijing / Jinshanling / Simatai