Get from Jiankou to Mutianyu | Jiankou to Mutianyu Hike 2023
Mutianyu Great Wall is located in Bohai Town, Huairou District, about 75km to Tiananmen Square (about 2h by car), while Jiankou Great Wall is situated in the northeast of the suburb of Beijing, connecting Mutianyu Great Wall in the west. It is about 77km to Tiananmen Square (about 2h by car).
Since they are only 10km away from each other, some travellers will choose to hike from Jiankou Great Wall to Mutianyu Great Wall.
Jiankou to Mutianyu Hike
Mutianyu Great Wall is one of the representative great wall sections in Beijing. It's tourist friendly with cable car/ toboggan options available and the scenery there is spectacular and beautiful, while Jiankou is a section of wild, primitive unrestored walls which are partially ruined by the coming visitor. Even the two sections are next to each other within only 10 km (6 mi), it's not recommended to hike independently from Jiankou to Mutianyu.
To protect the great wall, Jiankou Great Wall will have a temporary shut-down sporadically for environmental conservation. Sometimes, it is unpredictable and lasts for months. Also, the hike from Mutianyu to Jiankou is challenging and strenuous along the precipitous mountains and steep slopes, especially in Jiankou section. While most of the Jiankou hikers are there for the first time, it is not recommended to have a solo travel without anyone guiding you, for the facilities along Jiankou are underdeveloped and the signal there is not always stable. Once the emergency happened, it's hard for the first aid team to reach you.
However, to connect the both of the great walls, China Discovery offers professional travel guidance which ensures your security and helps you get rid of all the worries. We will start from Xizhaizi village (西栅子) from Jiankou and then reach Zhengbeilou Tower (正北楼 the highest tower on Jiankou Great Wall) in about one hour's hiking. Later, after passing multiple ancient watchtowers and trekking ups and downs along the mountain ridges, you will get to Mutianyu Great Wall to the east of Jiankou in about 3 hours. >>Contact Us Now
Besides hiking from Jiankou to Mutianyu, you can always travel the two great wall respectively and get to Mutianyu from Jiankou by bus or private car (about an hour by car and 2 hours by bus). It's also a backup option in case of the bad weather and wrong timing for hiking.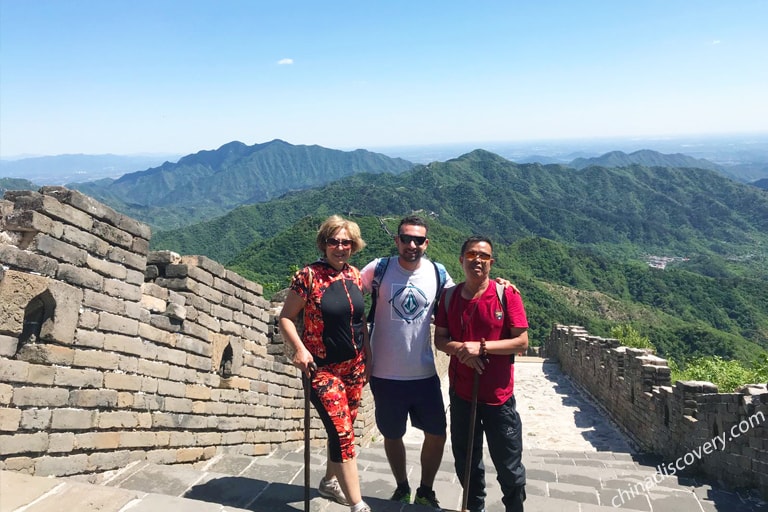 Our Customers Hiking between Jiankou and Mutianyu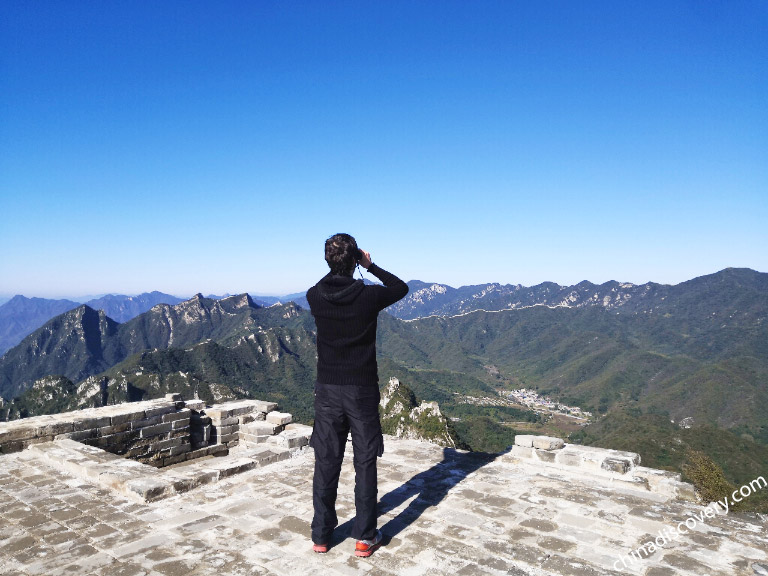 Our Customer from France Visiting Jiankou Great Wall (October, 2019)
Hiking Tips from Jiankou to Mutianyu
Items to Pack: Hiking boots, sticks or trekking sticks, backpack, sun-glasses, sunscreen, snacks, camera.
Risky Hikers: people who suffer arthritis, heart disease, hypertension, asthma, and the traveler who are drunk are not recommended to take the hike.
Age Ranges: Don't take baby less than 3 years old for this hike, and the traveler who are more than 80 years old are not recommended to hike.
Sanitation Facilities: Please go to toilet at the entrance of the wall before the hiking, there is no toilet on the Wall. Please carry toilet paper by yourself always.
Unavailable Hiking Conditions: You are not recommended to go, under the following weather condition: Rain, Snow, Strong Wind, etc.
Tickets for the Great Wall: The ticket for Jiankou Great Wall needs to be paid at the entrance of Jiankou section, and later you will be charged again for Mutianyu section while hiking down from the exit of Mutianyu Great Wall.
>>2 Days Mutianyu and Jinshanling Great Wall Hiking
Travel with China Discovery - Top-Recommended
If you would like to take a bus to Mutianyu, it is hard to find the bus stop in the suburban area, and you may encounter traffic jams and language barriers and complicate transfers. China Discovery also offers private car service for every customer visiting Beijing. Our skilled driver and experienced guide will pick you up from Jiankou section to Mutianyu. It's time-saving (about an hour) and much more safe and you will be escorted all the way to Mutianyu Great Wall with comfortable travelling experience and professional travelling guidance. >>Contact Us Now
Our Customer from France Visiting Jiankou Great Wall (October, 2019)
Bus from Jiankou to Mutianyu
There is no direct bus from Jiankou to Mutianyu, and the whole duration will be approximately 2 hours.
Take bus H25 at West Xizhazi Stop (Pinyin:Xizhazixi 西栅子西) to the 1st zone of Yujiayuan Stop (Pinyin:Yujiayuanyiqu 于家园一区) and then transfer to Bus H36 and reach Mutianyu Roundabout (Pinyin:Mutianyuhuandao 慕田峪环岛), and there will be altogether over 40 stops from Xizhazi to Mutianyu.
Bus Schedules
Bus H25: 6:00am; 13:15pm
Bus H24: 8:45am; 15:45pm
Bus H36: 6:20am; 11:30am; 17:40pm
Note: Since the county bus is very limited and the schedules always change in different season, please do not hesitate to contact us for the updated info.>>Contact Us Now
Useful Links:
>>Jiankou Great Wall Maps | >>Mutianyu Great Wall Maps
>>How to get to Mutianyu Great Wall | >>How to get to Jiankou Great Wall
Mutianyu Great Wall Photo by Our Customer
How to Plan a Great Wall Hiking Tour
Besides Jiankou Great Wall and Mutianyu Great Wall, there are many other great walls offering you the same marvellous views, including Jinshanling Great Wall, Badaling Great Wall and Simatai Great Wall. Trekking on steep mountain ridge of Jiankou Great, exploring the wild and ancient Jingshanling Great Wall and the neighboring Simatai Great Wall, admiring the famous and renovated Badaling Great Wall, you can encounter different sparking sides of each section and commemorate the man-made wonder of the ancient Chinese people. China Discovery offers you tailor-made tour service, and you can fully experience all the famous great walls in 2 days. If you have more time, it's also recommended to explore other attractions in Beijing, such as the Forbidden City, Summer Palace, the Temple of Heaven, and More!
Top-Recommended Great Wall Hiking Tour
>>2 Days Mutianyu and Jinshanling Great Wall Hiking
>>2 Days Jinshanling and Simatai Great Wall Wild Hiking
Best Great Wall of China Tours >>
Recommended Beijing Tours
Top 3 Beijing tours chosen by most customers to explore Beijing in the best way. Check the detailed itinerary,or tailor your own trip now with us.
2 Days Mutianyu and Jinshanling Great Wall Hiking

Beijing / Mutianyu / Jinshanling
2 Days Jinshanling and Simatai Great Wall Scenic Hiking

Beijing / Jinshanling / Simatai