Get from Gubeikou to Jinshanling | Gubeikou to Jinshanling Hike 2023
Gubeikou Great Wall is located in Gubeikou Town, Miyun District, Northeast of Beijing, (北京市密云区古北口镇古北口长城) about 120km to Tiananmen Square (about 2.5h by car), while Jinshanling Great Wall is situated right next to the east of Gubeikou Great Wall, at the border between Heibei Province and Beijing. It is about 130km to Tiananmen Square and 91km to Chengde City.
Since they are only 10km away from each other, some travellers will choose to hike from Gubeikou Great Wall to Jinshanling Great Wall.
Gubeikou to Jinshanling Hike
Jinshanling Great Wall is one of the best great wall sections for hiking and marathon in Hebei Province. It's tourist friendly with cable car available and the scenery there is breathtaking, while Gubeikou is the most complete Great Wall system in the history of the Great Wall of China, and it is also the representative of the Great Wall of the Ming Dynasty (1368-1644). Both of the two sections are less crowded, and more primitive, comparing with the great walls near Beijing. Even they are close to each other within only 13 km, it's not recommended to hike independently from Gubeikou to Jinshanling.
Since the hiking route from Gubeikou to Jinshanling is challenging, complicated and unrestored and some parts of this section belongs to the army, which is not allowed to hike. While most of the Gubeikou/Jinshanling hikers are there for the first time, it is not recommended to have a solo travel without anyone guiding you, for the facilities along Guibeikou are underdeveloped and the signal there is not always stable, especially in the border area. Once the emergency happened, it's hard for the first aid team to reach you.
However, to connect the both of the great walls, China Discovery offers professional travel guidance which ensures your security and helps you get rid of all the worries. Your guide will give you many helpful advice on the right and safe routes to hike. We will hike over ten watchtowers and reach the 24-window tower in about an hour, and then we will go down from the wall to the bushes and reach Jinshanling area in about 2 hours. Hiking along Jinshanling area, you will encounter different watchtowers and passes, which takes about an hour, and finally you will get down from Zhuanduokou Pass (砖垛口) to the exit at Jinshanling. >>Contact Us Now
Besides hiking from Gubeikou to Jinshanling, you can always travel the two great wall respectively or get to Jinshanling from Gubeikou by private car (about half an hour by car). It's also a backup option in case of the bad weather and wrong timing for hiking.
>>2 Days Wild Great Wall Camping & Hiking Experience
Hiking Tips from Gubeikou to Jinshanling
❶ Items to Pack: Hiking boots, sticks or trekking sticks, backpack, sun-glasses, long pants, sunscreen, snacks, camera.
❷ Risky Hikers: people who suffer arthritis, heart disease, hypertension, asthma, and the traveler who are drunk are not recommended to take the hike.
❸ Age Ranges: Don't take baby less than 3 years old for this hike, and the traveler who are more than 80 years old are not recommended to hike.
❹ Sanitation Facilities: Please go to toilet at the entrance of the wall before the hiking, there is no toilet on the Wall. Please carry toilet paper by yourself always.
❺ Unavailable Hiking Conditions: You are not recommended to go, under the following weather condition: Rain, Snow, Strong Wind, etc.
❻ Tickets for the Great Wall: The ticket for Gubeikou Great Wall needs to be paid at the entrance of Gubeikou section, and later you will be charged again for Jinshanling section while hiking down from the exit of Jinshanling Great Wall.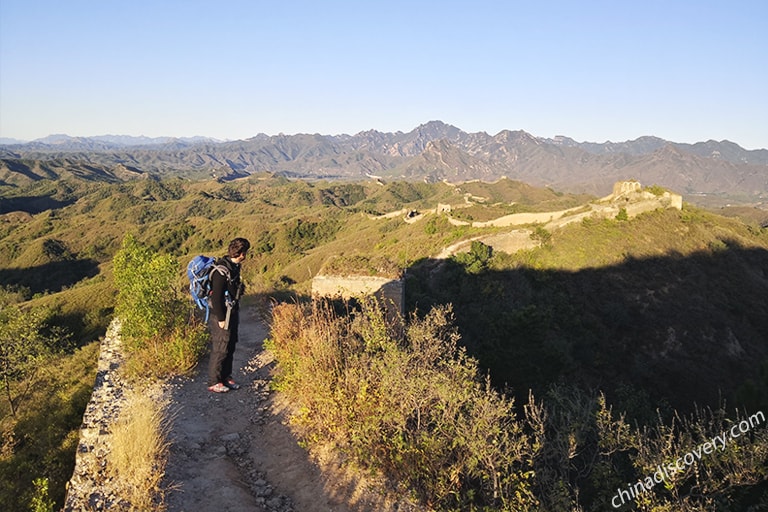 Watchtower of Gubeikou Great Wall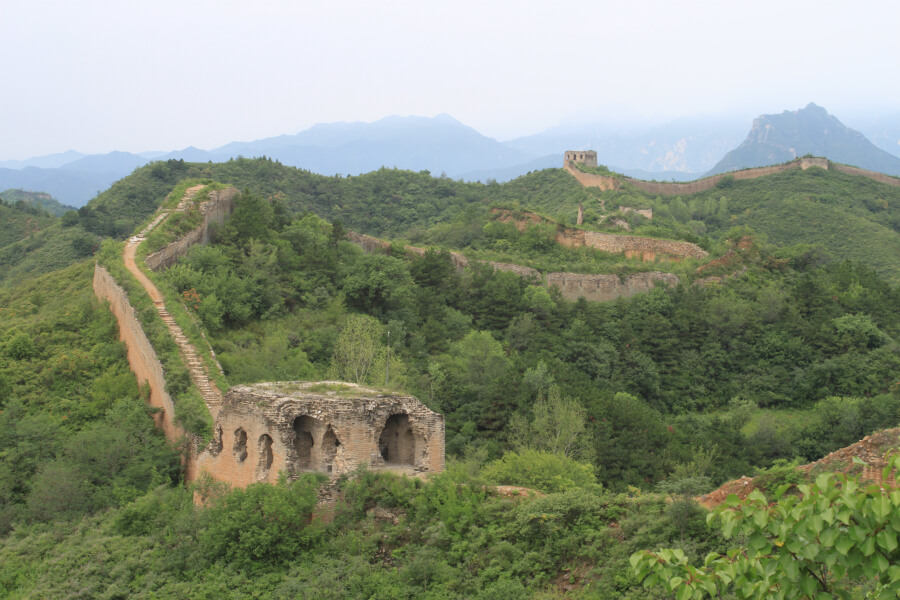 Haowang Tower, Gubeikou Great Wall Camping Site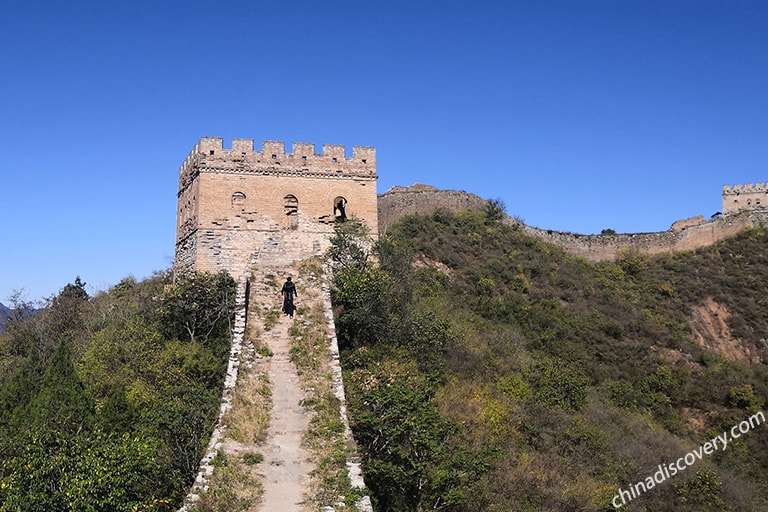 Jinshanling Great Wall Trail
Travel with China Discovery - Top-Recommended
Located in different provinces, Gubeikou Great Wall and Jinshanling Great Wall can not be connected by public bus. Besides hiking, you can only take a private car from one great wall to the other. China Discovery also offers private car service for every customer visiting Beijing. Our skilled driver and experienced guide will pick you up from Guibeikou section to Jinshanling. It's time-saving (about half an hour) and much more safe and you will be escorted all the way to Jinshanling Great Wall with comfortable travelling experience and professional travelling guidance.>>Contact Us Now
Useful Links:
>>Jinshanling Great Wall Maps | >>How to get to Jinshanling Great Wall
How to Plan a Great Wall Hiking Tour
The distance from Jinshanling Great Wall to either Gubeikou Great Wall or Simatai Great Wall is very near, which you can reach within half an hour by car. Since Simatai Great Wall is also next to the Gubei Water Town, you are recommended to spend at least 2 days to fully explore the walls and the ancient relics.
Besides Jinshanling Great Wall and Gubeikou Great Wall, there are many other great walls offering you the same marvellous views, including Mutianyu Great Wall, Badaling Great Wall, Huanghuacheng Great Wall, Jiankou Great Wall, and Simatai Great Wall. Trekking on steep mountain ridge of Simatai Great Wall, exploring the wild and ancient Jiankou Great Wall and the neighboring Mutianyu Great Wall, admiring the lakeside Huanghuacheng Great Wall and the famous and renovated Badaling Great Wall, you can encounter different sparking sides of each section and commemorate the man-made wonder of the ancient Chinese people. China Discovery offers you tailor-made tour service, and you can fully experience all the famous great walls in 2 days. If you have more time, it's also recommended to explore other attractions in Beijing, such as the Forbidden City, Summer Palace, the Temple of Heaven, and More!
Top-Recommended Great Wall Hiking Tour
>>2 Days Wild Great Wall Camping & Hiking Experience
>>2 Days Jinshanling and Simatai Great Wall Wild Hiking
Best Great Wall of China Tours >>
Recommended Beijing Tours
Top 3 Beijing tours chosen by most customers to explore Beijing in the best way. Check the detailed itinerary,or tailor your own trip now with us.
2 Days Jinshanling and Simatai Great Wall Scenic Hiking

Beijing / Jinshanling / Simatai
2 Days Wild Great Wall Hiking with Camping Experience

Beijing / Mutianyu / Gubeikou / Jinshanling / Beijing