Beijing Shopping – What and Where to Buy in Beijing
Few cities in the world like Beijing have such an eminent history, a rich culture and diverse shopping options. In massive Beijing, there are numerous desirable items produced every day. No matter you need an archaistic tea set or want some featured specialties, Beijing allows you to come back with fruitful results. There are plenty of shopping streets, store and markets to provide you a large range of choices for shopping.
What to Buy in Beijing
There are lots of choices as your souvenirs of Beijing tour or gifts to your family or friends, like craft artworks, Chinese products, featured snacks, etc. We choose the most popular ones among foreign travelers for your reference.
Delicate Craft Works
Peking Glass Snuff Bottle 内画鼻烟壶
Recommended Shopping Place: Panjiayuan Antique Market (潘家园旧货市场),Liuli Street (琉璃厂), AIKA International Collections Exchange Market (爱家国际收藏品交流市场)
Peking Snuff Bottle was a small-size but exquisitely-designed curiosity used for housing tobacco during Qing Dynasty (1636 ~ 1912), but now it becomes a highly prized collection for many people. The snuff bottles were made out of different materials, like porcelain, jade, ivory, ceramic, etc. but most of them used glass. They are decorated with aesthetic and ornate paintings or carvings. The decorations always have their own motifs and symbols based on Chinese history, myth, religion and superstition. The snuff bottles with inside paintings are the most popular ones. The workers use high skill to paint ion the inside surface of the bottles.
Various Kinds of Peking Glass Snuff Bottle
Cloisonné (景泰蓝)
Recommended Shopping Place: Enamel Factory (珐琅厂), Xiushui Street (秀水街)
Cloisonné, also known as Blue Glaze Cloisonné (Jingtai Blue in Chinese), is a famous handicraft which dated back to Yuan Dynasty (1271 ~ 1386) and reached its heyday in Ming Dynasty (1368 ~ 1644). It nowadays acts as nationall gift to foreign friends. A legend goes that a fire occurred in Forbidden City in Yuan Dynasty and all treasures were destroyed except for a vase which became more shining. It is current Cloisonné. The manufacture of making Cloisonné is quite comprehensive and sophisticated. Each Cloisonné needs to be fired three times with a fresh coat of enamel each time. There are many product made by Cloisonné, like vases, bowl, chopsticks, etc.
Tea Sets Made by Cloisonné
Silk products
Recommended Shopping Place: Beijing Silk Market, Beijing Hongqiao Market, Beijing Panjiayuan Market
For many travelers, a great product to bring back home from is silk. China is silk's birthplace with a history of over 2,000 years. The Silk Road was an ancient trade route carrying silk with other goods between China and Southeast Asia in Han Dynasty (206 ~BCE ~ 220CE). Till now, many countries can produce silk but China's silk still ranks first. Being lustrous, smooth and soft, Chinse silk can be processed into clothes, scarfs, pillows, comforters and other accessories. Cheongsam made by silk, a type of feminine body-hugging dress with distinctive Chinese features, is the favorite of many ladies. In Beijing, there is a wide range of silk products for your choice.
Foreign Lady on Chinese Cheongsam
Local Food and Snacks
After your Beijing tour, you may want to take some Beijing Taste home to share with your families. There are the most popular and preservable food and snacks for your reference.
Peking Roast Duck (北京烤鸭)
Recommended Shopping Place: Quanjude (全聚德), Bianyifang
Peking Roast Duck is the iconic dish in Beijing. It is characterized by juicy meat and crisp skin. The meat is often eaten with spring onion, cucumber, sweet bean sauce with pancakes rolled around the fillings. The small duck roll you have will definitely be an incredible exclamation mark of your food adventure in Beijing. Not just satisfied with just eating Peking Roast Duck in Beijing? Yes, it's possible to take it home. There are many restaurants offering takeaway Peking Duck which can preserved for 90 days under the temperature of 25°C. Of course, you can taste the most delicious and fresh Peking Duck Dish in the restaurant.
Quanjude Peking Duck Takeaway
Candied Fruit (果脯)
Recommended Shopping Place:
Candied Fruit is dried fruit with original water content removed naturally or through sun drying or through dryers. It is said that the candied fruit were originally the tributes to emperors. In ancient times, the fruits grown in different places couldn't be preserved well during the delivery time, so people came with an idea of making dried fruit. Today, it is one of Beijing's most famous snacks among locals and travelers. Some foreign travelers like to bring it home as souvenirs. There are many kinds of fruits for your choice, like pears, kiwi fruit, jujube, apricots, persimmon, peaches, apples, etc. The taste of candied fruits is great and they are always much healthier than candies. It can be found everywhere in Beijing, including supermarkets, candy shops or local markets.
Beijing Candied Fruit
Rolling the Donkey (驴打滚)
Recommended Shopping Place: Jiu Men Snack Store, Laoshe Tea House in Qianmen Street and Minfu Restaurant.
Rolling the Donkey (Lv Da Gun in Chinese Pinyin) is a long-established snack in Beijing and Tianjin. As a steamed glutinous rice rolls filled with red bean paste and brown sugar hat is then rolled and covered in a soybean flour crumble, it features in fragrance, sweet taste and viscosity. Rolling the Donkey gets its name from the appearance of a donkey that has rolled around in the dust. The fresh Rolling the Donkey tastes most delicious and the takeaway is ok as well. It is available to take some home.
Rolling the Donkey
Forbidden City Cultural and Creative Works
Forbidden City, also known Palace Museum, enjoys a unique status in Chinese imperial history and culture. Many Forbidden City fans are attracted by the interesting story behind the royal families and some special elements for royal household. To better exhibit the cultural essence of Forbidden City, Forbidden City Scenic Area designs and produces many cultural creative works with high functionality, good quality and reasonable price. The variety of the creative works covers the clothes, stationery, household supplies, etc. All of them show a rich "Forbidden City Color". Here we select the most chosen creative works.
Mobile Phone Cases: There are mobile phone cases with the dedicated patterns. Most of the patterns come from the great photography of Forbidden City.
Book Marks: Book mark is a recommended to bring home as a gift. There is a diversity of book marks related to the story of Forbidden City. The most popular ones must be the enamel-imitated book mark. The designer got the inspiration from a painting and a vase which are collected in Forbidden City.
A Thousand Li of Rivers and Mountain Series Products: A Thousand Li of Rivers and Mountain is a long surviving painting described as one of the greatest works of Chinese Art. Cherished in Forbidden City, it attracts many Chinese-painting lovers. There are many products related to this painting, including cup mat, mouse mat, folding fan, scarf, etc.
Forbidden City Cultural and Creative Works
Where to Shop in Beijing
If you still don't have ideas about what to buy, you can visit the most popular shopping streets or antique markets to explore something attractive. All of these shopping street and markets offer a large variety of souvenirs.
Hongqiao Market - Best Place for Pearl
Horngqiao Market, also called Pearl Market, is an interesting multi-floor market. It is said that over 1,500,000 visitor come this market to buy pearls yearly. Even former British Prime Minister Margaret Thatcher has been there three times for beautiful pearls. In fact, it provides a great number of souvenirs goods, like figurines, silk, handbags, toys, some electronics, etc., in addition to pearls. If you travel Beijing with your kids, Hongqiao Market is a great choice to buy some great toys. The asking price of the most products is quite high, but you are able to buy them at a cheap price if you are good at bargaining. If not, you are strongly suggested to shop with a Chinese friend who can haggle for you.
Hongqiao Pearl Market
Panjiayuan Antique Market - Wonderful Resort of Antiques
If you want to collect some Chinese antique goods, both authentic and fake, visit Panjiayuan Antique Market which is Beijing's most extensive antique market selling second-hand curiosities and other goods, including jewelry (such asamber, jade, pearls, coral, turquoise), ceramics, craftworks, ivory carving, Chinese musical instruments, cigarette-ad posters, Qing dynasty-style furniture, Chinese calligraphy, painting, etc. There must be something there that will strike your interest. Every day, Panjiayuan hosts about 3,000 dealers and more than 50,000 visitors. This market is most lively on weekends especially Saturday morning, as the vendors set up their stalls and a large crowd of people gather there to seek something precious.
Panjiayuan Antique Market
Wangfujing Street - Time-honored Stores with High Quality Products
Wangfujing Street is Beijing's busiest and most prosperous commercial street with a lot of shopping possibilities. Equipped with numerous upscale shops and boutiques, it has long been a vibrant area for both local people and foreign tourists. There are many world-famous brands included in Wangfujing Street and most of shop keepers have a good knowledge of English. Some stores enjoys a long time-honored reputation, including Ruifuxiang Silk & Cotton Shop (瑞蚨祥) Shengxifu Hat Store (盛锡福), Gongmei Mansion (工美大厦) and Mass at Oriental Plaza (东方新天地) and so on. A part from shopping, Wangfujing Street is also a good place to taste street food and enjoy relaxing night view.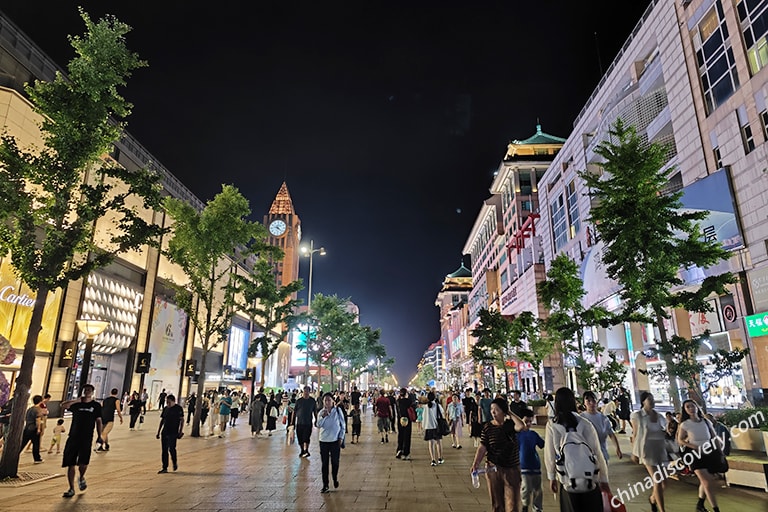 Wangfujing Street
Xidan Commercial Street - A Fashionable Place for Young
Xidan Commercial Street is an old shopping street which could be dated back to Ming Dynasty (1368 ~ 1644). But now it becomes a birthplace of another kind of fashion to attract the young man and people call it the shopping paradise for the young. There are like megamalls, outdoor markets, small shops, restaurants and entertainment centers from which you may find all kinds of things you want. Most popular shops include Xidan Shopping Center (西单商场), Grand Pacific Mall (君太百货), Huawei Mansion (华威大厦), etc.
Xidan Commercial Shopping Center
Others
Besides the above shopping places, you can also shop in some other places, like Yandaixie Street, Qianmen Street, Silk Market, Beijing Cruio City and Liulichang Antique Street, etc.
Tips for Beijing Shopping
1. Shop around before choosing
There are many shops in the markets or shopping streets seeing the same product at different price. You are suggested to make a few rounds to compare prices and weigh it up before you decide to buy something.
2. Remember to bargain
Except for the goods with fixed price in the shopping malls, don not buy anything in the local markets (like Hongqiao Market and Panjiayuan Antique Market) at the first offered price.
3. Bring cash instead of credit card
International credit card is not accepted in most store and shops in local markets. You'd better prepare cash in advance.