Top Things to Do in Badain Jaran Desert - Jeep Safari, Camel Riding, Hiking...
Travelling to Badain Jaran Desert will be your monumental trip different from your past journeys. It's the real wild nature where you can admire amazing natural wonders and release yourself from all sorts of moods. Instead of being a sightseer only, there are lots of activities you can take to fully explore this "Most Beautiful Desert of China", discover its charming scenery of different components and at different time. Enjoying a thrilling Jeep safari, a camel riding and a desert walking among the sand dunes are the three best ways to venture in Badain Jaran Desert among all travelers. Besides, you can try more interesting desert recreations, like sandbeach UTV, camping to make deeper contact with the desert with your friends and families. Let's go through the Top Things to Do in Badain Jaran Desert to find what interests you most.
Top 1: Go on a Jeep Safari - The Most Thrilling Experience with Screams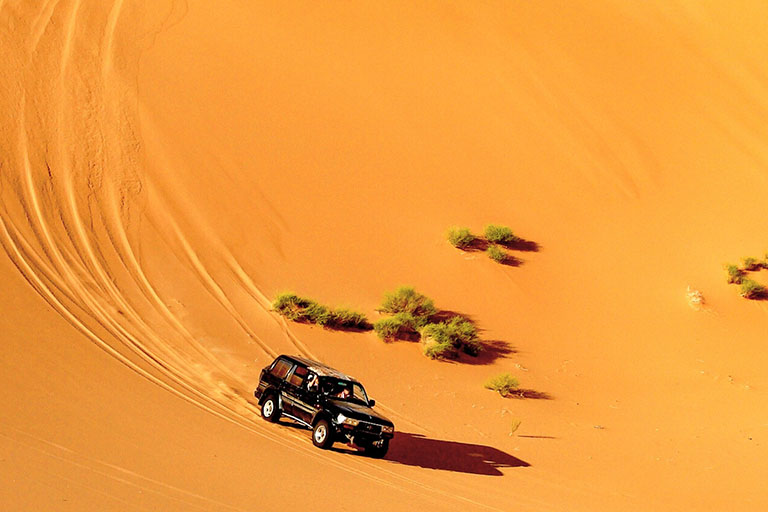 Explore Badain Jaran Desert by Jeep Safari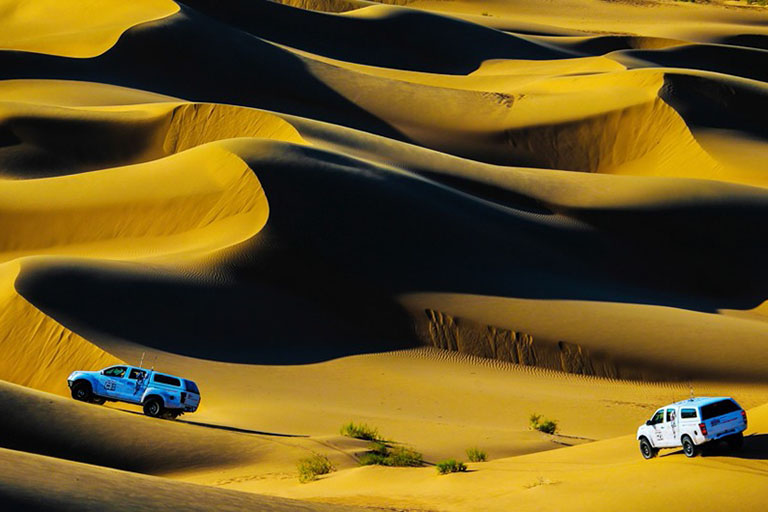 Enjoy the Most Exciting Ride in Badain Jaran Desert
All visitors to the Badain Jaran Desert should know that, whatever transport you take, you're required to change to a special dune buggy drove by experienced driver (who is also the guide) to enter and get around the desert. This obligatory arrangement aims to ensure both the safety, convenience and a better travel experience of the travelers. Because visiting a desert is totally different from regular destinations, and Badain Jaran Desert covers a large area, major spots are scatted far away from each other, it's essential to get professional help from local guide who knows the terrain very well, can deal with different situations promptly and escort you to visit main sites accurately and efficiently.
Grasping the opportunity to bravely try a hair-raising Jeep safari adventure among the high sand mountains and you'll never regret it. After the driver check and adjust the car performance, an unprecedented desert safari is about to set sail. As the chauffeur drive up and down the early-vertical ramps among the sand hills at very rapid speed, you may have a feeling like on an exciting roller coaster ride. You just can't help screaming and shouting when the car climbs the steep sand slopes and finishes sharp free falls over and over again. Your body and insides will experience the real Fast and Furious. The buggy will bump its way over the terrain and bring you into the hinterland of the desert, where it's difficult to each on foot. You will feel excited about a fast sandy sprint in the last minute, but the next moment, you hear will flutter with continuous squalls. Without navigation, your driver will take you to iconic lakes and sand hills and make short breaks to let you snap great shots, even to the mysterious pink lakes. Their superb driving skill, the dramatic adventure, the incredible oases, sand dunes, living creatures deep in the desert make it worth every penny you spent.
Most Recommended Badain Jaran Desert Tours:
☛ 3 Days Badain Jaran Desert Real Essence Tour with Jeep Safari | ☛ 5 Days Danxia Badain Jaran Desert Tour from Zhangye
Related Tips:
1.All the dune buggies are under the official unified management, with standard charge and fixed route. The most popular 2-day route covering a chartered car service visiting major scenic spots takes about 3,000 RMB per car. The entrance ticket (RMB 160 per person) is excluded. Every buggy is limited to 4 passengers at most, so sharing the cost with other three passengers is reasonable for 2 days' itinerary.
2.For a longer trip or a special loop tour, an in-depth trip across the desert to remote areas, you have to pay higher prices.
3.Take your motion sickness medicine in advance if you get carsick. And make sure you fasten your safety belt and hold the handle tightly during the entire desert Jeep safari. Don't gulp water in the car.
Top 2: Ride a Camel - Explore the Desert in a Special & Interesting Way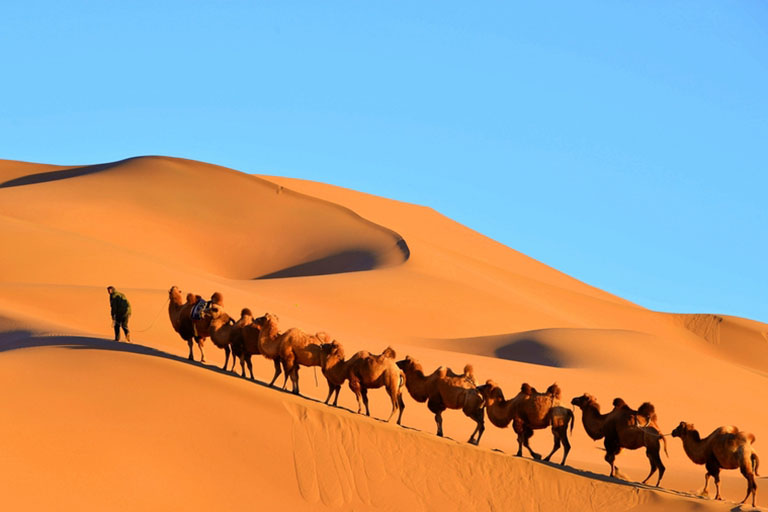 The Local Followed by A Camel Team in Badain Jaran Desert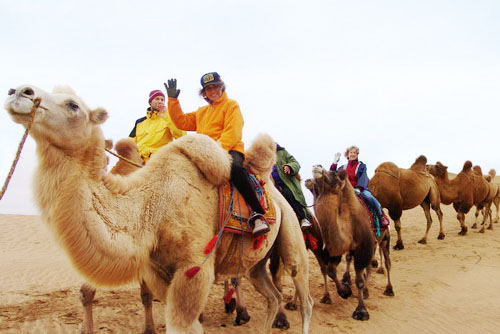 Foreign Tourists were Delighted with the Desert Camel Ridin
For traders along the ancient Silk Road, camels are very important transports and loyal partners for moving across the vast desert. They are deemed as the ships and the best symbol of desert, that tourists hardly see in somewhere else. Just as the old saying goes, when in Rome, do as Romans do. Riding a camel is one of the must-tries during your Badain Jaran Desert trip. Sitting on the back of a tall Bactrian camel, you can see the camel team striding elegantly at orderly pace and march on sand mountains stably. What a harmonious picture! Maybe this novel land vehicle and magnificent unfolded before your eyes can bring you back to ancient times, as if you were a member of the trade caravan heading to the Western Regions. Only when you try, you can understand how difficult it is to climb the loft sand hills for human while much easier for the meek camels.
Tips: After entry, you can pay for camel riding near the Badain Lake or get a ride organized by local herdsman residing near other lakes. The former charges RMB 100 per person and the latter might collects lower.
Most Recommended Badain Jaran Desert Tours:
☛ 3 Days Badain Jaran Desert Real Essence Tour with Jeep Safari | ☛ 5 Days Danxia Badain Jaran Desert Tour from Zhangye
Top 3: Walk around the Desert - A Memorable Trip to Wild Nature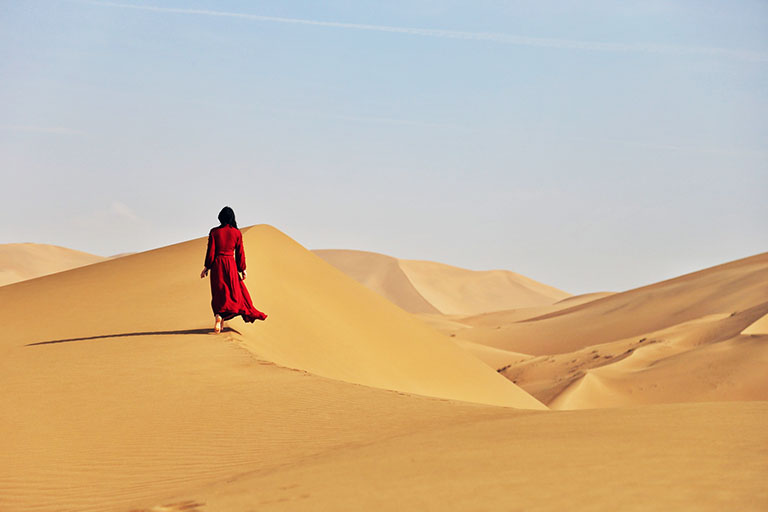 Mind-blowing Walking Experience in Badain Jaran Desert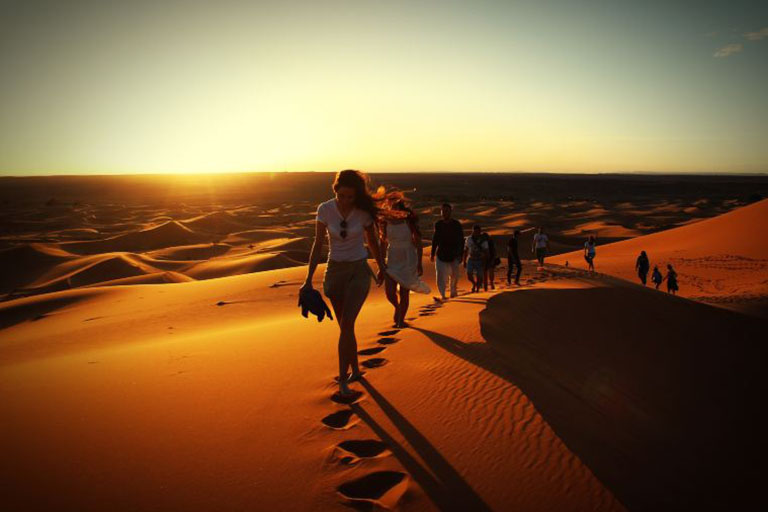 Feel the Temperature of Sand and Desert Charm by Your Feet
Sightseeing the boundless desert by a SUV or a camel is awesome or interesting but conquering some sand dunes on your own feet is far more fulfilling and impressive. When your car pull over, you can get off, ran down the precipitous sand hills and get close to the supernatural colorful lakes. As soon as you want to enjoy the free desert walking with great delight, a dumbfounding truth comes right away. Your feet will get stuck in the soft sands every time you take a step forward. It's awkward, challenging and quite funny unlike the feeling of walking on a beach.bWhether you wear high-top boots or walk on bare feet, it's a wonderful and unique experience to stroll around on the yellow sands. Short-term walking is recommended considering your physical condition and time for other spots.
Another pleasure from the desert walking must be the discovery of biodiversity in the desert. Your stereotype of deserts could be dry, arid, barren, harsh and uninhabited. That will reverse when you witness the miracles of life in Badain Jaran Desert personally, more than 100 lakes of different shapes and colors dotted in the immense desert, camels and sheep gaze by the lakes, birds flying above the waters, some green trees, grass, lovely flowers and animals survive with tenacious vitality. You will marvel at both the ruthlessness and mercy of the nature.
Most Recommended Badain Jaran Desert Tours:
☛ 3 Days Badain Jaran Desert Real Essence Tour with Jeep Safari | ☛ 5 Days Danxia Badain Jaran Desert Tour from Zhangye
Top 4: Trek across the Desert - The Most Challenging Way for Professional Adventurers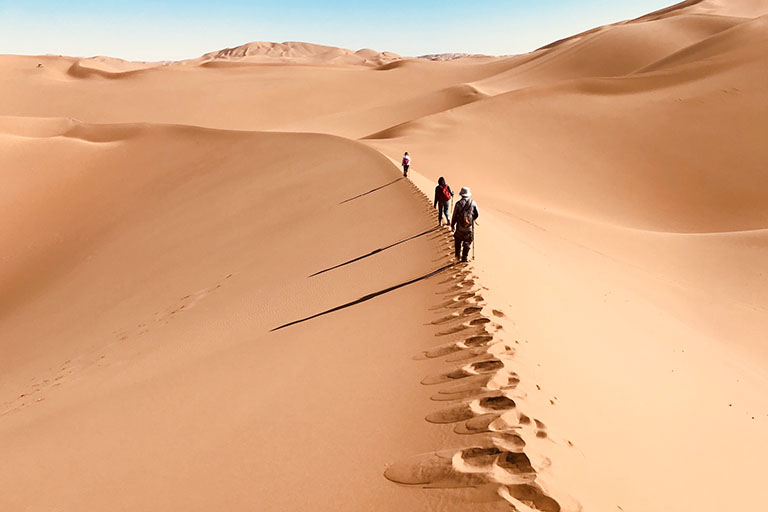 Trekking through the Badain Jaran Desert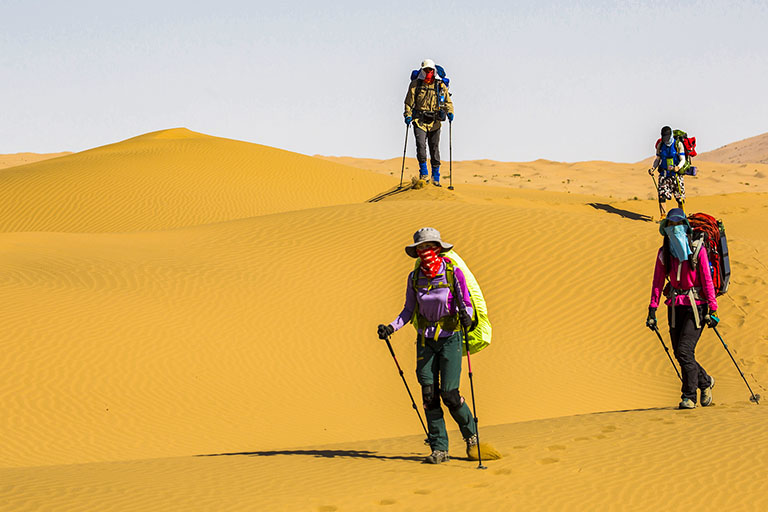 Fully-armed Trekking Team in Badain Jaran Desert
Trekking through Badain Jaran Desert - the third largest desert and the most beautiful desert of China, and one of the most representative adventure resorts in China is undoubtedly an epic outdoor adventure for some trekking zealots. Measuring the desert by the most primitive way, challenging yourself in the field may be a dream journey you once thought about. That sounds attracting and cool, but actually it is the hardest way to visit Badain Jaran Desert. The desert is a land full of unknown, let alone the wild wolf and large uninhabited area in the edges. Professional outdoor adventures need more than confidence, experience, but also lots of time on research, sorts of hiking equipment and various outdoor survival skills. Even a well-trained camel team needs more than half a month to go through the desert, so it's not recommended for ordinary tourists.
Best Badain Jaran Desert Trekking Tour:
Top 5: Try a Sand Sliding on High Sand Mountains - Have Fun Like A Child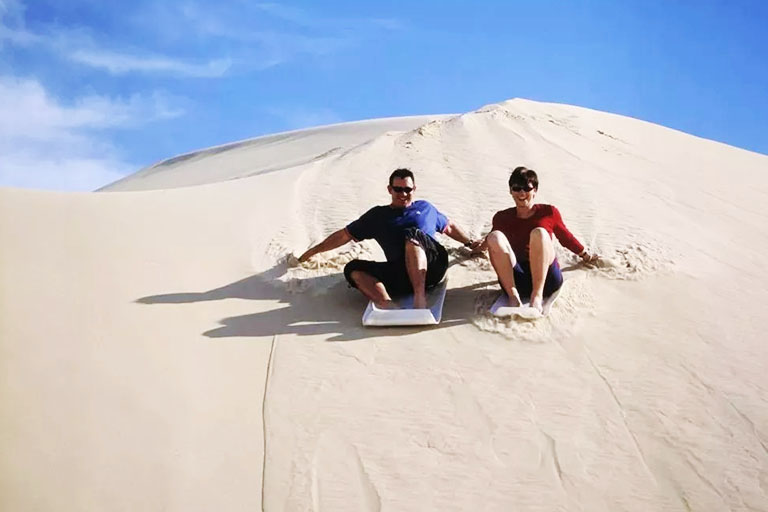 Enjoy Fun of Sliding Sand in Badain Jaran Desert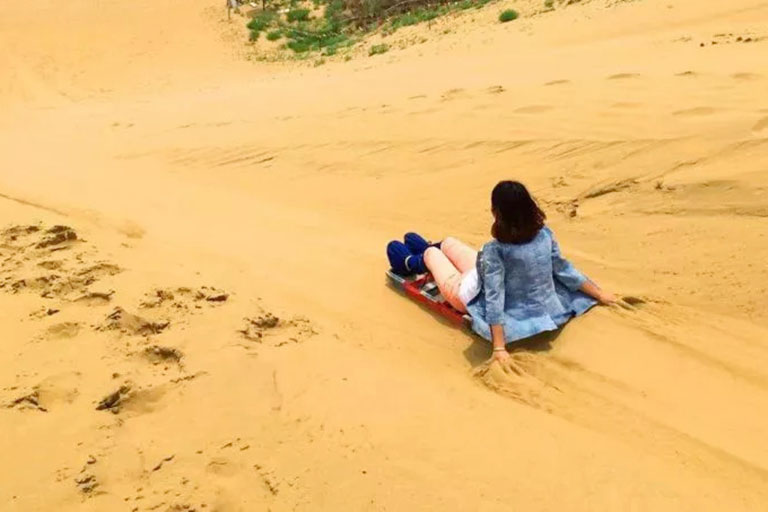 Slide Down on a Steep Sand Hill
You might have heard and played ice skating, snowboarding before, but in Badain Jaran Desert, you can experience the sand sliding. Differing from the bold Jeep ride, it's another fun you can enjoy a fast speed on the tall stationary sand dunes. First, you need to climb to the top point, and then you can slide down on the sand slope at a fast speed. It's unusually amusing to glide on the inclined sand hills and touch the sands in your hands. For a moment, your scream and fully commitment gives you a long-lost childish joy like being in an amusement park. You can rent a sliding plate near the Badain Lake and play on world's largest echoing sand mountain - Baori Taolegai after climbing up by a desert ladder. Local says if many people slide down together with perfect wind, you can hear singing sand when the upper layer sands blew below. Besides, if you're interested, you can rent a skateboard and ask the drive take it with you, thus, you can enjoy sand sliding at some proper sand dunes during your Jeep safari.
Top 6: Stay Overnight in a Mongolian Yurt, Experience the Local Lifestyle and Food Culture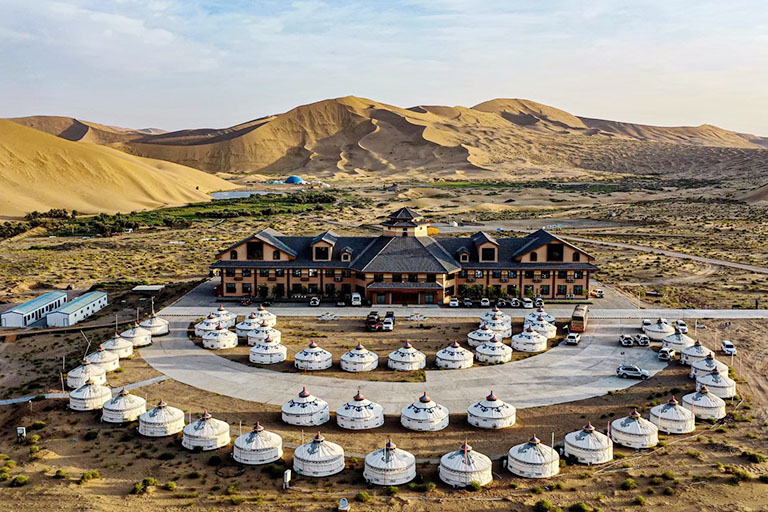 Mongolian Yurts near Badain Lake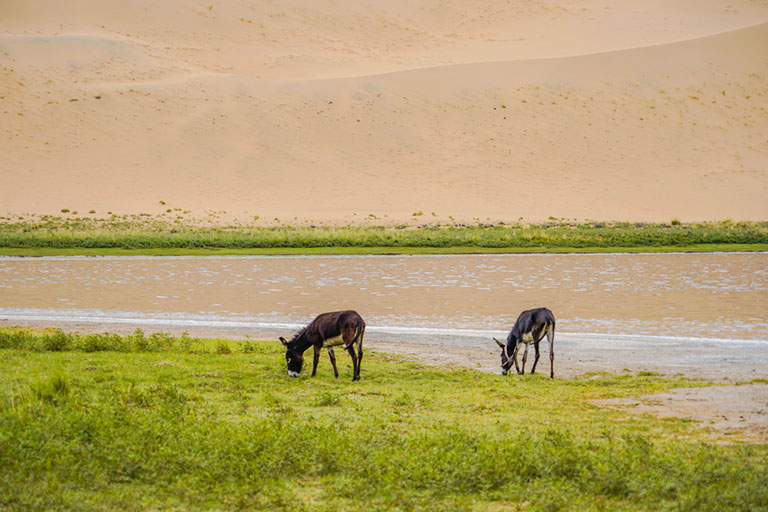 Donkeys Bred by Mongolian Nomandic Family
Your Badain Jaran Desert tour won't be complete without a overnight experience in the desert, because the desert presents another charm at night and a brief day visit is too hasty for travelers who come all the way here. The most favorite accommodation choice is the distinctive Mongolian yurt next to the Badain Lake. Clean beds and freshly cooked meals offered can ease your travel fatigue and ensure you a good rest for following journey. Meanwhile, you can get a great chance to meet new travel friends and communicate with the warm-hearted local people, catch a glimpse of the Mongolian lifestyle and dining culture. In Badain Jaran Desert, it will get dark earlier than in Beijing and other big cities of China. Without access to internet, your will drop your worries and anxieties, immerse yourself in the remoteness and serenity.
Tips:
1.You can also lodge in better- facilitated hotels nearby Badain Lake inside the desert, but it's difficult to book during the high tourist season (September-October). There are some guesthouse run by local herdsman too, usually it's cheaper.
2.Due to the less-developed living condition, tourists need to prepare personal toiletries and share the public restroom outdoor.
Most Recommended Badain Jaran Desert Tours:
☛ 3 Days Badain Jaran Desert Real Essence Tour with Jeep Safari | ☛ 5 Days Danxia Badain Jaran Desert Tour from Zhangye
Top 7: View Stunning Sunrise, Sunset and Starry Sky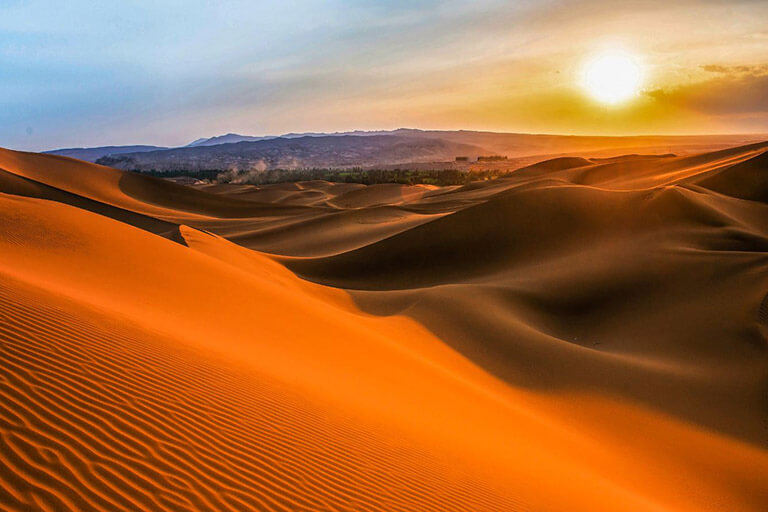 Amazing Sunset in Badain Jaran Desert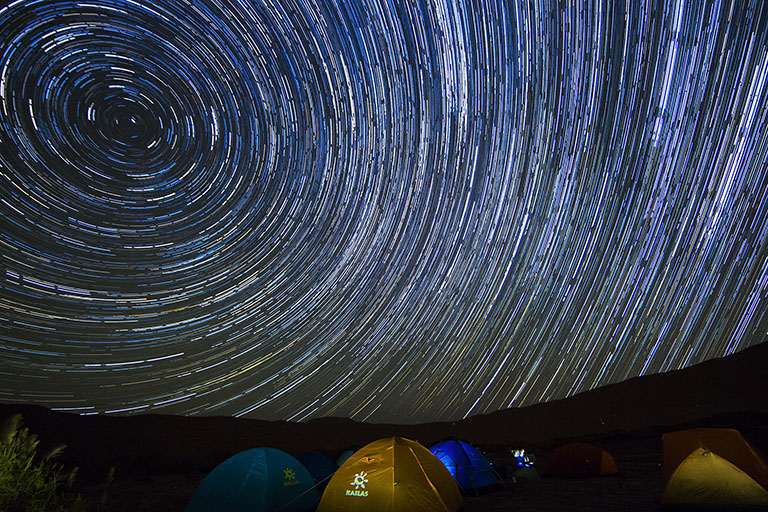 Beautiful Starry Sky during the Night
When is the last time you watch a sunrise or sunset? You must have noticed that in today's fast-paced society, it has become a luxury. Now you get a opportunity to enjoy a terrific sunrise and sunset in Badain Jaran Desert. When the lights start to dim, you can climb up or stay in a high sand dune, wait silently, gaze into the distance, see the sun fall behind the clouds and disappear over the horizon. It's memorable to witness the process and find the sands turning into different beautiful colors. Your body and mind will feel quite placid and blend into the wild desert at the moment. Still, deserts are great places for pictures of stars. You'd better take a good camera and a tripod so that you can record the amazing starry sky in the evening. Away from the city's neon glare, you can clearly see Triones and diverse constellation of the galaxy with your own eyes. No doubt about it, you're on the earth not in the outer space. Sunrise in the early morning is also a magnificent scene in Badain Jaran Desert. Seeing the sun rising and lighting up the rolling dark sand dunes will bring you a new good day. If weather is good, you can capture many good photos.
Most Recommended Badain Jaran Desert Tours:
☛ 5 Days Danxia Badain Jaran Desert Tour from Zhangye | ☛ 7 Days Qinghai Lake Zhangye Danxia Badain Jaran Desert Wonders Tour
How to Plan Your Badain Jaran Desert Tour
How to Get to: Travelers usually travel to Badain Jaran Desert from Zhangye, which takes a 3 hours' drive only. It takes a longer time if transferring via Lanzhou, Dunhuang, Alxa Left Banner or Ejin Banner.
Best Time to Visit: Late September to Late October when temperature is moderate, more sunny days with little wind and rainfall.
Places to Stay: Mongolian yurt near Badain Jaran Lake or other lakes in the Badain Jaran Desert scenic area and hostels in Badain Jaran Town.
For all travelers, the most popular and classic itinerary is spending 2 days for a Badain Jaran Desert tour, from which you can fully enjoy a wild adventure in its miraculous sights and experience various interesting desert activities. After the long ride, you will firstly accommodate in Badain Jaran Town.
In the next day morning, you will take a local chartered sand buggy organized by the officials to visit the iconic lakes and sand hills. During the stops, you can visit Badain Lake and a giant Genghis Khan Sand Carving nearby, Yinderitu Lake, the biggest saltwater lake in the desert with 108 mysterious springs, Bilutu Peak - "Mount Everest in the Desert", Badain Jaran Lake (Temple Lake) where an over 250-year-old Tibetan monastery stands and displays the most beautiful reflection of the yellow sands, green plants and white temple. Camping in a special Mongolian yurt helps you enjoy an amazing sunset and sunrise in the desert. On the second day, you will continue the thrilling Jeep safari and explore the Nortu Lake, the largest lake, and Baori Taolegai - the largest singing sand dune in the world. You can try a camel riding, sand sliding and a desert walking to enrich your trip.
✔ 3 Days Badain Jaran Desert Real Esence Tour with Jeep Safari
Usually, tourists travel to the northwestern China often visit Badain Jaran Desert with famous neighboring destinations, like Ejin Banner (Ejina Populus Euphratica Forest), Zhangye (Danxia Landform - colorful "Rainbow Mountains"), Dunhuang (Mogao Caves - Oriental Louvre) and other wonderful places in Qinghai, Gansu, Xinjiang along the Silk Road or in the Inner Mongolia.
✔ 5 Days Danxia Badain Jaran Desert Tour from Zhangye
✔ 7 Days Qinghai Lake Zhangye Danxia Badain Jaran Desert Wonders Tour
Travel with China Discovery
Traveling in the wild area of northwestern China is many travelers' dream. No matter you want to explore the mystery of the silk road or photograph the colorful lakes of Badain Jaran Desert, it never be as easy as traveling in the bigger cities like Beijing and Shanghai. In order to get a worry-free experience and get ride of the hustle and bustle hustle of public transportation and troublesome navigation, traveling with China Discovery is your best choice. As your flight or train arrives, our local guide will meet you at the airport or train station. You will enjoy a high-quality private transfer service, including comfortable car, skilled driver and freedom to stop for sightseeing.
Far more than that, China Discovery is professional to provide high-quality customizable tour. Before your tour, our travel expert will communicate with you one to one and make an itinerary according your own interest, need and budget. Every detail – transfer, hotels, attractions, etc. will be arranged well for you and you just need to focus on sightseeing. Feel free to contact us to start your worry-free private tour now!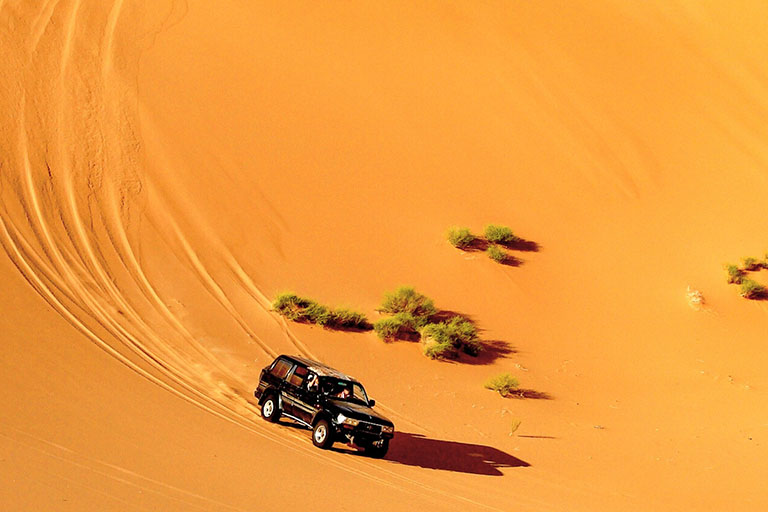 Jeep Safari in Badain Jaran Desert
Mysterious Pink Lake in Badain Jaran Desert
Camels are Common in Badain Jaran Desert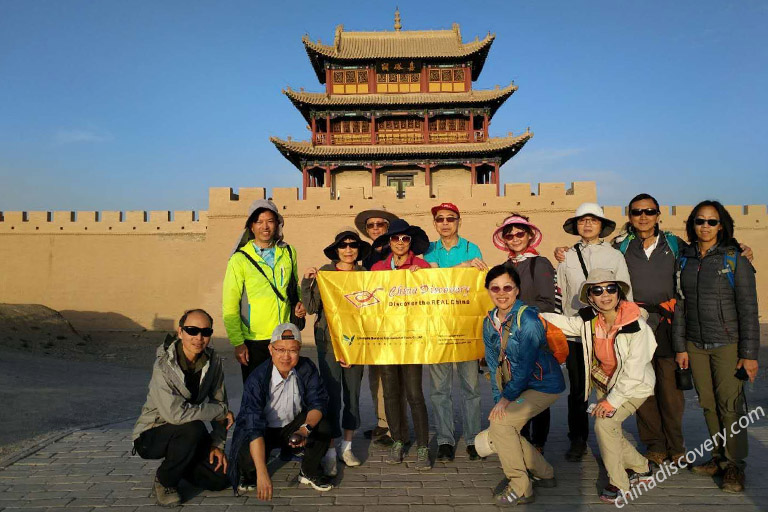 Mrs. Garlen Chan's group from Canada Enjoy A Silk Road Tour with China Discovery
Keep Reading
Recommended Badain Jaran Desert Tours
Top 3 Badain Jaran Desert tours chosen by most customers to explore Badain Jaran Desert in the best way. Check the detailed itinerary, or tailor your own trip now with us.
5 Days Zhangye Danxia Badain Jaran Desert Geography Miracle Tour

Zhangye - Badain Jaran Town - Badain Jaran Desert
8 Days Qinghai Lake Zhangye Danxia Badain Jaran Desert Wonders Tour

Xining - Zhangye - Badain Jaran Desert
3 Days Badain Jaran Desert Real Essence Tour with Jeep Safari

Badain Jaran Town - Badain Jaran Desert
Start planning your tailor-made holiday to China by contacting one of our specialists. Once inquired, you'll get a response within 0.5~23.5 hours.
Customize a Trip
Have a question? Get answers from our travel experts or guests
Your Question:

Your Name:

Your Email: