Where to Stay in Badain Jaran Desert | Recommended Accommodations 2023
Located in Alxa Right Banner, Alxa League, western Inner Mongolia, Badain Jaran Desert is best-known as China's third largest and the most beautiful desert. It not only owns the tallest stationary sand dune and biggest singing sand mountain on earth but also hides over 144 colorful lakes and rarely seen ecological system. Famous Chinese poetess Xi Murong once praised it "the most beautiful curve painted by God". To explore the stunning sand peaks, discover the amazing desert oases, experience the Mongolian culture and enjoy a desert adventure thoroughly, tourists usually spend 2 days and even longer for a Badain Jaran Desert tour. Knowing the general accommodation environment and options largely helps you better plan a trip. So where is the best accommodation area? What are the lodging conditions? Can I camp in the desert? China Discovery will show you the most comprehensive guide for your overnight stay during the Badain Jaran Desert below. You can rest assure that your accommodation as well as your trip itinerary, meals, transfer will be well-organized by us.
Main Accommodation Areas & Choices for A Badain Jaran Desert Tour
There are two accommodation areas for travelers to Badain Jaran Desert. One is the Badain Jaran Town, situated about 75 km southwest of the Badain Jaran Desert. It mostly chosen by tourists who get to Badain Jaran Desert by long-distance ride and self-driving cars. The town serves as a good tourist base for a short break and food supply. Staying overnight in the Badain Jaran Desert is the second choice and the popular one for a wild adventure. Because it's convenient to watch the sunset and sunrise inside the scenic area, and witness both the daytime and night scenery of the desert.
Read on to check different lodging choices and more useful advice and tips before you go.
Please bear in mind that, due to the underdeveloped economy and tourism reception capacity in remote northwest region of China, the overall accommodation condition in Badain Jaran Desert is relatively simple and basic, when compared with highly-developed metropolises like Beijing, Shanghai. No luxury hotels can be found in this area.
☛ Most Popular Badain Jaran Desert Tours: 3 Days Badain Jaran Desert Real Essence Tour with Jeep Safar / 5 Days Zhangye Danxia Badain Jaran Desert Geography Miracle Tour
Badain Jaran Desert Accommodation Map (Zoom in to enlarge map)
1. Stay in Hotels in Badain Jaran Town - Recommended Accommodation on Arrival Day
Whether you choose to fly, or take a train or private drive from Zhangye, Jiayuguan, Lanzhou, Ejin Banner and other neighboring destinations, normally you will get to Badain Jaran Town first. After a long ride, it's highly advised to have a rest in the town and prepare water, food and other useful items for your following desert tour. The town is small, but you can easily find some star-rated hotels and budget hostels with better accommodations than in the desert. Meanwhile, you can featured local residences lining along the streets and taste authentic Mongolian dishes and speed free time in the nearby square.
Most Recommended Hotels in Badain Jaran Town
● Jinsha Holiday Hotel 金沙假日酒店
Address: Badain Jilin Road, Alxa Right Banner, Alxa League, Inner Mongolia
Hotel Rating: ★★★
Number of Rooms: 69 (opened in 2009, renovated in 2018)
Room Type & Rate: Standard Room/Double Room/Suite (about RMB 200 ~ over RMB 500)
● Desert Pearl Hotel 大漠明珠酒店
Address: Shugui Road, Pedestrian Street, Badain Jaran Town, Alxa Right Banner, Alxa League, Inner Mongolia (next to the Badain Jaran Tourist Service Center)
Hotel Rating: ★★★
Number of Rooms: 100 (opened in 2016)
Room Type & Rate: Business Town/King Room/Deluxe Twin Room/Deluxe Suite (about RMB 200 ~ RMB 800)
● Shangshiyuan Hotel 赏石苑大酒店
Address: Yabulai Road, Badain Jaran Town, Alxa Right Banner, Alxa League, Inner Mongolia
Hotel Rating: ★★★
Number of Rooms: 60 (opened in 2019)
Other Recommended Hotels:
1.Badain Impression Holiday Hotel 巴丹印象假日酒店 (★★★)
2.Sunshine Hotel 阳光酒店 (★★)
3.Jinchen Holiday Hotel 今晨假日酒店 (★★)
4.Desert People Homestay 大漠人家民宿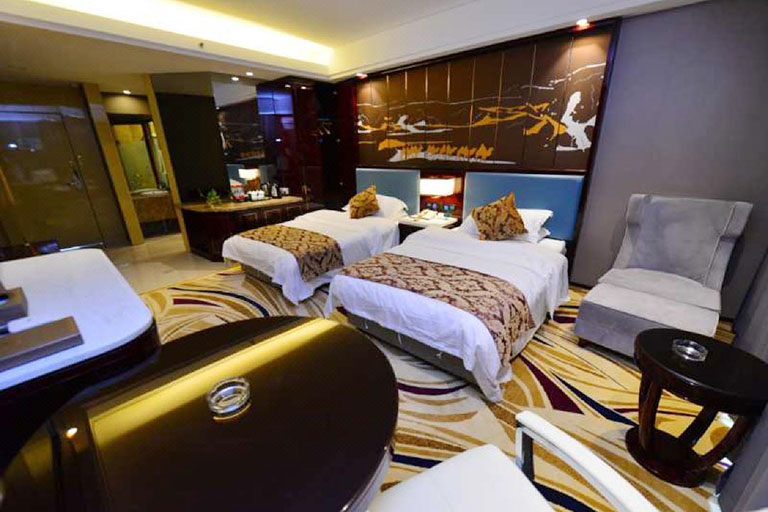 Standard Room of Jinsha Holiday Hotel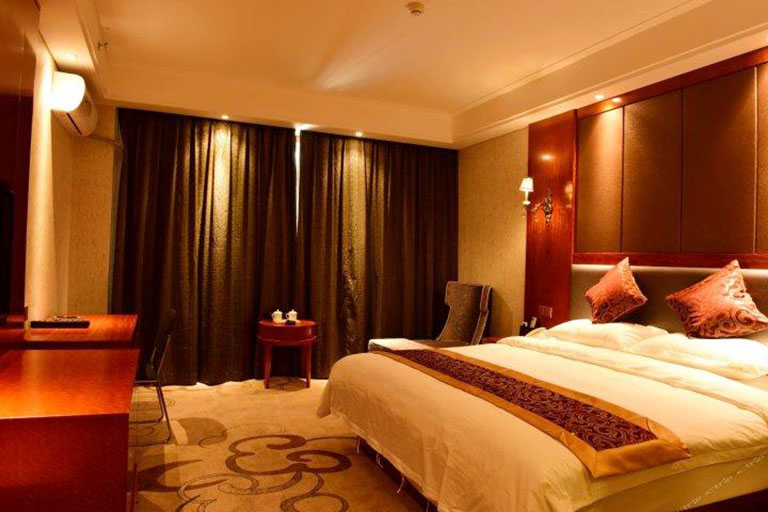 King Room of Desert Pearl Hotel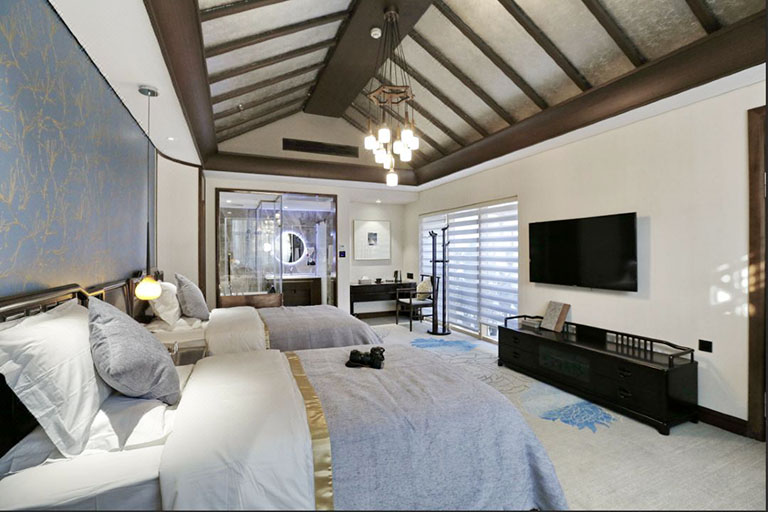 Standard Room of Shangshiyuan Hotel
2.Stay Overnight in the Badain Jaran Desert - Popular Choice during the Desert Adventure
If you choose to stay overnight inside the desert scenic area, there are 4 kinds of accommodations available, they are Mongolian yurt, hotel, guesthouse and camping. The special Mongolian Yurt is the most popular pick. Please be aware that all desert accommodations are set by the locals next to the lake for living convenience. Local herdsmen have built guesthouse with both Mongolian yurts and ordinary rooms.
Option 1: Mongolian Yurts near the Desert Lakes
Mongolian yurt is a special cylinder-shaped house for herders of the Inner Mongolia, which is easy to be built and moved. When you venture in Badain Jaran Desert, you're highly recommended to stay overnight in a featured Mongolian yurt to catch a glimpse of the Mongolian nomadic lifestyle. Some tourists even call it a Mongolian-style camping.
In the Badain Jaran Desert, many places offer Mongolian yurts for accommodation, mostly are located around the lakes. After your entry, you can easily find rows of Mongolia yurts near the Badain Lake. They are managed by Badain Lake Hotel. When you go further, you can also find Mongolian yurts near the Badain Jaran Lake (Temple Lake), Nuoertu Lake and other huge lakes. Being a popular scenic spot, Badain Jaran Lake is the centralized area with the most number of Mongolian yurts.
Generally, each yurt contains four beds and a small desk. Though it's very simple and basic, the clean, comfortable bed and sheet and isolation of sand and wind will help you rest well and stay warm in the desert.
Tips: 1.) The bed may be a little narrow. 2.) If you want to use bathroom, there is only outdoor public bathroom available. It's very cold at night so better keep warm and take a flashlight. 3.) During the tourist peak season, you may share one yurt with strangers.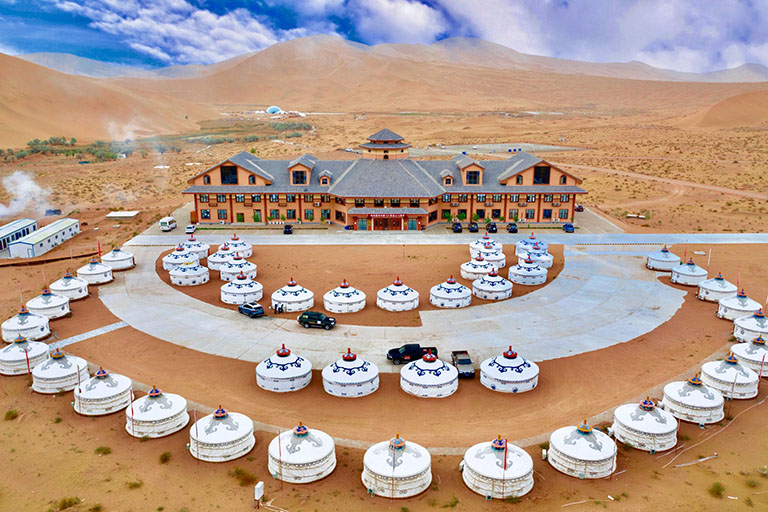 Mongolian Yurts near Badain Lake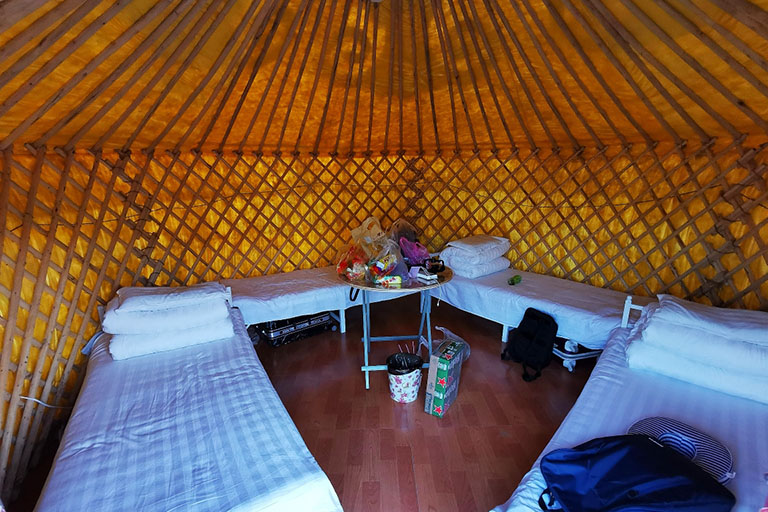 Interior of the Mongolian Yurt
Option 2: Badain Lake Hotel near Badain Lake
Badain Lake Hotel (Badanhu Hotel) is the first and only hotel in Badain Jaran Desert. The hotel covers an area of 3,700 square meters, offers a Chinese restaurant, a big banquet hall and different guest rooms for your choices. It's the best accommodation in the desert with inclusively private bathrooms. Therefore, it's very difficult to book the hotel regardless at any time.
For tight-schedule travelers who plan to take 1 day to visit the desert and depart on the second day, it's a good choice, if you accept the price and can book it successfully. Because it's located near the entrance, you can enjoy a short Jeep safari, sand sliding, view Badain Lake nearby and catch a brief glimpse of desert scenery. For most tourists, getting further and staying overnight in the hinterland area is much more recommended.
Room Type: Standard Room, Four-Bed Room, Deluxe Suite
Lowest Room Rate: about RMB 360 (Double Room) and much higher in peak season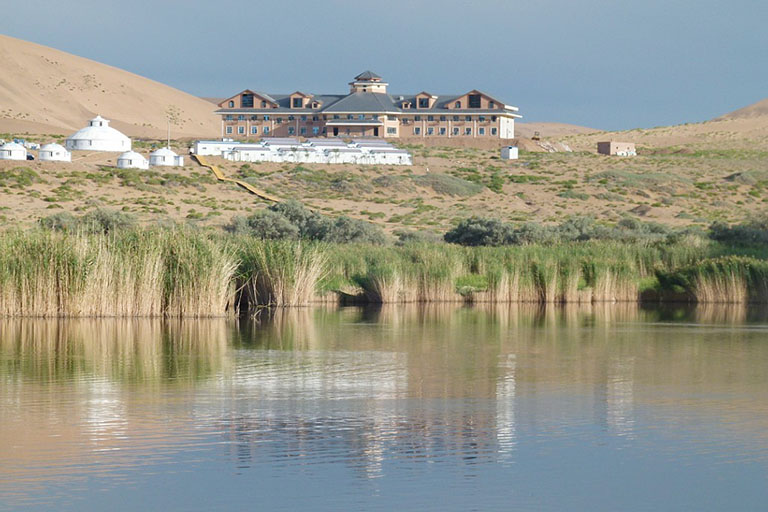 Badain Lake Hotel (Badanhu Hotel)
Option 3: Local Guesthouses near Desert Lakes
Around the lakes in the Badain Jaran Desert, there are some local herdsmen running guesthouses. They live in the desert and graze their sheep, donkeys, camels. Usually, their house is not very big, but you can use hot water, have a sweet night dream in this shelter and eat warm meals cooked the host. At the same time, you can try special desert fruit they plant and hear some interesting stories about themselves. This may not be a fancy accommodation, but the experience of living with the hospitable locals is memorable and meaningful.
Tips: The local desert guesthouse charges by bed, about RMB 100 -120 per bed and higher in high season.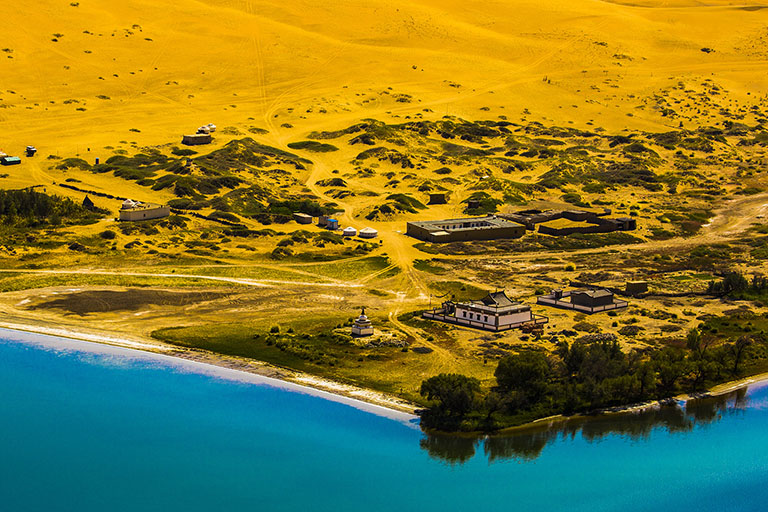 Desert Guesthouses near the Badain Jaran Lake
3.Camp in Badain Jaran Desert
Camping overnight in the beautiful Badain Jaran Desert is a super cool experience. You can not only view splendid starry sky, impressive sunset, sunrise but also can deeply feel the real wildness.
If you dream of such a great experience, you need to make full preparations under our professional help. Please check carefully and do bring your tent, sleeping bag, sufficient water and food, sunblock, anti-mosquito oil and other camping goods when entering the desert. For regular tourists, the most ideal place for camping is the area near the Badain Jaran Lake. It has local based accommodations and food supplies to support. Please inform the driver of your intention of camping in the desert in advance. So he will take you to the planned site. If you have other ideas, better ask for advice from the driver. He/she will give you the most practical suggestion, about the safety and related cautions. Experienced hikers who will trek through the desert should choose plain areas surrounded by high sand dunes to against the cold temperature.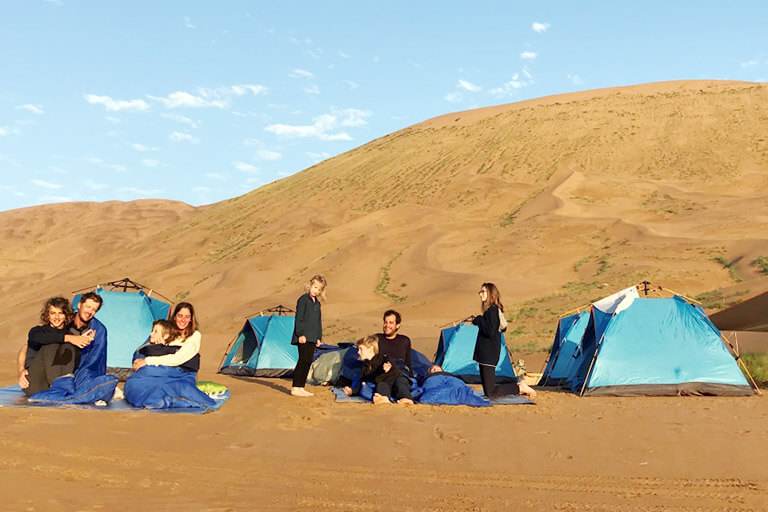 Camping in Badain Jaran Desert
How to Plan Your Badain Jaran Desert Tour
How to Get to: Travelers usually travel to Badain Jaran Desert from Zhangye, which takes a 3 hours' drive only. It takes a longer time if transferring via Lanzhou, Dunhuang, Alxa Left Banner or Ejin Banner.
Best Time to Visit: Late September to Late October when temperature is moderate, more sunny days with little wind and rainfall.
Places to Stay: Mongolian yurt near Badain Jaran Lake or other lakes in the Badain Jaran Desert scenic area and hostels in Badain Jaran Town.
For all travelers, the most popular and classic itinerary is spending 2 days for a Badain Jaran Desert tour, from which you can fully enjoy a wild adventure in its miraculous sights and experience various interesting desert activities. After the long ride, you will firstly accommodate in Badain Jaran Town.
In the next day morning, you will take a local chartered sand buggy organized by the officials to visit the iconic lakes and sand hills. During the stops, you can visit Badain Lake and a giant Genghis Khan Sand Carving nearby, Yinderitu Lake, the biggest saltwater lake in the desert with 108 mysterious springs, Bilutu Peak - "Mount Everest in the Desert", Badain Jaran Lake (Temple Lake) where an over 250-year-old Tibetan monastery stands and displays the most beautiful reflection of the yellow sands, green plants and white temple. Camping in a special Mongolian yurt helps you enjoy an amazing sunset and sunrise in the desert. On the second day, you will continue the thrilling Jeep safari and explore the Nortu Lake, the largest lake, and Baori Taolegai - the largest singing sand dune in the world. You can try a camel riding, sand sliding and a desert walking to enrich your trip.
✔ 3 Days Badain Jaran Desert Real Esence Tour with Jeep Safari
Usually, tourists travel to the northwestern China often visit Badain Jaran Desert with famous neighboring destinations, like Ejin Banner (Ejina Populus Euphratica Forest), Zhangye (Danxia Landform - colorful "Rainbow Mountains"), Dunhuang (Mogao Caves - Oriental Louvre) and other wonderful places in Qinghai, Gansu, Xinjiang along the Silk Road or in the Inner Mongolia.
✔ 5 Days Danxia Badain Jaran Desert Tour from Zhangye
✔ 7 Days Qinghai Lake Zhangye Danxia Badain Jaran Desert Wonders Tour
Travel with China Discovery
Traveling in the wild area of northwestern China is many travelers' dream. No matter you want to explore the mystery of the silk road or photograph the colorful lakes of Badain Jaran Desert, it never be as easy as traveling in the bigger cities like Beijing and Shanghai. In order to get a worry-free experience and get ride of the hustle and bustle hustle of public transportation and troublesome navigation, traveling with China Discovery is your best choice. As your flight or train arrives, our local guide will meet you at the airport or train station. You will enjoy a high-quality private transfer service, including comfortable car, skilled driver and freedom to stop for sightseeing.
Far more than that, China Discovery is professional to provide high-quality customizable tour. Before your tour, our travel expert will communicate with you one to one and make an itinerary according your own interest, need and budget. Every detail – transfer, hotels, attractions, etc. will be arranged well for you and you just need to focus on sightseeing. Feel free to contact us to start your worry-free private tour now!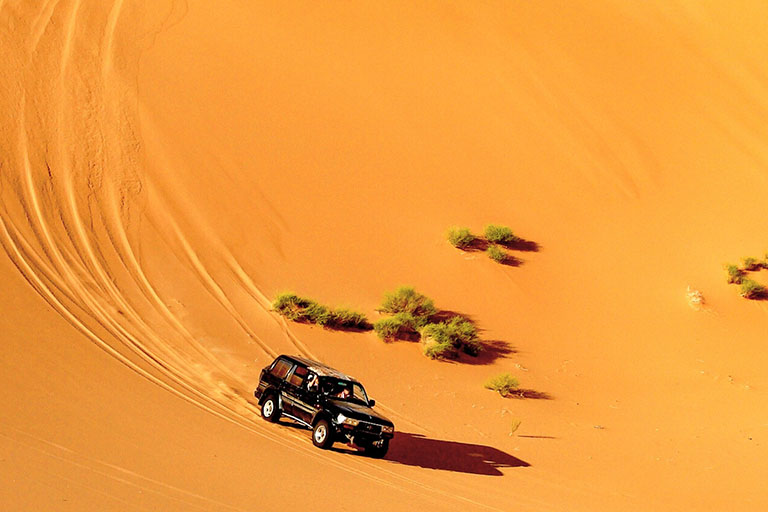 Jeep Safari in Badain Jaran Desert
Mysterious Pink Lake in Badain Jaran Desert
Camels are Common in Badain Jaran Desert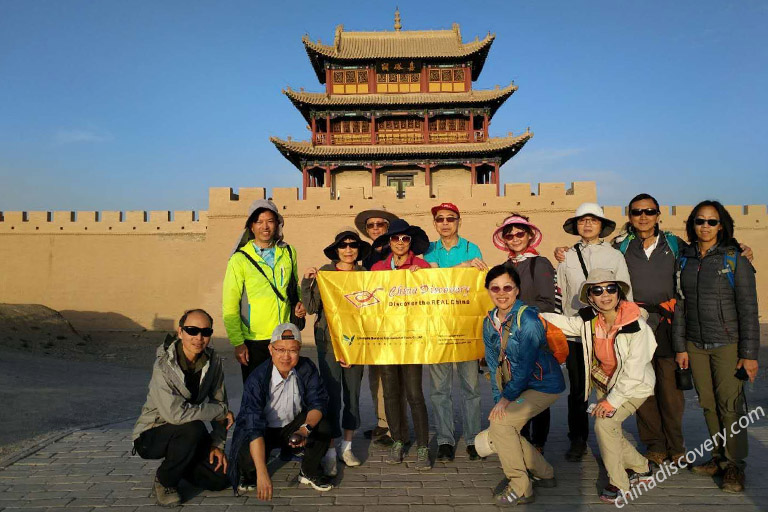 Mrs. Garlen Chan's group from Canada Enjoy A Silk Road Tour with China Discovery
Keep Reading
Recommended Badain Jaran Desert Tours
Top 3 Badain Jaran Desert tours chosen by most customers to explore Badain Jaran Desert in the best way. Check the detailed itinerary, or tailor your own trip now with us.
5 Days Zhangye Danxia Badain Jaran Desert Geography Miracle Tour

Zhangye - Badain Jaran Town - Badain Jaran Desert
8 Days Qinghai Lake Zhangye Danxia Badain Jaran Desert Wonders Tour

Xining - Zhangye - Badain Jaran Desert
3 Days Badain Jaran Desert Real Essence Tour with Jeep Safari

Badain Jaran Town - Badain Jaran Desert
Start planning your tailor-made holiday to China by contacting one of our specialists. Once inquired, you'll get a response within 0.5~23.5 hours.
Customize a Trip
Have a question? Get answers from our travel experts or guests
Your Question:

Your Name:

Your Email: