Close-up to Pandas & Terracotta Warriors by High Speed Train
How can one person watch the chubby giant pandas in Chengdu and the globally shocked Terracotta Warriors in Xian in the same one day but not by flying?? The new Xian Chengdu High Speed Train could make it, AND with only 3 hours riding. Isn't it amazing? Let's see the details about this high speed rail, how to plan a best visit to giant pandas and Terracotta Warriors, and more highlights in Xian and Chengdu for your high speed train experience in 2023.
3 Hours' Xian Chengdu High Speed Train
The new Xian Chengdu high speed train from Xian North Station to Chengdu East Station takes only about 3 hours for the whole travel, which has largely cut down the transferring duration between Chengdu and Xian than by normal trains. Compared by the about 2 hours' Xian Chengdu flights which need more time for checking and boarding, taking a bullet train to travel between Xian and Chengdu would be also a great choice.
What's more, as China high speed trains reach a world advanced level, the super high speed of 350km/h and a series of new technologies and facilities on the train attract a lot of travelers home and abroad to get onboard for the new experience. Take on a high speed train to visit the giant pandas and Terracotta Warriors, and you would become a new fashionable icon of China high speed trains. Check the detailed schedule of Xian Chengdu high speed trains.
>> 5 Days Classic Tour by New Xian Chengdu High Speed Train
>> 6 Days Chengdu Xian City Enjoyments with New Bullet Train Experience Tour
Chengdu Giant Panda Visiting & Panda Volunteer Program
You must know that the giant pandas are really super cute and chubby and also rare in the world. BUT, have you ever watched them in person? As the home of pandas, Chengdu is particularly famous domestically and overseas, which would change your longing giant panda visiting into real. There are Chengdu Research Center of Giant Panda Breeding, Dujiangyan Panda Base, Wolong Panda Reserve, and Bifengxia Panda Base in and around Chengdu, and you could go to the panda center to see the adorable pandas eating, playing, sleeping, climbing, etc. AND their new born baby pandas during their breeding seasons around July and August.
What's more, if you are really a determined fan of giant pandas or want to do some more meaningful contribution, the giant panda volunteer program is for your good choice to get close to giant pandas in their closure, prepare nutritious cake and feed them by your own, clean their houses, and learn more knowledge about pandas, etc. At the end, you would receive the souvenirs and volunteer certificate to commemorate this cool and proud contribution.
Also, as giant pandas are really lovable, you could hug one panda and have photos with it in the panda center, which really would be a shining experience in your life. And the donation fee you provided would be used to help saving this endangered species and create a better environment to them.
>> Dujiangyan Panda Volunteer & Panda Holding
>> Wolong Panda Volunteer & Panda Holding
>> Bifengxia Panda Volunteer & Panda Holding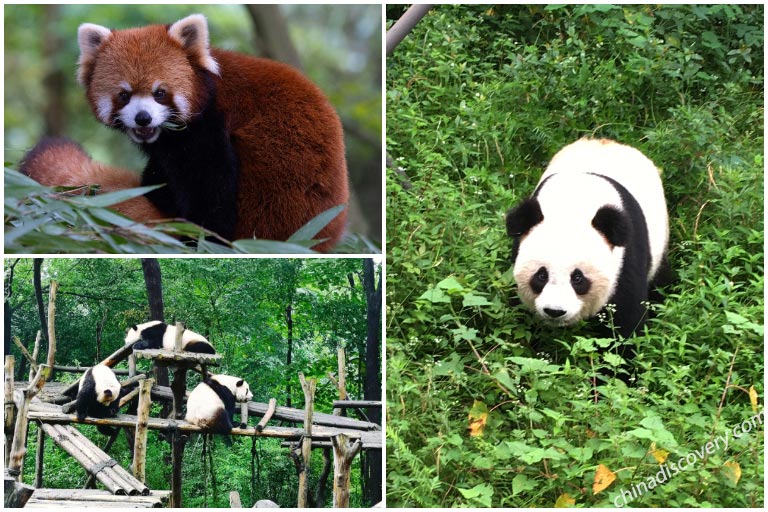 Visit Chengdu Giant Pandas & Join Panda Volunteer Program
Must-try Chengdu Highlights
Famous for the great reputation of "Land of Abundance", "City of Leisure", Capital of Ancient Shu Kingdom and "World City of gastronomy", Chengdu holds a lot of things to savor its culture, history, leisure, food, and other charming aspects. During your high speed train visit to Chengdu, you could plan 2 to 3 days to visit the Jinli Old Street or Kuanzhai Alleys to seek the old prosperity of this famous capital city and delicious food, go to 1300-year old Wenshu Temple to savor the Buddhist culture there. Renmin Park is a classic and most recommended place to enjoy the leisure and local life of Chengdu citizens. Also, Jinsha Site Museum would tell you a brilliant historical culture and stories of the past civilization about 3000 years ago. And Wuhou Memorial Temple has been one of the must-visit sites to know about the history of the Three Kingdoms period. As one of the top popular tourist cities in China, Chengdu would give you a wonderful tour for your holiday. Check all Chengdu things to do.
>> 1 Day Dujiangyan Panda Volunteer Tour
>> 3 Days Chengdu Highlights Tour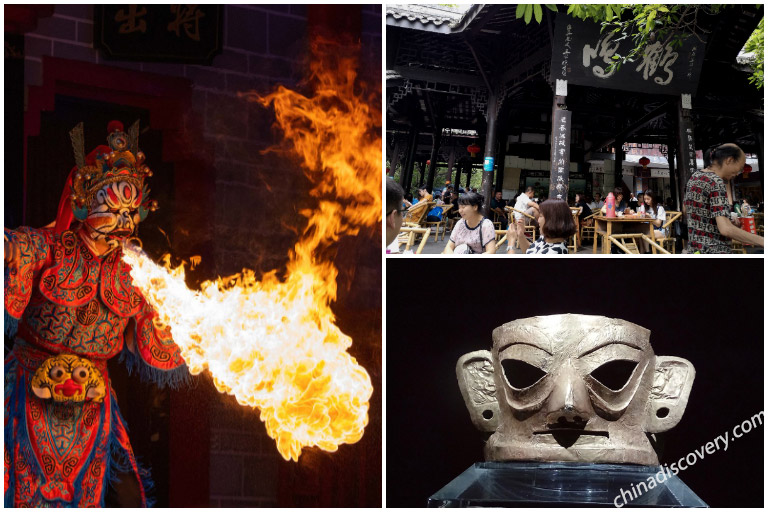 Chengdu Highlights for Your Leisure Holiday
Xian Terracotta Warriors Witness
The Terracotta Warriors in Xian is unbelievable! Regarded one of the 8 Wonders of the World, it is a golden card of China's brilliant historical culture and civilization and is also listed as the UNESCO World Heritage Site to praise the outstanding wisdom and skills of human beings. As one of the greatest archaeologist discoveries in the twentieth century, Terracotta Warriors leave a series of queries and hard-to believe wonders for world people. Such as how could the so large scaled troops and horses exist so well from the far 2000 years ago, how did the potters make the terracotta warriors with no one alike?, even on the facial expressions, hair styles, moustache styles, hand gestures, etc. You could find great answers to more interesting questions, have a better knowledge of history and cultures of Qin dynasty, excellent skills of potters of that period, etc. during your visit in this great site
>> Check more details about Xian Terracotta Warriors and Horses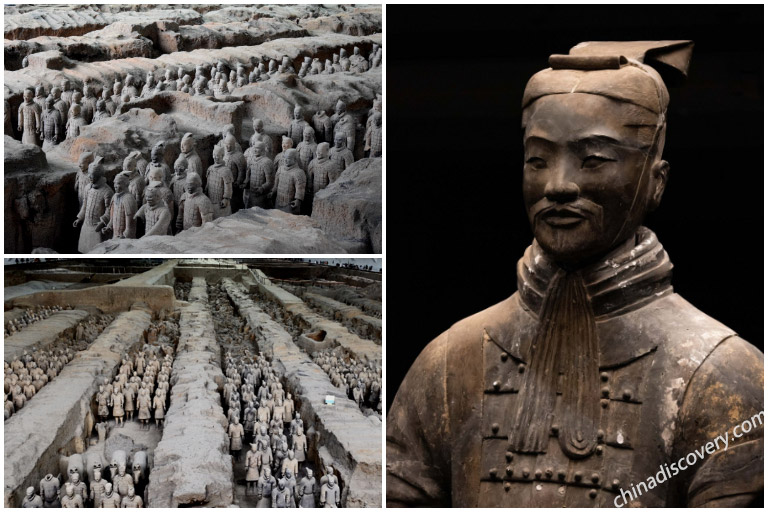 Magnificent Terracotta Warriors in Xian
Not-missing Xian Bests
Xian, as one of the 4 great ancient capital cities in China for the past 13 dynasties, is a top hot destination to savor the profound history and culture of this country. Besides the not-missing Terracotta Warriors and Horses, you could experience biking on the Ancient City Wall to appreciate the view of the downtown, visit the Giant Wild Goose Pagoda of 1300 years old, which is a "gem of Chinese ancient architectural history". Also, you could go to Shaanxi History Museum to appreciate a large number of precious and valuable historical and cultural relics. During your tour in Xian, wander to the Muslim Quarter to taste many kinds of snacks and famous food, which is a wonderland of foodies and admire the multi-elements culture in Xian. Check all Xian things to do.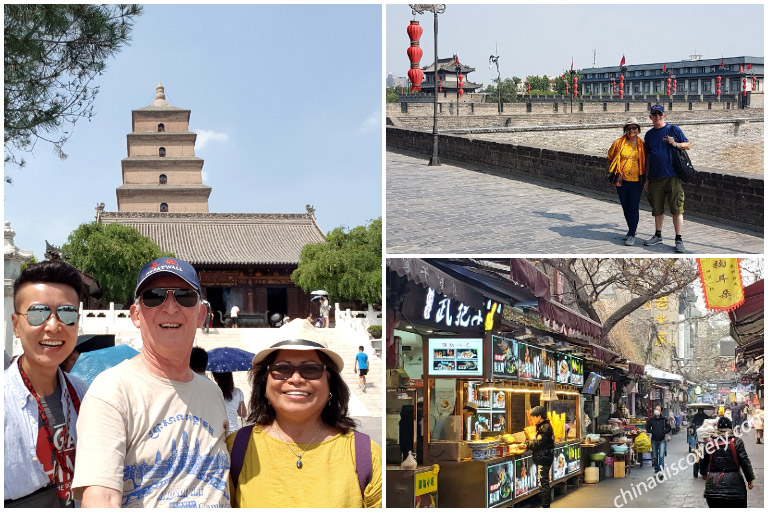 Can't-missing Things to Experience in Xian
Plan a Chengdu Xian High Speed Train Travel with Pandas & Terracotta Warriors
The flying developed China high speed trains make a China travel including Chengdu and Xian with better speed and enjoyment. Watching the giant pandas in the morning and appreciate the Terracotta Warriors in the afternoon is no more just a saying. We China Discovery highly recommend you to take a high speed train to travel between Chengdu and Xian to experience the world speed and technologies. If you are interested in planning a high speed train travel to Chengdu and Xian, please feel free to contact our professional Travel Consultant. And if you want to discover other top popular destinations like Beijing, Shanghai, Guangzhou, Zhengzhou, Guilin, Yunnan, Yangtze River, etc. in China by the bullet trains, our team would also help sincerely and give you great services for your vacation planning, what you have to do is just focus on the highlights.
Recommended Tours
Top 3 tours chosen by most customers to explore in the best way. Check the detailed itinerary, or tailor your own trip now with us.
5 Days Classic Tour by New Xian Chengdu High Speed Train

Xian / Chengdu
6 Days Chengdu Xian City Enjoyments with New Bullet Train Experience Tour

Chengdu / Leshan / Emeishan / Xian
10 Days China Family Tour with Panda Reserve Visit

Beijing / Xian / Chengdu / Shanghai
Start planning your tailor-made holiday to China by contacting one of our specialists. Once inquired, you'll get a response within 0.5~23.5 hours.
Customize a Trip
Have a question? Get answers from our travel experts or guests
Your Question:

Your Name:

Your Email: