The Four Sacred Buddhist Mountains in China
As the introduction of Buddhism from India in Han Dynasty, China initiated temple construction and sites of enlightenment and continues today. The Buddhist culture in China went through long history of growth and prosperity, and ultimately turns into historical appeal and cultural charm together with the attractive natural scenery where they pullulated, achieved fame throughout the world. Among the numerous famous Buddha Mountains in China, the most sacred four are known as Gold Wutai, Silver Putuo, Copper Emei and Iron Jiuhua respectively for they believed to be the holy seats Manjusri Buddisattva, Avalokitesvara, Samantabhadra Bodhisattva and Ksitigahba Buddhisattva reincarnated to tame certain beings.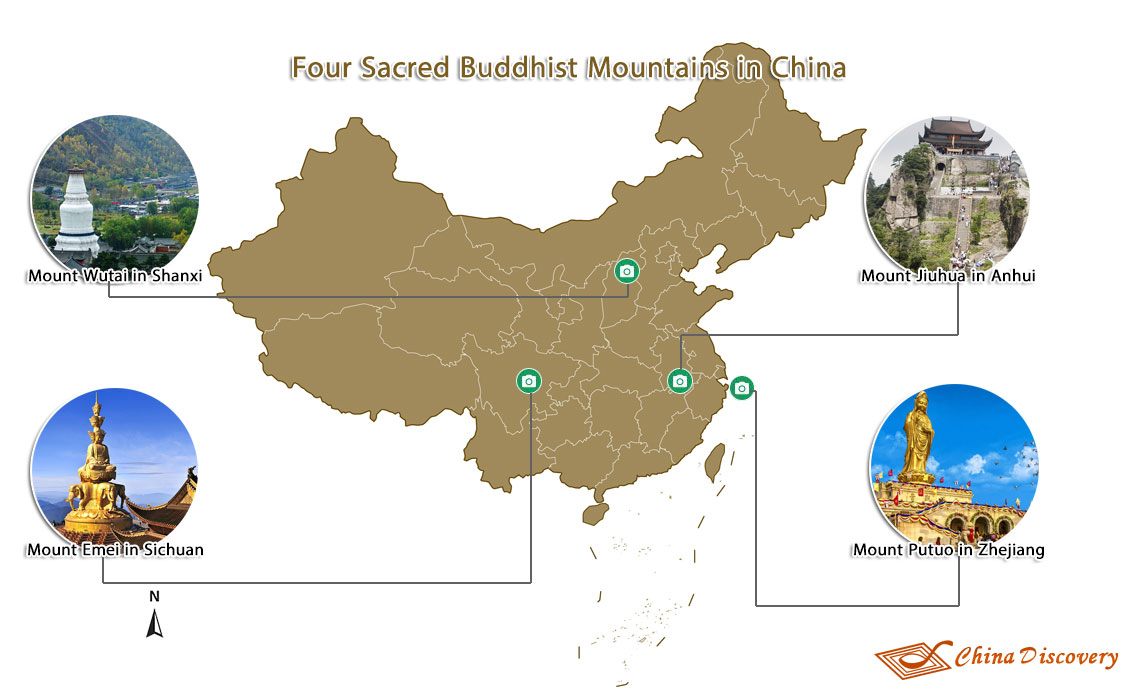 1. Mount Emei in Sichuan - World Cultural & Natural Heritage
Tips and Etiquettes for Buddhist Mountain Tour
1. Select a Best Travel Time. Usually Spring and Autumn are the best season to visit Buddhist mountains when weather is quite pleasant and natural scenery is most beautiful. It probably be rainy in Summer and kind of cold in Winter, especially for mountains at high elevation.
2. Admission Fee of Buddhist Temple. Almost all Buddhist temples visiting needs to buy tickets separately, for the admission fees are excluded in the entrance tickets of Buddhist mountains.
3. Preparations before Buddhist Mountain Tour. Remember to take some warm clothes for huge temperature variation between day and night, foothill and top, rain gear in case of raining, comfortable shoes and necessary food supply.
4. Buddhism Etiquettes Should Follow:
―enter temples from side door
―no touch and photo takingf of Buddha
―don't point Buddharupa with fingers
―don't light the incense from censer
―put your palms together when meeting monks and no handshake, embrace and touch of head with monks
―palms should be facing up when making worships in temples
Believer of Buddhism can pay close attention to the Buddhism activity news if you are interested in. And please respect the temple customs once you choose to live in temple.
Travel with China Discovery
If you want to get rid of hustle of public transportation and troublesome navigation, you can take a private tour package which covers sightseeing, dining and transfer from us. Our local tour guide and driver will escort you to any destinations with speed and convenience, and take care of all the details. You just need to focus on sightseeing.
If you have more questions about Buddhist Mountains in China, please feel free to contact us and our professional travel consultants are here ready to help!