Updated Mount Jiuhua (Jiuhuashan) Maps 2023/2024
As one of the most famous Buddhist mountain, Mount Jiuhua is a thriving Buddhist pilgrimage site. In order to help you understand more about its location, hiking route, temples, and nearby sites, we've selected some useful maps, including Mount Jiuhua China Map, Mount Jiuhua Hiking Map, Mount Jiuhua Tourist Map, etc. All Mount Jiuhua Maps are downloadable for free. Please make full use of them to plan your Mount Jiuhua Tour.
Mount Jiuhua Location Maps - Where Is Mount Jiuhua (Jiuhuashan)
Mount Jiuhua (117° 29′E, 30° 40'N), subordinate to Qingyang County (青阳县), Chinzhou (池州市), Anhui Province (安徽省), is located on the South Bank of the Yangtze River in the north, facing Huangshan Mountain in the south. It's only about 120km away from the famous Huangshan Mountain (Yellow Mountain) and well-connected by high-speed train to Shanghai in the east (about 430km).
▶ Popular Mount Jiuhua Tour: 2 Days Mount Jiuhua Scenic Hiking Tour
Mount Jiuhua (Jiuhuashan) Tourist Maps
Known for the profound Buddhist culture, Mount Jiuhua attracts lots of tourists to take a devoted hike to the temples and peaks, and worship the Ksitigarbha Bodhisattva, etc. The maps of its major attractions and hiking routes with detailed distances are offered for your Mount Jiuhua pilgrimage!
▶ Useful Link: Mount Jiuhua Hiking
▶ Popular Mount Jiuhua Tour: 2 Days Mount Jiuhua Buddhism Tour
Mount Jiuhua (Jiuhuashan) Transportation Maps
With Chizhou Airport and High-Speed Railway Station near Mount Jiuhua, Mount Jiuhua Scenic Area is well-connected from Beijing, Shanghai, Xian, Hefei, Yellow Mountain, and other surrounding cities. After taking a high-speed train and flight to Chizhou, you can take a taxi or direct tourist bus to Mount Jiuhua with a driving distance of 30km to 40km. Since it is very close to Yellow Mountain, most tourists would travel to both of them. Besides traveling Mount Jiuhua alone, you are recommended to visit other places in Anhui or start your journey from Shanghai to explore Mount Jiuhua.
▶ Useful Links: Mount Jiuhua Transportation | Shanghai to Mount Jiuhua | Yellow Mountain to Mount Jiuhua
▶ Popular Mount Jiuhua Tour: 4 Days Mount Jiuhua Tour with Shanghai Essence
How to Plan Your Mount Jiuhua Tour
How to Get to Mount Jiuhua: Take a flight to Chizhou Jiuhuashan Airport or take a high speed train to Chizhou Railway Station from Beijing, Shanghai…; Drive about 2 hours from Huangshan.
Best Time to Visit Jinan: Mid-March to Mid-November, because the temperature is comfortable with the best scenery; many Buddhist festivals and ceremonies are held.
Top Places to Visit on Mount Jiuhua: 99-Meter Ksitigarbha Bodhisattva, Longevity Palace, Huangcheng Temple, Tiantai Peak, Tiantai Temple…
No matter you're a Buddhist follower or sightseeing tourist, 2 days is most suitable for a Mount Jiuhua tour. Detailed attractions and tour order can be flexibly arranged based on personal interest, time and energy.
If you specially visit Mount Jiuhua for Buddhist pilgrimage, then Buddhist temples are the must-visits. On your arrival day, you can visit the 99-Meter Golden Statue of Ksitigarbha Bodhisattva at the north foothill. In and around Jiuhua Street, you can visit Huangcheng Temple - the first Buddhism temple of Mount Jiuhua, Incarnation Grand Hall which enshrines the flesh body of Ksitigarbha Bodhisattva, Zhantanlin Temple with massive delicate carved architectures and Zhiyuan Temple - the largest temple with the most complete layout, etc. On the second day, you can get to Longevity Palace to worship the incarnation of famous Chinese monk Haiyu (Wuxia) and Heavenly Terrace Peak (Tiantai Peak) where the highest temple - Tiantai Temple lies.
✔ 2 Days Mount Jiuhua Buddhism Tour
If you're also a traveler fascinated by natures and physical condition permits, then you can view charming mountain landscape in the Flower Terrace Scenic Area with a special Hanging Plank Road hiking experience.
✔ 2 Days Mount Jiuhua Scenic Hiking Tour
✔ 4 Days Mount Jiuhua Buddhism Tour with Shanghai Essence
After your Mount Jiuhua tour, Mount Huangshan, just 2 hours' ride away, is a popular UNESCO World Cultural & Natural Heritage worth your exploration with another 2 days. Chinese ancient culture buffs also like to visit Hongcun, Xidi and other ancient Huizhou-style village around the Mount Huangshan. If time allows, you may extend trip further to Wuyuan and Jingdezhen in neighboring Jiangxi, Mount Putuo and other famous Buddhist mountains and many more major tourist destinations in China.
✔ 5 Days Huangshan Tour & Buddhist Pilgrimage to Mount Jiuhua
✔ 5 Days Buddhism Tour to Mount Putuo & Mount Jiuhua from Shanghai
✔ 6 Days Shanghai Mount Jiuhua & Huangshan Tour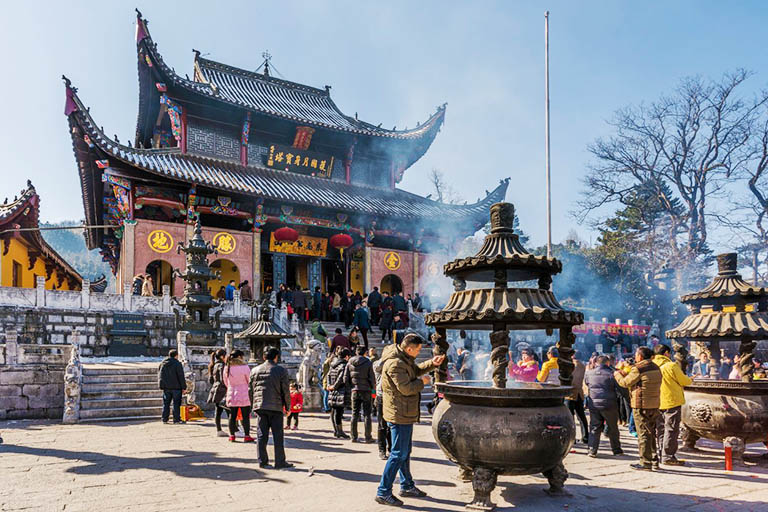 Pilgrims in Incarnation Grand Hall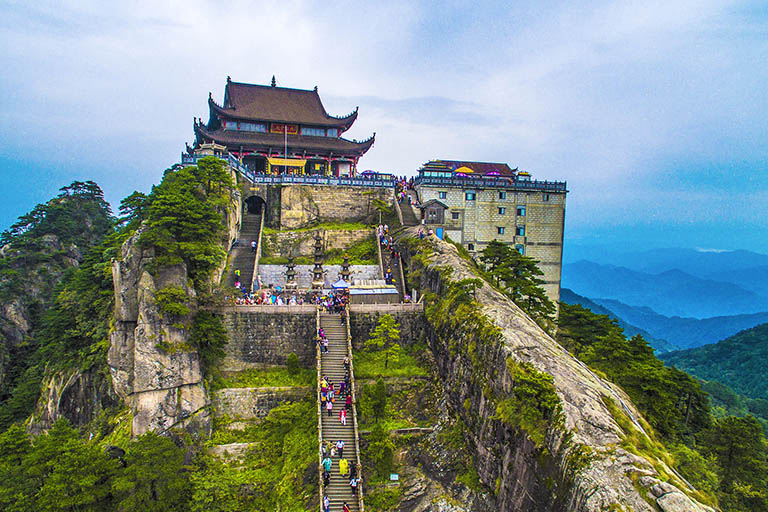 Tiantai Temple on Heavenly Terrace Peak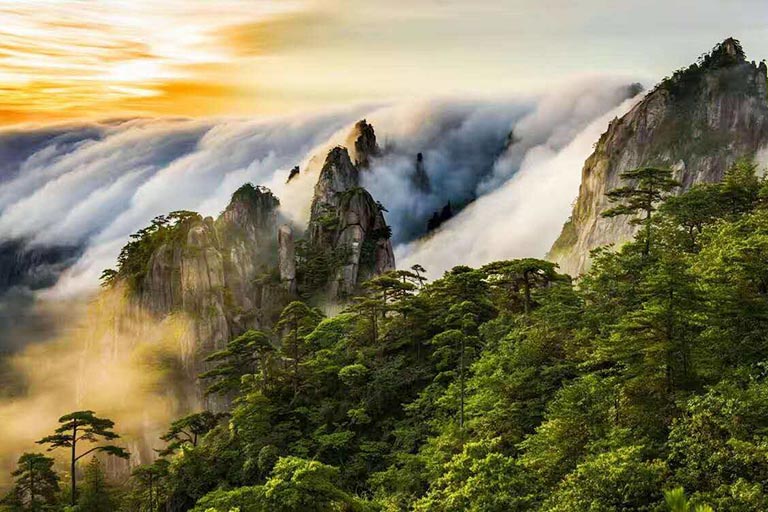 Dreamlike Scenery of Mount Huangshan
Travel with China Discovery
China Discovery is an experienced, professional and reliable travel companion devoted to offering high-quality and the best tour services for all travelers to China. In order to have a hassle-free travel and focus on the trip itself, it's highly recommended travelling with China Discovery. So, you can enjoy convenient airport pick-up and drop-off service and transportation to all scenic spots in a safe, clean, comfortable, air-conditioned and non-smoking vehicle. Also, we will arrange knowledgeable local tour guide, excellent accommodation and dining arrangements to ensure you rest well and get better understanding of Buddhist of Mount Jiuhua. You may select a favorite from our most popular Mount Jiuhua tours or contact us to design a unique itinerary according to your personal time and preference.
Mount Jiuhua Travel Guide
Anhui Travel Guide
Recommended Mount Jiuhua Tours
Top 3 Mount Jiuhua tours chosen by most customers to explore Mount Jiuhua in the best way. Check the detailed itinerary,or tailor your own trip now with us.
2 Days Mount Jiuhua Buddhism Tour

Mount Jiuhua
2 Days Mount Jiuhua Scenic Hiking Tour

Mount Jiuhua
5 Days Huangshan Tour with Buddhist Pilgrimage to Mount Jiuhua

Huangshan / Mount Jiuhua