How to Travel from Huangshan (Yellow Mountain) to Mount Jiuhua
Yellow Mountain (also called Huangshan Mountain, Mount Huang…) and Mount Jiuhua are two popular mountains in Anhui Province. Yellow Mountain is praised as China's most picturesque mountain with odd-shaped pines, spectacular rocky peaks, sea of clouds, hot spring and winter snow, while Mount Jiuhua (also called Jiuhuashan Mountain) is a sacred Buddhist mountain dedicated to Ksitigarbha Bodhisattva. They are two icons of Anhui attracting numerous travelers to visit. If you want to savor the spectacular nature and Buddhism in one go, just go to Anhui and visit its two beautiful mountains. Here we list best Huangshan Jiuhuashan travel ideas, including locations, maps, transfer ways and trip planners. Get inspired now.
Related Links: Top Huangshan Tours | Top Mount Jiuhua Tours
√ 5 Days Huangshan and Mount Jiuhua Tour
√ 6 Days Shanghai, Mount Jiuhua & Huangshan Tour
Locations of Yellow Mountain and Mount Jiuhua
Yellow Mountain is located in Huangshan District, northwest of Huangshan City, South Anhui Province. Mount Jiuhua is located in the southwest of Qingyang County, Chizhou City, bordering the northwestern part of Huangshan City. The distance between Mount Jiuhua Scenic Area and Yellow Mountain Scenic Area is about 120 km and it needs about 2 ~ 2.5 hours to travel between them by car.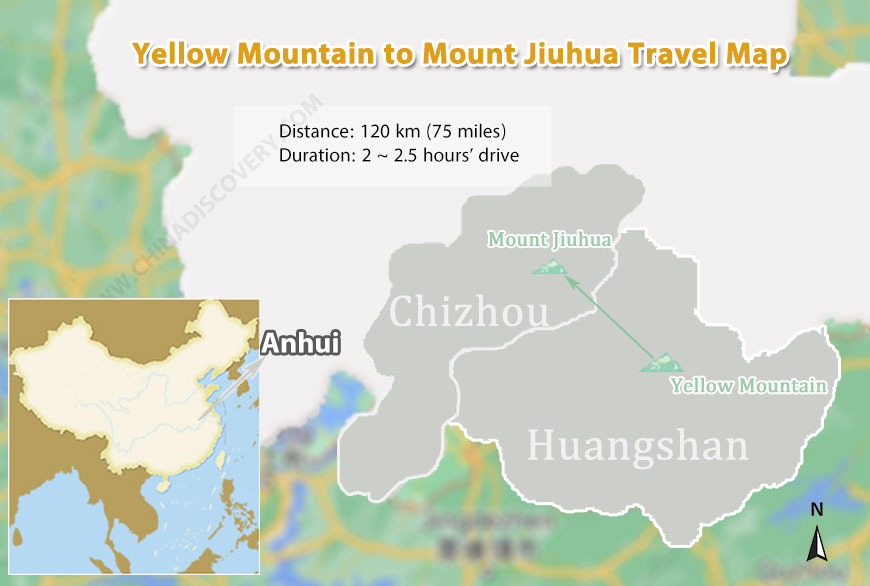 Huangshan to Mount Jiuhua Travel Map
Private Transfer Service from China Discovery - Top Recommended
Traveling with China Discovery, and you will enjoy the comfortable and efficient private transfer. There is no need to wait for the bus or worry about the language barrier with drivers. No matter when your flight or train arrives in Huangshan City, our local tour guide will pick you up and escort to your hotel or Yellow Mountain as you wish with an air-conditioned and non-smoking vehicle. After your Yellow Mountain sightseeing, you can also take a visit to the surrounding Huizhou-style white-walled and gray-tiled villages. All the matters such as transportation, meal, accommodation, and ticket will be taken care of, and the itinerary are customizable, all you need to do is just enjoy your trip.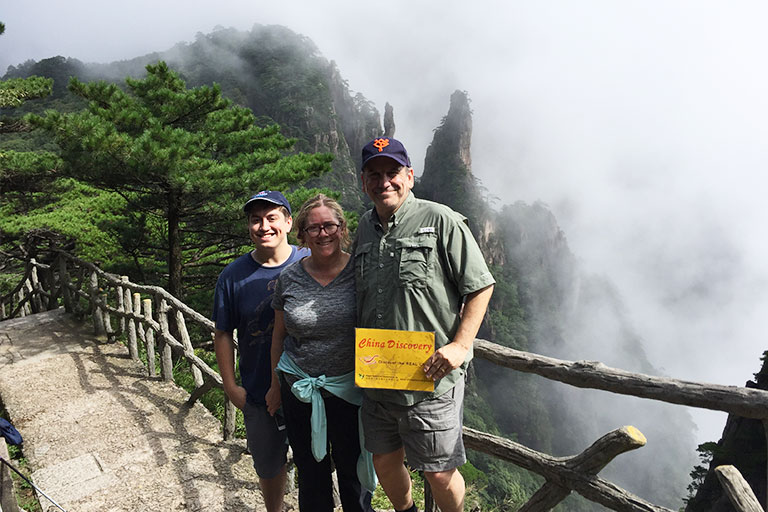 Our Happy Customers in Yellow Mountain
Huangshan to Mount Jiuhua Bus
After your Yellow Mountain sightseeing, you can turn to Mount Jiuhua by bus. All of Yellow Mountain Scenic Area, Tangkou Town and Huangshan City operate daily buses to Mount Jiuhua.
Option 1: Yellow Mountain Scenic Area to Mount Jiuhua
If you descend Yellow Mountain by Yuping (Jade Screen) cable car from the Front Mountain, you can directly take a Xinguoxian Bus to Mount Jiuhua. Generally, there are two buses available, one departing at 6:30 and the other departing at 14:20 (updated in December, 2020).
Option 2: Tangkou Town to Mount Jiuhua Bus
Tangkou is a small town located at the foot of Yellow Mountain. It acts as the main tourist service base before ascending or after descending Yellow Mountain. Tangkou Bus Station (also called Zhaixi Transfer Center) runs 2 daily buses to Mount jiuhua as well, one departing at 6:50 and the other departing at 14:20 (updated in December, 2020). No matter you get down Yellow Mountain from the Front Mountain or the Back Mountain, you can easily take a regular bus to Tangkou.
Option 3: Huangshan City to Mount Jiuhua
If you want to have a short break after your Yellow Mountain hiking experience, you can have a stay in Huangshan City and then go to Mount Jiuhua by bus. There are 2 daily buses running from Huangshan Bus Station (黄山汽车总站) to Mount Jiuhua. They usually depart around 13:30 and get to Mount Jiuhua 3.5 hours later (updated in December, 2020). There are regular buses to Huangshan Bus Station from Yellow Mountain Scenic Area and Tangkou Town as well.
Please Note: The departure time above is for your reference only because the schedule is not fixed.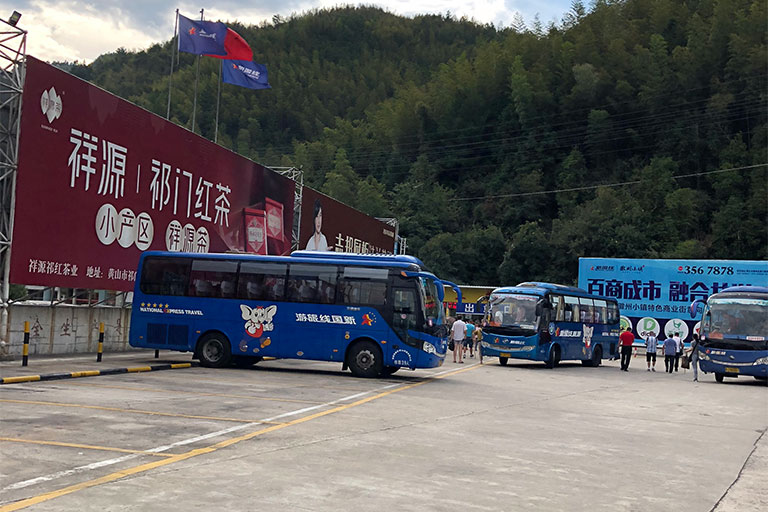 Xinguoxian Bus in Tangkou Bus Station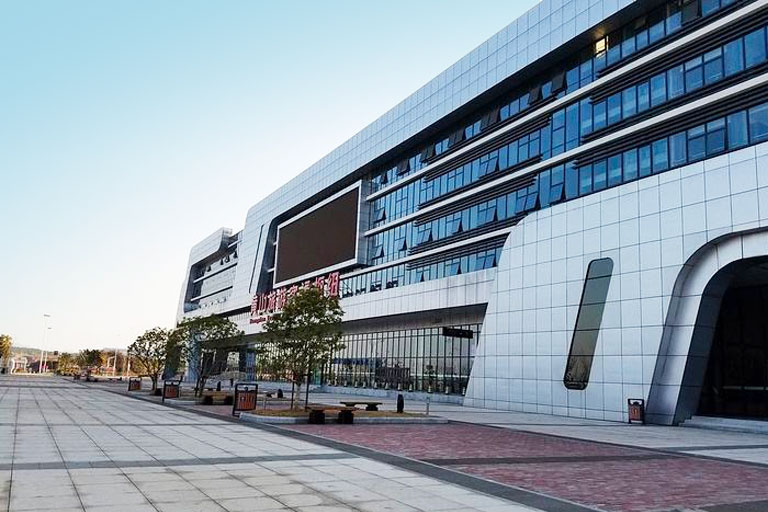 Huangshan Bus Station
Huangshan to Mount Jiuhua High Speed Train
Some travelers prefer to travel in China by high speed train because of its efficiency and comfort. However, there is no direct high speed train between Yellow Mountain and Mount Jiuhua or Huangshan City and Chizhou City. If you insist on a high speed train travel, you need to make a transfer. You can take a high speed train from Huangshan to Tongling first and then transfer to Chizhou.
Step 1: Huangshan Railway Station to Tongling Railway Station
During about 8:10 ~ 19:40, there are over 15 high speed trains running from Huangshan North Railway Station to Tongling North Railway Station. The whole high speed train trip takes about 1 hour.
Step 2: Tongling North Railway Station to Chizhou Railway Station
Tongling North Railway operates about 10 high speed trains to Chizhou Railway Station every day. The earliest train departs around 07:30 and the last train departs around 21:10. You can reach Chizhou Railway Station within 40 minutes usually.
Step 3: Chizhou Railway Station to Mount Jiuhua
If you get to Chizhou Railway Station before 17:10, you can easily take a free shuttle bus (yellow) to Mount Jiuhua. You don't need to buy the tickets for the shuttle bus, but you have to buy the ticket for the tourist bus which is available in the scenic area. There is one shuttle bus available almost in every hour from 09:00 to 15:00. Besides, there are public buses (green) available to take you Mount Jiuhua Scenic Area as well.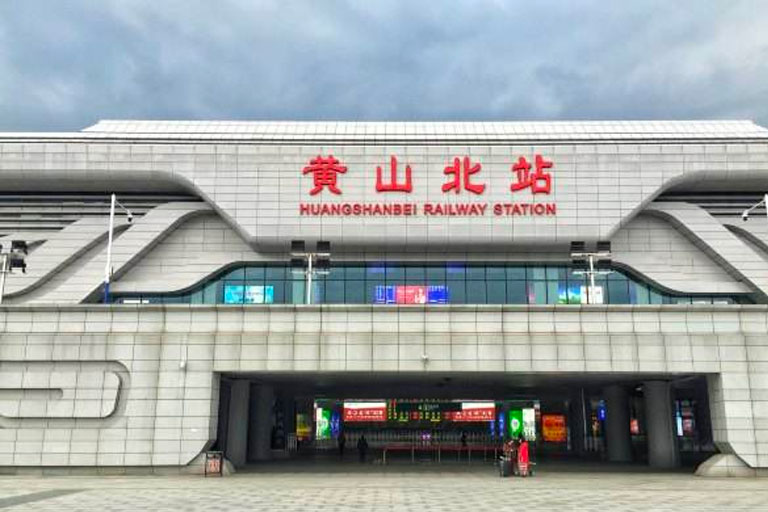 Huangshan North Railway Station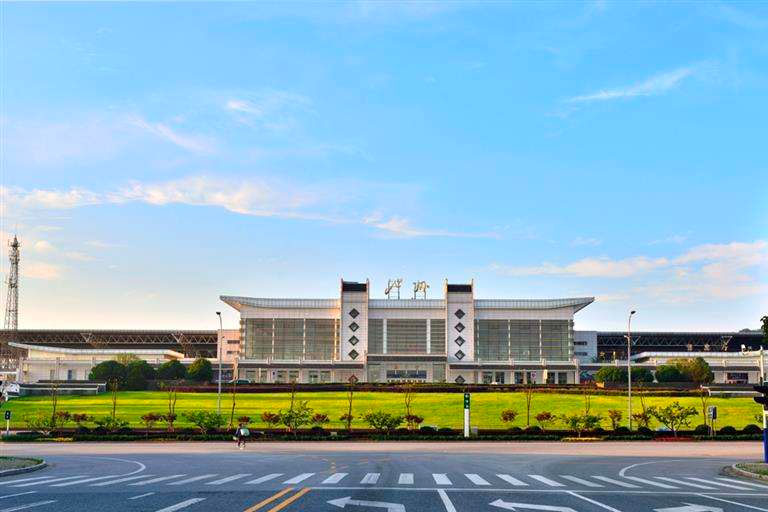 Chizhou Railway Station
How to Plan A Huangshan Jiuhuashan Tour
Usually, a tour combining Huangshan and Jiuhuashan takes about 4 ~ 6 days. It is recommended to spend 2 days on Yellow Mountain for the stunning natural beauty. No matter you travel Yellow Mountain by hiking or cable car, great view can be appreciated. Great attractions in Yellow Mountain contain West Sea Grand Canyon, Bright Summit, Stone Monkey Watching the Sea, Lotus Peak, etc.
After Yellow Mountain, you are strongly recommended to spend 1 ~ 2 days visiting the exquisite old villages in Huangshan, like Hongcun Village, Xidi Village, Bishan Village, etc. After that, drive to Mount Jiuhua to have a sacred Buddhist pilgrimage. Usually, a classic Jiuhua Mountain tour needs 2 days and you can't miss Jiuhua Street Scenic Area, Heavenly Terrace Scenic Area, Flower Terrace Scenic Area, and Great Vow Culture Scenic Area to admire the best landscape of Mount Jiuhua.
√ 5 Days Huangshan and Mount Jiuhua Tour
√ 6 Days Shanghai, Mount Jiuhua & Huangshan Tour
If you are quite interested in different mountains, China can truly meet your desires. For more nature, we suggest you travel to Zhangjiajie to see the amazing Avatar Mountains, Guilin to see the Karst mountains, Mount Huashan to enjoy the adventure and excitement, or Western Sichuan to see the soaring snow peaks… If you like the mountain with both nature and cultural charm, don't miss Mount Emei – World Cultural & Natural Heritage site and the ashram for Samantabhadra Bodhisattva, Putuoshan Mountain – Mountain on the Sea and Abode of the Goddess of Mercy, Mount Wutai - One of the World 5 Famous Buddhist Holy Lands, etc. No matter which mountain you plan to visit, feel free to contact us to customize your great mountain tours.
√ 5 Days Buddhism Tour to Mount Putuo & Mount Jiuhua from Shanghai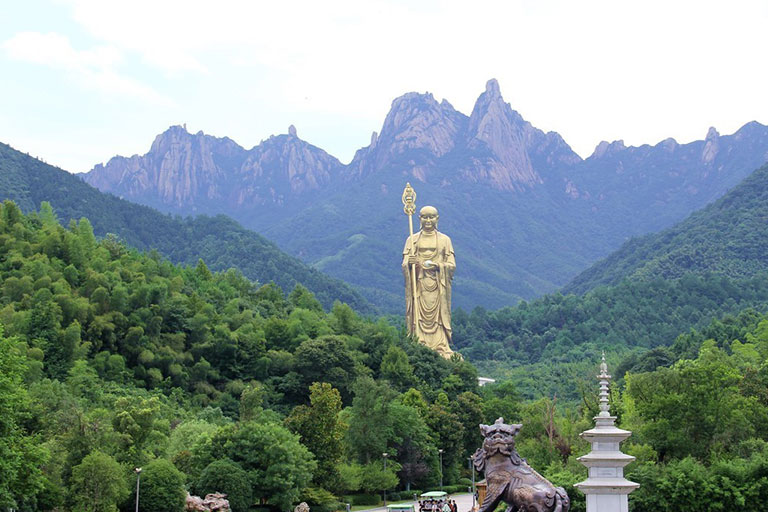 Great Vow Culture Scenic Area of Mount Jiuhua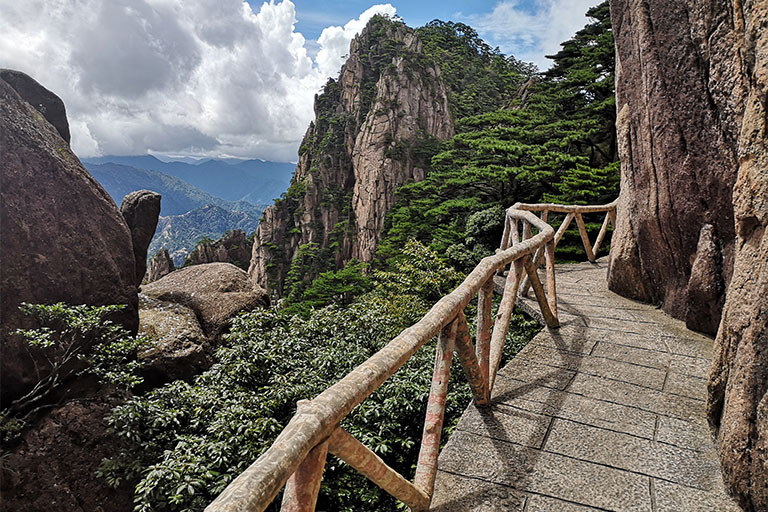 West Sea Grand Canyon of Yellow Mountain
How to Plan Your Mount Jiuhua Tour
How to Get to Mount Jiuhua: Take a flight to Chizhou Jiuhuashan Airport or take a high speed train to Chizhou Railway Station from Beijing, Shanghai…; Drive about 2 hours from Huangshan.
Best Time to Visit Jinan: Mid-March to Mid-November, because the temperature is comfortable with the best scenery; many Buddhist festivals and ceremonies are held.
Top Places to Visit on Mount Jiuhua: 99-Meter Ksitigarbha Bodhisattva, Longevity Palace, Huangcheng Temple, Tiantai Peak, Tiantai Temple…
No matter you're a Buddhist follower or sightseeing tourist, 2 days is most suitable for a Mount Jiuhua tour. Detailed attractions and tour order can be flexibly arranged based on personal interest, time and energy.
If you specially visit Mount Jiuhua for Buddhist pilgrimage, then Buddhist temples are the must-visits. On your arrival day, you can visit the 99-Meter Golden Statue of Ksitigarbha Bodhisattva at the north foothill. In and around Jiuhua Street, you can visit Huangcheng Temple - the first Buddhism temple of Mount Jiuhua, Incarnation Grand Hall which enshrines the flesh body of Ksitigarbha Bodhisattva, Zhantanlin Temple with massive delicate carved architectures and Zhiyuan Temple - the largest temple with the most complete layout, etc. On the second day, you can get to Longevity Palace to worship the incarnation of famous Chinese monk Haiyu (Wuxia) and Heavenly Terrace Peak (Tiantai Peak) where the highest temple - Tiantai Temple lies.
✔ 2 Days Mount Jiuhua Buddhism Tour
If you're also a traveler fascinated by natures and physical condition permits, then you can view charming mountain landscape in the Flower Terrace Scenic Area with a special Hanging Plank Road hiking experience.
✔ 2 Days Mount Jiuhua Scenic Hiking Tour
✔ 4 Days Mount Jiuhua Buddhism Tour with Shanghai Essence
After your Mount Jiuhua tour, Mount Huangshan, just 2 hours' ride away, is a popular UNESCO World Cultural & Natural Heritage worth your exploration with another 2 days. Chinese ancient culture buffs also like to visit Hongcun, Xidi and other ancient Huizhou-style village around the Mount Huangshan. If time allows, you may extend trip further to Wuyuan and Jingdezhen in neighboring Jiangxi, Mount Putuo and other famous Buddhist mountains and many more major tourist destinations in China.
✔ 5 Days Huangshan Tour & Buddhist Pilgrimage to Mount Jiuhua
✔ 5 Days Buddhism Tour to Mount Putuo & Mount Jiuhua from Shanghai
✔ 6 Days Shanghai Mount Jiuhua & Huangshan Tour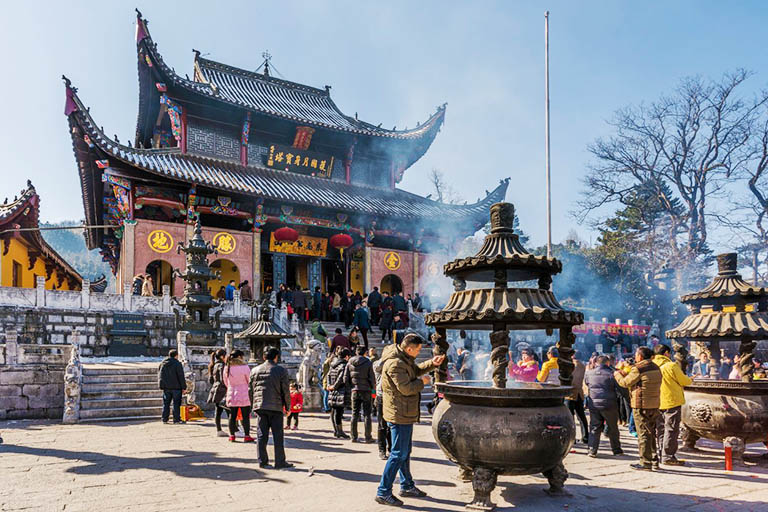 Pilgrims in Incarnation Grand Hall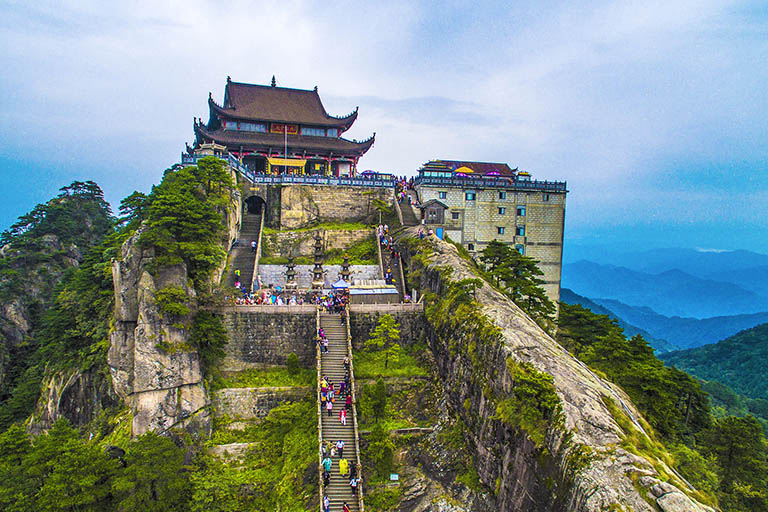 Tiantai Temple on Heavenly Terrace Peak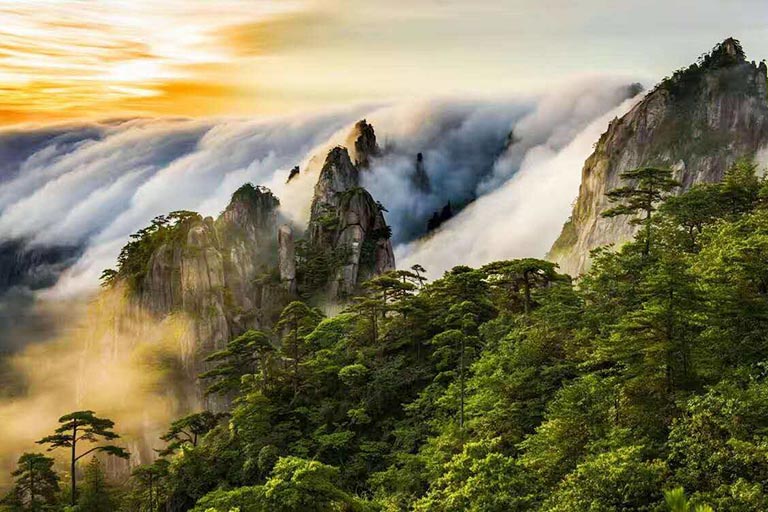 Dreamlike Scenery of Mount Huangshan
Travel with China Discovery
China Discovery is an experienced, professional and reliable travel companion devoted to offering high-quality and the best tour services for all travelers to China. In order to have a hassle-free travel and focus on the trip itself, it's highly recommended travelling with China Discovery. So, you can enjoy convenient airport pick-up and drop-off service and transportation to all scenic spots in a safe, clean, comfortable, air-conditioned and non-smoking vehicle. Also, we will arrange knowledgeable local tour guide, excellent accommodation and dining arrangements to ensure you rest well and get better understanding of Buddhist of Mount Jiuhua. You may select a favorite from our most popular Mount Jiuhua tours or contact us to design a unique itinerary according to your personal time and preference.
Mount Jiuhua Travel Guide
Anhui Travel Guide
Recommended Mount Jiuhua Tours
Top 3 Mount Jiuhua tours chosen by most customers to explore Mount Jiuhua in the best way. Check the detailed itinerary, or tailor your own trip now with us.
2 Days Mount Jiuhua Buddhism Tour

Mount Jiuhua
6 Days China Mountains Tour with Classic Shanghai

Shanghai / Jiuhuashan / Huangshan
5 Days Huangshan Tour with Buddhist Pilgrimage to Mount Jiuhua

Huangshan / Mount Jiuhua
Start planning your tailor-made holiday to China by contacting one of our specialists. Once inquired, you'll get a response within 0.5~23.5 hours.
Customize a Trip
Have a question? Get answers from our travel experts or guests
Your Question:

Your Name:

Your Email: