Why Visit Nanping Village
Nanping Village was originally named Ye Village (叶村) because most villagers resided here are from Ye's family. It renamed as Nanping Village after Nanping Mountain. With a history of over 1,000 years, Nanping Village is an old village featuring in many historical and cultural sites. It has attracted several directors to frame there. Most scenes of Zhang Yimou's tragedy – Ju Dou and parts of Ang Lee's Crouching Tiger, Hidden Dragon were filmed in the village. Plus some other Chinese films, Nanping Village is honored as China's Film Village.
Surrounding Rural View - Nanping Ancient Village enjoys an impressive rural view made by green Nanping Mountain, big trees, flowing stream and farming fields grown with ripe flowers (March ~ April) or golden paddy (in September).
Architectural Beauty - Nanping Village is well-preserved with many architectures which were primitively built in Ming (1368~1644) and Qing Dynasty (1636~1912). Strolling in the antique buildings provides you a probe into the old times in hundreds of years ago.
Ancient Ancestral Hall Culture - Ancestral Hall is the highlight of Nanping Village. There are 8 old greatly-maintained ancestral halls, by visiting which you could get a better understanding of culture the ancestral halls in feudal society.
Peaceful and Authentic Nanping Village
Learn about Ancestral Hall
In the feudal society of ancient Huizhou, the family concept was very profound. Each family had to set up its own temple to worship its ancestors. This kind of family temple is commonly called "ancestral hall". In addition to offering sacrifices to ancestors, the ancestral hall is also the place where the elders exercise their clan power, and where any people who violate the clan rules are educated and punished until they are expelled from the ancestral hall. It can also be said to be a court of feudal morality. Some ancestral temples have attached schools, where the children of clansman go to school. In the old days, the family rules were very strict that women are not allowed to enter the ancestral Hall except for in her wedding days.
Must-be-visited Historical Sites
In Yuan Dynasty (1271~1368), family Ye migrated and resided in the village. After that, the village developed to a large scale. Till now, there remains over 300 old houses, 36 wells and 72 alleys which were mainly built in Ming Dynasty (1368~1644) and Qing Dynasty (1636~1912). Visiting Nanping Village, you can admire many historical & cultural sites.
Clan Ye's Ancestral Hall (叶氏宗祠)
Clan Ye's Ancestral Hall, also called Xu Zhi Hall (叙秩堂), is the main place where Ye's Family used to hold family celebrations, sacrifice and worship their ancestors as well as implement family law. With a structure of three-bay with and three-row depth, the hall covers an area of 800 square meters. There is a pair of large black marble-made stone drums standing in front of the gate, symbolizing the family power. Entering the ancestral hall, you can see the whole building supported by 54 big pillars made by camphor trees. From the old but completely-preserved pillars, beams and exquisite decoration, you can imagine how powerful and rich Ye's family once was. Clan Ye's Ancestral Hall is the main site where Zhang Yimou directed film Ju Dou. 80% of the scenes in the film were shot there.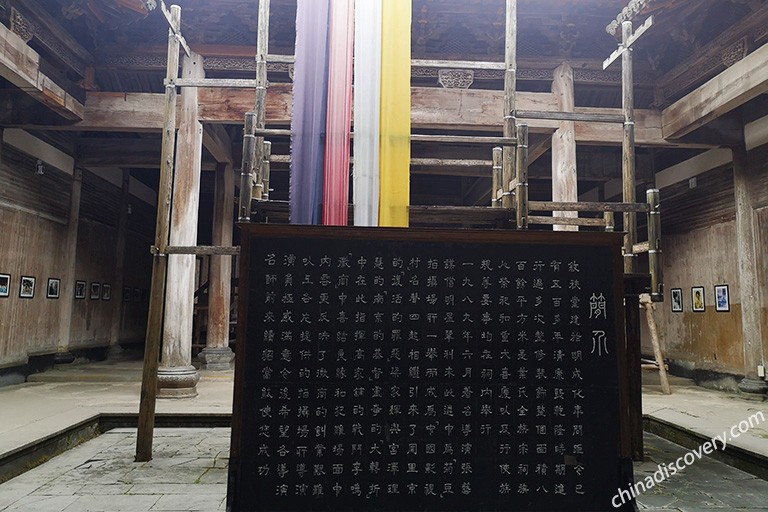 Inside Layout of Clan Ye's Ancestral Hall
Clan Ye's Branch Ancestral Hall (叶氏支祠)
Clan Ye's Branch Ancestral Hall is the temple to worship Ye Wengui (叶文圭) - the four-generation ancestor of Ye's Family. The structure of the hall is 3-row deep and 3-bay wide as well. In front of the main door are two stone mirrors carved with fine carvings. Just like the stone drum, the stone mirror is a symbol of family status. The bases of the two mirrors are also caved with patterns which stand for blessing, wealth, longevity and happiness. Some scenes of the movie Crouching Tiger, Hidden Dragon directed by Ang Lee were taken in this hall.
Clan Ye's Branch Ancestral Hall
Woodcarving Hall (雕花厅)
Woodcarving Hall was built in Guangxu Period of Qing Dyansty with a history of over 100 years. Its owner was a rich businessman with several stores and houses with carved beams and paintings. As its name signifies, Woodcarving Hall is full of refined woodcarvings which were composed by the various propitious patterns, like flowers, birds, insects, fishes and some figures in the opera decorated on the doors. There are also exquisite woodcarvings on the windowsill and window doors of the hall. The difference is that the woodcarving of the window door fan is a two-way hollow wood carving, and the composition of the interior and exterior wood carving is consistent. All the carvings are well designed, delicate and multifarious. Among them, the three-dimensional relief carving is the masterwork in south part of Anhui Province which shows the highest level of Huizhou woodcarvings.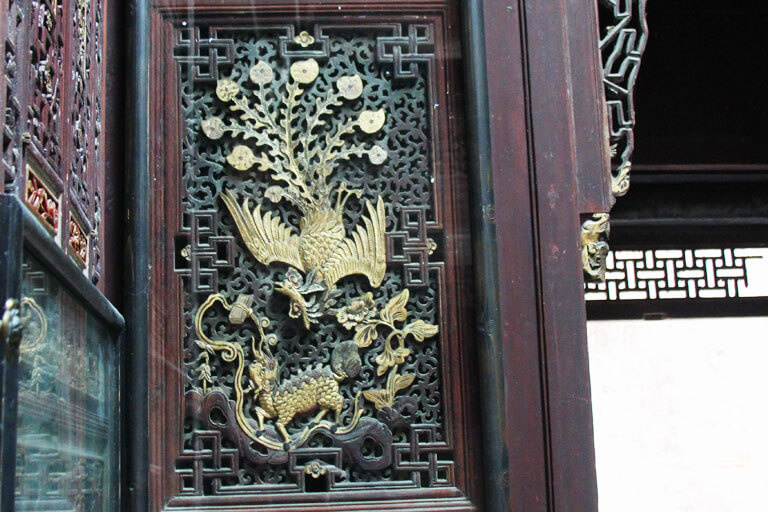 Woodcarving Hall
Biling Pavilion (冰凌阁)
Bingling pavilion is a small residence built in the mid-Qing dynasty with a history of more than 200 years. The original owner opened a bank in Wuhu (芜湖). After he got rich, he has donated money to obtain a fake job as an official. Huizhou people pay special attention to the gateway building. You can find the feature gateway of Biling Pavilion is in a shape of Chinese character of "八" which is a symbol of the official residence. The gateway building adopts brick carvings of auspicious patterns, like lion, elephant, censers, etc. to express the owners wish for wealth, peace and numerous descendants. Bingling Pavilion is also called Huaide Hall (怀德堂) which translated as Remember Virtue Hall, because the owner wanted to tell the offspring that virtue is the original intention of life. It also reflects the host's standard of behavior.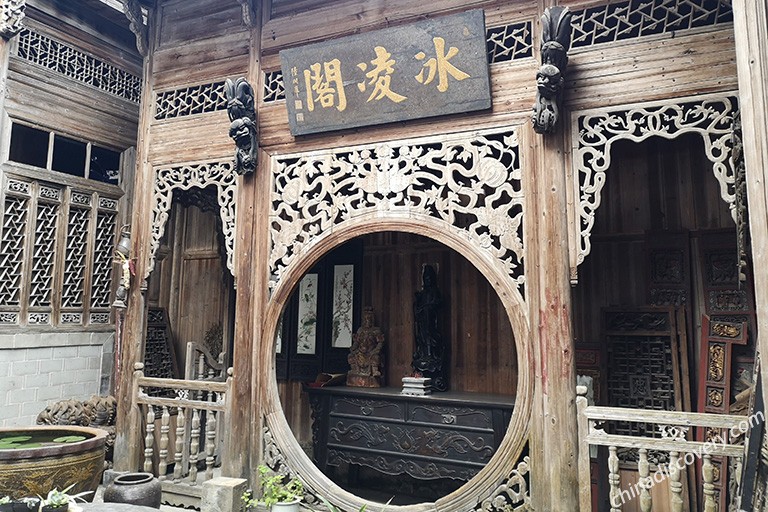 Windows in Bingling Pavilion Carved with Patterns
Sanyuan Well (三元井)
Among the 36 wells in Nanping Village, Sanyuan Well is the most interesting one. Sanyuan ("three yuan" in Chinese), on behalf of Jieyuan (解元), Huiyuan (会员) and Zhuangyuan (状元), represents the first place in Chinese imperial examination system. It shows the great wishes that their kids and later generations could make a great achievement on their study. There are three holes in one well, so that three families can lift a barrel of water at the same time. Moreover, the men in Huizhou always did business far away from their home. So the small mouths of the well remove the hidden danger so that the women and children would not fall into the well. Today, you can still see the old marks on the stones of Sanyuan Well.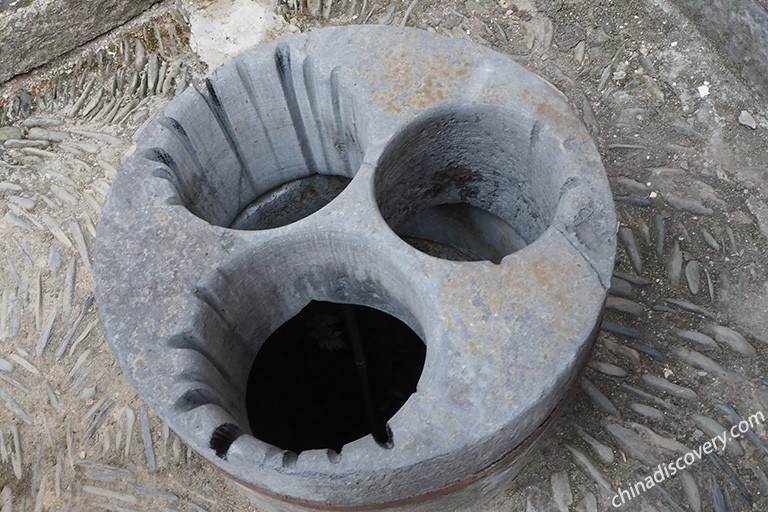 Sanyuan Well
Featured Activities
Nanping Village features not only in its ancestral hall group but also peaceful rural life. China Discovery has a good contact with local villagers, so we could provide a customized tour involving local life experience, like doing farming work. Besides, you are also suggested to try DIY Batik or cycling from Nanping Village to Guanlu Village. Traveling with China Discovery, you could enjoy several featured activities as well as the architectural beauty.
Doing Farm Work with a Local Family
Duration: Half a Day
The villagers lived in Nanping Vilalge still had a self-sustainable life. It must be a good memory to spend half a day doing farm work with a local family. You will firstly learn how to use wheelbarrow which is a traditional Huizhou farming culture. Because the buildings in Huizhou old villages (Nanping Village included) are constructed rather closely, so the two-wheeled cart can't run on the narrow alleys. The structure and the design of the balance belt with farming wheelbarrow reflected the wisdom of ancient people.
As you master the skill of balancing the wheelbarrow, you are about to go to the mulberry garden to pick mulberry leaves and put them into the both sides on the wheelbarrow before sending them to the farmers' sericulture workshop. Next, you may go to the farmers' garden to pick up vegetables, lift water from old wells, select and wash vegetables, break firewood with an ax and burn firewood for cooking lunch personally.
Learning to Use Wheelbarrow
Experience DIY Batik
Duration: about 1.5 hours
Near Wansong Bridge, there is a small workshop surrounded by hedgerows. Here you can see many beautiful pieces of cloth hanging on the clothesline pole. Walking in the workshop, you must enjoy the delicate decoration colored by blue and white. All of them are batiked by the material extracted from plants. It is interesting to experience DIY Batiking in person. You could make a kerchief or a scarf. It is also available customized to dye clothes, bags, bolsters, etc. Under the instruction of a teacher, you will design a pattern, dye it into the dye vat and hang it on the clothesline pole. It can be given to your friends and family as a meaningful souvenir.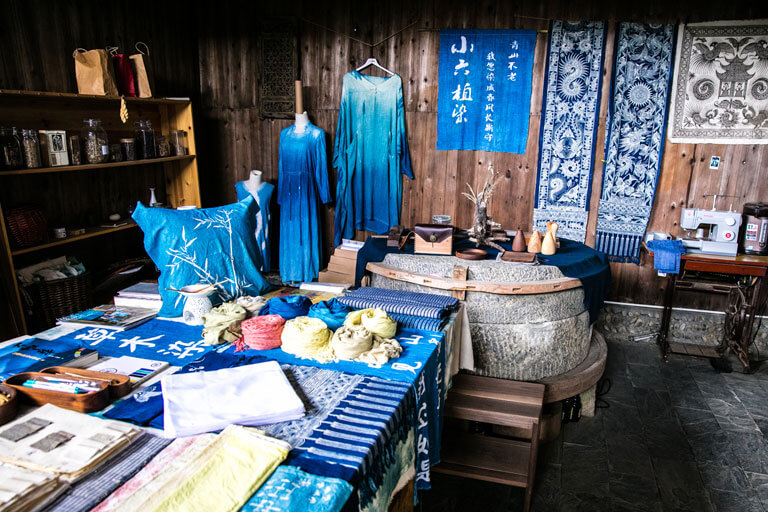 Batik Workshop near Nanping Village
Biking from Nanping Village to Guanlu Village
Distance: 8km Duration: about 80 minutes
Biking from Nanping to Guanlu Village is way to stretch your legs as well as admire the sweet rural life. Your riding will start from Nanping Village, where Hui Merchants has inhabited for thousands of years. Riding a bicycle on the long slabstone and passing through the ancient alley one after another will make you feel as if you are following the footsteps of the local ancestors. Wherever you go, at an outlet or in deep alley, the exquisite wood carvings, brick carvings and stone carvings would inadvertently jump into your eye in turn, you cannot help but always stop to take some pictures of them.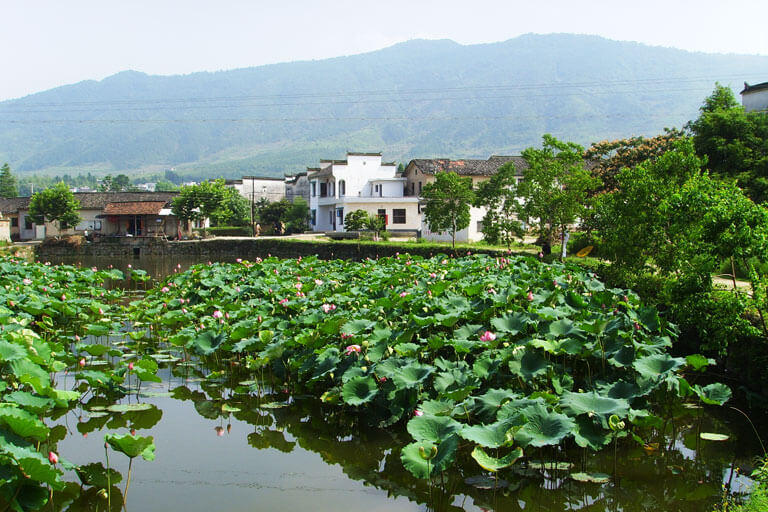 The Road to Guanlu Village
Location and Transportation
Nanping Village is located about 7km away from the center of Yixian County.
14km ( about 20 minutes' driving) to Xidi Village;
16km (about 24 minutes' driving) away from Hongcun Village;
50km (about 1 hour and 20 minutes' driving) to Chengkan Village;
60km (about 1.5 hours driving) away from Huangshan City;
50km (about 1 hour and 10 minutes' driving) away from Yellow Mountain.
With well access to highway, it can be reached conveniently from Huangshan City or surrounding villages by driving. Since Nanping is not a very popular tourist attraction, the public transportation to Nanping is a bit complicate. You need to take a bus to Yixian County from Huangshan City first and then take about to Nanping Village from Yixian City.
How to Get to Huangshan City
Huangshan is a popular destination which can be reached by flight, high speed train and long-distance bus from several cities. Top recommended gateway cities to start a Huangshan tour are Shanghai, Huangshan and Beijing. Shanghai and Beijing operate both flights and high speed trains to Huangshan. High speed trains from Shanghai also stop in Hangzhou. Read more>
Travel with China Discovery
If you want to get rid of hustle of public transportation and troublesome navigation, you can take a private tour package which covers sightseeing, dining and transfer from us. Our local tour guide and driver will escort you to Tunxi Ancient Street with speed and convenience, and take care of all the details. You just need to focus on sightseeing.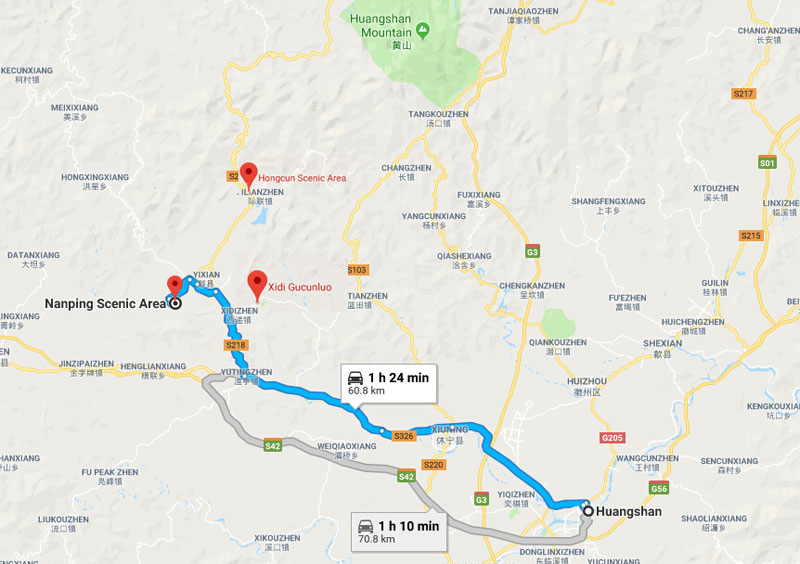 Click to Enlarge Nanping Location Map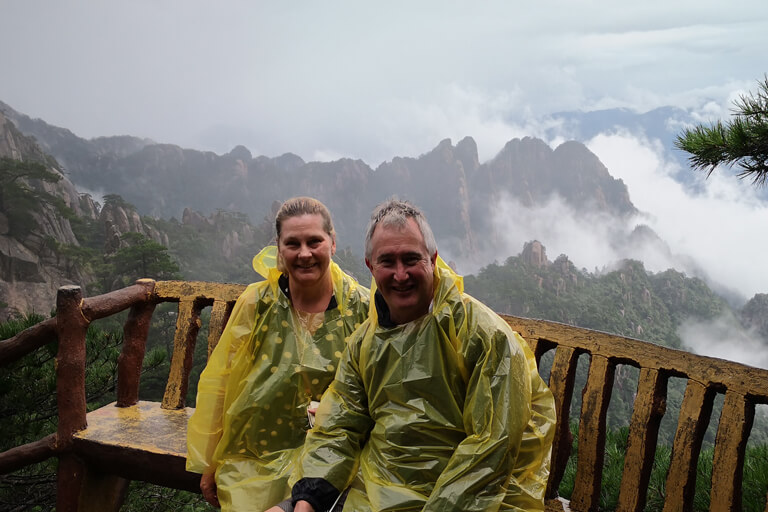 Smith Family from New Zea Land Traveled Huangshan with China Discovery
Best Time to Travel Nanping Village
To appreciate the architectural charm and explore the Huizhou ancestral hall culture, it is suitable to visit Nanping Village all the year around. Moreover, traveling Nanping in some special months will reward you great seasonal scenery. In spring (March ~ April usually), the path from the park to the village provides a wonderful sight that sprawling farmlands covered in stunning gold seas of rape flowers in full bloom. From July to September, the rapes are replaced by paddies, so you will enjoy the green or golden farmland grown with paddies as well. If you comes in early February, especially Spring Festival, you will get a deep feeling of the flavor of Nian (年). The whole village will be immersed in an atmosphere of happiness – red couplets pasted on the wooden doors, fumatory trotters hanging on the white walls and continuous sound of firecrackers.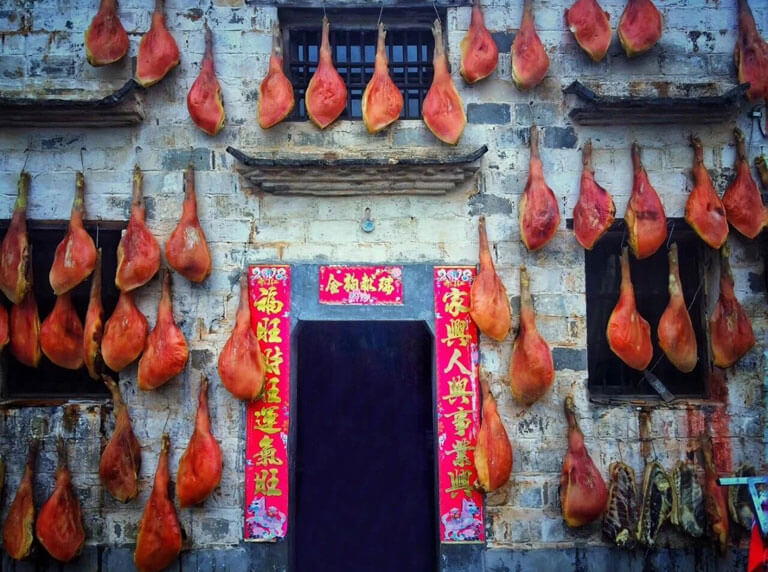 Fumatory Trotters Hanging on Walls during Spring Festival
Travel Nanping Village with Hongcun or Xidi Village
Nanping is a small village featuring in peaceful environment and a group of ancestral halls. If you want a more in-depth exploration of architecture and culture of Huizhou ancient villages, you are suggested to pay a visit to Hongcun Village or Xidi Village.
Both of them are listed in the UNESCO World Cultural Heritage Sites. Hongcun Village is a painting village with two poetic lakes - South Lake and Moon Pond. With reflection of the unique Huizhou building, the two lakes attracted most travelers who love Huizhou villages. In Hongcun, shutter bugs can get many very nice shots. Xidi Village is a time-honored village full of primitive simplicity and elegance as well. You could see numerous lofty Hui-style buildings with many exquisite carvings (brick carving, stone carving and wooden carving).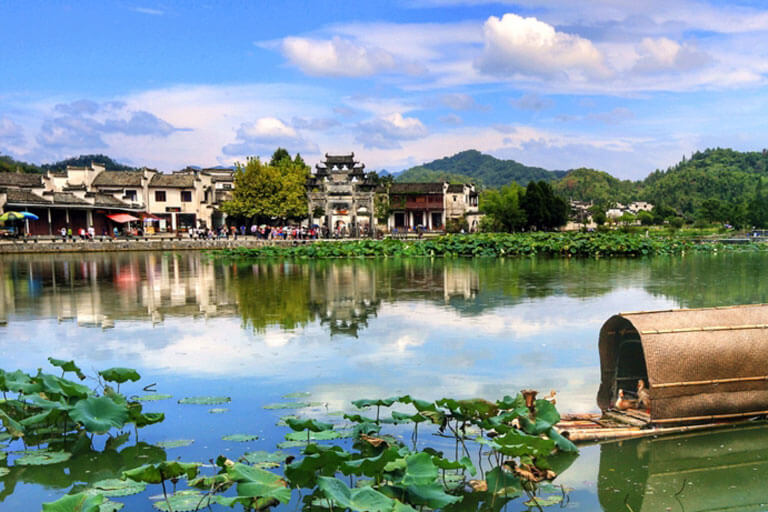 Xidi Anicent Village
Related Tours:
>> 4 Days Huangshan Mountain Tour with Ancient Villages Living Experience (Nanping & Hongcun)
>> 4 Days Scenic Huangshan Mountain Tour with Hongcun Biking
>> 4 Days Best Huangshan Tour with Hongcun & Xidi Ancient Villages
Practical Tips
1) Travel with an English Guide
It is said that there are 72 alleys in Nanping Village so that it's quite easy to get lost. The village will provide a Chinese-speaking guide to direct your visit and explain the related history. For non-Chinese speakers, you are suggested to travel with an English Guide to ensure a more enjoyable travel. Contact us to customize a Nanping Village and our local skilled tour guide are always happy to offer the best service.
2) Show Respect and Do not Take Photos in the Ancestral Halls
You are not suggested to take photos while you are visiting the ancestral halls. Photography is not forbidden forcibly, but it's ominous to take pictures in the ancestral halls according Huizhou's tradition.
Top Attractions in Huangshan
Extension Readings of Huangshan Travel Guide
Recommended Huangshan Tours
Top 3 Huangshan tours chosen by most customers to explore Huangshan in the best way. Check the detailed itinerary, or tailor your own trip now with us.
3 Days Huangshan Highlights Leisure Tour (Back Mountain + West Sea Grand Canyon)

Tunxi - Huangshan - Tunxi
4 Days Best Huangshan Tour with Hongcun & Xidi Ancient Villages

Tunxi - Huangshan Mountain - Hongcun - Xidi
Start planning your tailor-made holiday to China by contacting one of our specialists. Once inquired, you'll get a response within 0.5~23.5 hours.
Customize a Trip
Have a question? Get answers from our travel experts or guests
Your Question:

Your Name:

Your Email: