Why to Visit Lucun Village?
Located just 2km north of Hongcun Ancient Village, Lucun Village is a quiet ancient village worth a quick stop if you just visited Hongcun nearby, a little off the beaten track. Whether you are looking for natural beauty or Huizhou culture and history witness, Lucun Village has all for you.
● Stunning Natural and Cultural Scenery: Lucun Village is surrounded by a large area of farmlands with two rivers flow through. The golden sea of rape flowers in spring and colorful rices fields in autumn are the most beautiful moments of Lucun Village. Inside, the ancient houses of white walls and grey tiles, lazy streams, ducks paddling by the river, green peaks far, paints a lovely and peaceful countryside allowing you escape from the chaotic city life.
● Massive Outstanding Wooden Carving Legacy: Thanks to the richest previous owner, there is large number of exquisite carved woods left in Lucun Village. The vivid pieces scattered in every coroner not only present the preeminent folk craftsmanship in ancient Huizhou, but also witness the prosperity and great virtue of the ancestors. The carvings, undoubtedly, are one of the best carriers of the local culture and best history tellers. (>> Huizhou Culture / Huizhou Architecture)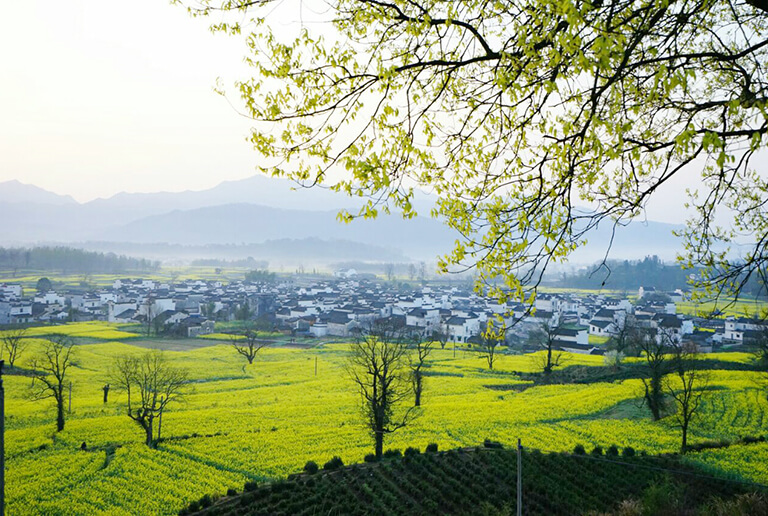 Beautiful Spring Scerny around Lucun Village
History of Lucun Village - Millionaire Lu and His Large Family
Lucun Village, also called Zhishan Village (雉山村), is a tranquil ancient village with about 49 well-preserved ancient houses, more than 300 families and over 1,000 villagers, and 90% of them are futurity of Lu Family. The Wooden Carved Houses are the famous architecture complex of 7 ancient residences of Lu Family. Two rivers flow through the village and converge together, one is the west-to-east Yangzhan River (羊栈河) and another is Luci River(卢慈溪) running from north to south.
Legend says, Lu Bangxie is a successful merchant of staggering wealth, consequently the locals call him a millionaire, Lu Baiwan in Chinese. Later he become a high government official during Daoguang Emperor of Qing Dynasty (1821~180 AD). When he returned home, he built Lucun Village to thanks good fortunes he believed got from ancestor and gods. The major architectures in the village were the living quarter for Lu Baiwan, his six wives, parents and 24 children (16 daughters and 8 sons). To make his large families live in harmony, he constructed separate houses, and lots of functional areas. As a rich merchant and a well-educated civil servant, Lu Baiwan invited two professional craftsmen did the wooden carvings on main buildings for over 20 years long. The complicated and beautiful wooden carvings has been retained by their descendants, which now are regarded as a masterwork in Anhui's wooden carving art as well as the Top Wood Carved Residence in China.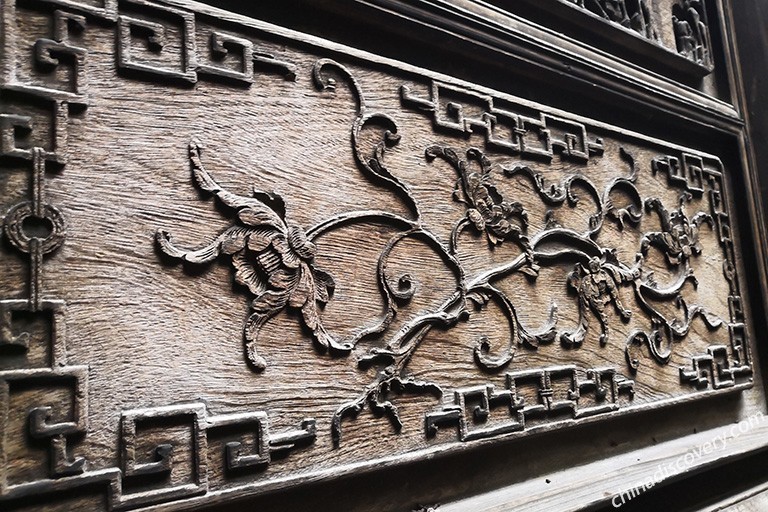 Exquisite Wooden Carvings in Lucun's Ancient Residences
What to See in Lucun Village - Major Architectural Highlights
The atistic wooden carvings and the ancient houses of Lu Baiwan are the most brilliant heritages and outstanding features of Lucun Village. They are the most characteristic essence of Huizhou style folk dwellings. Different patterns and implications stand for various good mortal characters the owner pursuing. From the cultural relics, people can glimpse into traditional local culture of ancient Huizhou and developing history of the Lu Family. At your first sight, bet you will be amazed by this huge treasury of wooden carving artworks, where preserves numerous vivid and exaggerated sculptures of human, animal and flower images. They even once appeared as background of the famous Huangmei Opera, Women in Huizhou, as one of the typical symbols of Huizhou culture. Follow us to get acquaint with the main buildings and fantastic carvings.
Zhicheng Hall 志诚堂
Zhicheng Hall is the best representative and the most magnificent spot among all wooden carved buildings in Lucun. Located by Luci River, Zhicheng Hall is where Lu Baiwan's first wife and second wife live. The hall consists of main lobby and lateral houses, and the carving decorations in the main hall are the best. Lu Baiwan hired the artists translate his elegant cultural and art taste into the carvings in the stringe, wood pallet, architrave board and sliding doors. A variety of carving skills are used, like integrated mixed carving, line carving, slightly-embossed carving, openwork carving and other advanced techniques to make the images vivid.
Enter from the front door, you will come to a little courtyard, which was shut in by delicate wooden carved windows and doors in two floors. Then it's time to enjoy the grand and different types of artworks here! Nearly every inch of wood has been carved with images, telling religious and ethnic codes, opera stories and daily life scenes. Even there are 5 layers carvings made in one inch space, that's enough to understand why the workers took more than 20 years to produce those structures.
Sicheng Hall 思成堂
Sicheng Hall located west side of Zhicheng Hall is the house for Lu Biwan's third and fourth wives. Because they were not in like, the building were not built spectacular as the first one. When step into the quadrate courtyard, a gourd-shape vent on door shelter will jump into your eyes. It shows the good wishes for everything, together with two persimmon trees (over 100 year old) standing sideward. On the left in the hall, you will see two 200 years' old stone-mound kept in glass box, which were made of a whole piece of special marble in Yi County during Jiaqing Emperor of Qing Dynasty (1760~1820 AD). Except from the carved flowers and human features on doors and windows, some traditional furniture inside (such as washstand and ancient warming shelf) are also ingenious wooden masterpieces you can't miss.
Glass Hall (Camellia Sinensis Hall) 玻璃厅
Voted as one of the architectural essences in Lucun Village, the Glass Hall (or called Double Tea Hall 双茶厅) in north of Sicheng Hall is the house for Lu Baiwan's youngest and most beloved sixth wife. The glass door and the century-old trees are the two most attractive features in the hall, and that's why people name it. After walk across the gate, you will see three old trees, two Camellia Sinensises and one very fragment Osmanthus in the high-walled garden. Then, you can see wooden-paved floors and the glass door, which was imported from German, whose value is equal to a house in ancient times The hall was designed in both Chinese and Western styles, and has a history of more than 180 years.
Siji Hall 思济堂
Siji Hall, located in the west of Glass Hall, is the office hall of Lu Baiwan, and his fifth wife lived here. She was the first wife giving birth to a son, so Lu Baiwan often took her to make social commitments and receipt important guests. The hall has a similar style like Chengzhi Hall (承志堂) in Hongcun Village, but a longer history of 50 years. If you have learnt some Chinese, you may find the door cover of the front door seems like the upper shape of the Chinese character "商",which means business in English. So the ancient people claimed it as a business door that will bring the owner wealth.
Private Supplementary School 私塾
The Private Supplementary School in the northernmost is where Lu Baiwan's 24 children studied. One of the characters is every detail of the wood carved door has been kept intact. The second character is the " Ice Plum" overhead the Dark Room (a small room to punish children who made mistakes). On the window, the sharply cut ice lines decorates plum flowers, indicating parents hope the children keep hard learning to harvest fragrance like the plum flowers finally await the bloom from the cold. That's a same story of "Rome was not built in a day".
Apart from the above buildings, there are plenty of nice wooden carvings on beams, pillars, ceilings and rails in other houses, including the Xiande Hall (贤德堂), Chongde Hall (崇德堂), Shuli Hall (述理堂) and Siyi Hall (思义堂). If time permits, visit more architectures to view distinct carvings and stories behind, it would definitely be an impressive trip for you.
Tips: Currently, Xiande Hall and Chongde Hall are not open to the public.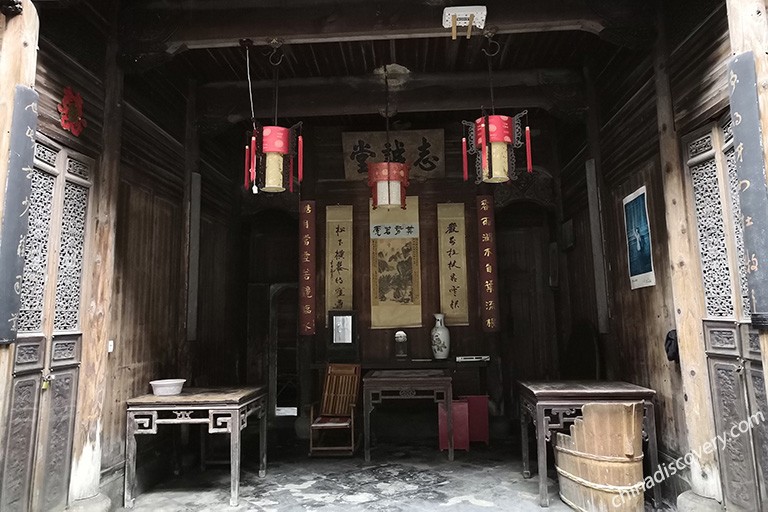 Entrance Door of Zhicheng Hall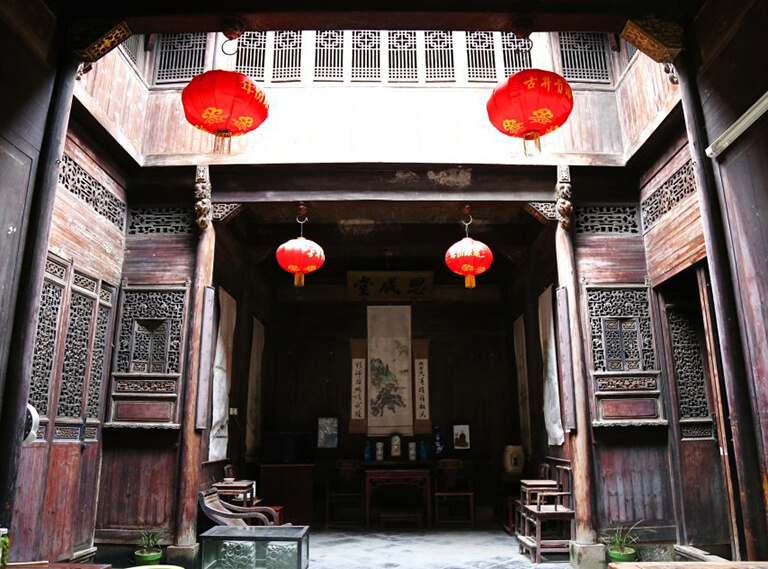 Sicheng Hall and Square Courtyard - Typical Layout of Huizhou Buildings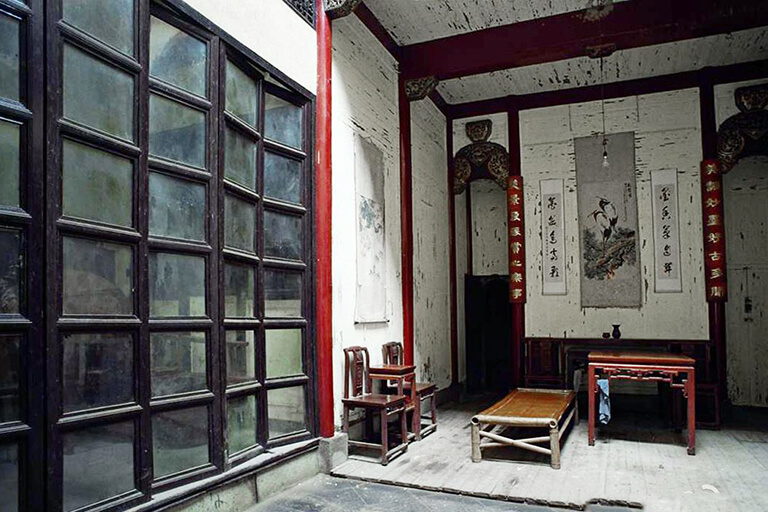 Glass Door in the Double Tea Hall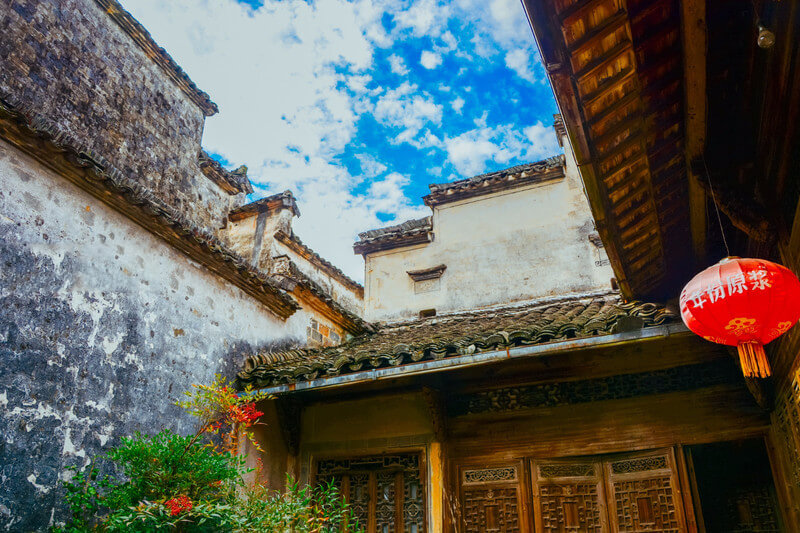 Layered Eaves in Backyard of Siji Hall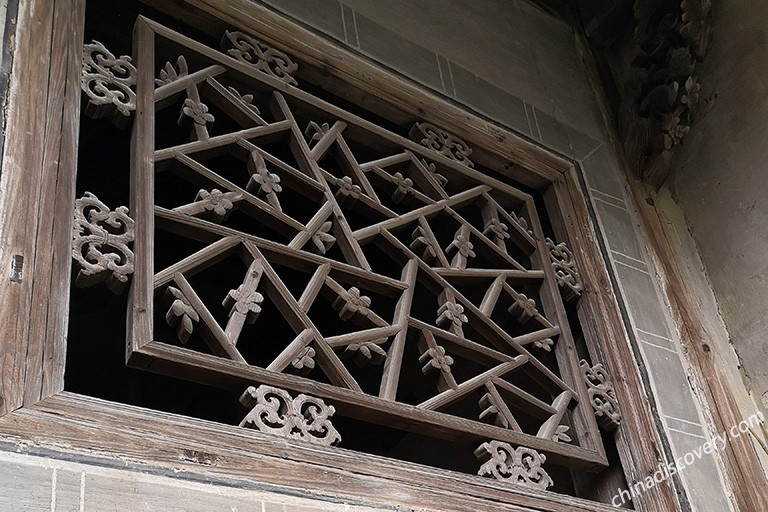 Ice Plum Carving in Private Supplementary School
Best Time to Visit Lucun Village
Lucun Village and all other ancient village in northwest Huangshan City have an obvious subtropical monsoon climate with four quite distinct seasons. With an annual average temperature from 6℃ to15℃, it's relatively moderate most of the year. During Spring, the weather is fairly warm with pleasant temperatures between 15℃ to 28℃. Later the rainy comes along with hot summer. The autumn days followed are cool with more clear days after the monsoon passed. While in winter season, Lucun Village is not as cold as most Chinese cities, normally a few degrees Celsius to minus 10 degrees.
Since Lucun is mainly a cultural and historical spot, it's suitable to visit throughout the year. Besides, months in Spring (from March to May) and (September to November) during Autumn are the two best seasons to capture beautiful natural scenery around the village. The vast yellow sea of rape flowers in spring and beautiful rice fields in fall will surely fulfill your rural dream trip.
Useful Links:
>> Huangshan Weather & Climate - Best Time to Visit Yellow Mountain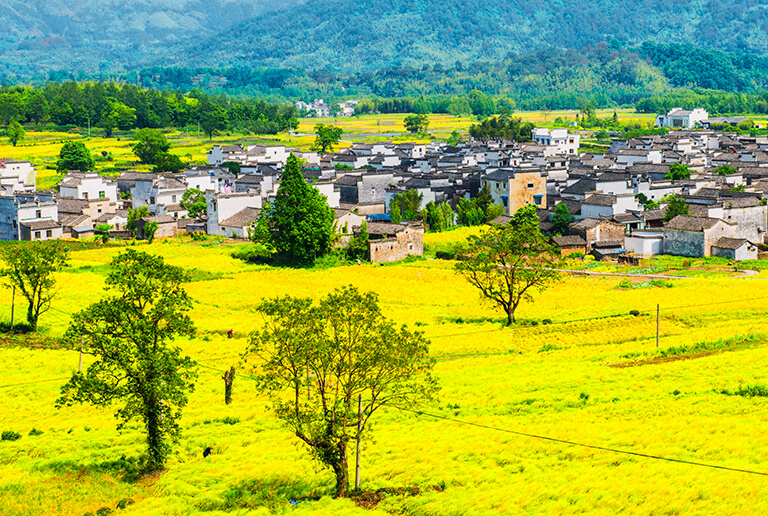 Golden Sea of Brassica campestris around Lucun Village during Spring
Get to Lucun Village from Hongcun, Huangshan City, Huangshan Mountain
Lucun Village is situated at 2km northwest of Hongcun Ancient Village, and the short distance between the two neighboring villages offers much convenience to visit them togehther. Whether you depart from Tunxi (Huangshan City) or back from Yellow Mountain, it's simple and easy to transfer to Lucun Village from Hongcun.
● Hongcun to Lucun: There is taxi and local tricycle available around Hongcun and the ride trip is only several minutes (within 10 minutes). Also, you can walk from the West Gate of Hongcun (the entrance where has two big ancient trees) to Lucun Village, which takes nearly 30 minutes. Just remember to keep walking on your right hand.
● Yellow Mountain to Lucun: After completing your Huangshan Mountain hiking trip, you need to take shuttle bus to go downhill first (about 20 minutes). Then change to another coach at Tourist Distribution Center in Tangkou Town to Hongcun Ancient Village. The trip is around 1.5 hours. Then take your own time and favorable way to visit Lucun nearby. >> How to Get to Yellow Mountain
● Huangshan City to Lucun: Both Huangshan Tourism Passenger Transport Hub (beside Huangshan North Railway Station) and Huangshan Bus Station in downtown Tunxi have regular buses to Hongcun Ancient Village. The journey goes more than 1.5 hours. Later, you could travel from Hongcun to Lucun. >> How to Get to Huangshan
Accommodation in Lucun Village - Luxury Banyan Tree Hotel in Huangshan
Address: No.1 Banyan Tree Road, Hongcun Town, Yi County, Huangshan, Anhui
Transportation: about 100km (90 minutes by taxi) from Huangshan Tunxi Airport, 90 minutes by taxi from Huangshan North Railway Station and 5km (20 minutes by walk, bicycle) from Hongcun Village.
Banyan Tree Huangshan, situated just 2km north of Lucun Village (nearby Hongcun Ancient Village) at the base of Mount Huangshan, is one of the best value holiday resorts in Huangshan. With its good location and excellent facilities and services, it serves as an amazing retreat with picturesque landscape amidst 3 UNESCO sites of Huangshan Mountain, Hongcun and Xidi for both culture and nature lovers.
Beyond the stylish Huizhou style architecture, serene and idyllic nature, fresh mountain air, guests can enjoy bike rental, Kids club, Yoga Pavilion, meeting rooms, gallery of unique handicrafts, relaxing Angsana spa, outdoor venue on the lawn, KTV and more flexible services during Huangshan travel. Opened in 2015, the hotel has 76 guest rooms totally in two floors, including Junior Suite Twin/King, Villa, Suite, Suite Superior, House Superior, Family Villa, Deluxe Villa and Villa Superior. Besides the delicious local food, bar, WiFi, airport transportation, dry cleaning, non-smoking rooms, laundry services and else considerate facilities available.
>> Check more Huangshan City Hotels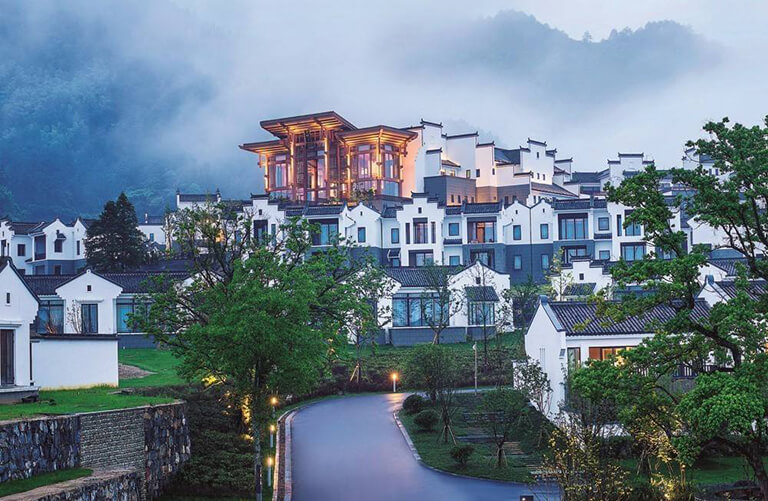 Banyan Tree Huangshan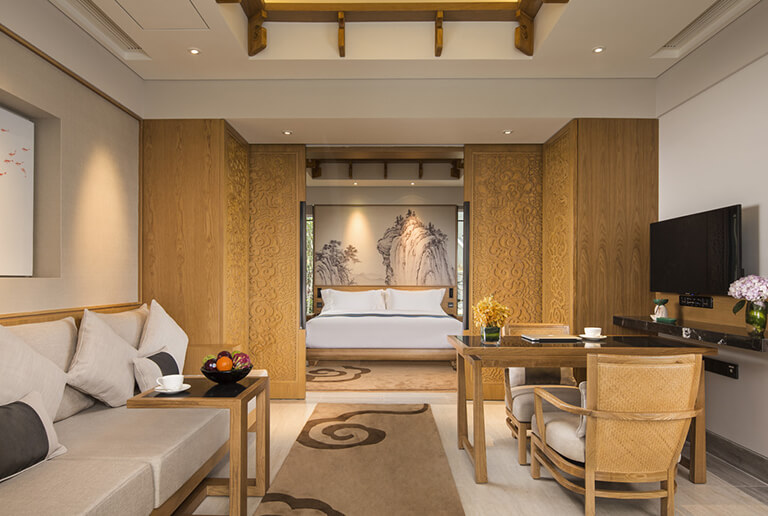 Spacious Suite Bedroom
Travel nearby Spots with Lucun Village
Among all attractions, Hongcun Ancient Village, Tachuan Village and Mukeng Bamboo Forest are the closest spots to Lucun Village. Normally, tourists visit Lucun Village for a short stay after touring Hongcun, and then head to other farther sites like Xidi Ancient Village and Bishan Village before returning to Tunxi (Downtown Huangshan City).
When paying a visit in Hongcun and Xidi, two ancient villages that listed as the UNESCO World Cultural Heritage and the top remarkable traditional Huizhou-style villages, you can enjoy the excellent rural appearance of settlements, layout, architectures there, do visit the beautiful South Lake and Moon Pond in Hongcun, and learn more profound local culture in gardens and halls in Xidi. Drive eastward from Lucun, the colorful autumn scenery of Tachuan Village is a definitely a visual feast, let your camera record the dazzling scenery. Keep going east, a short hiking circuit in the Mukeng Bamboo Forest not only pleases your eyes with beautiful sea of green bamboos, but also refreshes you soul and stretch your legs.
Recommended Yellow Mountain Tours with Huangshan Villages:
>> 4 Days Best Huangshan Tour with Hongcun & Xidi Ancient Villages
>> 4 Days Huangshan Mountain Tour with Ancient Villages Living Experience
>> 4 Days Huangshan with Pig's Inn Carefree Countryside Idyll Tour
Picturesque Hongcun Ancient Village
Useful Travel Tips
1. Accommodation in Lucun Village: Compared to well-developed tourist living condition in Hongcun and Xidi Ancient Village, Lucun offers only simple and basic accommodation. But it's easy to find available restaurants and guesthouses in the village.
2. About English Tour Guide: Since there is only Chinese tour guide service provided by the scenic management, you are highly suggested to travel with China Discovery who will offer you professional English tour guide to explain local culture and history of the delicate wooden carvings.
Top Attractions in Huangshan
Extension Readings of Huangshan Travel Guide
Recommended Huangshan Tours
Top 3 Huangshan tours chosen by most customers to explore Huangshan in the best way. Check the detailed itinerary, or tailor your own trip now with us.
4 Days Best Huangshan Tour with Hongcun & Xidi Ancient Villages

Tunxi - Huangshan Mountain - Hongcun - Xidi
4 Days Huangshan Mountain Tour with Ancient Villages Living Experience

Tunxi - Nanping - Hongcun - Huangshan Mountain
4 Days Huangshan Mountain and Local Village Walking Tour

Tunxi - Huangshan Mountain - Hongcun - Xidi - Tunxi
Start planning your tailor-made holiday to China by contacting one of our specialists. Once inquired, you'll get a response within 0.5~23.5 hours.
Customize a Trip
Have a question? Get answers from our travel experts or guests
Your Question:

Your Name:

Your Email: