History of Guanlu Ancient Village
Guanlu means official road in Chinese, because the village was located on the ancient post road from Yixian County to Qimen, Anqing, Jiangxi and surrounding regions. Tracing back from the Wang Family Genealogy, the village was first built during the Five Dynasty (907AD - 960 AD) by the descent of Wang Family of Tang Dynasty. Then it has stood with a long history of 1000 years and developed as the residence mainly for Wang Family. Then Guanlu remains unknown from Tang to Mid-Qing Dynasty (1636 AD - 1912 AD), until eight brothers of Wang Zhaoxue became successful merchants, perpetuate the village through promption of Confucianism and cultivation of various talents. The typical layout of the Eight Big Houses, exquisite carvings and perfect location make Guanlu one of China's historical and cultural village in south Anhui.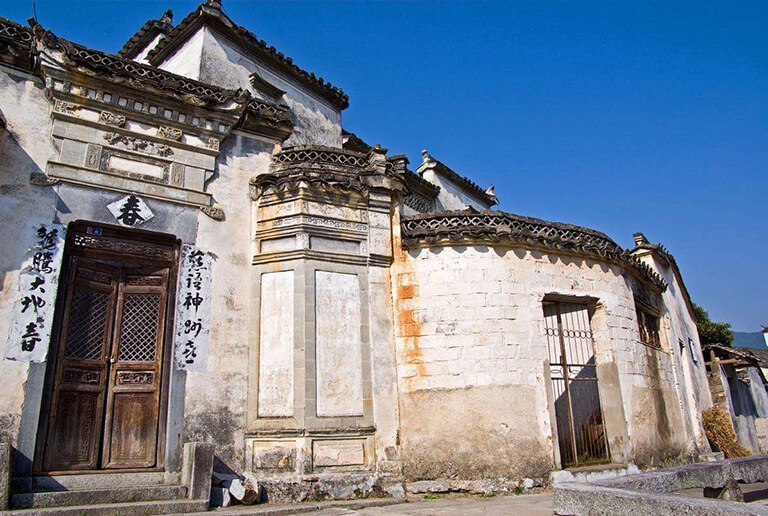 Dunmu Courtyard in Guanlu Village
Highlights of Guanlu Ancient Village - Four Architectural Wonders
Compared to other outstanding Huizhou style villages at the foot of Huangshan Mountain, Guanlu Village retains the pain, tranquil and isolate identity, being a less known tourist attraction off the beaten track. Interested in the austere experience, see grey-tiled and white-walled houses, special jointed homes but want to avoid huge tourist groups? Then it's the right place for you. Don't miss the beautiful Moon Pool (月塘) and the Four Great Architectural Wonders in Guanlu!
The Eight Big Houses - Jointed Ancient Houses
The "Eight Family Houses", built during Mid-Qing Dynasty (1644-1911AD) with more than 200 years' history, is the most famous and characteristic architecture in Guanlu. Covering an area of 6,000 square meters, the houses were residence for eight brothers of Wang Family. Each brother constructed one individual house in different period. The interesting and ingenious point is all eight houses (actually have 16 buildings, 2 quadrangle dwellings, 1 private school hall and 1 study) are integrated in one big unity through trapdoors or narrow alleyways. The jointed family and unique settlement is the first case of this kind, in Huangshan City, even in South Anhui. Inside the maze-like buildings, the delicate wooden carvings, elegant layout, beautiful Chinese ink paintings and strong sense of cultural atmosphere, all details tell every visitor the former owners have a high taste of life and affluence in business.
Why connects the eight houses together?
Some guess the expression of such design is to practice thriftiness among Huizhou merchants. Another saying is that, during feudal times, the elders intended to parent and discipline the juniors without leaving home. In any case, the "Eight Big Houses" is a peculiar cultural legacy originating from the harmony of human and nature.
What are the "Eight Big Houses"?
Generally, guides start from Dunmu Courtyard (敦睦庭), which was built by the 6th son during Tongzhi Emperor of Qing Dynasty, dating back more than 140 years. Later you will rest houses one by one, including the Yanxi Courtyard (延禧庭), House of Wang Deyuan (汪德沅宅, the largest and the most completely preserved house), Rui Ai Courtyard (瑞霭庭, has the most exquisite Shuanggui Book Room and Dafu Di Hall), Chun Man Courtyard (春满庭, the oldest and ancestral house with over 240 years' history), Jiusi Courtyard (九思厅), Danyueshan House (淡月山房) and etc.
What to see in the "Eight Family Houses"?
The most attractive part is the magic flexible and complicated connection between each house. For example, get out from the kitchen of Dunmu Courtyard (敦睦庭), and pass a long narrow path, walk across a small wooden door, you will arrive in Yanxi Courtyard (延禧庭). Besides, the compound quadrangle courtyard, arrangement of furniture and decorations and different functional areas like private school, study room, reception hall, living room, bridges a good channel to learn the past of previous owners and native history and culture of ancient Huizhou. Be sure to look the lifelike carvings on the door, window, beam and walls.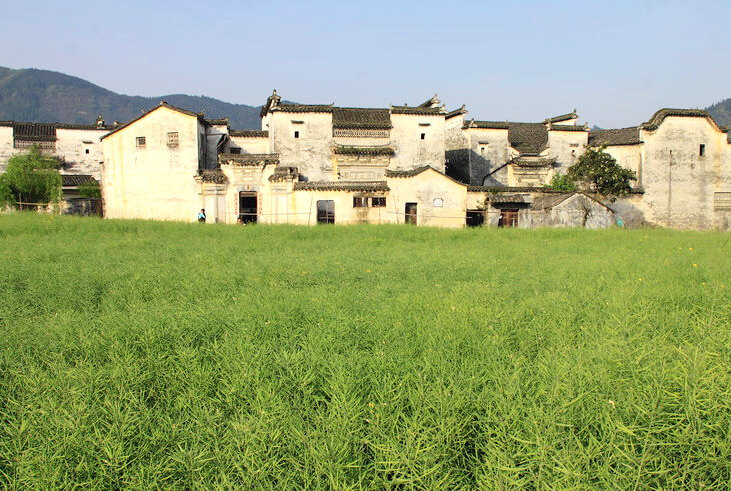 Eight Big Family Houses in Guanlu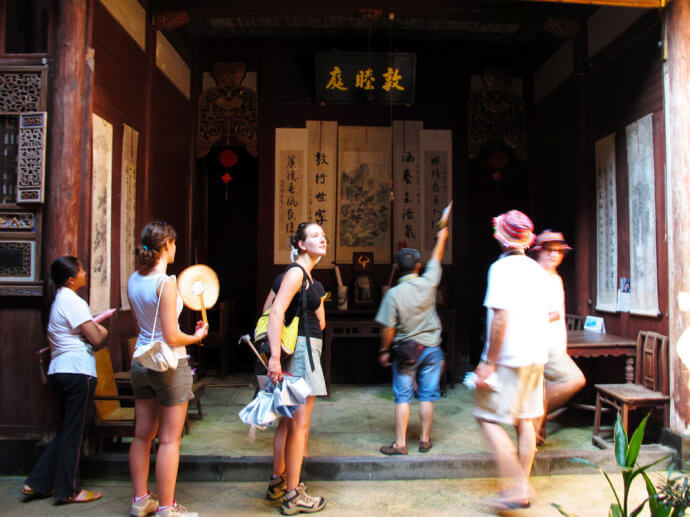 Foreigners Visiting Dunmu Courtyard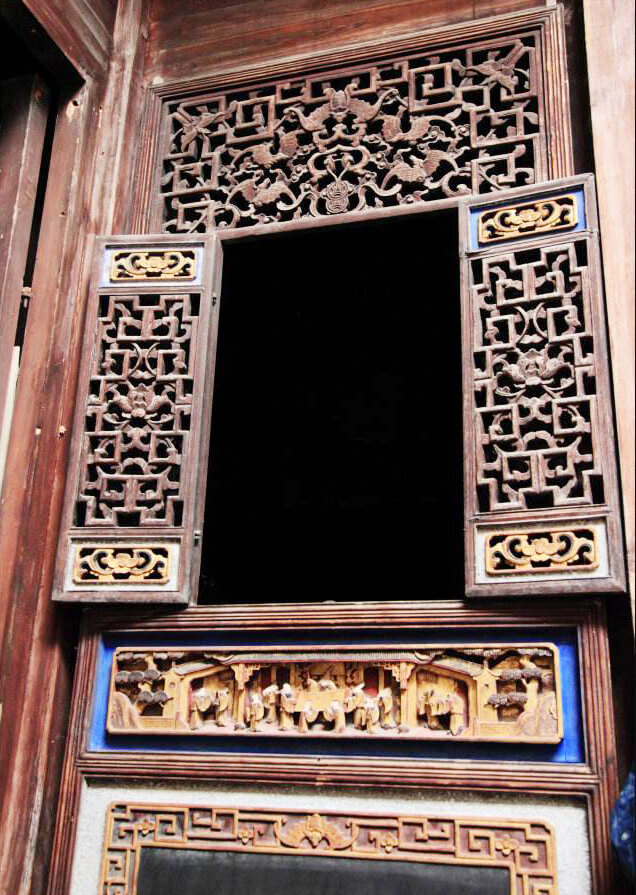 Wooden Carving on the window
The Three Folk Arts - Exclusive Rice Sculpture
Rice Sculpture (米塑), Tile Carving (砖雕) and Wood on Seafloor (海底木) are another three local skills equal famous with the jointed houses in Guanlu Village. The Guanlu Rice Sculpture has been listed as an intangible cultural heritage of Huangshan City, an exclusive art spread in the Village.
Rice Sculpture is a piled rice bonsai. There is popular legend about it. To appreciate the business success, the merchants created the special figurines as extraordinary sacrifices and gift to ancestors and gods. And the art is only allowed to pass down to son and daughter-in-law, even not the daughters. After picking up good rice and boiling glue of sticky rice, the craftsman will use the glue to stick the rice on model. Finally, the articles are made into various things, like fruit, teacups, vases, Rohans and else shapes, to be offered in worship ceremony. In the first stop, Dunmu Courtyard (敦睦庭) keeps a an old photo recording the last heirs making Rice Sculpture with his father. Now the art is endangered, just a few old citizens master the relevant skill.
Tile Carving is an important form of ancient architecture engravement. It carves the brick with visual mountains, rivers, flowers and human figures, presents the good wishes and moral and cultural pursuing of the host. The most boutique Tile Carving is on the seven-story door shelters of House of Wang Deyuan (汪德沅宅).
On the 1st layer, the pattern of pumpkin and butterfly means continuous flourishing of descendants. The second floor has the images of Eight Immortals, hope the offspring get great achievement in all fields. The lower three floors are tassels, peony, Bat (蝙蝠, Bianfu) on behalf of fortune. The last two tiers are trident in a small vase, human images and decorated flying dragon. Work on second floor praised to the most beautiful and elegant art. Though the pavilions, flowers, and figures stand on same plane, they naturally form a "3D" scene with distinct layers. Wood on Seafloor is a 2-meters-long, 1-meter-wide ancient bed flat. That said, the flat is a century-old furniture made of the very valuable exquisite wood.
Useful Links: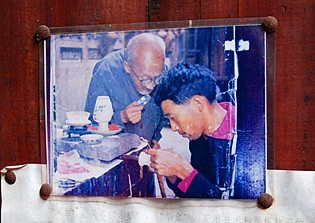 Descendant of Rice Sculpture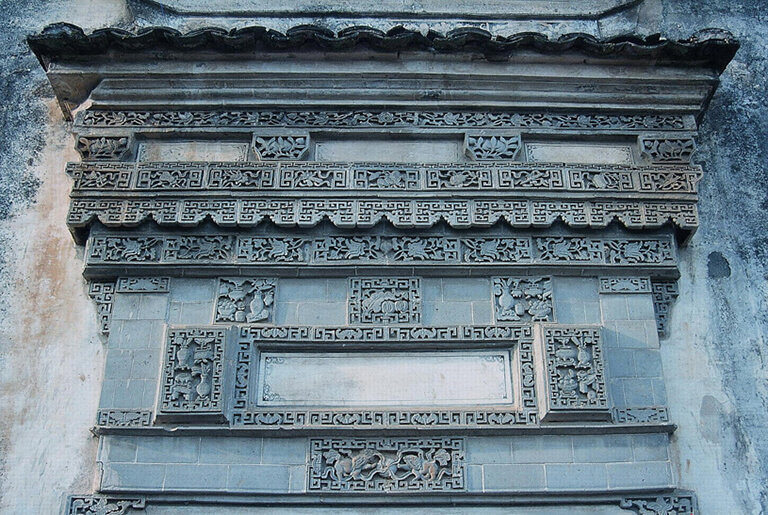 Delicate Brick Carcings on Door Shelter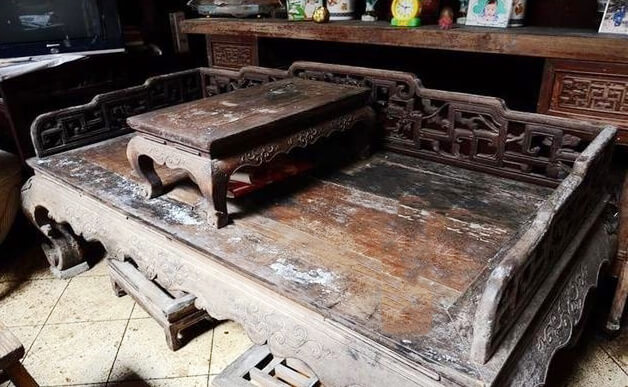 The Aged Wood on Seafloor
How to Get to Guanlu Village
Guanlu Village is located about 7km west of Yixian County (黟县), about 55km southwest of Yellow Mountain and 60km northwest of Huangshan City. The driving distance from Hongcun to Guanlu is nearly 18km and 15km from Xidi Ancient Village nearby. For the village is situated between Huangshan Mountain and Huangshan City, tourist can travel to Guanlu from Tunxi (Huangshan City) and Mount Huangshan, or from surrounding attractions, such as Xidi and Hongcun. At present, tourists can get to Guanlu by private car, taxi or shuttle buses via transfers. To save your time on transfers and spend more time on enjoying sightseeing, you are highly recommended to travel with us. Otherwise, there are lots of local transportation details you need to know.
● Huangshan City to Guanlu: First, take 1.5 hours' bus from Huangshan Bus Station (in Tunxi) to Yixian County with a driving distance of 54km. And take a regular bus or taxi from Yixian County Bus Station to Guanlu. The second trip takes about 20~30 minutes.
● Huangshan Mountain to Guanlu: After finishing your Huangshan hiking tour, get on the shuttle bus from cable car station to Tangkou Bus Station downhill. Then choose from 4 daily buses departing from Tourist Distribution Center (in Tangkou) to Yixian County. The ride takes less than 1.5 hours. Another transfer from Yixian County to Guanlu is needed.
>> How to Get to Yellow Mountain
● Hongcun to Guanlu: Guanlu is located 18km southeast of Hongcun Ancient Village. It takes about half an hour's driving to Guanlu from Hongcun.
● Xidi to Guanlu Village: Xidi lies in the 15km east of Xidi Ancient Village. It takes about 25 minutes on traveling from Xidi to Guanlu, passing through Yixian County and Nanping Village.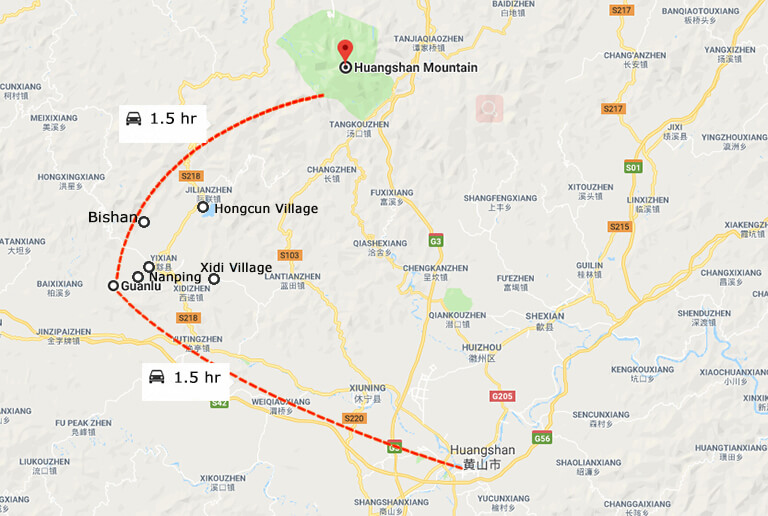 Location Map of Guanlu and Surrounding Villages
Travel Guanlu with nearby Attractions
Thanks to the locals' royalty to protect traditional buildings and customs, there are many distinctive authentic villages tourists can tour around Guanlu, explore to catch a glimpse of the brilliant Huizhou history and culture. Hongcun and Xidi Ancient Villages, two excellent models and UNESCO World Cultural Heritage properties are the most recommended sites to visit together with Guanlu. Only half an hour distance, you get great chance to view picturesque landscape of original settlements, ancient buildings, alleys, waterways and busy local daily routine.
Pretty Hongcun Ancient Village
Best time to Visit Guanlu Village
Guanlu Village and Huangshan City belongs to the northern subtropical regions, which has a humid monsoon climate. It is mainly featured in moderate temperature, abundant rainfall, and obvious four seasons. The annual average temperature is 15~16℃. Since Guanlu Village is a historical and cultural spot, it's suitable to visit all year around. In spring, the old village decorated by golden rape flowers and green crops is an enchanting painting. During autumn, the golden rice field turns Guanlu a quiet and beautiful village. If you want a colorful sightseeing including natural scenery and ancient architectures in Guanlu Village, Spring and Autumn are the best seasons. During that period of time, the weather is most pleasant and comfortable. Otherwise, you can visit Guanlu anytime available.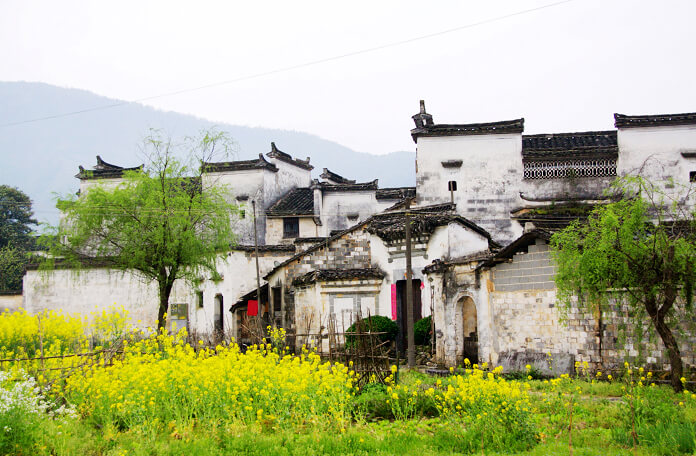 Guanlu Village surrounded by Rape Flower in Spring
Top Attractions in Huangshan
Extension Readings of Huangshan Travel Guide
Recommended Huangshan Tours
Top 3 Huangshan tours chosen by most customers to explore Huangshan in the best way. Check the detailed itinerary, or tailor your own trip now with us.
4 Days Best Huangshan Tour with Hongcun & Xidi Ancient Villages

Tunxi - Huangshan Mountain - Hongcun - Xidi
4 Days Huangshan Tour to Huizhou Culture Exploration

Huangshan / She County / Yellow Mountain
5 Days Huangshan Photography Tour with Xidi & Hongcun Villages

Tunxi / Huangshan Mountain / Hongcun / Xidi / Tunxi
Start planning your tailor-made holiday to China by contacting one of our specialists. Once inquired, you'll get a response within 0.5~23.5 hours.
Customize a Trip
Have a question? Get answers from our travel experts or guests
Your Question:

Your Name:

Your Email: