Fulfill Your Pastoral Dream in Bishan Village
Did you once dream that you could escape from the crowded city to a peaceful seclusion? Or did you want to explore what the authentic traditional Chinese rural village looks like. Maybe a visit to Bishan Village could realize your dream or give you an answer.
Bishan Village is an ancient Huizhou village nearly untouched by the fury of modern world. Standing at the foot of a green mountain, it offers good scenery of fields with seasonal crops as well as time-honored white houses with gray-tiled upturned eaves. It is not a very popular village, like Hongcun Village or Xidi Village which attract endless visitors, and it is not even a scenic area with entrances. However, it's the favorite of the literary and artistic man. The peaceful village could drive all your annoyance away and let you find your inner tranquility.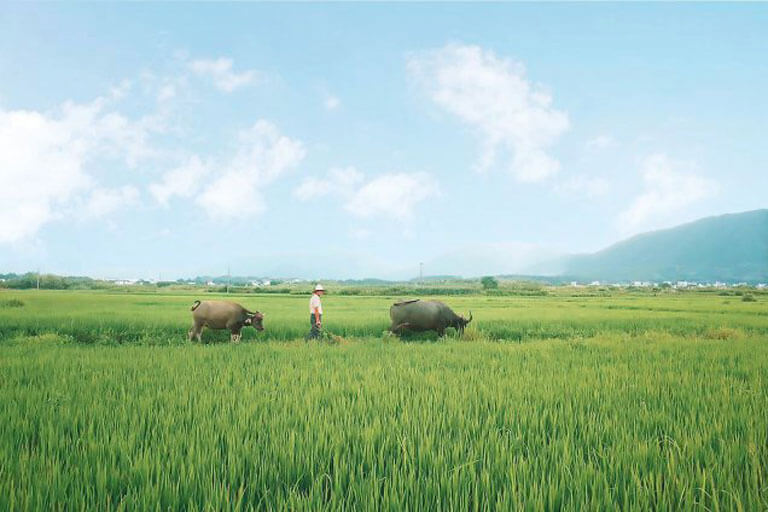 Rural Life in Bishan Village
Highlights of Bishan Village
Many surprising places are not expected to be in Bishan, but they are. Bishan Village offers lots of things to enrich your Huizhou Villages journey. You will see China's most beautiful countryside bookstore, an old Marketing Cooperatives cherished with local arts and crafts as well as most cozy countryside hotels.
Reading in the most Beautiful Chinese Countryside Bookstore
Bishan Bookstore (碧山书局) was originally an ancestral hall with a history of over 200 years and transformed into a boutique bookstore in 2014. As the first bookstore built in rural China in modern times, Bishan Bookstore makes Bishan a place unique and featured. It is honored as China's Most Beautiful Countryside Bookstore by CNN. Entering the bookstore, you will find a large variety of books displayed on the wooden bookstores. Here you can read many books and picture albums about Yellow Mountain and Huizhou Culture. You could also purchase some Huizhou-style souvenirs or some freehand sketching travel maps.
Climbing to the second floor of Bishan Village, you can see a warmly-decorated cafe. All visitors could spend time enjoying a peaceful day or take part in some cultural exchange talks. Looking out from the window, you will get a wonderful sight of this impressive arhchitectures around.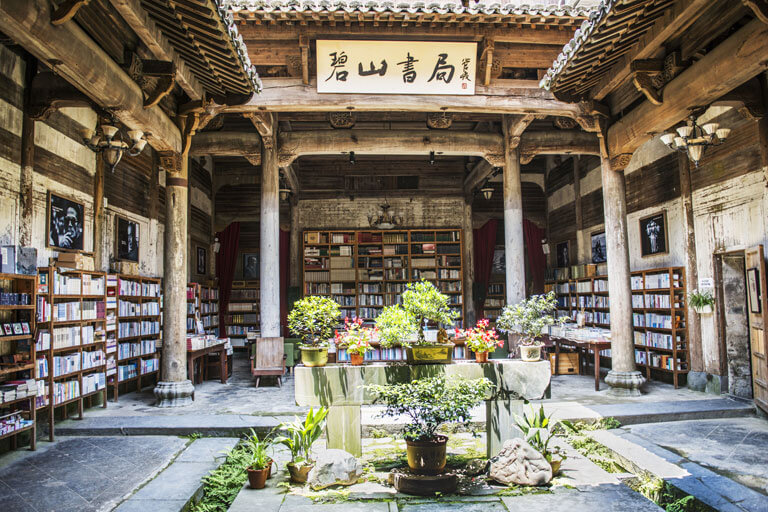 Elegant Bishan Bookstore
Admiring the Local Arts in Supply and Marketing Cooperatives
Bishan Marketing Cooperatives, not an authentic Marketing Cooperatives, is a museum combined with traditional craftsmanship and contemporary art. It was built the old site of Bishan Marketing Cooperative and retains its old name. There are cabinet and showcased exhibited with various handicrafts and collections. The view from the second floor is rather poetic and you may settle into the meditative state.
There will be ceramic-making courses usually. Bishan Marketing Cooperatives is always patronized by some craftsmen and designers. Therefore, it's possible to watch Huangmei Opera in the first day and live performance on the next day. No matter the villagers, students, artists and musician can be live here in harmony. The cookies and snacks sold here also deserve a try.
Supply and Marketing Cooperatives
Spending Several Comfortable Days Staying Pig's Inn
Pig's Inn is a brand of hotel. In fact, there are three Pig's Inns in Huangshan City, one in Xidi Village and other two in Bishan Village. Just as the name suggests, accommodating in Pig's Inns provides a comfortable experience like an idle pigs. The Pig's Inn (Bishan) is transformed from an old Huizhou mansion of a salt merchant. Since this lovely old house has been turned into a quaint inn with hostel-like vibe, you can still see the old decoration and layout of the featured traditional Huizhou-style architecture. The Pig's Inn (Old Oil Press) is transformed from an old oil press, and it is also cherished the equipment of making oil. Both of them are decorated with warm rooms, elegant garden and several fruit trees. The rooftop view is spectacular and this is where most guests choose to spend as much time as possible. Some writers or artist also like to stay in the hotels for several months to seek inspiration.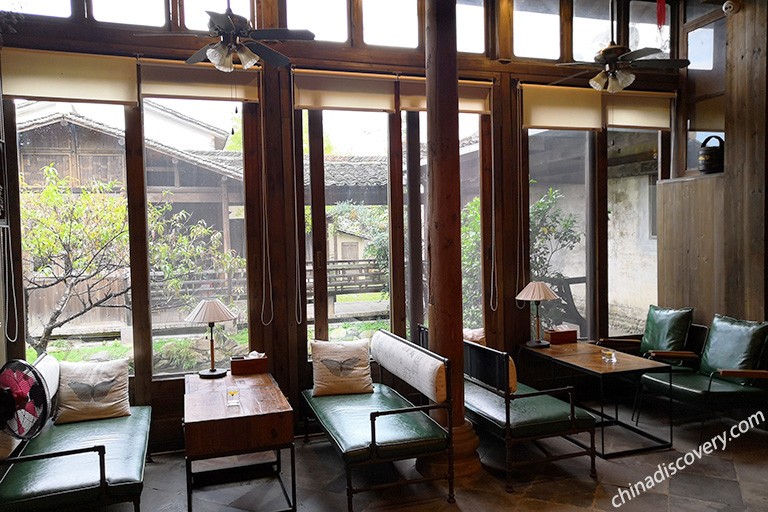 Resturant of Pig's Inn
Cycling along the Countryside Road
Bishan's natural rustic scenery is second to none. If you are interested in cycling, don't miss the great way to enjoy the beauty of Bishan Village. The well-paved road creeps through the painting-liked houses and the colorful fields. You may feast your eyes on the moving mist-shrouded mountains, the fields grown with rape flowers or paddies, the interesting Scarecrows which seems greeting you, etc. The cycling distance can be shorten or lengthen according to your own strength. You will enjoy the freedom at any time for sightseeing or rest.
If you accommodate at Pig's Inns, there are free mountain bikes for your choice.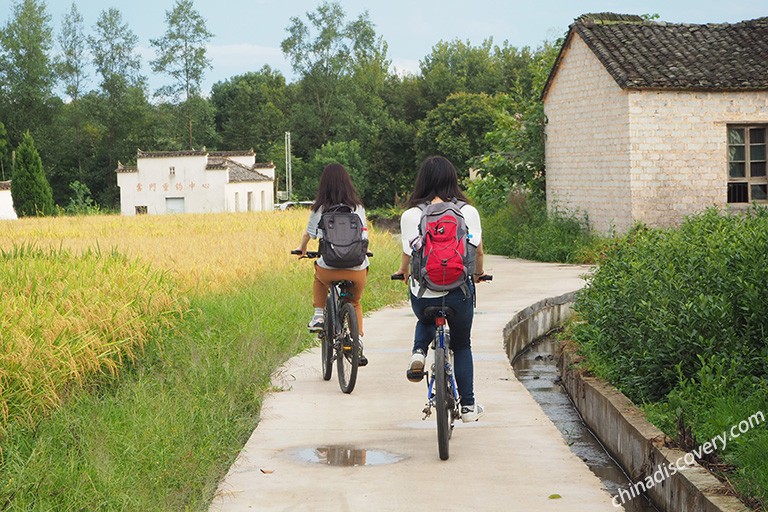 Cycling in Peaceful Bishan Village
Huangshan Tour with Carefree Experience in Bishan Village
China Discovery has designed a 4 days' tour for those who want to explore the highlights of Huangshan City as well as enjoy a relaxing day in peaceful Bishan Village. You will firstly enjoy the picturesque scenery of Yellow Mountain, including odd-shaped twist pines, spectacular rocky peaks, sea of clouds, hot spring, winter snow, etc. Next, drive to Huangshan's busiest and purest villages – Hongcun Village and Bishan Village to get two different aesthetic feelings of Huizhou ancient villages. In Bishan, you could get pleasure in a comfortable and carefree night stay, amazing food and drinks at Pig's Inn Bishan, and biking around to experience village living.
>> 4 Days Huangshan with Pig's Inn Carefree Countryside Idyll Tour
Begin-to-believe Peak in Yellow Mountain
Location and Transportation
Being a little off the tourist track, Bishan is located Biyang Town, Yixian County, Huangshan City.
13km (about 20 minutes' driving) to Xidi Village;
15km (about 25 minutes' driving) to Hongcun Village;
60km (about 1 hour and 10 minutes' driving) to Huangshan City;
50km (about 1 hour and 10 minutes' driving) to Yellow Mountain.
The highway to Bishan Village is in very good condition and you can drive there conveniently. If you want to get to Bishan Village by public transportation means, you need to travel to Yixian County (黟县) firstly and then transfer to Bishan Village. Because Bishan Village is not a hot tourist destination, the buses between Bishan Village and Yixian is not frequent.
How to Get to Huangshan City
Huangshan is a popular destination which can be reached by flight, high speed train and long-distance bus from several cities. Top recommended gateway cities to start a Huangshan tour are Shanghai, Huangshan and Beijing. Shanghai and Beijing operate both flights and high speed trains to Huangshan. High speed trains from Shanghai also stop in Hangzhou. Read more>
Travel with China Discovery
If you want to get rid of hustle of public transportation and troublesome navigation, you can take a private tour package which covers sightseeing, dining and transfer from us. Our local tour guide and driver will escort you to Tunxi Ancient Street with speed and convenience, and take care of all the details. You just need to focus on sightseeing.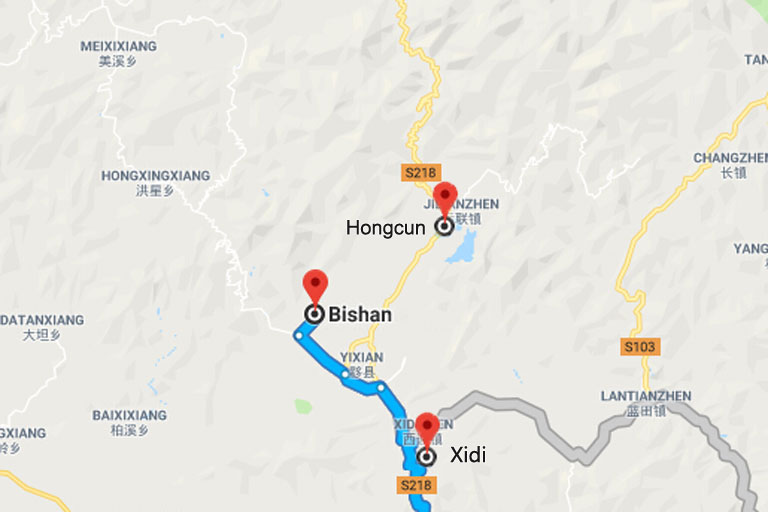 Click to Enlarge Bishan Location Map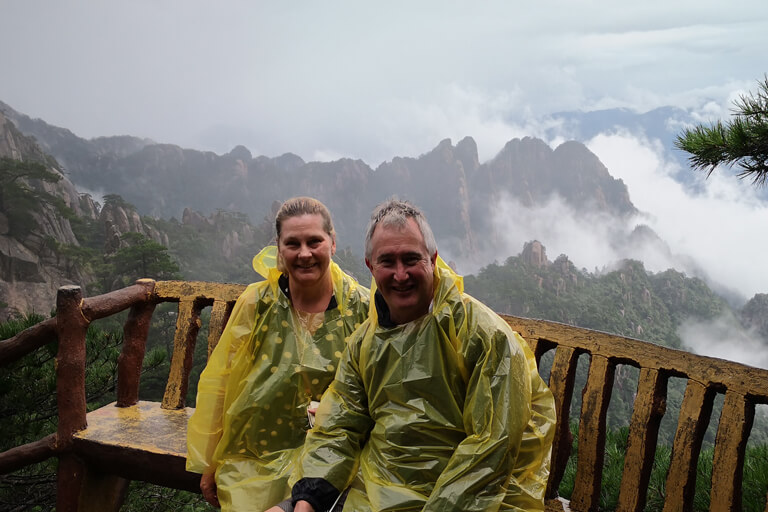 Smith Family from New Zea Land Traveled Huangshan with China Discovery
Best Time to Travel Bishan Village
Bishan Village has four distinct seasons with warm spring, hot summer, cool autumn and cold winter. July is hottest month with an average temperature of 27℃ and January is the coldest month with an average temperature of about 4℃. If you dress and pack properly, Bishan is suitable to be visited all the year around.
In different seasons, you could have very different experience. Like many other ancient villages, Bishan offers a fascinating view of the fields with different crops. In spring, the field is always grown with rapeseeds and you are able to enjoy a sea of bright yellow flowers in March ~ early April usually. After the rapeseed is reaped, the local farmers will plant rice. Therefore, the paddies will turn from green to yellow during June ~ September.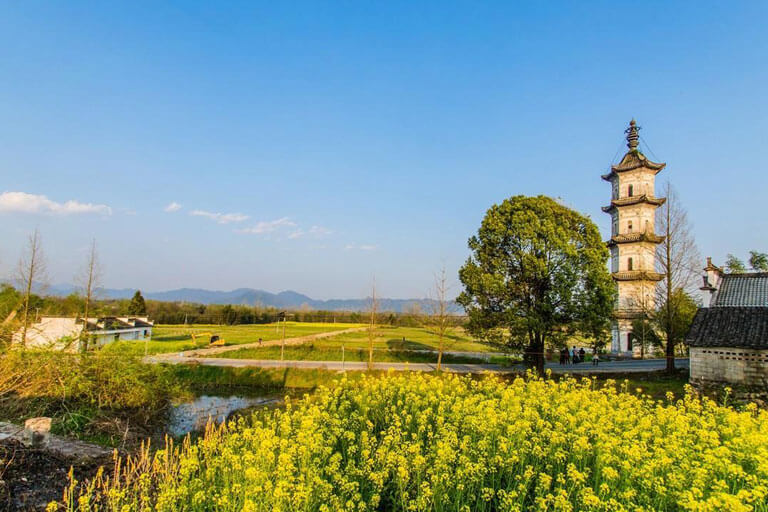 Beautiful Bishan Village in Spring
Travel Bishan Village with Hongcun or Xidi Village
As a tranquil village seldom squeezed by tourist groups, Bishan Village permits you to experience the genuine countryside life in old Huizhou. However, Bishan Village is not enough for those who deeply love Huizhou ancient villages. It is strongly recommended to take another visit to one or both of Hongcun Village and Xidi Village which are listed in UNESCO World Cultural Heritage Sites.
Hongcun Village is the world-famed "Chinese Village in Painting". Its two lakes with the reflection of the unique Huizhou-style architecture resemble two appealing Chinese ink paintings. Some scenes of famed film Crouching Tiger, Hidden Dragon directed by Ang Lee was framed there.
Xidi Villages featured in its remarkable dwellings. There are over 300 ancient houses left from Ming Dynasty (1368~1644) and Qing Dynasty (1636~1912) and 124 of them are well-preserved. People praised it as "Household in Peach Blossom Garden". At the entrance of Xidi Village, you could see an exquisite archway – Hu Wenguang's Archway which is the treasure of Chinse Stone Architecture.
Related Tours:
>> 4 Days Huangshan Mountain Tour with Ancient Villages Living Experience
>> 4 Days Scenic Huangshan Mountain Tour with Hongcun Biking
>> 4 Days Best Huangshan Tour with Hongcun & Xidi Ancient Villages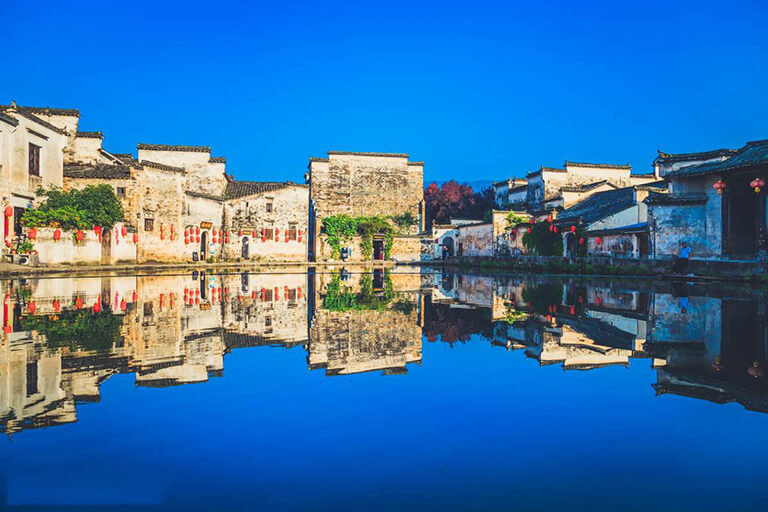 Pretty Moon Pond in Hongcun Village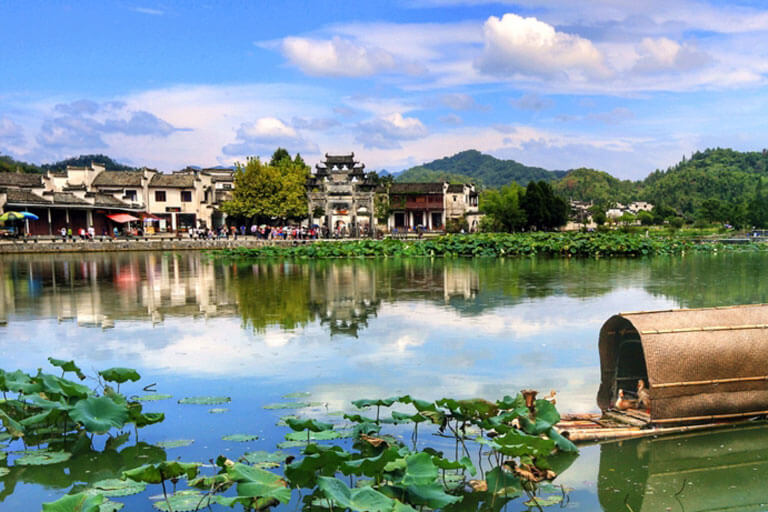 Xidi Anicent Village
Top Attractions in Huangshan
Extension Readings of Huangshan Travel Guide
Recommended Huangshan Tours
Top 3 Huangshan tours chosen by most customers to explore Huangshan in the best way. Check the detailed itinerary, or tailor your own trip now with us.
4 Days Best Huangshan Tour with Hongcun & Xidi Ancient Villages

Tunxi - Huangshan Mountain - Hongcun - Xidi
4 Days Huangshan Mountain Tour with Ancient Villages Living Experience

Tunxi - Nanping - Hongcun - Huangshan Mountain
4 Days Huangshan with Pig's Inn Carefree Countryside Idyll Tour

Huangshan - Hongcun - Bishan
Start planning your tailor-made holiday to China by contacting one of our specialists. Once inquired, you'll get a response within 0.5~23.5 hours.
Customize a Trip
Have a question? Get answers from our travel experts or guests
Your Question:

Your Name:

Your Email: