Yangtze River Maps 2023/2024: Location, Route, Ports, & Shore Excursions
Before your Yangtze River cruise in China, we highly recommended you to look at the latest maps of the Yangtze River to have a clearer understanding about its location, cruise route, port cities, transportation to ports, shore excursions to be visited, location of the Three Gorges and the Three Gorges Dam project, and so on, which would benefit your holiday a lot and ensure you a smoother trip. All the maps at below are downloadable, so you can use them freely.
Yangtze River Location
Yangtze River, as the World 3rd Longest River and the longest river in Asia, covers about 6,300 kilometers (3,988 miles) in total. This great runs from the western to the eastern part of central China, crossing 11 provinces and regions including Qinghai, Tibet, Sichuan, Yunnan, Chongqing, Hubei, Hunan, Jiangxi, Anhui, Jiangsu, and Shanghai. Since a large part of Chinese culture originated from this river, it is respected and reputed as one of the two Mother Rivers in China. Learn more about Yangtze River >
Yangtze River Cruise Ports & Transfer
Along the Yangtze River, there are numerous port cities for passengers and goods shipping. For your Yangtze River cruise needs, there are mainly two port cities for the ship dock, namely Chongqing and Yichang. You can check the map at below to find the locations of each city and way to get there.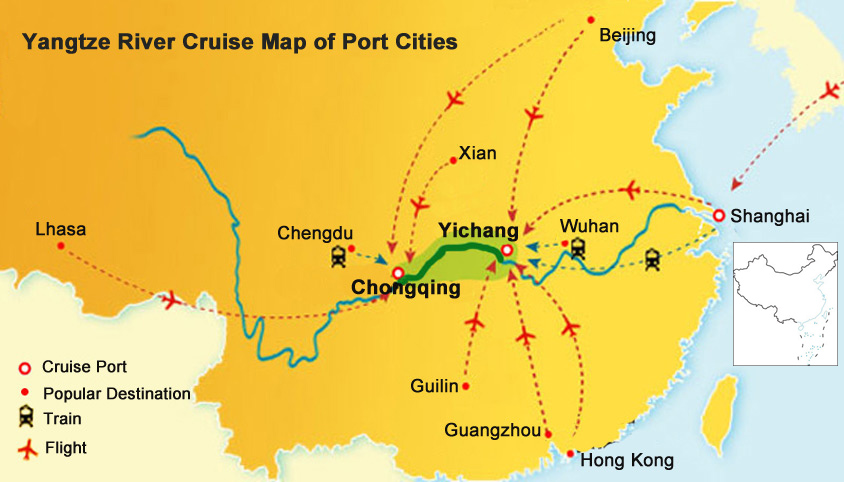 Map of Yangtze River Port Cities
In Chongqing
There is only one port for your cruise embarkation and disembarkation, which is called Chaotianmen Port. This port is situated in the city downtown and consists of 13 subdivided docks for different cruise ships.
In Yichang
There are New Century Port, Taohuacun Port and Maoping Port used for the Yangtze River cruises. Among all, the New Century and Taohuacun ports are not in the downtown city but need not much time for arrival. And Maoping Port at Zigui County needs 1.5 hours driving. Check where those ports are and how much time needed to transfer there from the main stations, airports and the city downtown area. Learn more about Yangtze River Cruise Ports >
Yangtze River Cruise Route & Shore Excursion Sites
The Yangtze River cruise route from Chognqing to Yichang (Upstream and Downstream) is the golden section of the river, which passes Fengdu, Zhongxian, Fengjie, Badong, and Zigui counties, etc. Along your Yangtze River cruise between the two cities, there are a series of interesting shore excursions, including Fengdu Ghost City, Shibaozhai Pagoda, White Emperor City, the Three Gorges, Shennv Stream, Shennong Stream, the Three Gorges Dam, and Tribe of Three Gorges, etc. Learn more about Shore Excursion Sites >. Check the detail location of each one at below.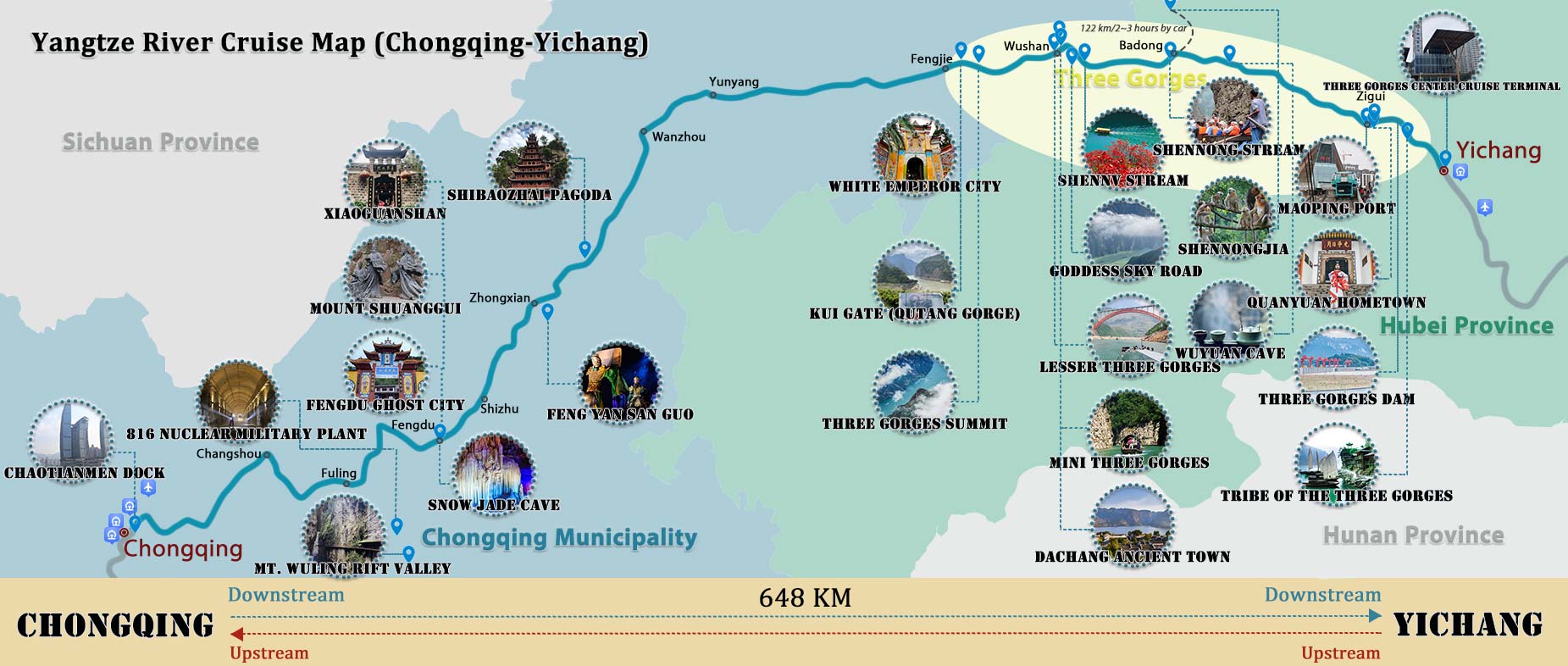 Yangtze River Cruise Map of Route Map & Shore Excursions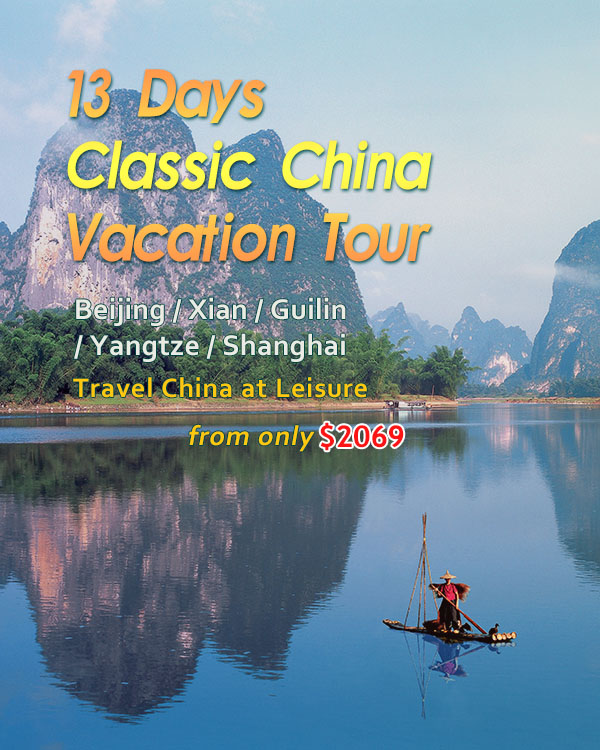 Location of the Three Gorges
The Three Gorges, formed by the Qutang Gorge, Wu Gorge and Xiling Gorge, is the real highlight along the Yangtze River cruise. located at the middle and downstream of Chongqing to Yichang section, it is reputed as the art gallery and wonderland in our nature, and people onboard the cruise can admire its primitive landscapes of high hills and flat water, historical stories, brilliant culture, special local folks and customs, mysterious hanging coffins, and so forth.
Map of Three Gorges
Three Gorges Dam Map
The Three Gorges Dam, world largest and most complicated hydropower project, of course is another shining point not to be missed in your Yangtze River cruise tour. A large number of travellers showed great expectation to see this great project and finally really marveled at its magnificent and unbelievable features, so you are also highly recommended to pay a visit there to see the flood discharge section, appreciate its panorama, watch the five stages ship locks and enjoy the natural sightseeing around. Constructed at Sandouping Town, about 40 kilometers away from Yichang city, you will be transferred to and from this site by the arranged buses of the cruise companies. Learn more about the Three Gorges Dam >
Recommended Tours
Top 3 tours chosen by most customers to explore in the best way. Check the detailed itinerary, or tailor your own trip now with us.
7 Days Shanghai & Yangtze Cruise Tour (Upstream)

Shanghai / Yichang / Yangtze Cruise / Chongqing
11 Days China Golden Triangle Tour with Yangtze River Cruise

Beijing / Xian / Chongqing / Yangtze Cruise / Yichang / Shanghai
13 Days Classic China Vacation Tour with Yangtze Cruise

Beijing / Xian / Guilin / Yangshuo / Yangtze Cruise / Shanghai
Start planning your tailor-made holiday to China by contacting one of our specialists. Once inquired, you'll get a response within 0.5~23.5 hours.
Customize a Trip
Questions & Discussions
Following are latest questions and answers from our webusers and customers. You can learn many useful information from the discussion and cases. You can also join in the discussions or ask your own question. Our experts will help you ASAP.
Chongquin port
When you arrive in Chongquin what's the procedure with our luggage is it loaded off the boat like an ocean cruise? Are there taxis waiting? We will be travelling with elderly people with mobility issues.



Hello Marilyn,

Thank you for the message! Actually disembarking from the Yangtze River cruise ships is quite much simpler than that for an ocean cruise. Usually, you could put your luggage outside your room or at the hall on the 2rd floor after breakfast, and you could hire a local porter to carry your luggage off the cruise and to the road, and they usually charge 15-20RMB for each piece. Thus, to avoid walking the many steps up with your heavy luggage. And on the main road, there are some taxies in yellow available. However, due to many visitors disembarking in the morning sometimes, it may be a little hard to catch a vacant one. Therefore, to save more time and energy to find the complicated ways in Chongqing, you could choose our local transfer service to escort you from Chaotianmen Port to the train station/ airport with speed and comfort. Besides, if you are interested in a half day tour or more time in Chongqing, we also have professional tour guides to take you enjoy the highlights of this City of Mountain.

Wish you a wonderful Yangtze River cruise trip!
Have a question? Get answers from our travel experts or guests
Your Question:

Your Name:

Your Email: