Overview of Lesser Three Gorges
Lesser Three Gorges (小三峡), or Little Three Gorges, is a favored shore excursion site for Yangtze River cruise travellers and reputed as the "Peculiar Gorges under Heaven" by some celebrities in China. Located at the downstream of Daning River (大宁河), which is the tributary of the Yangtze River at the part of Three Gorges, the Lesser Three Gorges is measured about 60 kilometers long in total. Formed by the Longmen Gorge, Bawu Gorge and Dicui Gorge with different features, Lesser Three Gorges is a to recommended place to savor the outstanding sightseeing of beautiful water, emerald mountains and other interesting culture and local history.
What to See at Lesser Three Gorges
Lesser Three Gorges, famous for its charming sceneries has a lot to treat your visual sense. Once you arrive there, don't miss the Longmen Gorge of magnificence, Bawu Gorge of Peculiarity, and Dicui Gorge of serenity. Let's see the details of each one at below.
Longmen Gorge
Longmen Gorge (龙门峡), literarily as Dragon Gate Gorge is the first gorge at Lesser Three Gorges Scenic Area, with the length of about 3km. at the mouth of this gorge, two mountains face each other with a thin strip of sky can be seen, which forms like a gate, therefore, Longmen Gorge is complimented by tourists as the "Little Kui Gate". Visiting this beautiful gorge, your time will be filled with interest and happiness. Taking the local boat, you could enjoy the special peaks and stones, flying springs and waterfalls, ancient hanging coffins, and the relics of ancient trestle road along the banks. Moreover, since this tourist attraction is kept well to maintain its original condition, sometimes, monkeys could be seen there on the green cliffs.
Famous attractions: Shishou Gate, ancient trestle road relics, Lingzhi Peak, Yinwo Shoal, Mojiao Shoal, etc.
Bawu Gorge
Bawu Gorge (巴雾峡, Misty Gorge literarily) is featured with its peculiarity. This gorge is about 10km long. And on the two banks, a lot of stones of different special shapes form groups of lifelike natural sculptures. You could see on the east cliff, there is a long stone look like a returning giant dragon, and a fierce tiger shaped round stone on the opposite bank. Besides, Bawu Gorge is also called Tieguan (Iron Coffin) Gorge, since there is a black hanging coffin on the cliff at the east bank of the river, which looks like made of black iron.
Famous attractions: peculiar stones, hanging coffin, etc.
Dicui Gorge
Dicui Gorge (滴翠峡) means emerald green gorge and is the longest, deepest, most serene, and most elegant on among the three, with a complete length of about 20km from Shuanglong to Tujiaba. In Dicui Gorge, you could admire multiple beautiful peaks with precipitous cliffs, lush forests, flying waterfalls from high places, and so forth. Just within this one gorge, you could experience the mighty strength and the exquisite sceneries of nature, and that is why it is reputed as "the most elegant sightseeing is at Dicui Gorge".
Famous attractions: Shuilian Cave, Moyan Buddhist Statue, Mianyang Shoal, Little Three Gorges, Dengtian Peak, trestle road, hanging coffin, etc.
Little Lesser Three Gorges
Little Lesser Three Gorges (小小三峡) has narrower water path, so it has such name. You could enjoy more authentic natural sceneries at this area. There the mountains look more precipitous, and valleys more serene and deeper. Listed as a "National AAAAA Tourist Attraction", the Little Lesser Three Gorges, formed by Changtan Gorge, Qinwang Gorge and Sancheng Gorge, shows various shapes of strange peaks, the romantic scenery of mountains reflecting upon water, harmonious natural landscapes. Besides, the swimming fishes could be seen in the crystal clear, thus you could feel getting closer to nature.
Famous attraction: Changtan Gorge, Qinwang Gorgem, Sancheng Gorge, etc.
Local Sightseeing Boat
The Lesser Three Gorges is very narrow to hold cruise ship to sail along, so you will travel this place by taking a local sightseeing boat. On the simple and pure vehicle, local guide will give good introduction of this tourist attraction, and tell you the interesting culture and history about it. You could feel leisure to enjoy the rare time to get close to nature. The whole visit to and back may take about 3-4 hours according to the practical conditions.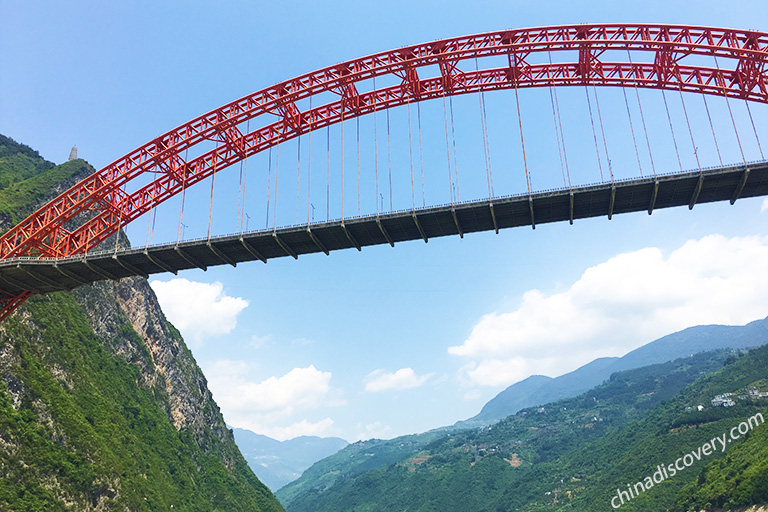 Longmen Gorge at Lesser Three Gorges
Peculiar Bawu Gorge
Elegant Dicui Gorge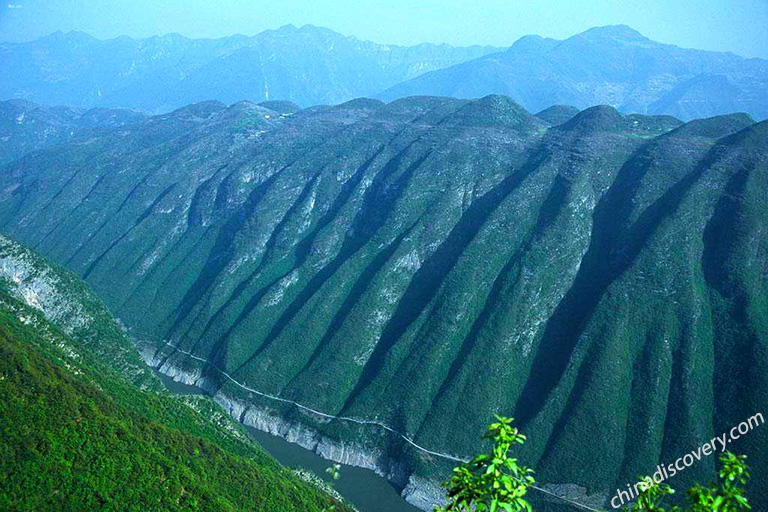 More Natural Little Lesser Three Gorges
Visit Lesser Three Gorges on Local Boat
Location & Transportation to Lesser Three Gorges
Lesser Three Gorges has a driving distance of about 430km east from Chongqing and 210km west from Yichang city.
At present, only Yangtze Gold Cruise ships stop at Wushan to visit the Lesser Three Gorges, so cruise travellers taking those ships could visit this beautiful place during your cruise time. With the leading of the local guide from the cruise ship, you don't need to worry about how to get to the tourist attraction.
For other visitors, you could start from Chongqing city, by taking a coach from Chongqing Longtousi South Bus Station (龙头寺汽车南站) or Longtousi North Bus Station (龙头寺汽车北站) to Wushan Bus Station for about 5-6 hours, then you could transfer to a local taxi to the Lesser Three Gorges Tourist Port to take the local sightseeing boat to enjoy your visit to the Lesser Three Gorges.
Besides, you could also get there from Yichang, by taking a coach from Yichang Bus Terminal (宜昌汽车客运中心) to Wushan Bus Station for about 4-5 hours.
Weather & Best Time to Go to Lesser Three Gorges
Lesser Three Gorges belongs to the central subtropical climate. The annual average temperature is about 18.4, with the lowest during January with 7.1 averagely and hottest in July with 29.3 averagely. Within Wushan area, it is sunny and light in autumn, misty continuously in winter and often rain a lot in summer seasons. Moreover, climate changes irregularly when spring changes to summer, when it is usually cloudy in the morning and raining at night.
You could visit Lesser Three Gorges in any time of a year, however, from March to August is the best time, when you could savor more emerald scenery and enjoy the comfortable weather. Moreover, from late November to December every year, Wushan Mountain is colored by the fiery red leaves all around. You can also visit during that period to join in the international festival of red leaves in Wushan. Nice time for photographing.
Tips: during July and August, it is hot at Lesser Three Gorges, and wearing short T-shirts is suitable. Besides, it often rains at in Wushan area, especially during July and August, so take your umbrella and raincoat when visiting there.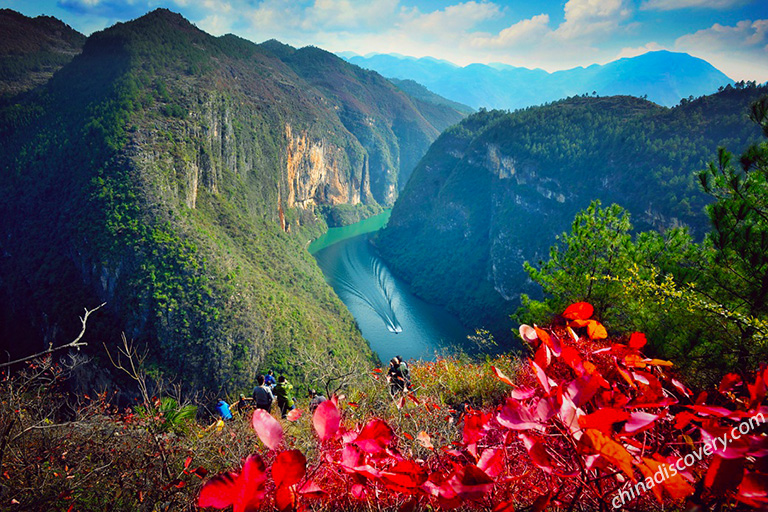 Fabulous Red Leaves of Wushan Mountain
More Yangtze Attractions
Useful Chongqing & Yangtze River Travel Articles
Keep Readings of Chongqing Transportation
Recommended Tours
Top 3 tours chosen by most customers to explore in the best way. Check the detailed itinerary, or tailor your own trip now with us.
7 Days Shanghai & Yangtze Cruise Tour (Upstream)

Shanghai / Yichang / Yangtze Cruise / Chongqing
4 Days Chongqing Essence Tour with Yangtze River Cruise

Chongqing / Yangtze Cruise / Yichang
13 Days Classic China Vacation Tour with Yangtze Cruise

Beijing / Xian / Guilin / Yangshuo / Yangtze Cruise / Shanghai
Start planning your tailor-made holiday to China by contacting one of our specialists. Once inquired, you'll get a response within 0.5~23.5 hours.
Customize a Trip
Have a question? Get answers from our travel experts or guests
Your Question:

Your Name:

Your Email: