How to Get to Yangtze Cruise Ports 2023/2024
Along the world third longest Yangtze River, there are many hub cities and ports, with Chongqing and Yichang being the major hub cities to start and end your Yangtze River cruise. Here we will show you how to get to those cities from other popular destinations in China and transportations to get to the right cruise port to board on your cruise ship to start your lifetime cruise holiday on the Yangtze. Let's go!
How to Get to Chongqing?
Chongqing, on the upper reaches of the Yangtze River, is the starting port of a downstream cruise and the ending terminal of an upstream sailing. As Chongqing is a large prosperous city, the very complete traffic network will make your way to and from this city very easy.
● Get to Chongqing by Air
Major popular cities, such as Beijing, Shanghai, Xian, Guangzhou, Hangzhou, Shenzhen, Guiyang, Kunming, Lhasa, Harbin, Nanjing, Changsha, Zhengzhou, Lanzhou, Sanya, etc. are connected with Chongqing with frequent daily flights.
Hong Kong (many daily flights), Macao (several daily flights except Wednesday), Taipei (1-2 flights every day, 3hrs), Singapore (3-5 daily flights, 4.5hrs), Phuket (daily flights, 3.5hrs), Nha Trang (1 daily flight, 3hrs), etc. with direct flights to Chongqing also offer easy way to arrive in this city.
● Get to Chongqing by High Speed Train
To get to Chongqing city, you can take a train. And the following cities have some high speed G-trains and D-trains to this city, and they are: Bejing (12hrs), Shanghai (about 11hrs), Xian (about 5 hrs), Guangzhou (about 11.5hrs), Changsha (about 8.5hrs), Hangzhou (about 12.5hrs), Shenzhen (about 12hrs), Fuzhou (about 13hrs), Wuhan (about 6.5hrs), Zhengzhou (about 8.5hrs), etc.
Moreover, since Chongqing is very close to Chengdu, it is convenient to get to Chongqing by the high speed train from Chengdu, for the frequent daily bullet trains take only 1.5~2 hours from the neighboring Chengdu city to Chongqing.
● Drive to Chongqing from Chengdu
Besides, if driving from Chengdu, it takes 2.5-3 hours through the Chengyu Ring Expressway, an expressway encircling the cities of Chongqing and Chengdu.
How to get to Chongqing Port?
Address: Changjiang Binjiang Road, Yuzhong District, Chongqing (重庆渝中区长江滨江路)
Chongqing Chaotianmen Port (朝天门码头) situated about only 4km to the city center is the only port for Yangtze River cruise in Chongqing. The port is formed by 13 subdividing docks, and specific ships use at different docks based on the arrangement. And according to the related official regulations, the specific dock number of the ship is informed only 1 to 2 days prior to the departure date in Chongqing. Once we get the information, we will tell you about the dock number. Know more about Chongqing Chaotianmen Dock >>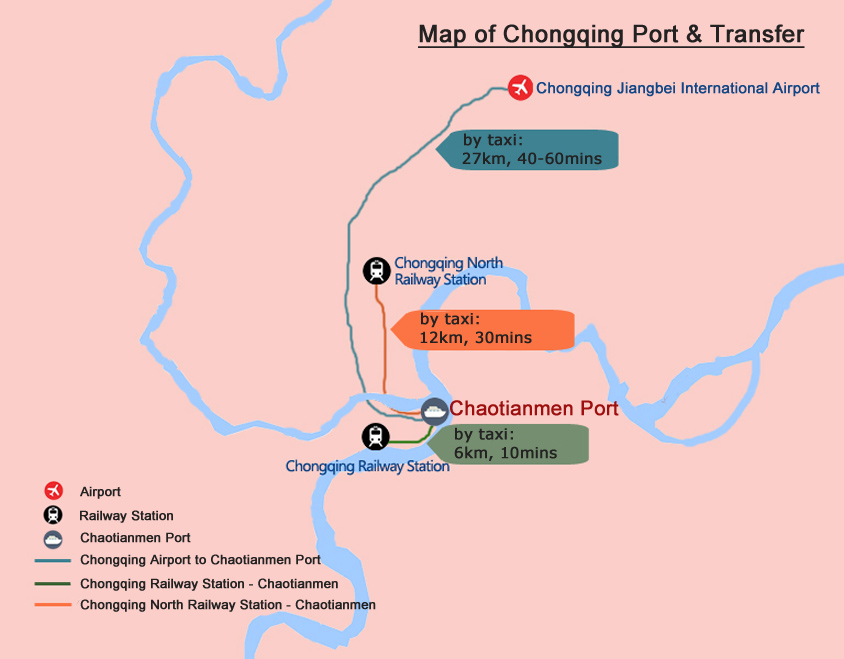 Map of Chongqing Port & Transfer
To get to Chaotianmen Port, you will have many various choices of transportations, such as the local public buses, rail transit system, taxies, etc.
● From Chongqing Jiangbei International Airport
You can take the Rail Transit Line 3 to Hongqihegou Station and transfer to the Rail Transit Line 6 to get off at Xiaoshizi Station, walk out from the Exit 7 and arrive at Chaotianmen Port after walking for about 1.4km. And if you'd like to take the taxi, it usually costs about 40 to 60 minutes covering about 27km.
● From Chongqing North Railway Station
Besides taking the Rail Transit Line 3, Line 6 or Line 1 to get off at Xiaoshizi Station, you can also arrive at Chaotianmen Port from Chongqing North Railway Station by the local taxi, for about 30 minutes for about 12km.
● From Chongqing Railway Station
Many local buses connect Chongqing Railway Station with Chaotianmen Port. Besides, you can get on a taxi to easily get to the port terminal for only about 10 minutes with the short distance of about 6km.
If you have any questions about how to get to Chongqing and Chongqing port, please feel free to contact our professional Travel Consultant for help!
Yangtze Cruises from Chongqing
4 Days & 3 Nights Chongqing Yichang Downstream Cruises, starting at Chongqing Chaotianmen Port, is operated by all Yangtze cruise ships, namely the Victoria Cruises, Century Cruises and President Cruises, Yangtze Gold Cruises, Changjiang Cruises and Yangtze Explorer. You can choose your ideal cruise ship to start your 4 days Yangtze River cruise tour.
How to Get to Yichang?
Yichang, where the middle and upper reaches of the Yangtze River are divided, is an important trading port and the "Gateway to the Three Gorges" for the 5 days upstream Yangtze River Cruises. If you are going to enjoy the cruise from Yichang, you can get to this city by air, train and coach from many other popular cities in China.
● Get to Yichang by Air
Compared to Chongqing, Yichang offers a little fewer flights to domestic cities in China. However, Yichang Sanxia Airport also has opened air routes from major cities like Beijing, Shanghai, Xian, Guangzhou, Shenzhen, Nanjing, Xiamen, Kunming, etc.
● Get to Yichang by High-Speed Train
If your last destination is Shanghai, you can also take a daily bullet train from Shanghai to Yichang. There are many high speed bullet trains from Shanghai Hongqiao Railway Station to Yichang, and you can get to Yichang from Shanghai, Nanjing, and Hefei within 7 hours. Besides, you can also take high speed train to Yichang from Wuhan (about 2hrs), Chengdu (about 6.5hrs), Hangzhou (about 7.5hrs), Nanchang (about 5hrs), Zhengzhou (about 4hrs), etc.
How to Get to Yichang Ports?
2023 Yichang Port Change News for Yangtze Cruises: in 2023, all Yangtze River Cruises would use Yichang Maoping Port for embarkation and disembarkation in Yichang (except Yangtze 1 using Yichang Sandouping Port). Yichang New Century Port is stopped using.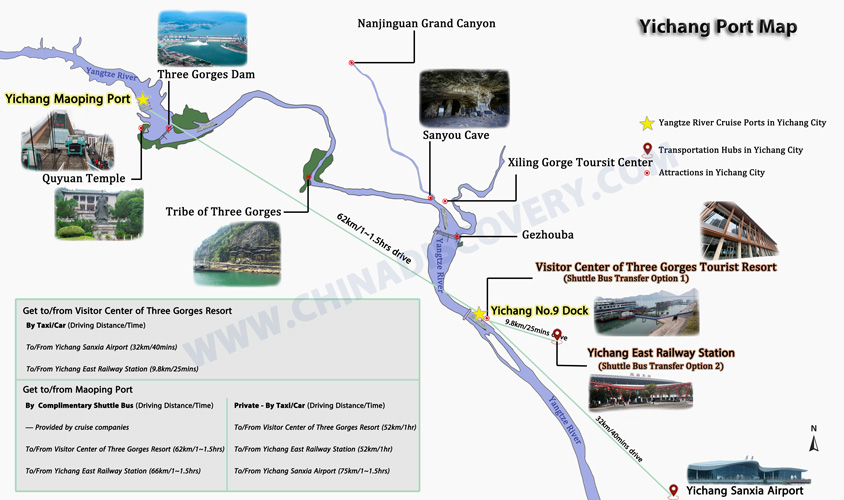 Yichang Port Map
To Maoping Port
Address: 200 meters east from Binhu Road, Maoping Town, Zigui County, Yichang (宜昌市秭归县茅坪镇滨湖路东200米茅坪码头)
Maoping Port located in Zigui County of Yichang City is about 50km from the downtown area, which takes about 1 to 1.5 hours by taking a taxi. However, cruise companies using Maoping Port would arrange tourist bus for Yangtze Cruise travellers to get to the port. So you need to gather together at Yichang downtown first, usually at Yichang Three Gorges Center Cruise Terminal (or called Yichang 9 Port), and then take the buses to Maoping Port for embarkation. So people of cruises docking at Maoping Port just need to get to the gathering place in Yichang downtown.
Note: Address of Yichang Three Gorges Center Cruise Terminal (or called Yichang No. 9 Dock): No.142, Yanjiang Avenue, Wujiagang District, Yichang City (facing Yichang Wanda Plaza) 宜昌市伍家岗区沿江大道142号 - 宜昌三峡游客中心 (宜昌九码头).
How to take the tourist bus?
1. Produce your original passport to get the tourist bus ticket at the "Yichang Tourist Information Center" (宜昌旅游信息咨询中心);
2. Walk about 300 meters through the square in front of the railway station to the "Luxury Cruise Shuttle Boarding Point" (豪华游轮转运乘车处), and then take the shuttle bus with your bus ticket. (you could take your own luggage to get on the same one bus. Besides, you could enjoy the luggage service and the cruise staff would transfer it from the gathering places to the reception desk onboard your cruise, which needs extra and reasonable payment.
To Sandouping Port
(Only for
Yangtze 1
cruise)
Address: about 150m from the junction of Longtan Road and Provincial Highway 334, Yiling District, Yichang City (宜昌市夷陵区龙潭路与334省道交叉口东150米 – 三斗坪码头)
Among all the mainly used ports for Yangtze River cruises in Yichang, Sandouping Port is the closest port to the marvelous Three Gorges Dam, with a short driving distance for about 6.9km.
| From / To | Sandouping Port |
| --- | --- |
| Yichang Sanxia Airport | About 67-78km, driving for about 1.5-2 hours |
| Yichang East Railway Station | About 50-65km, driving for about 1-1.5 hours |
| Yichang Railway Station | About 45-60km, driving for about 1-1.5 hours |
| Yichang City Center | About About 45-60km, driving for about 1-1.5 hours |
Yangtze River Cruise from Yichang
The 5 days $ 4 nights Yangtze River upstream cruise starts from Yichang and ends in Chongqing, and is served by all the Yangtze River cruise ships, such as the very popular Century Cruises, Victoria Cruises, President Cruises, etc. Select your favorite cruise from all Yangtze River cruise ships to begin your China Yangtze River cruise trip!
Local Transfer Service to Yangtze River Ports
In Chongqing and Yichang , we also offer local transfer services. By booking our transfer with your crusie, you'll get:
● Private vehicle with experienced driver and local guide;
● Airport / Railway Stations / Hotels and Cruise Dock shuttle services;
● More time enjoying your trip, instead of wasting on finding your way.
Or you can contact our experts for detailed transportation guide in the port city for your Yangtze cruise.