Top 8 Victoria Cruise Ships 2023/2024
In 2023/2024, there are eight top Victoria cruise ships sailing along Yangtze River. Travelers can take the popular Chongqing Yichang route to savor the golden sightseeing of Yangtze and the Three Gorges. For downstream cruise, it takes 4 days and 3 nights from Chongqing to Yichang; while for upstream cruise, it takes 5 days and 4 nights from Yichang to Chongqing. At present, Victoria Cruises is the only cruise company to go through the world's largest ship lift - Three Gorges Dam Ship Lift to pass the dam within 40 minutes which is a totally brand-new and exciting try for Yangtze cruise travelers. Select your favorite from the following ships and check details about its schedules, itineraries, cabins, deck plans, onboard experience, etc. Sail now!
Good News: the 2020/2021 Victoria Cruises booking is available now! Book early and you'll save more!
Victoria Sabrina Booking Available: 2020/2021 early bird booking of the 2019 newly built 5-star Victoria Sabrina cruise ship if available now! Book the ship early to save more!!
All About Victoria Cruises
Take a look at 2023/2024 Victoria Cruises calendar and check detailed ships sailing schedules, know life onboard and onshore. If you want to customize your China Yangtze cruise vacation, tell us your ideas and requirements by using tailor your trip.
Cruise Calendar
Cruise Itinerary
Shore Excursion
Onboard Experience
| Sun | Mon | Tue | Wed | Thu | Fri | Sat |
| --- | --- | --- | --- | --- | --- | --- |
| | | | 1 | 2 | 3 | 4 |
| 5 | 6 | 7 | 8 | 9 | 10 | 11 |
| 12 | 13 | 14 | 15 | 16 | 17 | 18 |
| 19 | 20 | 21 | 22 | 23 | 24 | 25 |
| 26 | 27 | 28 | 29 | 30 | 31 | |
Victoria Cruises' Itinerary 2023/2024
Chongqing - Yichang 4 Days & 3 Nights Downstream Cruise
Day
Event & Activities
Day 1
Departs at Chongqing Chaotianmen Port
Day 2 (B, L, D)
Mount Shuanggui or optional to Fengdu Ghost City;
Optional to Three Kingdoms Open Air Show.
Day 3 (B, L, D)
Optional to White Emperor City (River conditions permitting);
Qutang Gorge and Wu Gorge;
Shennv Stream (Goddess Stream).

Day 4 (B, L)
Optional to Ship Lift;
Three Gorges Dam Site;
Transfer to Yichang Three Gorges Center Cruise Terminal for leave.
Yichang - Chongqing 5 Days & 4 Nights Upstream Cruise
Day
Event & Activities
Day 1
Departs at Yichang Maoping Port

Day 2 (B, L, D)
Optional to Tribe of Three Gorges or Quyuan Birthplace;
Optional to Ship Lift;
Three Gorges Dam Site.
Day 3 (B, L, D)
Shennong Stream;
Wu Gorge and Qutang Gorge;
Optional to White Emperor City.
Day 4 (B, L, D)
Mount Shuanggui or optional to Fengdu Ghost City.
Day 5 (B)
Disembarks in Chongqing Chaotianmen Port
Please Note:
• Optinal Shore Excursion depends on the river conditions, like the weather, water level and number of travelers;
• The OPTIONAL shore excursions are prepared based on the number of visitors who want to go. You can visit if there are 30 or more people interested (the number of visitors may be adjusted based on the real situation). You have the final decision where to go or not on your own. If yes, tell the reception desk who would register for you and receive your pay in site. The ARRANGED shore excursions are included in your quotation, so you could visit the sites without extra charge. However, if you do not visit the sites, the fees of arranged shore excursion sites are not refunded. If you do not visit the shore excursions, you could stay on the ship to enjoy some leisure time. And for your safety, you are not allowed to leave your ship on your own.
• Choose the ship to see more details about cruise itinerary.
Shore Excursions
Three Gorges refers to Qutang Gorge, Wu Gorge and Xiling Gorge, and they are the most beautiful gorges in Yangtze River, famous for the grand and enchanting scenery and deep and fascinating culture.
As the largest hydraulic project in the world, Three Gorges Dam is the great highlight on Yangtze River Cruise. The magnificent project truly shows the indomitable spirit and great effort by human.
Fengdu Ghost City seems to be exotic to western travelers, for it vividly depicts Hell in Chinese people's imagination, and tourists can learn much of Chinese Ghost Culture here.
Tribes of the Three Gorges is located at Xiling Gorge. In these villages, tourists can experience the most authentic Ba Culture and Shu Culture while watch local dance performance and cruise on old sailboats.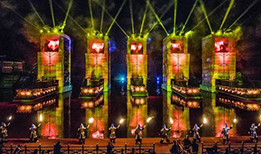 Three Kingdoms Open Air Show
A marvelous large-scale real landscape show brings a cultural feast to know the brilliant historical culture of the Three Kingdoms Period and the spirit of loyalty of great military officer Guan Yu (关羽).
Also known as "Goddess Stream" by locals, Shennv Stream is a primitive stream with amazing scenery of narrow gorges, steep mountains, coffins hanging high on the cliffside, and hear some of the local history.
White Emperor City is an ancient temple located at Chongqing. Featured for its ancient architecture from Ming Dynasty and Qing Dynasty, it's the best place to overlook Qutang Gorge.
As a small tributary of Yangtze River and located between Wu Gorge and Xiling Gorge, Shennong Stream is a mysterious place filled with history, culture and nature's splendor.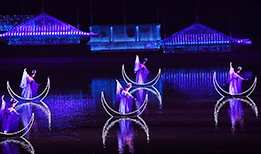 Return to the Three Gorges Show
Featuring the combination of poetry culture and the unique local customs of Bashu, the Return to the Three Gorges Show is a newly created on-site live performance directed by Zhang Yimou.
Onboard Experience
Captain's Welcome & Farewell Party
On the second day's evening, Captain's Welcome Party will be held to welcome travelers from all over the world. On the last two day's evening, Captain's Farewell Party will be held to recall the beautiful moments spent together and remember the friendship. Travelers will enjoy a farewell dinner together.
Cultural Programs
In the early morning, a master will teach travelers to play the traditional Taichi on sundeck. Also, some of other interesting and meaningful cultural programs are arranged, including Yangtze River history and culture lecture, Chinese Painting lecture, Chinese Traditional Medicine lecture, etc.
Evening Entertainment
You'll never get bored even at night. Century cruises are well designed some fun activities to enrich your nightlife, including Fashion Show by staff presenting China's most elaborate fashions dating back to Qing Dynasty, talk show, face changing, fire spitting. ALL FOR ALL, ALL FOR FUN!
Cabins
There are four types of cabins onboard – superior cabin, executive suite, deluxe suite and Shangri-la suite. The cabins are clean and cozy on Victoria ships. The facilities include balcony, bathroom, wardrobe, water heater, electrical voltage for shaver, satellite television, safety box, life jacket and more.
Amenities
On each Century ship, there are some spaces for entertainment and activities, much more than other river cruise ships. The areas include Spacious Observation Lounge, Panoramic Restaurant, Beauty Salon, Fitness Center and Massage, Health Clinic, Library and Sundeck, etc.
Cuisine & Food
Breakfast, lunch and dinner are all western and Chinese buffets, all served in the elegant restaurants, with marvelous window views. In every morning, early bird coffee and tea are provided in the sundeck bar.
Other Popular Yangtze Cruises Companies