Luxury Yangtze River Cruises 2023/2024
If you want to spend your days on the Yangtze River with the deluxe cruise environment, excellent services, new and high-end facilities and equipment, spacious and luxury rooms, and outstanding activities and shows for fun, now check the following top 3 luxury Yangtze River cruise ships, namely Century Paragon, Century Legend, and Yangtze Explorer, which have been reputed highly by both Chinese and Western guests onboard during the past years.
1. Century Paragon, only from
$438-$483

.

Best Century cruise vessel: making the first voyage on March, 2013, Century Paragon is the flagship and the best cruise ship of the popular Century Cruises, and it created the new higher standard of serving international traveller guests to the Three Gorges.

Outstanding management and services from the Europe: since Century Paragon has introduced the outstanding concepts of management and service from the Europe, guests onboard the cruise can be well taken care of by the professional crews and be satisfied according to their needs.

High-end facilities & design: Century Paragon has been well designed with luxury and comfortable decoration elements to benefit the feeling of guests onboard. All rooms and suites are spacious with a private balcony for the good sightseeing and other excellent amenities, and staff will clean the room every day for your good rest. Moreover, a great number of high-end recreational facilities and other public equipment, such as the 7-story atrium hall, dancing ball, sauna center, souvenir shops, café, indoor constant-temperature swimming pool, gym center, and so forth are arranged well by the sweet staff to give every guest the best experience onboard.

Enjoyment of gourmet: to give traveller guests the real joy of food, Century Paragon prepares a wide choice of Chinese cuisines for you to have a new try, and also many kinds of dishes of western styles to meet your daily diet habits. Just enjoy it!

Check more detail information about Century Paragon!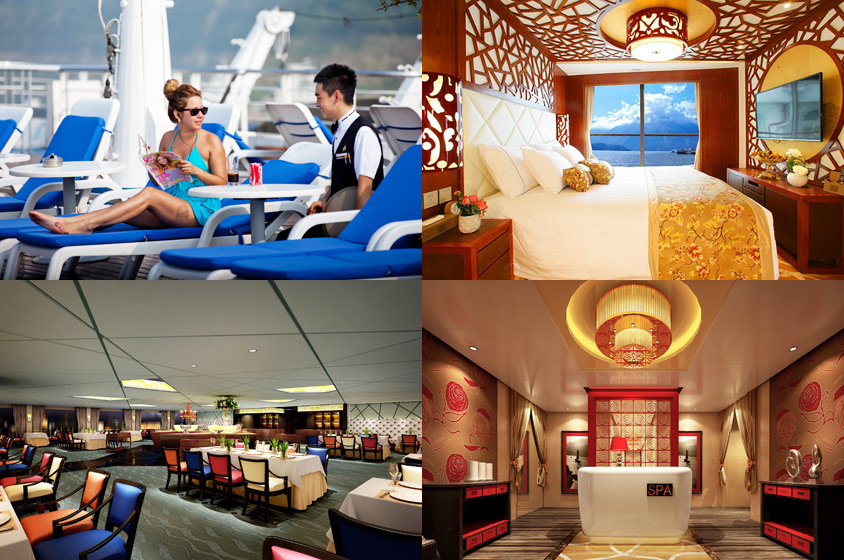 Take A Luxury Cruise Trip Onboard the Top 1 Luxury Century Paragon
2. Century Legend, only from
$1,632

.

Sibling cruise of Century Paragon: Century Legend being the sibling ship of Century Paragon, made her first serving voyage on May, 2013 and shares the same highly-praised cruise facilities and services with Century Paragon.

Advanced technologies: many new and advanced technologies and machines have been applied during the construction to reduce the noise onboard, save the energy, and make the ship sailing faster.

Strict sanitary stipulations: water onboard Century Legend is purified and processed, so you can use it safely. Besides, other sanitary steps are well done onboard, for example, you can see hand sanitizers, disinfectant, and paper towel prepared at many places.

Diverse fun to treat every one: Century Legend has prepared a series of interesting activities, lectures, and other fun things to do for people of various ages, which will make them feel time on the ship really wonderful and the trip to the Three Gorges is worth going.

Private space: there is a private stairway that connects only the 5th floor and the 6th floor where locate the executive suites. And also, a private A La-Carte restaurant of better environment and bar are served for people who want some private time to get relaxed, therefore, you can escape from the relative crowded public places.

Check more detail information about Century Legend!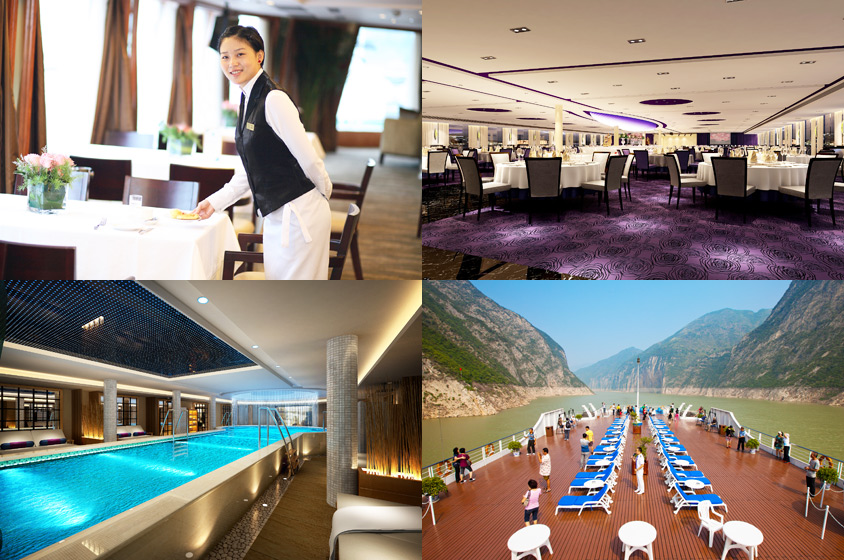 Enjoy the Deluxe Facilities and Outstanding European Services of Century Legend
3. Yangtze Explorer, only from
$1,453-$3,337

.

Only super 5-star ship: Yangtze Explorer evaluated as the super 5-star cruise ship is the only one on the Yangtze River, who lead the Yangtze River cruise to a new level of comfortable and provides the super luxury experience for every visitor from China and abroad.

Praised one-on-one VIP service: Yangtze Explorer can hold up to 124 passengers in total at once, and the 121 cruise staff will serve every one with the best quality based on their needs, so the 1:1 ratio lets nearly every guest be served by one staff and be cared for to enjoy their leisure trip.

Choices of world celebrities: for the especially amazing environment and services of Yangtze Explorer, many celebrities worldwide have chosen this ship to spend their holiday at the Three Gorges, such as Bill Gates, Warren Buffett, Henry Kissenger, and so on.

Check more detail information about Yangtze Explorer!
High-end Experience for Honored Guests Onboard Yangtze Explorer
Compare Top Luxury Yangtze River Cruise Ships 2023/2024
| Ship Name | Price of 2023 | Star Rating | Decks | Capacity | Number of Crews | Cabins | Cabin Sizes (㎡) | Twin Beds into 1 Double | Extra Bed |
| --- | --- | --- | --- | --- | --- | --- | --- | --- | --- |
| Century Paragon | From $438-$483 | 5 star | 7 | 398 | 150 | 196 | 28.00 – 106.00 | Yes | Yes |
| Century Legend | From $1,632 | 5 star | 7 | 398 | 150 | 196 | 28.00 – 106.00 | Yes | Yes |
| Yangtze Explorer | From $1,453-$3,337 | Super 5 star | 5 | 124 | 121 | 62 | 31.00 – 110.00 | Yes | Yes |
Note: For more detail info of each largest Yangtze River cruise ship, please feel free to contact our professional Travel Consultant!
Recommended Tours
Top 3 tours chosen by most customers to explore in the best way. Check the detailed itinerary, or tailor your own trip now with us.
7 Days Shanghai & Yangtze Cruise Tour (Upstream)

Shanghai / Yichang / Yangtze Cruise / Chongqing
11 Days China Golden Triangle Tour with Yangtze River Cruise

Beijing / Xian / Chongqing / Yangtze Cruise / Yichang / Shanghai
13 Days Classic China Vacation Tour with Yangtze Cruise

Beijing / Xian / Guilin / Yangshuo / Yangtze Cruise / Shanghai
Start planning your tailor-made holiday to China by contacting one of our specialists. Once inquired, you'll get a response within 0.5~23.5 hours.
Customize a Trip
Have a question? Get answers from our travel experts or guests
Your Question:

Your Name:

Your Email: