Meaningful Cultural Trip in Two Ancient Capitals of China
-- Mr. & Mrs. Thor's 4-Day Xi'an & Luoyang Cultural Trip with Friend

Departure Date

2020-09-26

Travel Length

4 Days

Travel Theme

Culture, Nature, History, Friends

Group Size

3

Travel Route

Shanghai - Xian - Luoyang - Xian - Shanghai

Highlights

Terracotta Warriors, Longmen Grottoes, Ancient City Wall, Muslim Quarter, Da Ci'en Temple, Giant Wild Goose Pagoda, Shaanxi History Museum, etc.

Story Tags

#Xian#Xian Tour#Terracotta Warriors#Luoyang#Luoyang Tour#Longmen Grottoes#Ancient City Wall#Muslim Quarter
China is a vast country that you can explore in many ways such as hiking on the mountains, trekking in the forests, cruising on the rivers, and strolling in the ancient villages. Many people have slowed their pace down in 2020 because of the COVID-19. After months' of hard work, life is gradually coming back to normal in China and people can travel to other cities if necessary pandemic prevention requirements are met such as getting a health code (green), wearing masks, and taking temperature.
On July 7, 2020, I got an e-mail from Mr. Per Thor consulting the river cruise from Shanghai on the Yangtze river. But at that time, Yangtze River cruise was not open due to the pandemic (Yangtze River cruise is available now). Only Chengdu and around areas such as Yunan, Gansu and Henan are allowed for foreign tourists, so I recommended 2 other routes respectively to Luoyang and Chengdu for Mr. Per Thor's choice.
Luoyang. in Henan Province is one of the birthplaces of Chinese civilization with a history of more than 5000 years. It's a treasure place for people who are into culture and history. Chengdu. in Sichuan Province has long been renowned as the "Land of Abundance" and is the hometown of pandas. Here you can meet both the ancient and modern China. Both destinations are good choices for a China trip. Mr. Per Thor replied to me soon and was interested in traveling Luoyang. But his wife had already planned another trip. So the Luoyang trip was put aside for a while.
Then in middle August, Mr. Per Thor contacted me again for the 4 Days Xian Highlights Tour with Sidetrip to Luoyang Longmen Grottoes. Mr. Per Thor has been working in Shanghai and is very interested in Chinese culture. Xi'an and Luoyang can well meet his demands. So I arranged this 4 days tour for Mr. Per Thor and his wife and a friend. The trip is from September 26th - 29th, right before the national holiday of China to avoid the crowds.
Day 1 Xi'an Arrival
As Shanghai is nearly 1400 km from Xi'an, it is most recommended to travel by flight, which is about 2.5 hours. Mr. Per Thor arrived in Xian Xianyang International Airport in the afternoon. Our professional guide and driver were already at the airport and then picked them up to hotel.
Day 2 Xian Highlights Visit: Terracotta Warriors, Ancient City Wall, Muslim Quarter
Today in the early morning, Mr. Per Thor and his group visited the famous Terracotta Warriors and Horses built by the first emperor of China - Qin Shihuang. Over 8,000 life-size warriors, horses and chariots have been buried for more than 2,000 years and were uncovered by a local farmer in 1974. After lunch, return to Xian to take a wonderful stroll on the Ancient City Wall, the largest and best-preserved ancient city wall in China. The nearby Muslim Quarter is the most popular food street and they tried many local snacks there.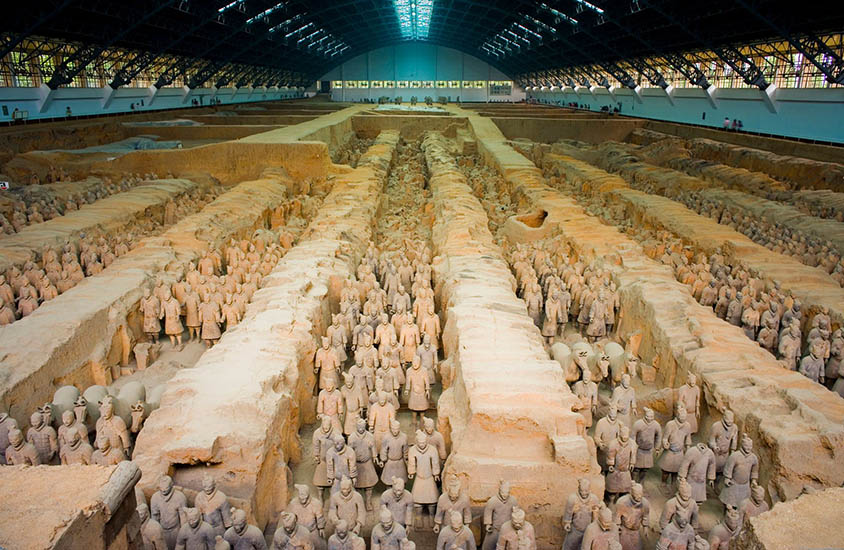 Terracotta Warriors in Xian
Busy Musilim Quater - Famous Snack Street in Xian
Day 3 Luoyang Highlights Visit: Longmen Grottoes
After breakfast, Mr. & Mrs. Thor and their friend took a morning high speed train (about 1.5 hours) to Luoyang. The highlight Longmen Grottoes is only 5 km from the high speed train station. It is a UNESCO World Heritage Site where you can appreciate amazing stone carving art and have a taste of the Buddhist culture in ancient China. After the visit, they took a high speed train back to Xian.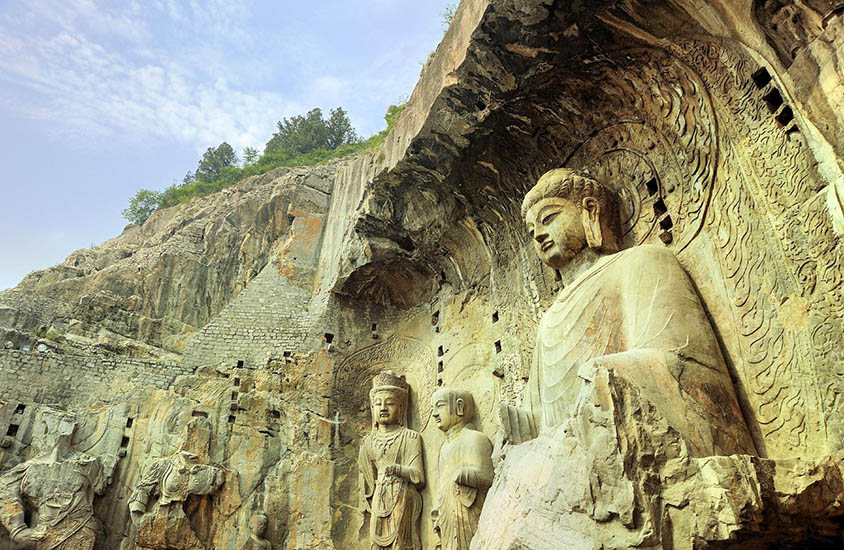 Vairocana Buddha in Longmen Grottoes
Day 4 Xian City Visit: Da Ci'en Temple, Giant Wild Goose Pagoda, Shaanxi History Museum & Departure
On the last day, they visited more sites in Xi'an such as Da Ci'en Temple, Giant Wild Goose Pagoda, and Shaanxi History Museum. They are all landmarks of Xian and treasures left after thousands of years. At the Giant Wild Goose Pagoda, Mr. & Mrs. Thor and their friend tried on traditional Hanfu (Han Chinese Clothing), which was quite a unique memory. In the afternoon, they were escorted to the airport to catch the flight back to Shanghai.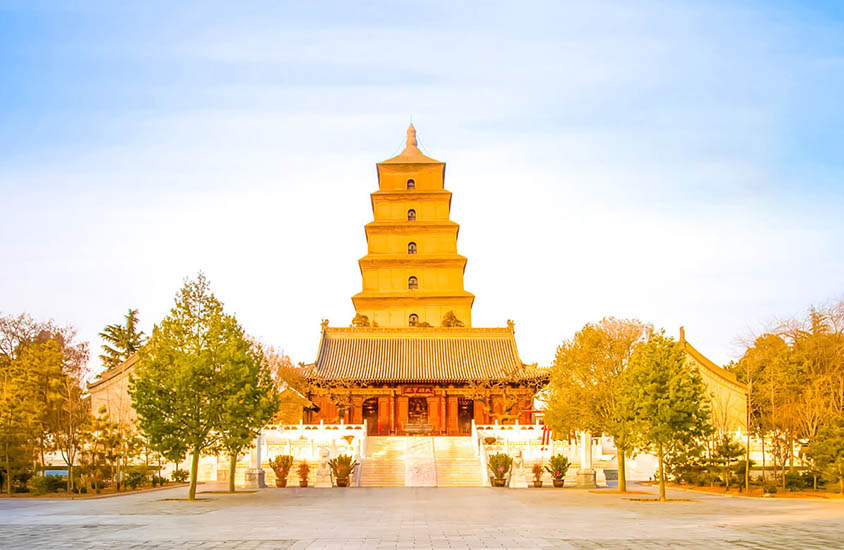 Giant Wild Goose Pagoda - Landmark of Xian
After the trip, Mr. Per Thor sent me an e-mail: Thanks for the excellent arrangement for our trip to Xian and Luoyang. I am really happy to know that he has a satisfactory Xi'an & Luoyang trip. Later, Mr. Per Thor also wrote a feedback on Trip Advisor to share his travel experience with more people.
Here is the feedback Mr. Per Thor wrote on Trip Advisor:
Custom-made Guided Tour in Xian:
If you want to have a custom-made guide tour in China. I can really recommend Yangtze-River-Cruises.
I got help from one of their agents Tracy to custom-made my trip to Xian to see the terracotta warriors with Side trip to Luoyang Longmen Grottoes.
She solved and booked everything from pickup at the airport, hotel, guides, ticket for entrance and high speed train to Luoyang etc.
And the guides she hade booked was excellent, they had a great knowledge and was really good in English.
I will use Tracy at Yangtze-River-Cruises for more trips in China.
A very satisfied customer/ Per
Mr. Per Thor Recommended His Friends for a 3-day Xi'an Tour
Then in late October, I got an e-mail from Mr. Per Thor's friend Therese. She was recommended by Mr. Per Thor and was planning a 3-day Xi'an trip for 6 people. I am very grateful for their trust in me and quickly arranged this tour for them. After they traveled back from Xi'an, Therese sent me a message on WeChat:
"Good morning Tracy, I just want to tell you that we had a great trip. Our guide Timo is the best guide we have had. He made this trip perfect with his nice personality, very good English and his very good knowledge about everything. His choice of lunch and dinner places was perfect. He took really good care of us! Thank you for all your support. Everything went without any problems."
She also wrote a feedback on Trip Advisor:
Visit Xi'an for Three Days:
We were three couples that used China discovery for guide in Xi'an. We contacted the firm and got a proposal on itinerary for three days. We wanted to do some changes to fit our purpose and wishes and that was no problem and easy done. CD proposed a hotel and could have booked it for us but we decided to book hotel by ourself and that was no problem at all. (Hilton in city center Xian, very good). The guide (Timo) met us at the air port and guided us over the three days. Very professional and listed to our wishes and really tried to give us the best support. Really good! His English was fantastic and he guided very well and explained I the right level. He also explained what was going to happen so there was no misunderstandings. It is not so common that this works so well with Chinese guides is our experience from earlier trips.
Since this trip was during the COVID pandemic and there were local restrictions in different areas China. We needed support to understand if the Hotel and the sights was possible for us to visit. CD supported this very well and made sure that everything was ok.
We can really recommend this company. A little pricey maybe, but you got what you pay for.
2020 is a tough and unforgettable year. We have met many difficulties in our life and work. But it is also a year of hope. After nearly a year's endeavor, more and more cities and attractions are open to visitors. I have also helped many tourists to make their trips happen in this special period. I will always be here at your service to answer your questions, solve your problems and provide a satisfactory tour to you.
Hi, I'm Tracy, Mr. Per Thor's travel consultant. Are you interested in Mr. & Mrs. Thor and their friend's 4 days trip to Xi'an and Luoyang? Please feel free to contact me for more details of their travel such as trip itinerary, accommodation or other arrangements. If you want to take a similar trip or customize your own China tour, just e-mail me. It's my pleasure to invite you to our country and join us in appreciating this charming land.
Tracy

Travel Consultant
Other Stories of Similar Route
Stories You May Also Like
More Travel Stories by Destination
Our Real Customers' Travel Photos
Recommended Tours
Top 3 tours chosen by most customers to explore in the best way. Check the detailed itinerary, or tailor your own trip now with us.
6 Days Xian to Luoyang Highlights Tour with Sidetrips to Mount Hua & Shaolin Temple

Xian / Huashan / Luoyang
4 Days Xian Highlights Tour with Sidetrip to Luoyang Longmen Grottoes

Xian / Luoyang Longmen Grottoes / Xian
Have a question? Get answers from our travel experts or guests
Your Question:

Your Name:

Your Email: