Two China Trips during the Pandemic Year - Keep Calm and Journey on
-- 9 Days Qinghai Gansu Trip and 7 Days Guilin Zhangjiajie Trip of Simona and Thomas
Thomas and Simona

(Germany)
Departure Date

2020-7-24, 2020-11-2

Travel Length

16 Days

Travel Theme

Nature, Culture, City, Food, Couple

Group Size

2

Travel Route

Shanghai - Xining - Zhangye - Badain Jaran Desert - Zhangye - Shanghai
Shanghai - Guilin - Yangshuo - Guilin - Zhangjiajie - Shanghai

Highlights

Taer Monastery, Taer Monastery, Qinghai Lake, Chaka Salt Lake, Zhangye Danxia Landform Geographical Park, Binggou Danxia Landform Geopark, Badain Jaran Desert, Yulong River, Li river Cruise, Mt Xianggong, Bamboo Rafting, Huangshi Village, Golden Whip Stream, Tianmen Mountain, Yuanjiajie, etc.

Story Tags

#Xining Tour#Zhangye Tour#Guilin Tour#Yangshuo Tour#Zhangjiajie Tour#Shanghai#Xining#Zhangye#Guilin#Yangshuo#Zhangjiajie
Working as a successful travel consultant for years, I have had a busy time receiving and send emails and messages to make sure that every client would have a wonderful trip experience in China. However, 2020 is just so different and it crushed my dream about the whole year and turned my phone and mailbox into a silent mode. "It is not a big deal, soon it will get better!", I tried to say such kind of useless but encouraging words to myself, but the lockdown and travel ban tread on the hope for my career, and sometimes I even started to doubt my insistence and its meaning.
If one thing that gradually brought me from this depression to the bright side, it is the message from Thomas and Simona. They are a lovely nice couple who had booked the Yangtze River Cruise from my company before. For me, I was a little surprised that they would like to have a tour even during these difficult times. Despite some small clusters, most scenic regions that I am familiar with are safe and open to tourists. The booking message from them really cheered me up and I selected some tour options and send them to Simona according to their preference and arranged their itineraries in Qinghai and Gansu immediately. While traveling in China during the pandemic time requires a lot of "Mafan" - extra kinds of stuff to prepare, the Nucleic acid tests negative reports, the green health code, masks, etc. But they never complain about it. As they were touring around different attractions, they still spent time and energy to check the tour itinerary list and kindly made some useful suggestion to us and our travelers, which touches me so much.
At that moment, I started to understand career is not only about numbers of the orders but also a positive spirit even in difficult circumstances, so I write this down to record this turning moment in 2020 and also appreciate their support to me. If you are interested in their trip, the followings are their itineraries.
9 Days Qinghai Gansu Trip Experience of Simona and Thomas
Day 1 Shanghai to Xining, Qinghai Province
The local tour guide in Xining met Simona and Thomas in Xining Caojiabao Airport and escort them to the hotel.
Day 2 Visit Taer Monastery, Dongguan Great Mosque, and Mojiajie Food Street in Xining
The second day is a cultural day to explore the famous Monastery and Mosque in Xining, appreciate the ancient relics, and get to try the local food and snacks.
Day 3 Xining - Qinghai Lake - Chaka Town
As one of the most beautiful lakes in China, Qinghai Lake in Erlang Jian Scenic Area is an unmissable attraction site. It took about 2.5 hours to get there from Xining. With green grassland, blue sky, and clustered flocks and herds, it offers a picturesque landscape. Late in the afternoon, they were escorted to the hotel in Chaka Town.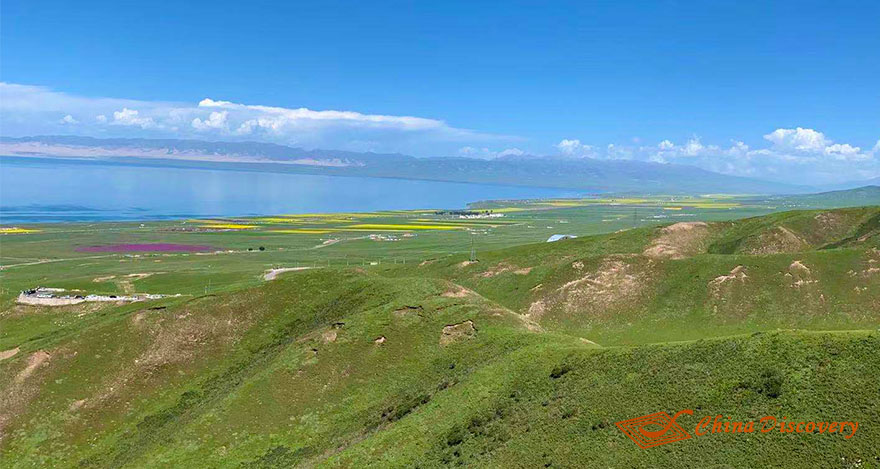 Qinghai Lake
Day 4 Chaka Salt Lake - Xining
Chaka Salt Lake is one important courier station of the ancient Silk Road. It was a feast for the eyes on the spectacular view on a sightseeing train which allows tourists to admire the moving stroll of sunset, evening glow, and salty flowers.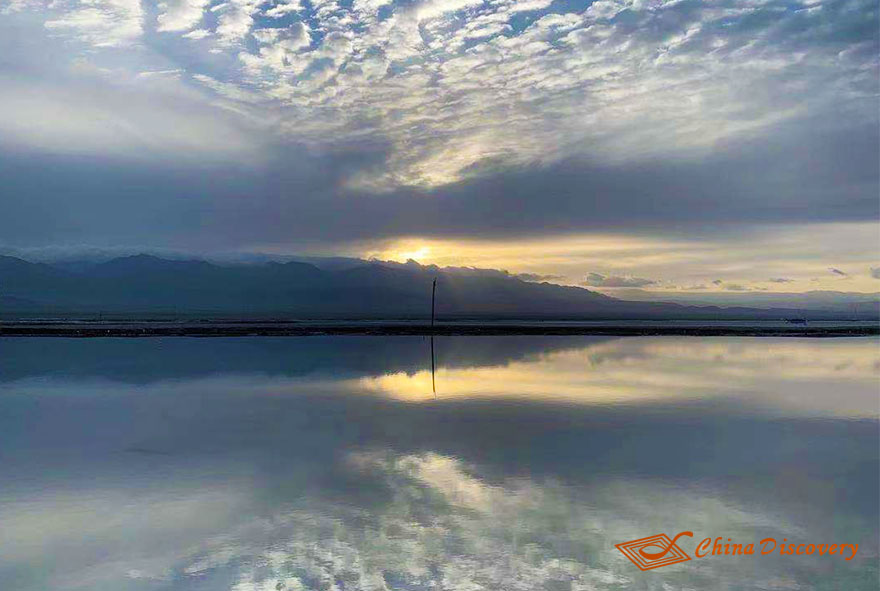 Sunset at Chaka Salt Lake
Day 5 Xining - High-Speed Train - Zhangye
Taking a high-speed train from Xining to Zhangye is comfortable and convenient. The local guide and driver arranged the trip to Zhangye Danxia Landform Geographical Park. There, thousands of mountains and stiffs stretch like the colorful sunset, which is very colorful and stunning.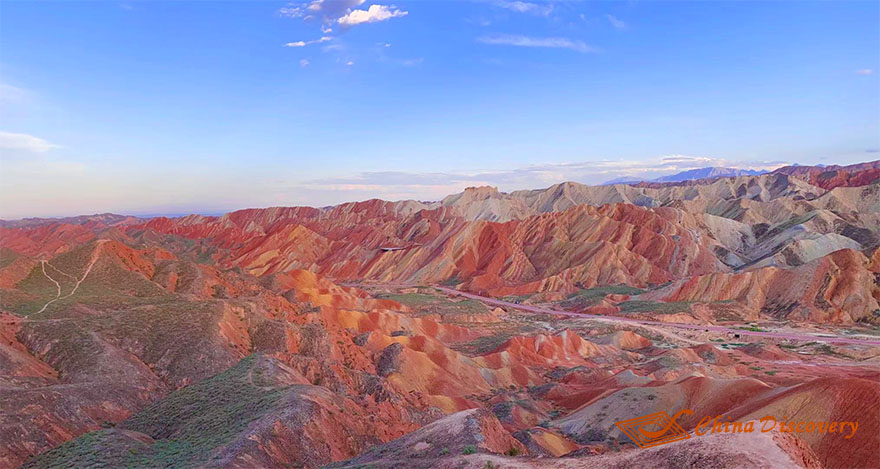 Zhangye Danxia Landform Geographical Park
Day 6 Visit Binggou Danxia Landform Geopark and Giant Buddha Temple in Zhangye
Known for the vivid shapes of the mountains and rocks, Binggou Danxia Geopark is also in Zhangye with different geographical features but the same impressive scenery as the former one. After the trip there, the next destination is the Giant Buddha Temple which was named after a giant sleeping Buddha statue inside it.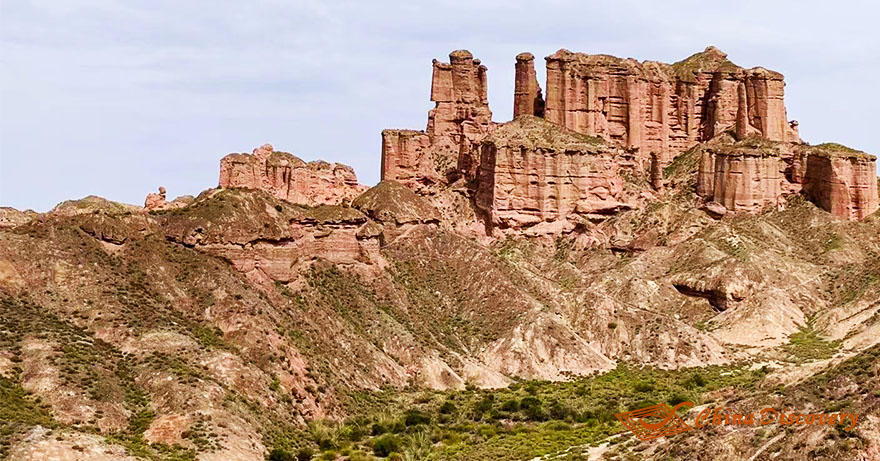 Binggou Danxia Landform Geopark
Day 7 Zhangye - Badain Jaran Desert (Inner Mongolia)
Badain Jaran Desert, meaning "mysterious lakes" in Mongolian, is praised as the most beautiful desert in China, only about 240km away from Zhangye (about 3.5h by car) with a lot of beautiful small lakes hiding among gigantic sand dunes.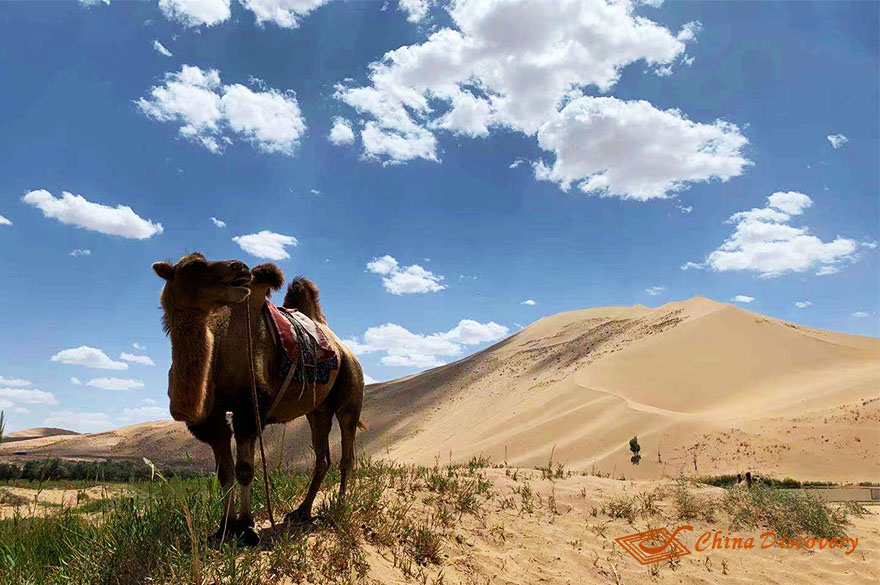 A Camel in Badain Jaran Desert
Day 8 Badain Jaran Desert - Zhangye
After Badain Jaran Desert, Bilutu Peak is the world's tallest stationary sand dune and the third tallest dune in the world. It offers a stunning landscape during the sunrise. The rest time after sunrise is for you to explore other featured sites in the desert, such as Shennv Peak, Sacred Spring, etc.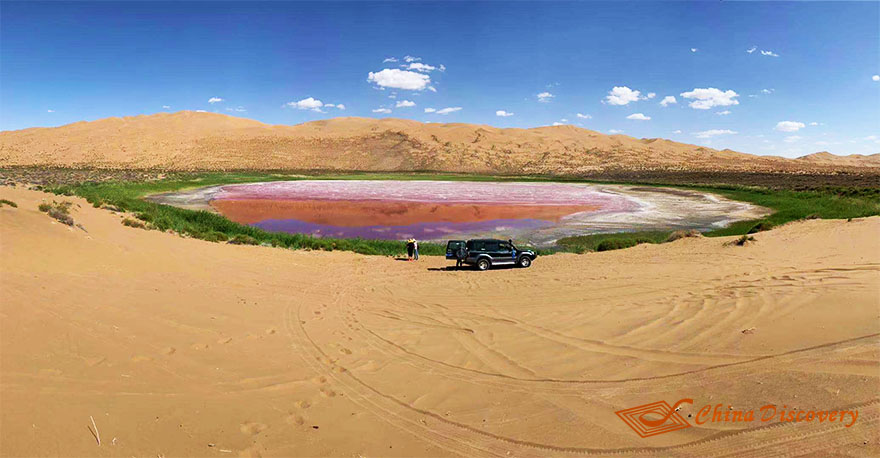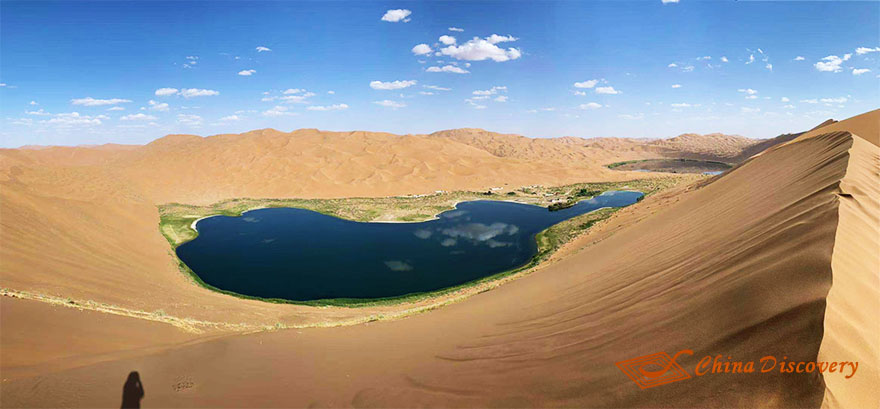 Colorful Lakes in Badain Jaran Desert
Day 9 Zhangye - Shanghai
Leave Zhangye to Shanghai by air.
• Useful Link: 7 Days Zhangye Danxia and Badain Jaran Desert Tour
After this trip, and they sent me a feedback email and wrote reviews on Tripadvisor.com that really encourages me.
perfect tour to incredible landscapes
We did the 7 days Zhangye Danxia and Badain Jaran Desert Tour. This was really a great tour with landscapes we did not expect and we had never seen before. If you like different and spectacular landscapes and don't mind the height of more than 3.000m in the first days, this is the tour you should book. Thanks to Vivien for recommending it to us.

Review about this trip on Tripadvisor.com
Trip to Guilin and Zhangjiajie
The hard start in summer let me get to know these 'normal' circumstances. Though I still had a lot of worries comparing with my expectations, the coronavirus restrictions created some significant challenges during a period in which I found my feet and began to get used to it. Several months later, I received Simona's message again. They would like to visit Guilin and Zhangjiajie in late autumn. Since I really love Zhangjiajie and have visited Guilin before, I was really glad that my own trip experience could help them.
• My Trip Story in Guilin: 5 Days Guilin & Yangshuo Trip Story of Vivien
We had a cheerful conversation on Wechat and send Simona some of my trip pictures in Guilin. As I am more familiar with their preferences and the destination, the itinerary of the Guilin Zhangjiajie trip is soon confirmed as the following.
7 Days Guilin Zhangjiajie Trip Experience of Simona and Thomas
Day 1 Shanghai to Guilin
The local tour guide in Guilin met Simona and Thomas at Guilin Liangjiang Airport and escort them to the hotel.
Day 2 Guilin to Yangshuo
Guilin is known for its unique karst landscape with beautiful rivers. The highlight of the day is Li River Cruise. Sightseeing cruise along the Li River from Mopanshan Pier to Yangshuo Town is the most relaxing and leisurable experience in Guilin. Besides, the bamboo rafting experience, famous attractions like Moon hill, Big Banyan tree, Ten-mile Gallery were also arranged on the first day.
Picturesque Landscape along Yulong River
Day 3 Yangshuo to Guilin
The Yulong River in Yangshuo is the essence of the Guilin landscape. Riding a bike and enjoy the picturesque scenery along with Jiuxian Village, Xianggui Bridge, and Shuiedi Dock is quite fun. In the afternoon, the guide and driver took clients to Mt. Xianggong and enjoy the panoramic scenery, and Reed Flute Cave in Guilin City.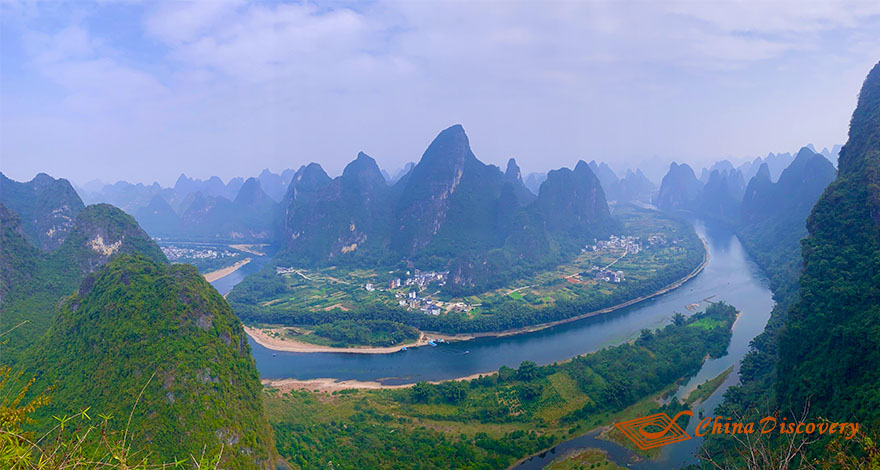 Panoramic Scenery Seen from Mt. Xianggong
Day 4 Guilin - High-Speed Train - Zhangjiajie
Guilin and Zhangjiajie is well connected by high-speed train. The local guide and driver met Simona and Thomas and took them to the hotel in Zhangjiajie.
Day 5 Zhangjiajie National Forest Park
It's a day to visit Zhangjiajie National Forest Park including visiting Huangshi Village, Golden Whip Stream, and the most famous attraction in Zhangjiajie - 1.6-meters wide Glass Skywalk with transparent glass material 1430 meters above the bottomless valley.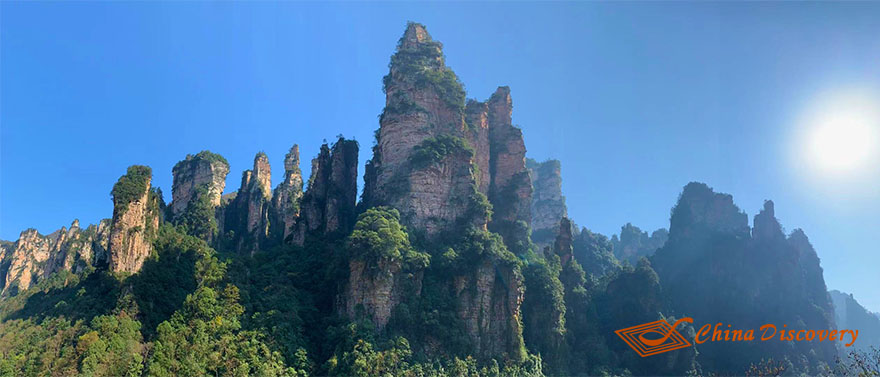 Huangshi Village Scenery
Day 6 Zhangjiajie National Forest Park
Zhangjiajie can not be visited in only one day, and the second day in Zhangjiajie is to visit Tianmen Mountain, Yuanjiajie, with breathtaking scenery seen on Tianmen Mountain Cable car.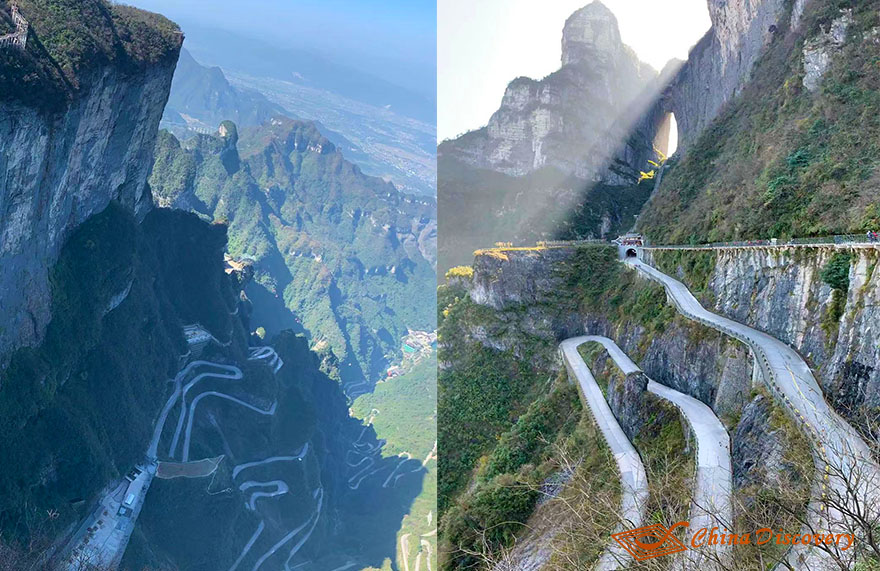 Zigzag Uphill Roads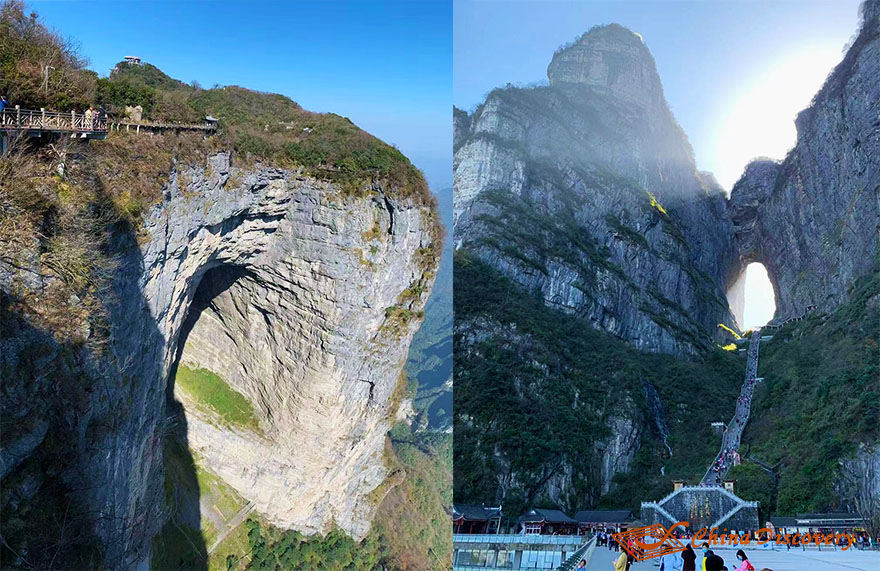 Tianmen Mountain

Stunning Peaks in Yuanjiajie
Day 7 Zhangjiajie to Shanghai
Leave Zhangjiajie to Shanghai by air.
• Useful Link: 7 Days Best Guilin Zhangjiajie Landscape Exploration
After the trip, Thomas also kindly wrote a review on Tripadvisor.
Breathtaking rivers and (avatar) mountains
We did a one week tour to Guilin/Yangshou and Zhangjiajie from Nov 2nd to Nov. 8th, 2020. The organization by Vivien was perfect, see tailored the tour according to our wishes. Everything went smooth without any trouble. We booked the flights with Vivien as well but skipped the lunch options which gave us more flexibility. If you like breathtaking landscapes, this tour is highly recommended.

Review about this trip on Tripadvisor.com
After this trip to Guilin and Zhangjiajie, Simona and Thomas went back to Shanghai, but we still keep in contact and send messages and wishes. Soon, the depressing 2020 is about to end as I am writing the whole story several days before Christmas, and I kind of find peace amid so many difficulties. I really feel happy to meet this loving couple in my work, and this encounter and the positive vibes from them inspired me on how to become a better travel consultant. Now is a time for reunion, celebration and make a new year resolution. For the coming new year, I started to have some little wishes and expectations. I am looking forward to receiving their email again and heard the good news about their life. I expect one day the pandemic will get controlled and everyone can travel freely. I am ready to encounter more joyful travel stories and see more delighted faces in the coming 2021.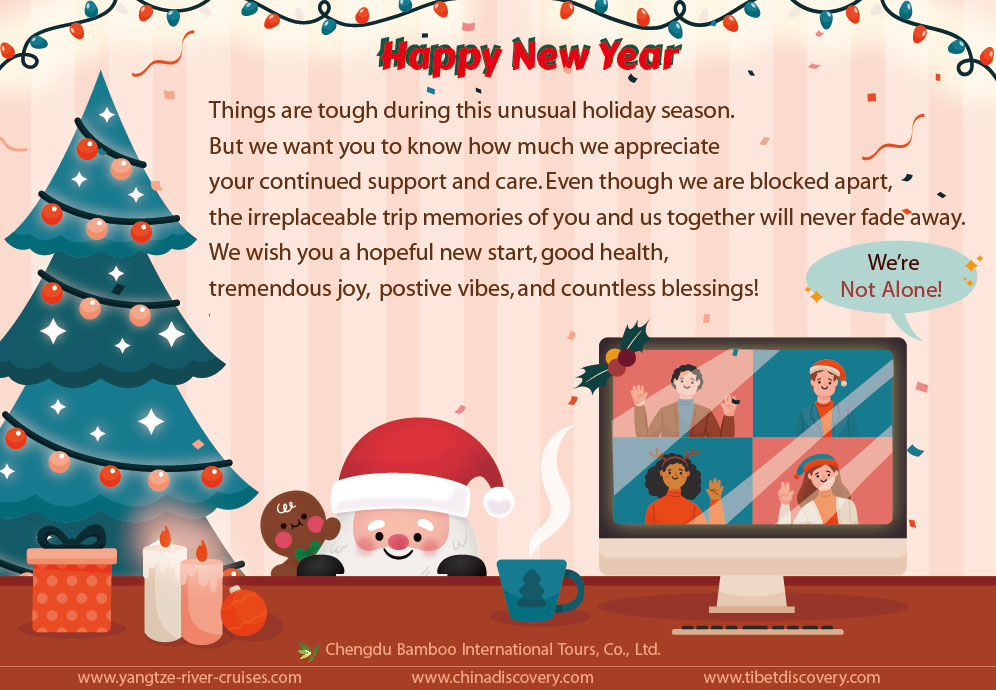 Best Wishes for the Coming New Year
Hi, I'm Vivien, Thomas and Simona's travel consultant. Are you interested in their trip to Xining, Zhangye, Guilin, Zhangjiajie and more cities? Please feel free to contact me for more details of their travel such as trip itinerary, accommodation or other arrangements. If you want to take a similar trip or customize your own China tour, just e-mail me. It's my pleasure to invite you to our country and join us in appreciating this charming land.
Vivien

Travel Consultant
Other Stories of Similar Route
Stories You May Also Like
Recommended Tours
Top 3 tours chosen by most customers to explore in the best way. Check the detailed itinerary, or tailor your own trip now with us.
8 Days Qinghai Lake Zhangye Danxia Badain Jaran Desert Wonders Tour

Xining - Zhangye - Badain Jaran Desert
7 Days Best Guilin Zhangjiajie Landscape Exploration

Guilin / Zhangjiajie
6 Days Shanghai Zhangjiajie Highlights Tour with Glass Bridge Experience

Shanghai / Zhangjiajie
Have a question? Get answers from our travel experts or guests
Your Question:

Your Name:

Your Email: