I'm from Canada and love nature, trekking and scenery. My brother and I were very satisfied with China Discovery's private 6-day guided tour of Guilin. The service was professional, friendly and well coordinated. The experience gives foreign visitors a taste of local foods and customs in China that we wouldn't otherwise get to experience. Not to mention the scenery in Guilin and surrounding area is uniquely stunning-- Quoted from TripAdvisor
Itinerary introduced by Lily
Hello, I am Lily, China Discovery's travel consultant. I arranged Ben and his brother Micaiah Guilin tour in September. It is one of best seasons for Guilin tour. Ben contacted me at the end of August and booked the tour later. Although we found a little timing conflict on flight schedules, I quickly changed the itinerary accordingly. As everything was ready, they set off for their journey scheduled.
A 6-day In-depth Guilin tour just needs one easy click and all they need to do in Guilin is to enjoy the spectacular Chinese view. Come with Ben and Micaiah to enjoy one Guilin tour.
Day 1  Reunion in Guilin
Ben and his brother Micaiah met each other in Guilin. Arriving by different flights, the brotherhood and the beautiful scenery in Guilin reunited them together to enjoy their holiday in China.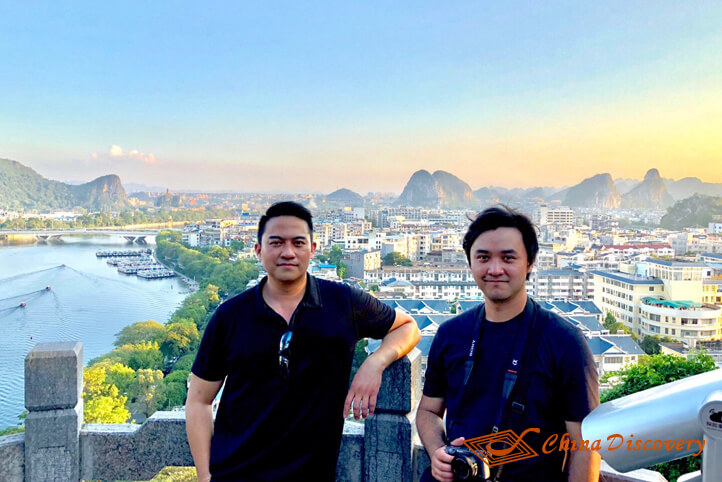 Mr. Ben Santos and Mr. Micaiah Santos
Day 2 Hiking at  Longji Rice Terraces
They were driven about 90km (about 2.5 hours) to witness one of the most beautiful rice terraces in China - Longji Rice Terraces.
Hiking at Longji Rice Terraces
As they got there, they hiked up to the hotel located near the rice terraces. After some rest, they continued their journey to the great scenic lookouts at Seven Stars with Moon and Nine Dragons and Five Tigers. It's a sunny day and the half-day hiking experience gave them a good impression on the harvest scenery in Longsheng.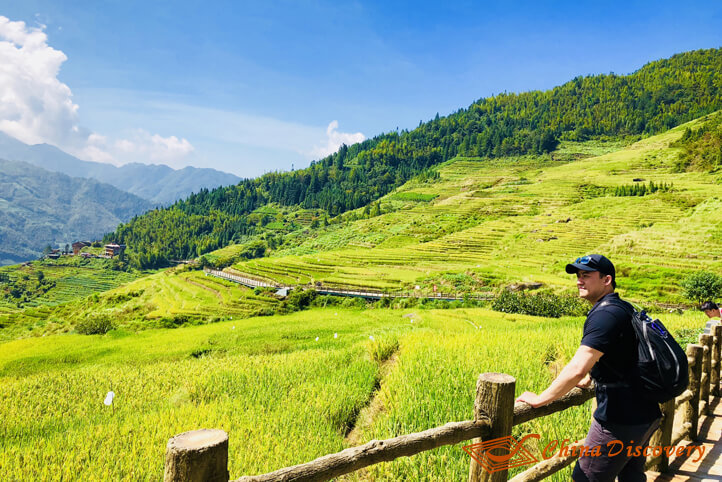 Spectacular Landscape of Longji Rice Terraces
Day 3  Hiking from Piang'an to Dazhai
Ben and Micaiah enjoyed an in-depth hiking tour on their third day in China. Comfortable shoes helped their walking on the winding road from Piang'an, via Zhongliu and finally to Dazhai. The whole hiking lasted about 4 hours.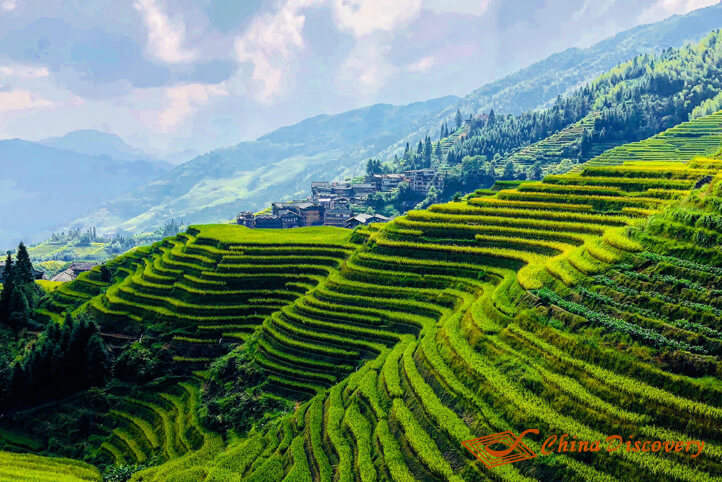 Layers of Green Terraces
Along the way they indulged one of the most spectacular views: primitive minority villages are surrounded by endless layers of golden and green terraced fields, which are tenacious climbing the hillsides. On the top of mountain laid soft fleecy clouds. When the cloud has been drifted away, they saw clear blue sky.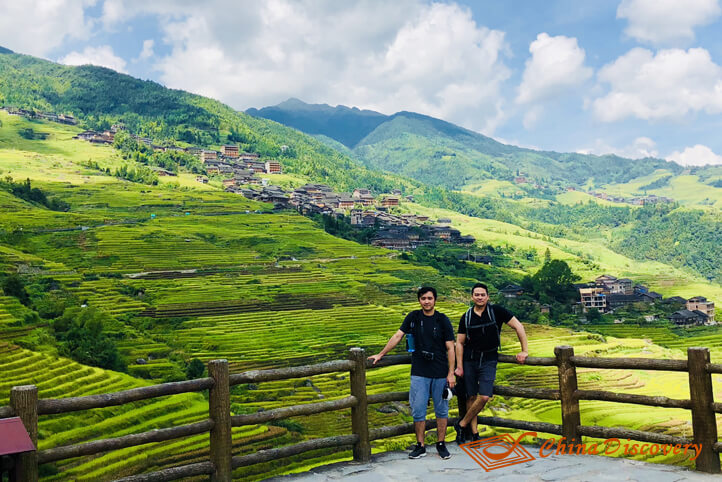 Priceless Brotherhood
Day 4  Sightseeing Cruise from Guilin to Yangshuo
It was a relaxing day that Ben and Micaiah took a sightseeing cruise along the Li River from Mopanshan Pier to Yangshuo Town.
The 84-kilometer cruise offered them a sense of travelling in an endless Chinese painting. Green mountains stood while cattle leisurely walked along the winding riverside.
After about 4 hours' cruise, Ben and Micaiah arrived at Yangshuo town. This evening they had a peaceful time in West Street and a delicious dinner at a local restaurant.
Idyllic Li River Landscape and Leisure Time at Yangshuo
Day 5  Yangshuo Countryside & Guilin Iconic Sights
After breakfast, Ben and Micaiah set off to explore beautiful countryside views of Yangshuo. They chose to take sightseeing bus from Jima to Gongnong Bridge to appreciate the lovely countryside view (about 0.5 hour). 
After lunch they returned to Guilin for a city tour. The first stop was the symbol of Guilin landscape - Elephant Trunk Hill. A giant rock hill vividly shapes like an elephant. The second stop was Reed Flute Cave, a majestic underground palace with sparkling different colors.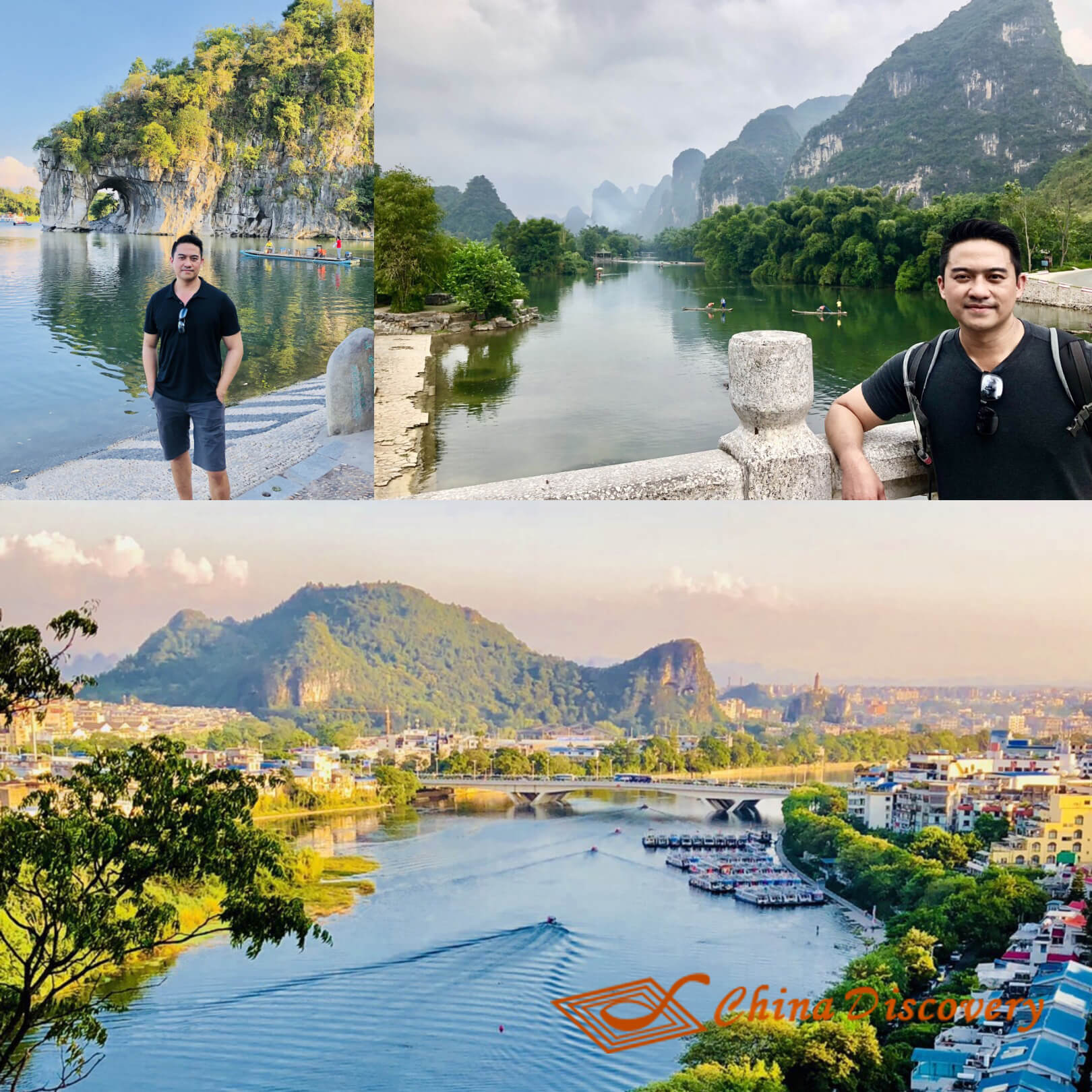 Picturesque Guilin
Day 6  Departure from Guilin
Ben and Micaiah finished their holiday and were escorted to the airport.