Amid Travel Restrictions, We Enjoyed A Family Trip in Idyllic Guilin
-- James's 4 Days Guilin Family Travel Experience

Departure Date

2021-08-05

Travel Length

4 Days

Travel Theme

Nature, Family, Leisure

Group Size

3

Travel Route

Shenzhen - Longsheng - Yangshuo - Guilin - Shenzhen

Highlights

Li River Cruise, Longji Rice Terraces, Yulong River, etc.

Story Tags

#Guilin Tour#Yangshuo Tour#Li River Tour#Nature Tour#Cruise#Nature
James, along with his wife and their lovely daughter, lived in Shenzhen and had traveled extensively to explore the vast land of China However, due to the ongoing Covid-19 situation, traveling became challenging. To ensure a worry-free tour, they found China Discovery on line and made an inquiry. Leo, with years of experience designing personalized itineraries for travelers, contacted James soon and customized a tour to Guilin, a city famous for its picturesque mountains, crystal-clear rivers, and traditional Chinese agriculture. Just as they expected, it was an amazing trip.
"Overall we had a fantastic trip! While we have always been more independent travelers, the changing status of restrictions due to COVID made us reluctant to book our own trip – we wanted to have someone we could call and/or have by our sides to help address any concerns, at least someone with a better fluency than ours. "James excitingly give his thanks to Leo.
Their first day began with a train journey from Shenzhen to Guilin. Upon arrival, they are met and then escorted to Longsheng Rice Terraces by the local guide. Before dropping off their belongings at Longji One Art Hotel, they were amazed by the awe-inspiring landscape of terraced rice paddies that stretched for miles along the mountainsides. They loved the hotel's atmosphere, room, people, and food, and James said they hoped to return and stay there.
The next day, they woke up early to witness the beautiful sunrise. Despite the effects of sleep deprivation, they really enjoyed the beautiful contrast of light and shadow as the sun slowly rose over the horizon, illuminating the terraced hillsides. The mist and fog that often envelop the area added to the enchanting atmosphere. After breakfast at the hotel, they hiked through the fields, appreciating the intricate patterns of the rice paddies.
Longji Rice Terraces Dotted with Villages, Photo Shared by James, Tour Customized by Leo
"Incredible beauty! So few people were there, we had the whole area to ourselves. It FAR exceeded our expectations! We loved everything about Ping'an and hope to return to see the terraces in a different season. We loved the Yangshou and hope to return there." James commented about their trip in Longsheng Rice Terraces. He also advised that it would have been better to know about packing ONE bag to take up to Ping'an, while it wasn't a terrible inconvenience to unpack/re-pack in a parking lot.
Layers of Rice Terraced Fields, Photo Shared by James, Tour Customized by Leo
Of course, a Guilin tour is not completed without a Li River cruise experience. On the third day, a 4-hour cruise ride from Guilin to Yangzhuo unfolded the most impressive Chinese landscape scroll in front of James and his family's eyes. The beauty of typical karst topography – the verdant karst mountains towering above and the tranquil waters shimmering below swept them off of their feet. The provided lunch was actually quite good. As they arrived in Yangshuo County, the scenery became even more captivating. Just like an old Chinese saying suggested, "Guilin's scenery is the best under heaven; Yangshuo's scenery is the best in Guilin". The bamboo rafting on Yulong River offered was an immersive journey through a poetic landscape, and created an unforgettable experience of tranquility and wonder.
The Idyllic Scenery of Yulong River in Yangshuo, Photo Shared by James, Tour Customized by Leo
James also spoke highly of the hotel they lived in Yangshuo, "The Bamboo Leaf outside Yangshuo they stayed was really great. By fate, we knew a fair amount of people staying there, from Guangzhou and Shenzhen. The food there was FANTASTIC! We definitely plan to return to Yangshou and would stay at the Bamboo Leaf. We would go just for the dinner!"
On the last day, they spent an half day exploring the landmarks in Guilin. Overshadowed by picturesque Li River, Longji Rice Terraces and idyllic Yangshuo, Reed Flute Cave and Elephant Trunk Hill were cool but not awesome.
After this 4 days Guilin highlights trip, they took a high speed train back to Shenzhen. James also gave reviews on the train, "The train was super comfortable, all pick-ups and drop-offs were good".
James said he couldn't help to recommending Leo and China Discovery to others - everything worked as planned and promised. "We appreciate your help, and had the comfort knowing that if the situation changed due to travel restrictions, etc., we had someone to help us. It was a curious time to travel, as cases were picking up in other areas."
(Above travel story was written by our editor, inspired by our customer James' real experience and his review on Tripadvisor.com.)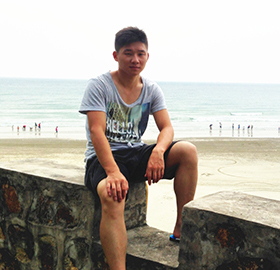 Hi, I'm Leo, James' travel consultant. Are you interested in their 4 days Guilin tour? Want to know their trip itinerary, accommodation, transportation or other arrangements? Feel free to contact me, and I will be glad to tell you more stunning stories about the places they visitied. Or, if you want to customize a tour on your own, I'm always ready to help at any time. Just like you, I love to travel and my favorite is riding on the road. So I'd like to invite you to China and help you work out a perfect travel plan. Come to join us and I'm just here waiting for you.
More Travel Stories by Destination
Our Real Customers' Travel Photos
Recommended Tours
Top 3 tours chosen by most customers to explore in the best way. Check the detailed itinerary, or tailor your own trip now with us.
4 Days Guilin Highlights Tour (Li River, Yangshuo & Longji Terraces)

Guilin / Yangshuo / Longsheng
3 Days Classic Guilin Tour - Guilin Brief Vacation

Guilin / Yangshuo
4 Days Li River Cruise with Yangshuo Hiking Tour

Guilin / Yangshuo / Guilin
Have a question? Get answers from our travel experts or guests
Your Question:

Your Name:

Your Email: