Yantai Maps 2023: Updated, Detailed and Downloadable
Located on the Jiaodong Peninsula of Shandong Province, Yantai enjoys a reputation as the Mountain & Sea Wonderland and Wine City. In Yantai, you can not only savor the natural beauty of mountain and sea, but also explore the myth of many Chinese legends, like eight immortals crossing the sea, Xu Fu's eastward crossing, Emperor Qin shooting Jiao (a legendary animal), etc. which add more mystery to Yantai. Traveling to Yantai gives you an opportunity to have an eyes-feasting and interesting experience. In order to help you have a better understanding of Yantai, here we give you the detailed Yantai Location Map and Yantai Tourist Map for your reference.
√ 2 Days Yantai Classic Tour | √ 5 Days Golden Coast of Shandong Tour | √ 9 Days Shandong Panorama Tour
Yantai Location Maps - Where is Yantai
Yantai is located in northeastern part of Shandong Province, bordering two other coastal cities – Weihai in east and Qingdao in west. It is about 445 km to Jinan – Shandong's capital city, 400 km to Qufu – the hometown of Confucius and about 520 km to Taian where Mount Tai is located.
Yantai Tourist Map
Visiting Yantai, what you can't miss includes Penglai Pavilion – one of China's four greatest pavilions, Yantai Mountain Scenic Spot – the symbol of Yantai surrounded by the beautiful sea, Changyu Wine Culture Museum - a European castle building displaying the history of how Yantai became the wine city. Besides, you can visit Yangma Island, Kunyu Mountain and Yantai Gold Beach which are all good places to relax yourself.
How to Plan Yantai Tour
Generally, a classic Yantai tour takes at least 2 days (including arrival and departure days). If you arrive in Yantai in the morning, you can spend an afternoon immersing yourself in the legend of Eight Immortals Crossing the Sea in Penglai Pavilion. On the next day, it is recommended to first visit quaint Yantai Hill Park which is well-preserved with stone paths, leafy gardens and some other architectures, and then explore Chinese wine in Changyu Wine Culture Museum before you leave. If you have more time, you can have a relaxing stay in the beaches of Yantai, like Yantai Gold Beach, No. 1 Beach, No. 2 Beach, etc.
In fact, Yantai is always traveled with other cities in Shandong's coastline, including Qingdao and Weihai. It is really worthwhile to spend 2 days savoring Qingdao highlights, like Badaguan Scenic Resort, Qingdao Beer Museum, Laoshan Mountain etc., and visit beautiful Chengshantou Scenic Area and Liugong Island in Weihai.
Seascape is just a small piece of charming Shandong. If you want to add Chinese traditional culture savory into your trip, we strongly suggest you visit Mount Tai and Qufu. Mount Tai is the first UNESCO World Natural & Cultural Heritage site while Qufu is the hometown of Confucius. Spending another 2~3 days visit these two destinations will deliver you an unforgettable experience of Chinese culture discovery.
√ 2 Days Most Classic Mount Tai Hiking Tour
√ 2 Days Taishan & Qufu Tour from Beijing by Bullet Train
√ 6 Days Jinan, Qufu, Mount Tai & Qingdao Tour
Enjoy Beautiful Sunset in Yantai Mountain Scenic Spot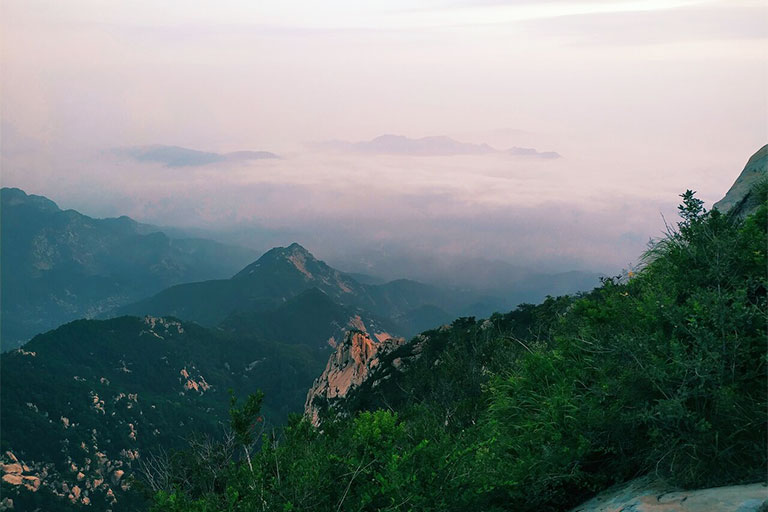 Mount Tai, Shot by Our Customer
Travel with China Discovery
China Discovery is professional to provide high-quality customizable tour. Before your tour, our travel expert will communicate with you one to one and make an itinerary according your own interest, need and budget. Every detail - transfer, hotels, attractions, etc. will be arranged well for you. During your tour, the professional local guide and driver will escort you from your hotel, train station, airport to all attractions with comfortable private car with speed and convenience and you just need to focus on sightseeing. do not hesitate to contact us to start your amazing China tour!
More about Shandong Travel Guide
Recommended Qingdao Tours
Top 3 Qingdao tours chosen by most customers to explore Qingdao in the best way. Check the detailed itinerary,or tailor your own trip now with us.
2 Days Yantai Classic Tour

Yantai
5 Days Qingdao Weihai Yantai Coastal Tour

Qingdao / Weihai / Yantai / Penglai / Qingdao
9 Days Shandong Panorama Tour

Qingdao / Weihai / Yantai / Weifang / Zibo / Qufu / Mount Tai / Jinan