Things to Do in Shandong | Top Shandong Tourist Attractions
Shandong Province, a peninsula located on China's northeastern coast, is an ideal place to travel. Its several beautiful coastal cities endow Shandong with breathtaking seascape and carefree holiday atmosphere. More than that, regarded as one significant cradle civilization of China, Shandong is abundant in cultural fascination. China's most influential philosopher – Confucius was born here, the first World Nature and Cultural Heritage site – Mount Tai is located here, many world-level festivals are celebrated here, several countries built architectures of different styles in colonial period here… No matter you want to savor picturesque nature, learn China's history, explore rich culture or just spend a light-hearted holiday, Shandong can offer you a trip as you expected. In the vast land of Shandong, you are able to fully experience the diversity of Chinese splendor. Here we list the best things to do in Shandong and highlight the top Shandong attractions to help you have a valuable holiday.
No.1 Enjoy the Best Seascape in Shandong's Coastal Cities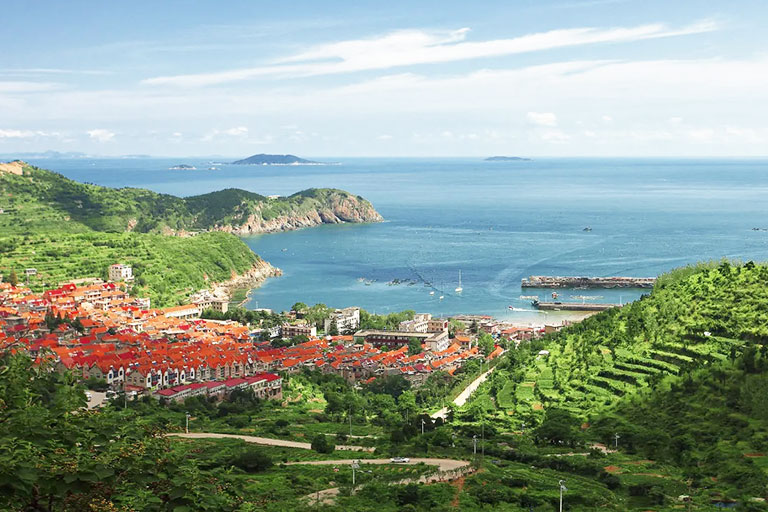 Stunning View of Mountain and Sea from Laoshan Mountain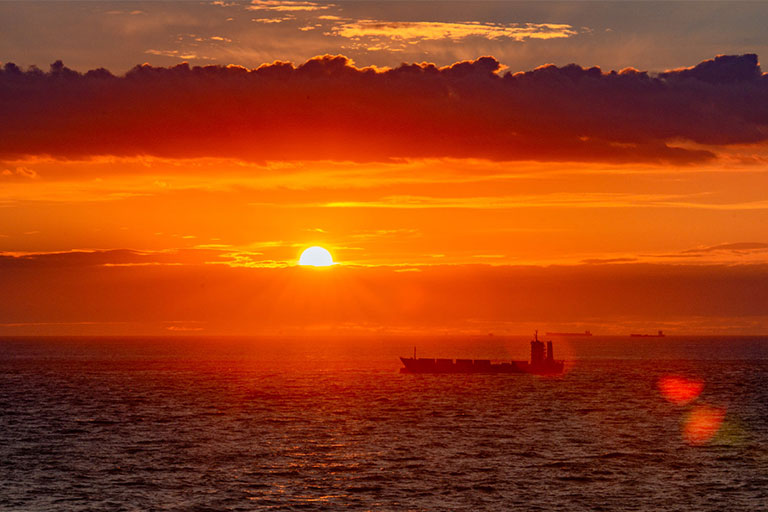 Incredible Sunrise over the Sea (Seen from Chengshantou)
In Shandong Peninsula, seascape is a big highlight for nature lovers. There are seven cities of Shandong located in the coastline, including Qingdao, Yantai, Weihai, Weifang, Dongying, Binzhou and Rizhao. Among the seven cities, the first four are more popular among travelers. Spending a half day by the sea in one of these cities, you will relax yourself in peaceful and comfortable environment created by gentle breeze, warm sunshine, golden beaches, salt spray and blue sky.
Apart from walking close to the sea, you get many other opportunities to enjoy the sea in different ways. Climbing to Laoshan Mountain in Qingdao offers you a visual feast of the breathtaking view of picturesque seascape and peculiar peaks together. It is also available to take a suck of Taoist atmosphere there. Visiting Xiaoyushan Park or Signal Hill Park in Qingdao, you are able to enjoy the sea and Qingdao's featured old & modern buildings in one sight. From Penglai Pavilion in Yantai, you can see a big gourd floating on the sea. Don't miss Chengshantou Scenic Area in Weihai, if you want to see an incredible sunrise over the sea. It is also the earliest sunrise over the sea can be seen in China.
√ 5 Days Golden Coast of Shandong Tour
√ 3 Days Qingdao Highlights Tour
No.2 Hike to Mount Tai to Explore the World's First Natural and Cutlural Heritage Site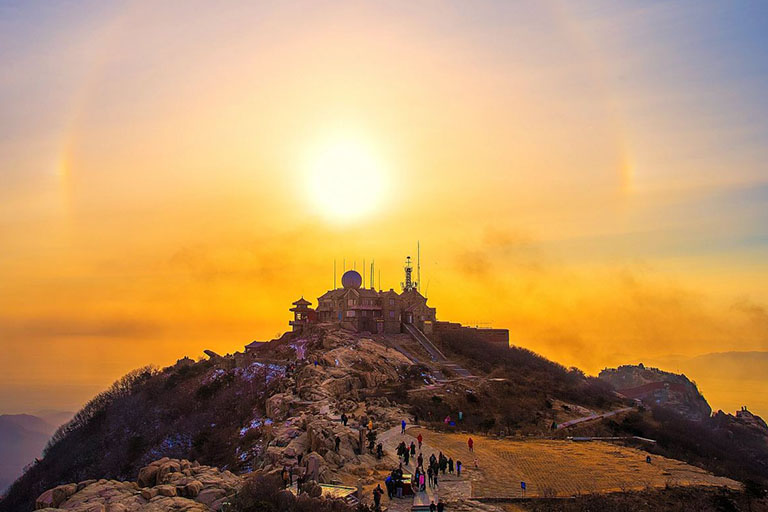 Jade Emperor Peak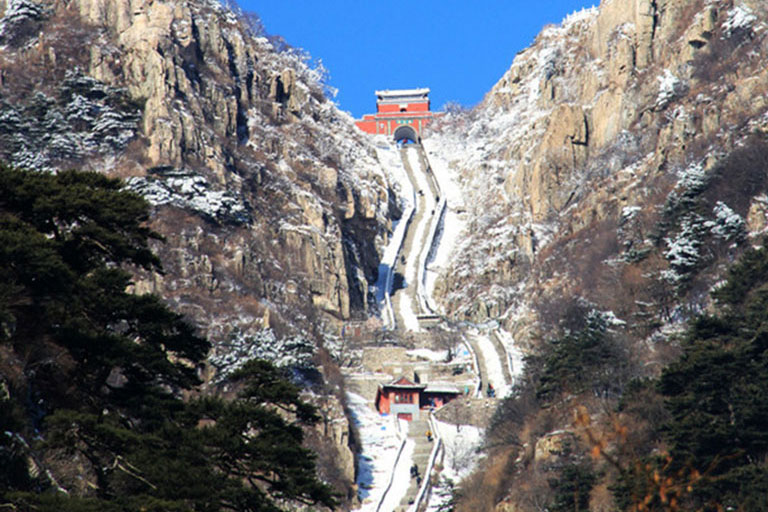 Imperial Hiking Path
Mount Tai (Taishan Mountain), visited by 72 Chinese emperors, is an important mountain in China's long imperial history. Because of its cultural significance and natural charm, Mount Tai was listed in World Natural and Cultural Heritage sites in 1987 and became the first double heritage site recognized by UNESCO in the world. Besides, it is also the greatest one of Five Sacred Mountains in China. A hiking experience in Mount Tai delivers you a visual sightseeing of beautiful nature as well as a better exploration of the old story.
There are four popular hiking trails offering different highlights and requiring different physical demands. Generally speaking, Hongmen Trail (Hongmen – Zhongtianmen - Summit) is the most classic Mount Tai Hiking Trail. The hiking trail stretches 9.5 kilometers and needs about 3~5 hours to finish it. It is also the Imperial Road that emperors walk on to get to the summit of Mount Tai to offer their sacrifices to Gods. Tianwancun Trail starting from Zhongtianmen to Nantianmen is always chosen by regular tourists. You can take a sightseeing bus to Zhongtianmen from Tianwancun Tourist Center first and then hike Nantianmen. The whole distance is about 4.5 kilometers and needs 2~3.5 hours. If you want to enjoy more historical sites, just take tranquil Taohuayu Trail (Tianzhu Peak to Jade Emperor Peak) and adventurous Tianzhufeng Trail (Taohuayu – Taohuayuan – Summit). Some second-time hikers prefer the last two trails.
Keep Reading: Mount Tai Hiking | Things to do | Fengshan Ceremony
√ 2 Days Enjoyable Mount Tai Hiking Tour
√ 2 Days Most Classic Mount Tai Hiking Tour
No.3 Explore the History and Essence of Confucianism in Qufu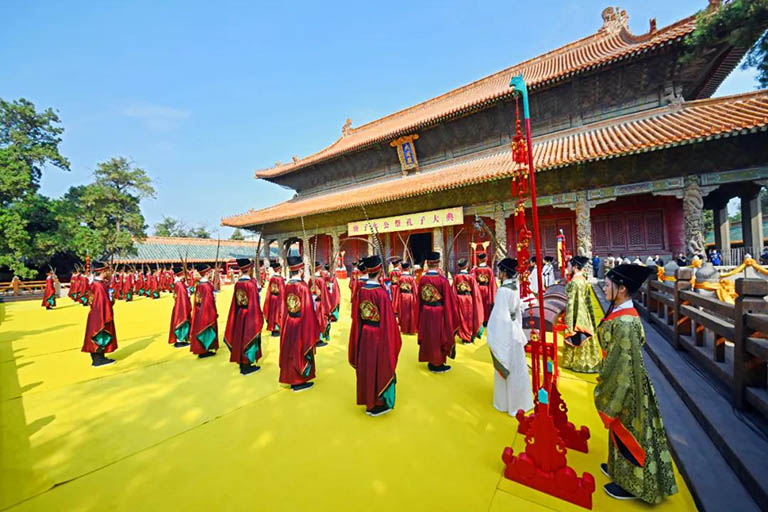 Confucius Ceremony in International Confucius Cultural Festival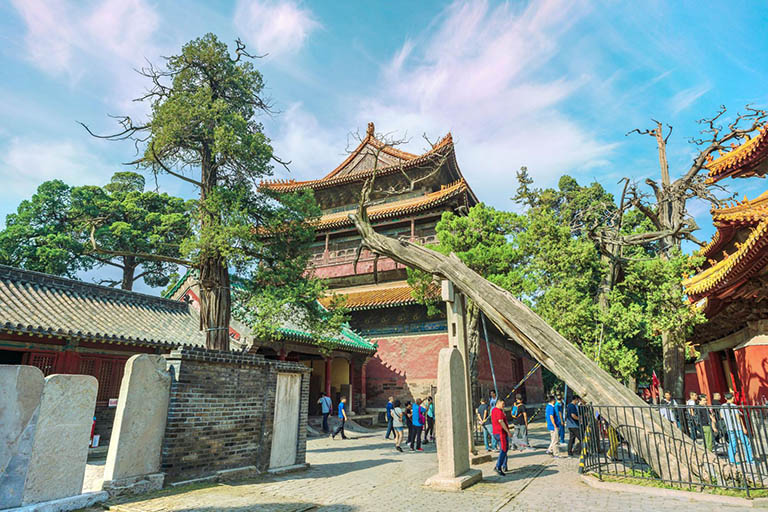 Architecture in Confucius Temple
Confucius in the Spring and Autumn Period (770BC ~ 476BC) is the most influential Chinese philosopher and politician. Its philosophy, namely Confucianism, was part of the Chinese social fabric and lifestyle. At present, there are many Confucius Institutes built to teach Chinese culture. If you are interested in Confucianism or want to learn more about its origin, Qufu – the birthplace of Confucius, is the best place for you.
In Qufu, there are many historical sites telling the life story of Confucius, but the most informative places are Three Confucian Sites, namely the Confucius Temple, the Mansion of Kong Family and the Cemetery of Confucius. The three sites are also UNESCO World Cultural Heritage sites regarded as Oriental Jerusalem. Confucius Temple is the biggest highlight of the three, and you can admire many traditional architectures. For more about Confucius, just visit Confucius Museum which collects over 300,000 Confucius files and many ritual music instruments. Confucius Six Arts City is a nice place to learn interesting Six Arts - Rites, Music, Archery, Chariotry, Calligraphy and Mathematics. It is also recommended to visit Confucius Culture Garden for many performances, public activities, calligraphy, painting, and many other Chinese lectures for a better cultural encounter. For more wonderful experience, you can visit Qufu in Qufu International Confucius Cultural Festival (on August 27 of lunar calendar each year) when Confucius Ceremony can be enjoyed.
Keep Reading: Things to do | Transfer Guide
√ 3 Days Confucius Culture Exploration with Sidetrip to Mount Tai
No.4 Listen to the Bubbling Spring in Jinan
Baotu Spring with Three Spewing Spring Holes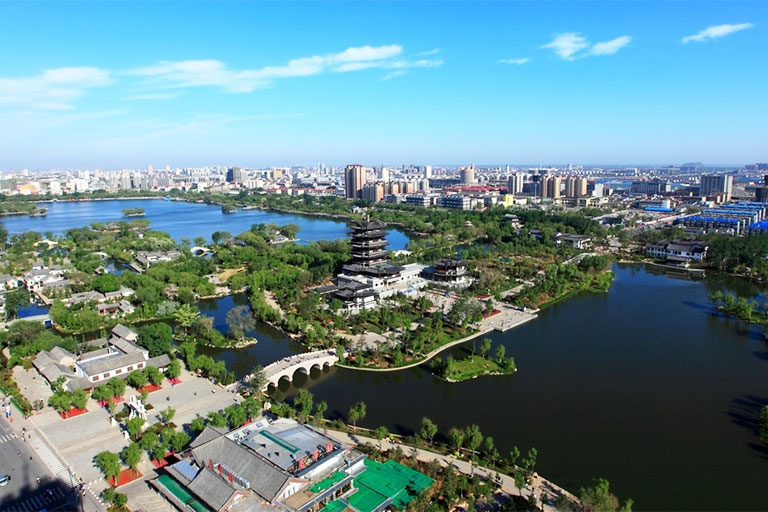 Parnoramic View of Daming Lake
More than the capital city of Shandong, Jinan gets another name as the City of Spring because there are up to 72 named springs in and around Jinan City. These springs in different sizes make Jinan an attractive place for poets.
Baotu Spring is the most famous spring in Jinan and Emperor Qianlong of Qing Dynasty praised it as No.1 Spring under Heaven. It is most magnificent in that there are three water gushing simultaneously with highest water table going to nearly 30 meters. The natural beauty of Baotu Spring attracted many poets here and then they left many literature about Baotu Spring which endow Baotu Spring with cultural significance. Black Tiger Spring is also a great attraction where you can see spring waters gushing through three carved rocks which shape like tiger' mouth. Besides, there are many other springs and lakes to admire, like Daming Lake, Black Tiger Spring, Five Dragon Pool, etc.
Keep Reading: Jinan Travel Guide | Things to do | How to Get to & around Jinan
No.5 Enjoy Featured Architectures in Various Styles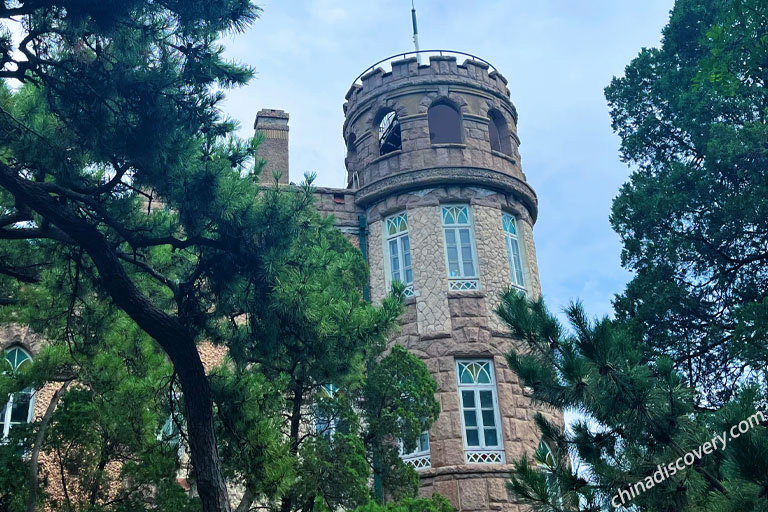 Fetured Tower in Badaguan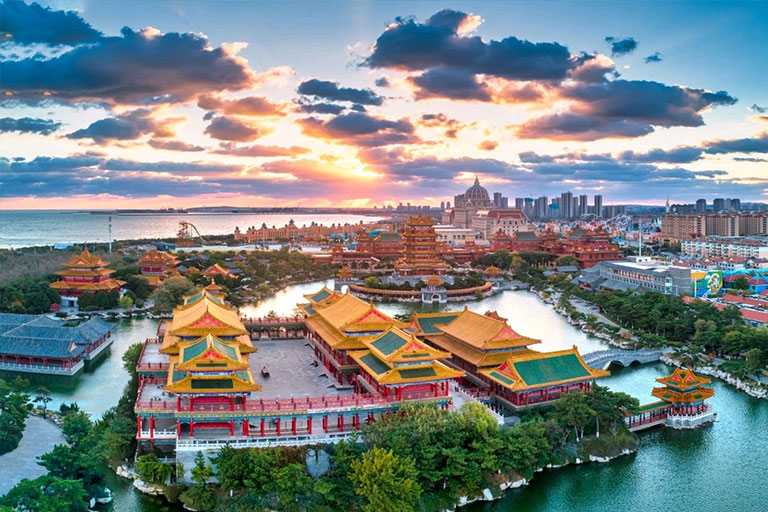 Traditional Buildings in Penglai Pavilion
Traveling Shandong, you can see many featured architectures. For travelers who are interested in traditional Chinese architectures, don't miss Penglai Pavilion, one of China's Four Greatest Towers built in Song Dynasty (960~1279). Besides, many temples in Shandong also show the features of China's traditional architecture style, like Confucius Temple in Qufu, Dai Temple in Taian, Taiqing Temple in Qingdao, etc. More than traditional architectures, modern skyscrapers are also available. From May Fourth Square, you can admire beautiful Qingdao skyline made by many modern architectures. The multi-colored villas of Qingdao is also charming.
In addition to Chinese buildings, it is also available to see many architectures in foreign styles, including German, Russian, French, American, Danish, Greek, Spanish, Swiss, Japanese... If you want to get a European feeling, you can visit Badaguan Scenic Resort in Qingdao, where about 200 old buildings in over 20 different countries' styles are located. More than that, there are many other splendid European style architecture in Qingdao, like Qingdao Railway Station, Qingdao Site Museum of the Former German Governor's Residence, Protestant Church and so on. In Yantai, there are many European architectures for your savory as well. Visiting Yantai Hill Park, you will get a really amazing view.
No.6 Have A Hilarity in Qingdao International Beer Festival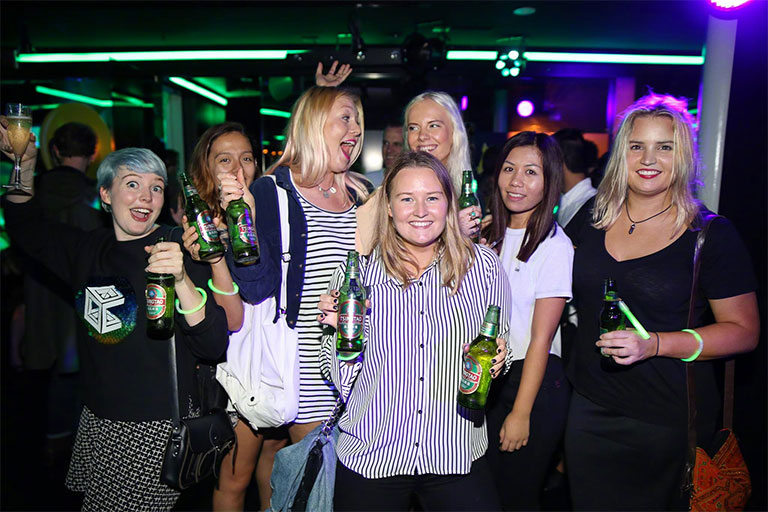 Taste Vairous Beer in Qingdao Beer Festival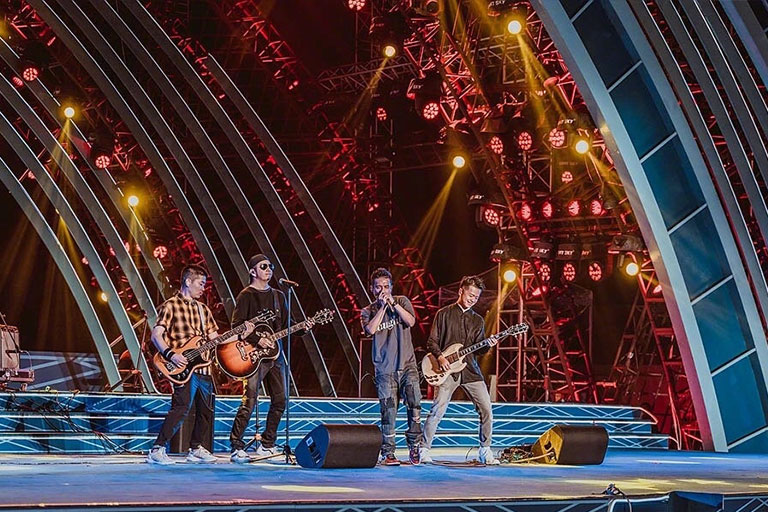 Great Show in Qingdao Beer Festival
Qingdao's natural scenery is superb, but what makes it world-famous is Tsingtao Beer, which is always referred as China's best beer. Most beer enthusiasts carry out their Qingdao tour in Qingdao International Beer Festival – Asia's Oktoberfest for a hilarity. This festival usually takes place on the second weekend of August every year and lasts for 16 days (might be different in different years). Breweries from dozens of countries and domestic cities in China will participate in the event, so enough beers with different brands can be savored. More than beer, many performances and competitions will be held as well. Light show and firework show are really favored by most people. All travelers, drinkers and abstainers, the old and the young, can have a good time. The main venues of Qingdao International Beer Festival are Golden Beach and Laoshan Century Plaza.
If you are interested in Tsingtao Beer but you unfortunately miss Qingdao International Beer Festival, never mind, Qingdao offers great beer experience whenever you come. You are also recommended to visit Qingdao Beer Museum to learn about the history of Tsingtao Beer Museum and Tsingtao Beer Street for the local beers and a big variety of seafood.
No.7 Take A Probe into Shandong's History in Shandong's Museums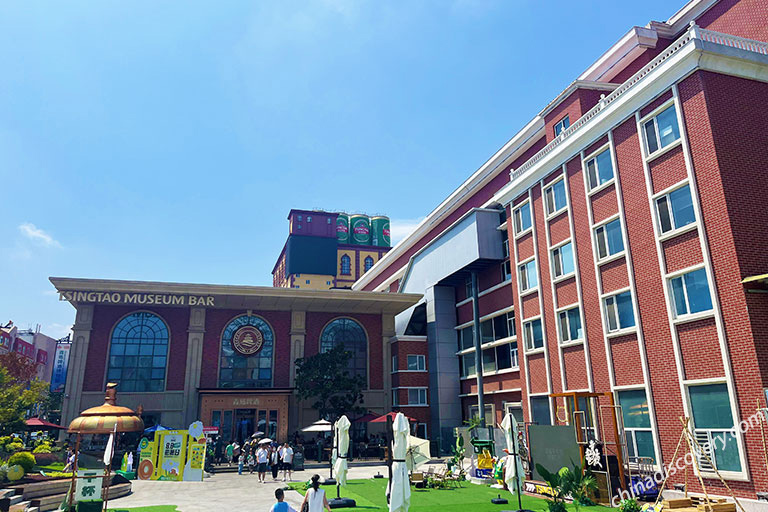 Qingdao Beer Museum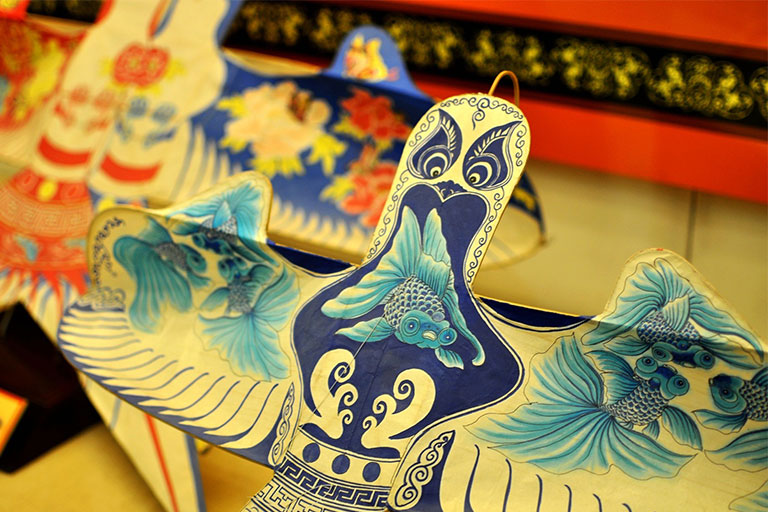 Kite Exhibitied in Weifang Kite Museum
Shandong plays a significant role in the long history of China since the beginning of Chinese civilization along the lower reaches of the Yellow River. To better understand China's history in Shandong, visiting informative museums is the best way. In Shandong, there are various museums to appreciate, the most recommended ones are the followings.
Qingdao Beer Museum: Qingdao Beer Museum is the best place to know the past and present of Tsingtao Beer. It orderly displays complete process of making the beer and many old brewery barrels. You can even experience what it feels like to be drunk in the museum.
Shandong Museum: Shandong Museum is the provincial museum located in the capital city – Jinan. The highlights of this museum are the historical collections of relics from ancient times and the popular treasures include Red Color Zoomorphic Pot, Bronze Lei-vessel with Tile Design, Mei Li-tripotYue-ceremonial Axe with Yachou Emblem, etc.
Weifang Kite Museum: Weifang Kite Museum is located in Weifang – the World Capital of Kites. From its galleries you can take a glimpse of models and kites from China's old to modern times as well as various kites from different corners of the world.
Changyu Wine Cultural Museum: Just as its name suggests, this museum displays the history of Changyu Wine and Chinese wine culture. This museum also takes you through the whole process of making wine.
Liugongdao Exposition: Located in Liugong Island of Weihai, Liugongdao Exposition is a comprehensive museum that integrates Liugong Island's long history and rich culture. It tells the history of Luigong Island and activities in the daily life of its inhabitants mainly during the 19th century.
Far beyond that, there are many other museums presenting Shandong's different aspects. If you are a museum fan, you can also visit Qingdao Museum, Navy Museum (Qingdao), Qingzhou Museum (Qingzhou), Canal Museum (Lliaocheng), etc.
No.8 Taste Delicious Shandong Cuisine - Mother of Northern Cuisine Styles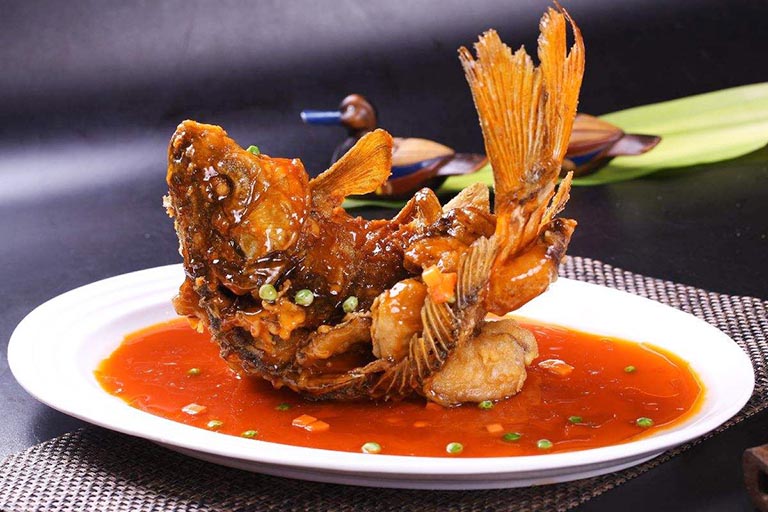 Sweet and Sour Yellow River Carp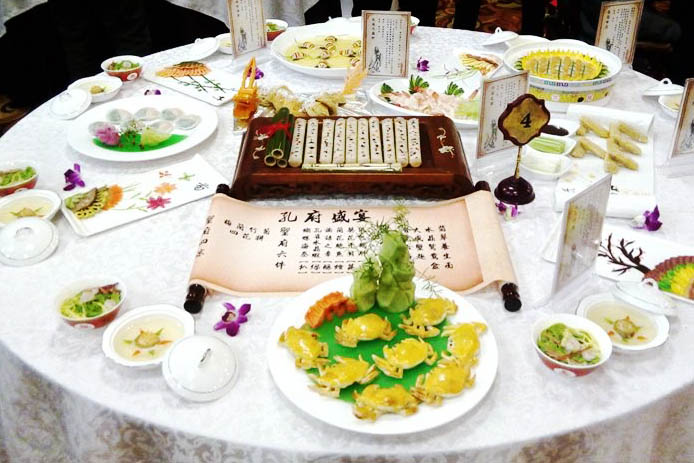 Confucius Mansion Banquet
You can't miss Shandong Cuisine if you visit Shandong. Shandong Cuisine, also called Lu Cuisine, is one of Eight Famous Cuisines of China. Actually, it is also the cuisine with the longest history and most difficulty to cook. Many cooking techniques need to be used in making Shandong food. Shandong Cuisine focuses on the authentic flavor of food - freshness, crispness or tenderness. Most frequently-used seasonings are shallot and garlic. Seafood is a major material for Shandong food and soup is also important in Shandong people's meal.
Most famous Shandong dishes are Sweet and Sour Yellow River Carp, Braised Sea Cucumber with Scallion, Braised Intestines in Brown Sauce and Braised Prawns in Oil. If you want to feast on the best Shandong Cuisine, you can go to Hui Xian Lou Restaurant ( 会仙楼 ) in Jinan and Jiangning Restaurant (江宁会馆) in Qingdao. If you travel Qufu as a group, you can try Confucius Mansion Banquet, a senior hierarchical banquet specially prepared for important guest in special occasion. Moreover, there are many featured Shandong snacks you can easily find in different food streets of every city. Recommended snacks include Clear Oil Coiled Flour Threads Cake, Shandong-style Dumplings, Four-Joy Meatballs, Penglai Noodles…
How to Plan Your Shandong Tour
Top Places to Visit in Shandong: Mount Tai, Laoshan Mountain & Badaguan (Qingdao), Confucius Temple (Qufu), Baotu Spring (Jinan)…
Best Time to Visit Shandong: April ~ June & September
How to Get to Shandong: Take international / domestic flights to Qingdao / Jinan, or high speed train to Jinan, Qufu, Tai'an, Qingdao, etc.
You can plan your Shandong tour by destinations, seasons you come, trip duration, themes, etc. Generally speaking, Qigndao, Mount Tai and Qufu are the most popular destinations in Shandong, which can be visited in a 4~5 days tour. If you have 2 more days, you can extend your tour to Jinan, the City of Springs, to experience authentic Chinese living and visit the wondrous springs. If you prefer leisure coastal holiday, you can travel from Qingdao to Weihai, Yantai, etc. A Shandong Panorama tour is also recommended if you have about 9~10 days to stay in Shandong, which unlocks deeper culture of Shandong in Weifang, Zibo, etc.
Classic Shandong Tour
Jinan – Qufu – Mount Tai – Qingdao
This tour presents you the past and present of Shandong is just one go, strongly recommended for the first-timers. Jinan and Qufu are two best place to experience local culture especially Confucius culture, while Mount Tai offers a chance to hike and Qingdao allows you to slow down to enjoy a true holiday.
✔ 6 Days Best of Shandong Tour
Shandong's Golden Triangle
Qingdao – Qufu – Mount Tai
This is a classic Shandong tour which is recommended for those who are short on time. It goes to the Golden Triangle Destinations – Qingdao, Qufu and Mount Tai, three most visited places in Shandong with their own features. Qufu and Mount Tai are only about 75km from each other, and can be arrived by high speed trains from Qingdao in 3 hours. If you prefer more Chinese culture in your trip, this is the tour for you.
✔ 4 Days Qingdao Qufu Mount Tai Essence Tour
Shandong Panorama
Qingdao – Weihai – Yantai – Penglai – Weifang – Zibo – Qufu – Mount Tai – Jinan
This Shandong Panorama itinerary takes you to explore all the highlights of Shandong Province, to dig deeper into its culture, history and nature. You will visit the most classic Jinan, Qingdao, Mount Tai and Qufu, but also explore its beautiful coastal lines, golden beaches, seascape in Shandong Peninsula, and experience interesting kite culture in Weifang and discover further history of Shandong in its former ancient capital Zibo. Tour pace is slow and enjoyable.
✔ 9 Days Shandong Panorama Tour
Shandong holds a tourist-friendly location in China. It is located in the middle of Beijing Shanghai high speed railway. You can simply travel Shandong with Beijing, then extend to Shanghai, which is a classic China tour, or travel from Shandong to Henan and Xian for an in-depth Chinese culture exploration. If you prefer natural experience, travel southward to Anhui where the most beautiful mountain in China sits – Yellow Mountain. To explore the elegant part of Chinese culture, you can travel to Nanjing and Suzhou of Jiangsu Province which is close to Shanghai. You can also travel Shandong with Chengdu, the hometown of Giant Pandas and Sichuan Cuisine, Zhangjiajie, the famous Avatar world, relaxing, Yangtze River Cruise, even the holy land Tibet.
China Discovery is specialized in providing tailor-made China tours of different themes to different destinations. You will travel with a well-organized itinerary, don't have to worry about hotels, transportation and food, be taken care of by your personal tour guide throughout your holiday in China. Contact us to customize your own China tour now!
✔ 6 Days Beijing & Qingdao Tour by High Speed Train
✔ 8 Days Beijing Shanghai Speed Train Tour with Confucianism Exploration
✔ 10 Days China World Heritage Tour in North China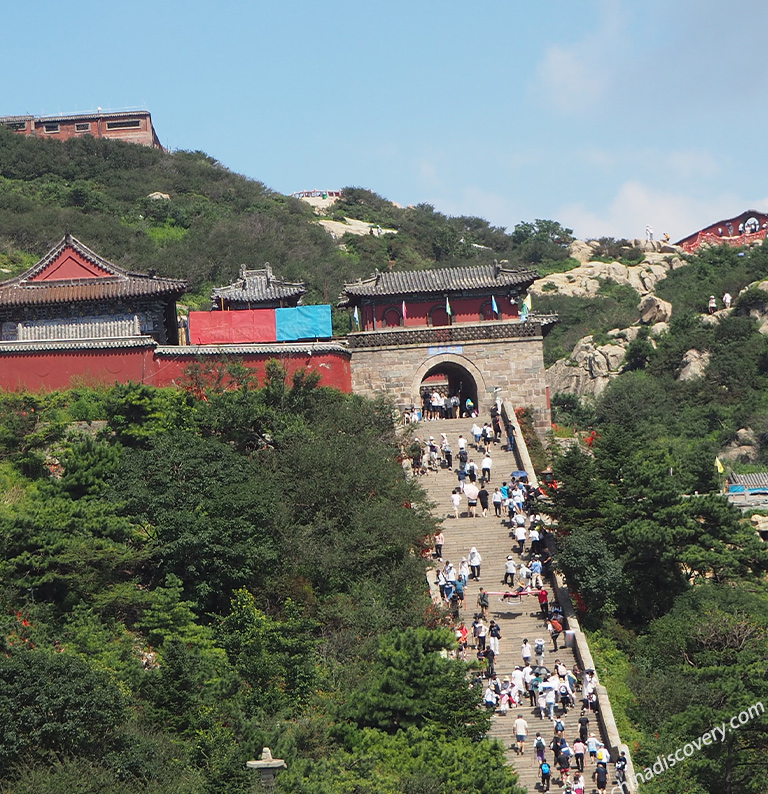 Mount Tai in July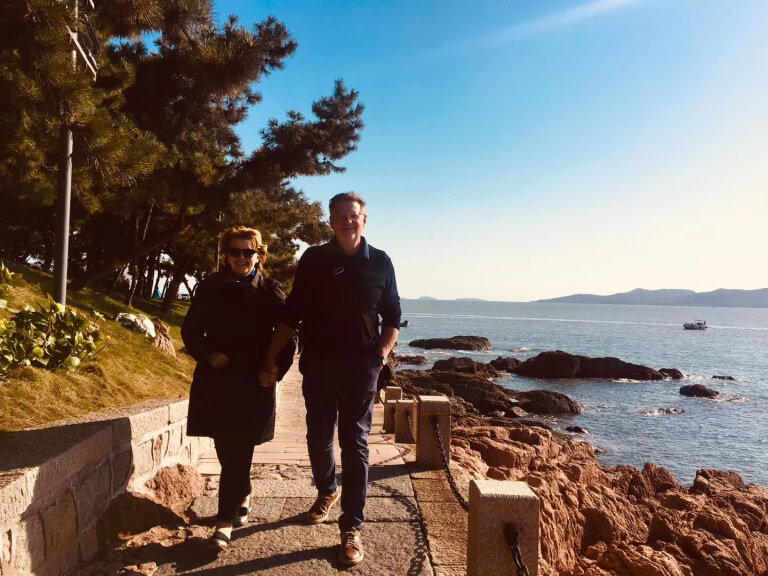 Our deal guests visited Qingdao with our tailor-made Qingdao tour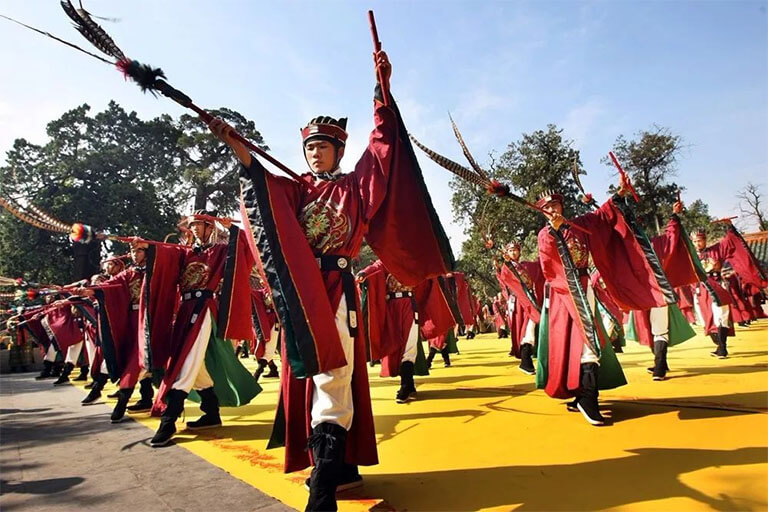 The Temple of Confucius in Qufu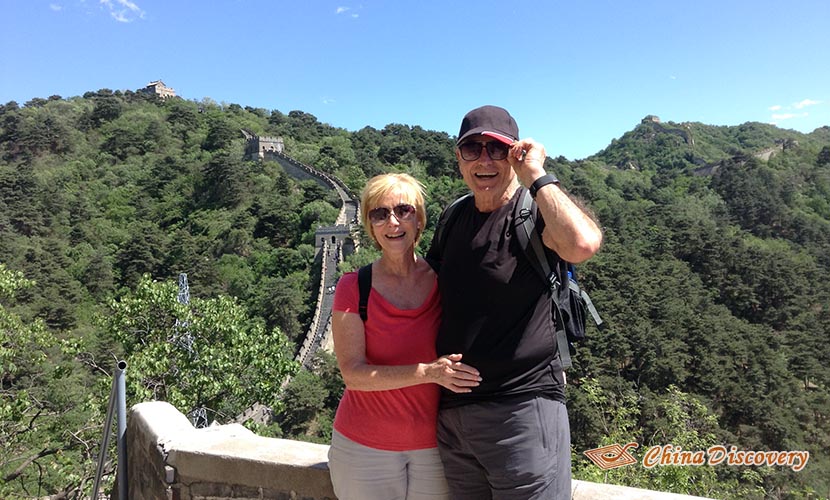 Our dear guests hike Mutianyu Great Wall in Beijing
Top Shandong Destinations
More about Shandong Travel Guide
Recommended Shandong Tours
Top 3 Shandong tours chosen by most customers to explore Shandong in the best way. Check the detailed itinerary, or tailor your own trip now with us.
6 Days Best of Shandong Tour

Jinan / Mount Tai / Qufu / Qingdao
4 Days Qingdao Qufu Mount Tai Essence Tour

Qingdao / Qufu / Mount Tai
9 Days Shandong Panorama Tour

Qingdao / Weihai / Yantai / Weifang / Zibo / Qufu / Mount Tai / Jinan
Start planning your tailor-made holiday to China by contacting one of our specialists. Once inquired, you'll get a response within 0.5~23.5 hours.
Customize a Trip
Have a question? Get answers from our travel experts or guests
Your Question:

Your Name:

Your Email: