How to Plan a Shandong Tour - Shandong Trip Planner 2023/2024
Why You Should Visit Shandong?
There are many reasons why you should visit Shandong. Visiting Shandong means getting closer to the essence of Chinese culture. The province has 4 UNESCO World Heritage Sites and 8 Intangible Cultural Heritage Sites of Humanity, 10 state-list famous historical and culture cities and over 150 traditional vaillages. As one of the ancient states of China, Shandong spawned the siege Confucius who created the famous Confucianism that made foundation to the system of Chinese society, government, education, mainstream thoughts, relationship, etc. that has functioned well for more than three thousand years. Shandong is home to Mount Tai which is the most sacred mountain in China. You can enjoy a unique cultural hike on the mountain. Qingdao, the largest city in Shandong produces one of the best beers in the world. It even holds a magnificent beer festival in every July or August. Shandong is also one of the best places in China to enjoy seascape and golden beaches with a long and beautiful coastline. Travelling in Shandong, you also have a chance to savor at amazing foods and snacks especially the famous Lu Cuisine and sea food.
With some many places to visit and things to do, planning a Shandong tour seems to be a hard work. But with China Discovery's well-created Shandong trip planner, you can easily find the best places to visit, best time to come, best transportation option, best recommendations of hotels as well as best trip itineraries in Shandong.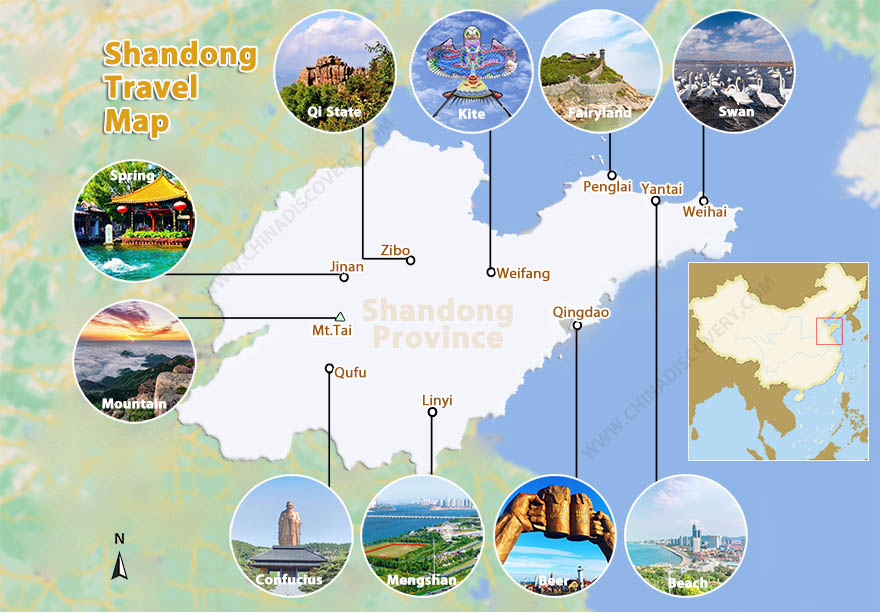 Shandong Travel Map (zoom in to enlarge map)
Best Places to Visit in Shandong
Though not being one of the largest provinces in China, Shandong has many places to visit no matter you are dreaming for a cultural journey or a natural holiday. Generally speaking, Mount Tai, Qingdao and Qufu are the Golden-triangle destinations that first-timers cannot miss out. For an in-depth exploration or the second timers, Jinan, Weihai, Yantai, etc. are worth discovering.
Mount Tai – ideal place for a cultural hike
Mount Tai is the UNESCO's first World Cultural and Natural Heritage Site as well as the most sacred and visited mountain in China due to its important role in Chinese culture. Ancient Chinese emperors came to this mountain to pay sacrifices to God, while the poets and other visitors came to Mount Tai to show their respects to the mountain and enjoy spectacular landscape. A classic Mount Tai visit only needs a full day with helps of cable car and sightseeing bus, while the in-depth Mount Tai costs 2 days. You can get to Mount Tai by high speed trains from Jinan, Beijing, etc. Learn more about Mount Tai hiking >
Location: southern Shandong Province
Must-see: Mount Tai, Dai Temple
Duration: 1~2 days
▶ Popular Mount Tai Tours | Mount Tai Travel Guide | Mount Tai Hiking
Hiking Path on Mount Tai
Qingdao – beer culture & leisure holiday
Qingdao is located in the southeastern coastline of Shandong Province. It is the largest and most popular cities in Shandong. It attracts visitors with pleasant beaches, tasty Tsingtao beers, clean city streets, unique colonial culture, etc. Laoshan Mountain in Qingdao offers gorgeous views as well as many walking opportunities. To explore the very essence of Qingdao, you have to stay there for 2 or 3 days.
Location: southeastern Shandong Province
Must-see: Taoshan Mountain, Tsingtao Beer Museum, Badaguan Resort, No. 2 Bathing Beach, Xiaoyushan Island, etc.
Duration: 2~3 days
▶ Popular Qingdao Tours | Qingdao Travel Guide | Top Qingdao Attractions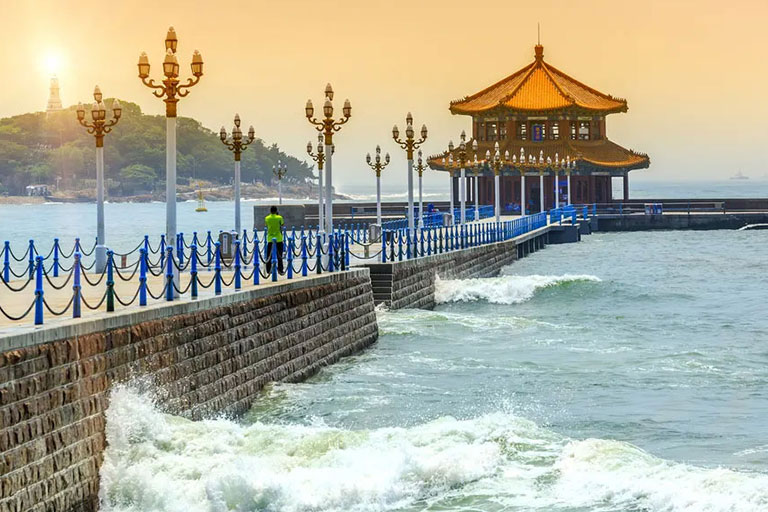 Zhanqiao Pier - Qingdao
Qufu – Confucian culture & World Heritage Site
Qufu is known as the birthplace of the siege Confucius. It is a small historical city with many sites related to Confucius. The most famous one is the Temple of Confucius which was built on the home of Confucius. It is the best place to lean about the life story and philosophy of Confucius. Kong Family Mansion and Confucius Cemetery are also worthy exploring. There are many cultural activities for visitors to experience Confucius culture, such as offering sacrifices to Confucius, city gate opening, enlightenment ceremony, etc.
Location: western Shandong Province
Must-see: Confucius Temple, Kong Family Mansion, Confucius Cemetery
Duration: 1 day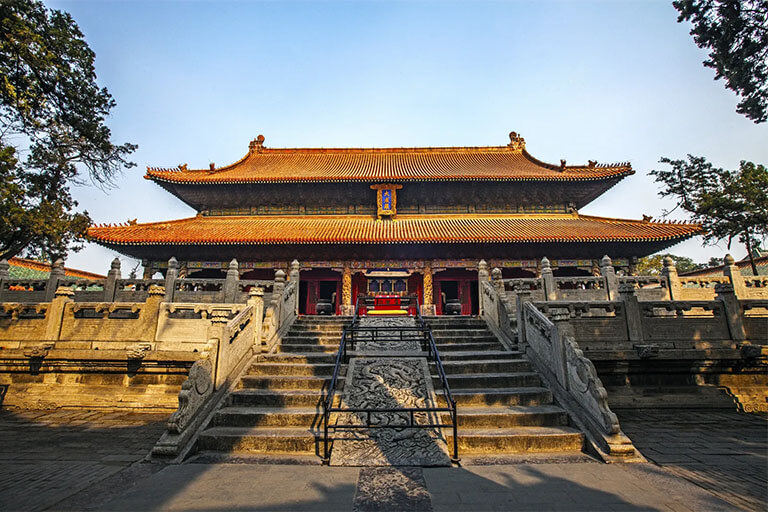 Confucius Temples - Qufu
Jinan – the city of Springs
Jinan is famous for springs, not a single one but a group of springs. It is the second largest city in Shandong Province. One usually visit Jinan for 1 or 2 days relaxed cultural tour to see those drinkable springs, enjoy some leisure walking in local parks, learn about Chinese history in the museums, ride a boat through city canals, etc.
Location: western Shandong Province
Must-see: Baotu Spring, Black Tiger Spring, Daming Lake, Shandong Provincial Museum, etc.
Duration: 1~2 days
▶ Popular Jinan Tour | Jinan Travel Guide | Top Qingdao Attractions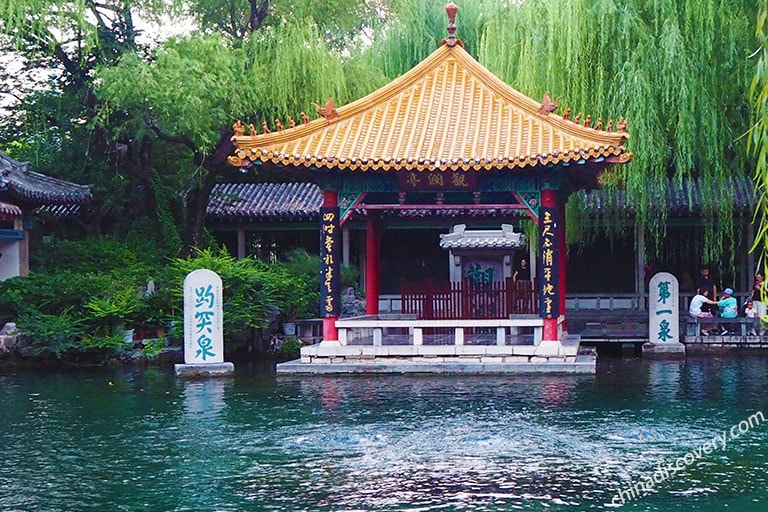 Baotu Spring - Jinan
Weihai –golden beach
If you are looking for a summer resort, a family holiday, a photography tour or just wanting to escape the hustle and bustle, come to Weihai. It is the first city in China to win the UN Habitat Scroll of Honor award. It is only about 95km from Korea. You can easily find a cultural fusion as well as beautiful beach and delicious sea food here.
Location: northeastern Shandong Province
Must-see: Liugong Island, Chengshantou Scenic Area, Hilun Island, International Bathing Beach
Duration: 1~2 days
▶ Popular Weihai Tours | 2 Days Weihai Leisure Vacation Tour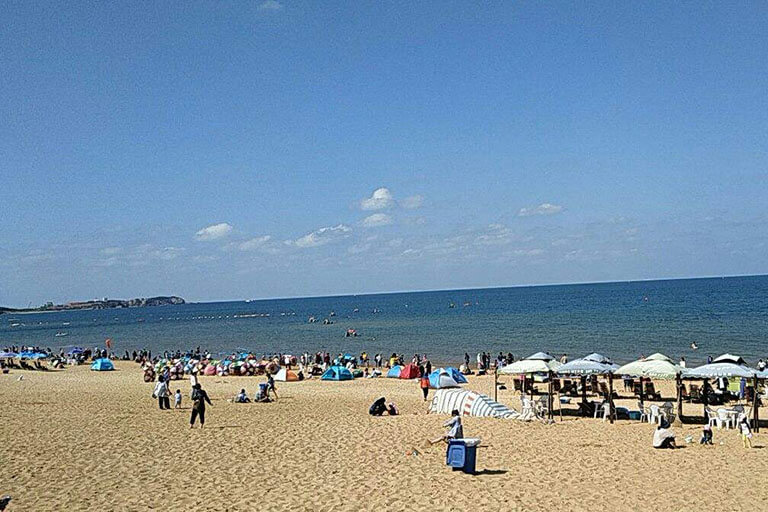 Weihai International Bathing Beach
Yantai – beautiful isles
Yantai is one of the largest cities in Shandong. It is famous for seascape, sandy beaches, wine, legends and modern architecture. You can stroll along the Binhai Road in the day time to enjoy seaside and dazzling neo-lit in the night, visit Changyu Wine Museum for a closer look into this most famous wine brand in China, also take a side trip to Penglai Pavilion, one of the Four Greatest Towers of China. Mount Kunyu, Yantai Hill… there are far more things to do here.
Location: northeastern Shandong Province
Must-see: Chanyu Wine Museum, Penglai Pavilion, Binhai Road, Yantai Hill
Duration: 1~2 days
▶ Popular Yantai Tours | 2 Days Yantai Classic Tour
Others Popular Places in Shandong Province
Above places stand for the classical destinations of Shandong. For some deeper exploration, visitors can also extend tours to Weifang – site of kite festival, Zibo – the ancient capital of Shandong region, Shouguang – China's largest vegetable markets, etc.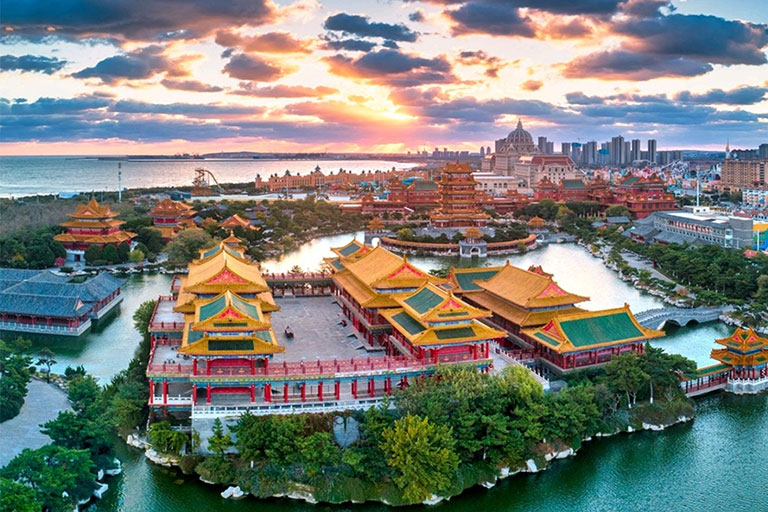 Penglai Pavilion Scenic Area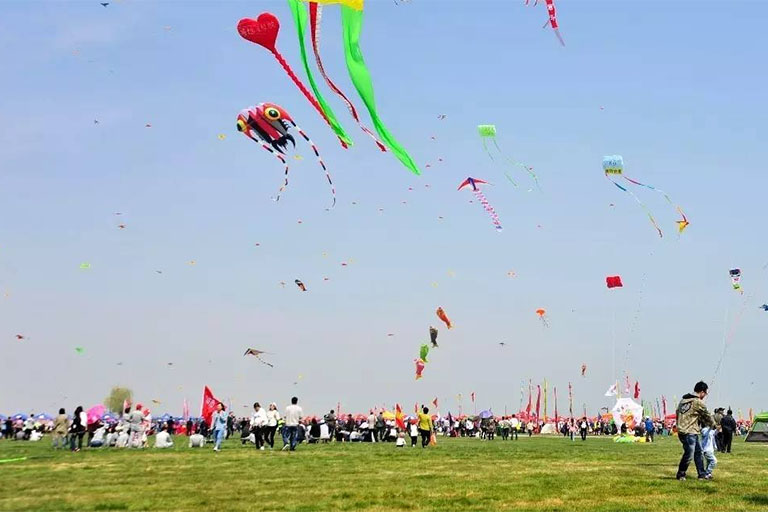 Weifang International Sky Festival (April)
Where to Start Your Shandong Tour
A longer Shandong tour usually starts from Qingdao and ends in Jinan (or the opposite way). These two cities are transportation hubs of Shandong Province with flexible schedules of both flight and high speed trains. Qingdao has more international flights, while Jinan provides more high speed trains, and is closer to Beijing, Tianjin and Shanghai.
For a shorter Shandong tour, or a single destination tour, you can get to Mount Tai, Qufu, Weihai, Yantai, Zibo, etc. directly by high speed train usually.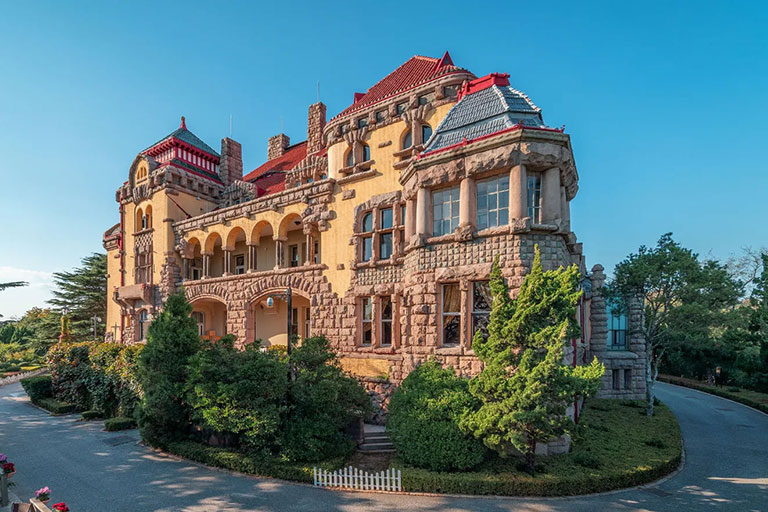 Qingdao Badaguan
How Many Days to Spend in Shandong - Recommended Itineraries
Shandong tour length depends on the places you want to go, the pace you prefer and the season you visit.
Classic Shandong Tour
Itinerary: Jinan – Qufu – Mount Tai – Qingdao
Highlights: Baotu Spring, Daming Lake, Confucius Temple, Mount Tai Hiking, Qingdao Beer Museum, Badaguan, Laoshan Mountain
Duration: 6~7 days
This tour presents you the past and present of Shandong is just one go, strongly recommended for the first-timers. Jinan and Qufu are two best place to experience local culture especially Confucius culture, while Mount Tai offers a chance to hike and Qingdao allows you to slow down to enjoy a true holiday. Accommodation, food and transportation are high-end standard in the province too. Generally you can finish this Classic Shandong Tour in 6 or 7 days.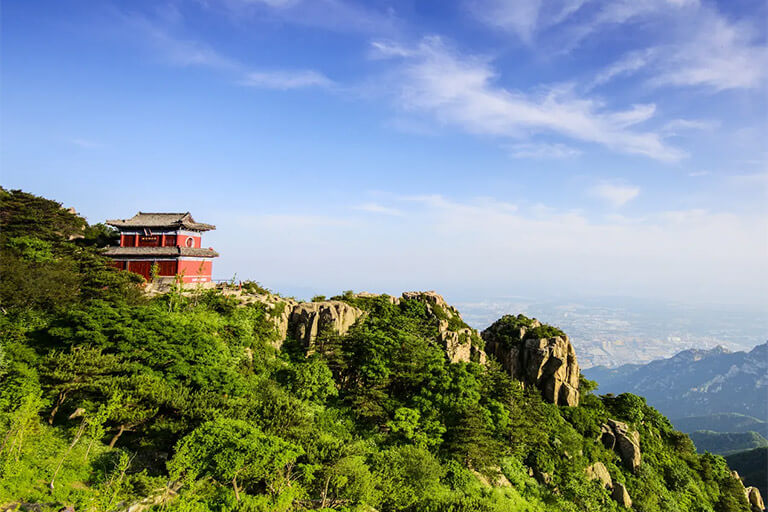 Mount Tai in May
Shandong's Golden Triangle
Itinerary: Qingdao – Qufu – Mount Tai
Highlights: Qingdao Beer Museum, Laoshan Mountain, Badaguan, Confucius Temple, Kong Family Mansion, Mount Tai Hiking
Duration: 4 days
This is a classic Shandong tour which is recommended for those who are short on time. It goes to the Golden Triangle Destinations – Qingdao, Qufu and Mount Tai, three most visited places in Shandong with their own features. Qufu and Mount Tai are only about 75km from each other, and can be arrived by high speed trains from Qingdao in 3 hours. If you prefer more Chinese culture in your trip, this is the tour for you.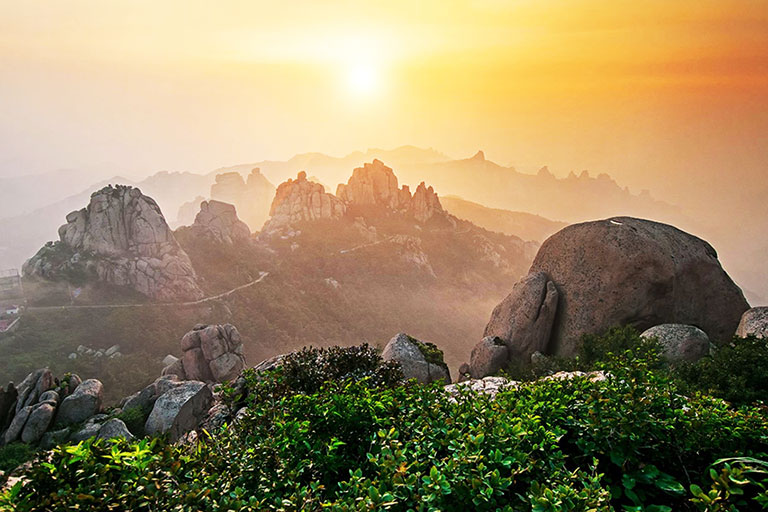 Laoshan Mountain in Qingdao
Shandong Panorama
Itinerary: Qingdao – Weihai – Yantai – Penglai – Weifang – Zibo – Qufu – Mount Tai - Jinan
Highlights: Qingdao Beer Museum, Laoshan Mountain, Weihai Liugong Island, Chengshantou Scenic Area, Yantai Golden Beach, Penglai Pavilion, Weifang Kite Museum, Zibo Ancient Qi City Relics Museum, Qufu Confucius Temple, Mount Tai
Duration: 9~10 days
This Shandong Panorama itinerary runs a circle from Qingdao to Jinan via the eastern and northern coastline of Shandong Peninsula. It takes you to explore all the highlights of Shandong Province, to dig deeper into its culture, history and nature. You will visit the most classic Jinan, Qingdao, Mount Tai and Qufu, but also explore its beautiful coastal lines, golden beaches, seascape in Shandong Peninsula, and experience interesting kite culture in Weifang and discover further history of Shandong in its former ancient capital Zibo. You will use high speed train and private cars as major transportation. Tour pace is slow and enjoyable.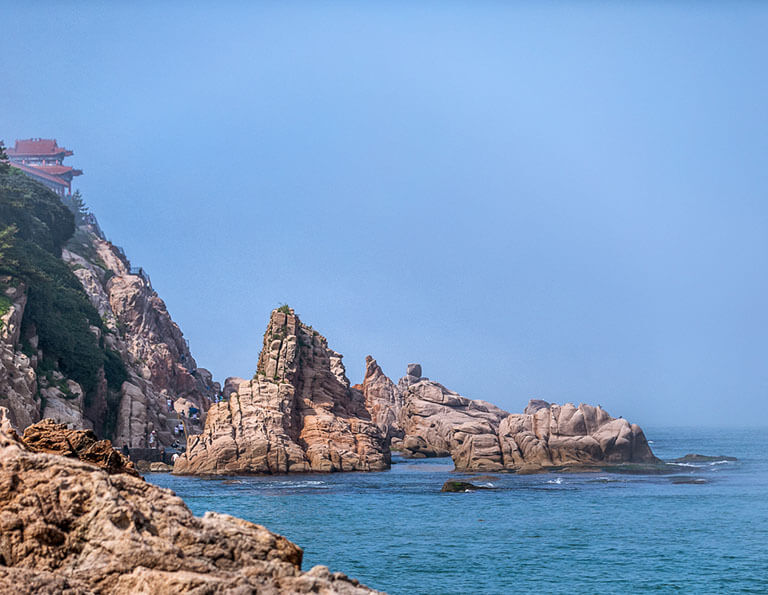 Chengshantou - Weihai
Essential Shandong
Itinerary: Qufu – Mount Tai
Highlights: Qufu Confucius Temple, Mount Tai
Duration: 2~3days
If you do not have much spare time in Shandong, you can have an essential Shandong trip in Mount Tai and Qufu, which can be done in 2~3 days. A Mount Tai Qufu tour can be easily combine with your China tour to Beijing, Shanghai, Xian, Zhangjiajie, etc.
✔ 3 Days Confucius Culture Exploration with Sidetrip to Mount Tai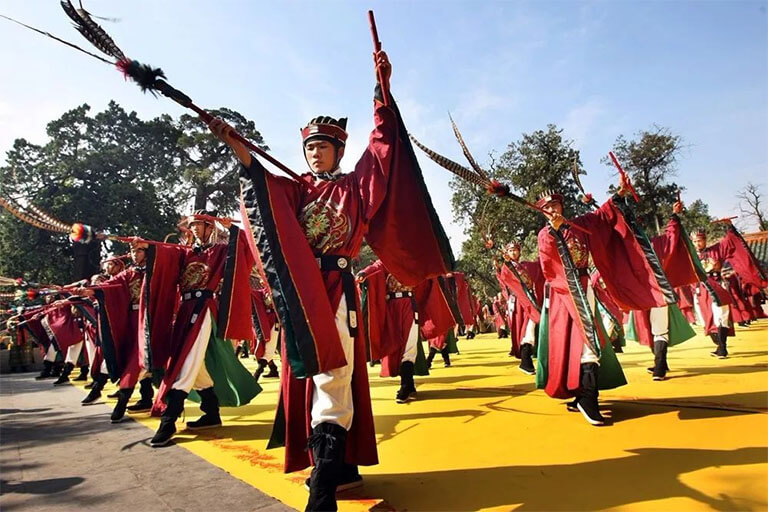 Confucius Temple - Qufu
How to Get to Shandong
Shandong is mainly arrived by domestic flights, international flights and domestic trains. Qingdao and Jinan are two mostly used transportation hubs with many international flights as well as many domestic arrivals of trains and flights. You can get to Qingdao or Jinan first, then transfer to other places. Some popular destinations can also be arrived by domestic train or flights directly from Beijing, Xian, Chengdu, Tianjin and other transportation hubs in China.
| | International Flights | Domestic Flights | High Speed Trains |
| --- | --- | --- | --- |
| Qingdao | Seoul(2h), Tokyo(4h), Osaka(4h), London(15h), etc. | Beijing(1.5h), Shanghai(1.5h), Guangzhou(3.5h), Xian(2h), Chengdu(3h), Zhengzhou(2h), etc. | Beijing(4h), Shanghai (7h), Guangzhou (13h), Xian (8h), Tianjin (4.5h), Jinan (1.5h), Tai'an (2.5h), Yantai (1.5h), etc. |
| Jinan | Hong Kong(3h), Seoul(2h), Singapore(5h), Bangkok(8h), Tokyo(5h), etc. | Shanghai(2h), Xian(2h), Guangzhou(3h), Shenzhen(3h), Chengdu(2.5h), Chongqing(2h), Xiamen(2.5h), etc. | Beijing (2h), Shanghai (4h), Guangzhou (10h), Xian (6h), Tianjin (1.5h), Zhegnzhou(4h), Qingdao (2.5h), Tai'an (20mins), Qufu(30mins), etc. |
| Mount Tai | / | / | Beijing(2.5h), Shanghai(4h), Tianjin(2h), Xian(5.5h) |
| Qufu | / | / | Beijing(2.5h), Shanghai(4h), Tianjin(2h), Xian(5.5h) |
| Weihai | Asaka(2h) | Beijing(2h), Shanghai(h), Guangzhou(3h), Harbin(2h), Hangzhou(2h), etc. | Jinan(3h), Qingdao(2h), Yantai(1h), Qufu(5h), etc. |
| Yantai | / | / | Jinan(2.5h), Qingdao(1.5h), Weihai(1h), Qufu(4h), etc. |
How to Get around Shandong
Shandong has built a fully-connected transportation network which consists of air lines, high speed rails, highways and waterways. Most of cities can be reached by high speed trains. Bigger cities like Qingdao, Jinan, Weihai all have their own airports.
Generally speaking, high speed trains are most widely used for traveling between destinations which are not close to each other, such as Jinan – Qingdao, Qingdao – Qufu, Mount Tai – Qingdao, Qingdao – Weihai, etc. Jinan, Qufu and Mount Tai are located closely, thus you can transfer among them by car. Flights and waterways are seldom used for city-to-city transfer in the province.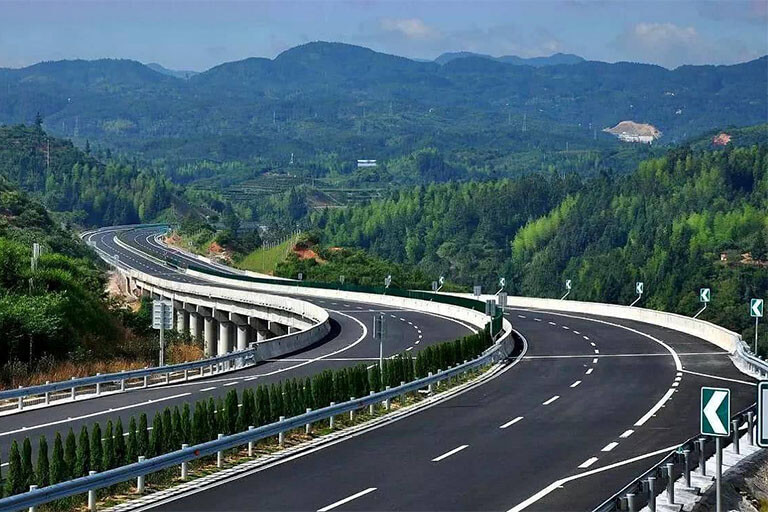 Highway from Jinan to Mount Tai
Shandong Weather and Best time to Visit
Shandong Province has a warm temperate monsoon climate with four distinct seasons. South wind prevails in Shandong in summer when it is hot and rainy, while north wind dominates the province in winter when it is cold and dry. The weather in spring changes frequently. It's dry, windy and dusty. Autumn is always sunny and cool.
The average temperature in Shandong province is about 13 ℃. Southwestern area is warm (or hotter) than northeastern area. Among all the cities in Shandong, Jinan has the highest annual average temperature which is 14.7 ℃. Shandong Peninsula including Qingdao, Weihai, Yantai, etc. is relatively cool with annual average temperatures around 11.4-11.9 ℃, which makes the region best place for summer resort. In January, the average temperature of all parts of the province is below 0 ℃, which is the lowest in the whole year. The solar radiation is the strongest in summer, and the temperature is the highest in summer. July is the hottest month in the inland area, while the eastern and southern coastal areas of the peninsula are affected by the marine climate, and the temperature in August reaches the highest in the whole year. In August, the average temperature of the whole province was between 21.5 ℃ ~ 27.5 ℃. Jinan's average temperature in July is still the highest in the province which is about 27.5 ℃. The temperature gradually increases from January to July. After August, the temperature dropped month by month.
▶ Qingdao Weather | Mount Tai Weather | Weihai Weather
▶ Jinan Weather | Qufu Weather | Yantai Weather
The average annual precipitation in most areas of Shandong Province is between 600-750mm, and the rainy season is mainly from June to August. The annual average precipitation of Mount Tai is 1042.8mm, which is the highest among all places in Shandong.
When is the best time to visit Shandong?
Generally speaking, you can visit Shandong all year around because it has no extreme weathers, but the best time is from April to October. You can go to enjoy sakura in Jinan or pear flowers in Yantai in April, go to hike Mount Tai in May when you may have bigger chance to witness cloud sea and amazing sunset. June, July and August are hot, but you can the coastal cities, such as Qingdao, Yantai and Weihai, to escape the heat. Autumn days are cool and comfortable. It's a great time to travel in most places in Shandong. The temperatures drop increasingly after November. If you travel in winter, you have to wear warmly but you can enjoy good rates of hotels, flights, tickets, etc.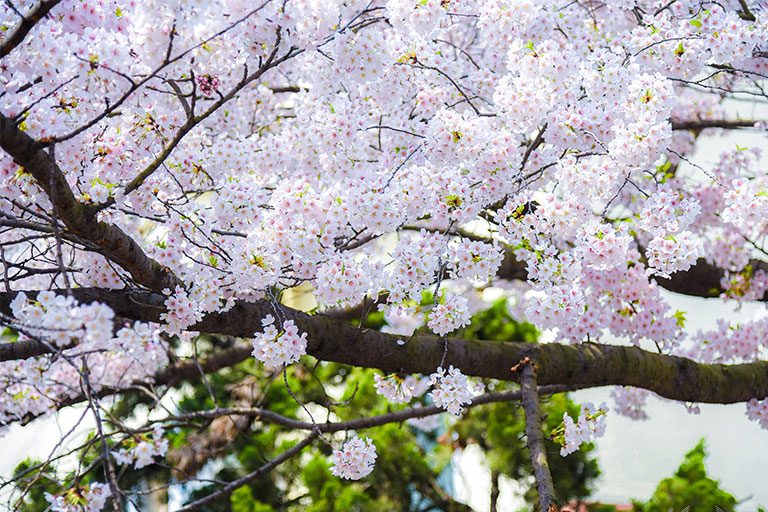 Spring in Qingdao
Pingyao Ancient City Railway Station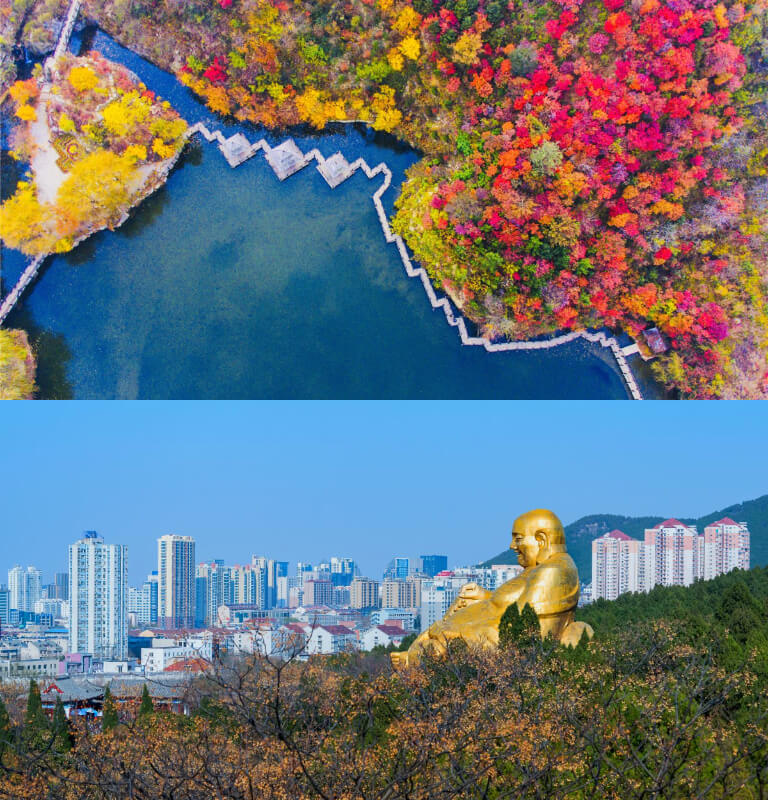 Jinan in Autumn
Where to Stay & Shandong Accommodation
Finding a good hotel won't be a problem during your Shandong tour because Shandong is one of the most developed places in China as well as a popular tourist destination in China. The most highlighting attractions are all conveniently located in or near cities where hotels of different classes fairly provided. Generally speaking, Qingdao and Jinan have the highest-end hotels with many international luxury hotels brands and domestic luxury hotels brands offering suites, deluxe rooms, standard rooms, etc. Smaller cities, such as Tai'an (Mount Tai), Qufu, etc., mainly serve Chinese hotels from guest houses to 5-star hotels. Coastal area, such as Weihai and Yantai, also provide great hotels, including some top-class resorts.
Accommodation areas are flexible in Shandong. You can choose places to stay according to your itinerary and budget. For independent travelers, you are suggested to accommodate near train stations, city centers, attractions so that you can find public transportation easily. For travelers preferring a packaged worry-free tour offered by travel agencies, you can accommodate around commercial center, or stay away from the crowds. Your travel agencies will find a well-located and well-equipped hotel for you.
▶ Where to Stay in Qingdao | Where to Stay in Mount Tai
▶ Where to Stay in Jinan | Where to Stay in Qufu
▶ Where to Stay in Weihai | Where to Stay in Yantai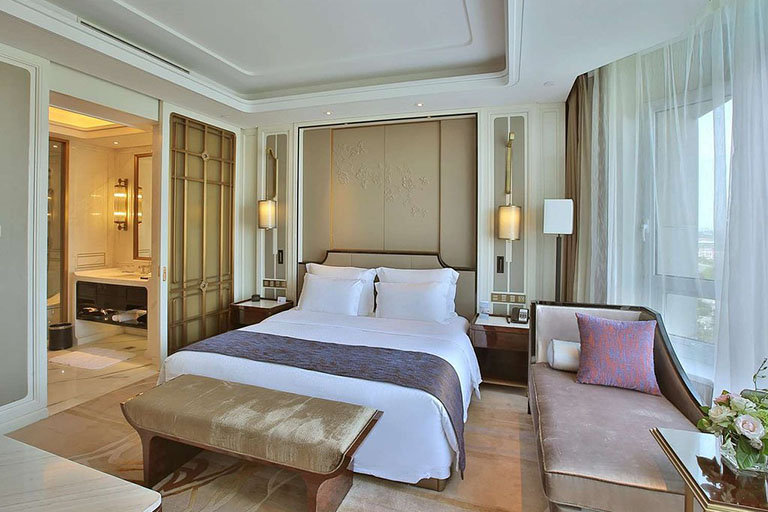 Wyndham Qingdao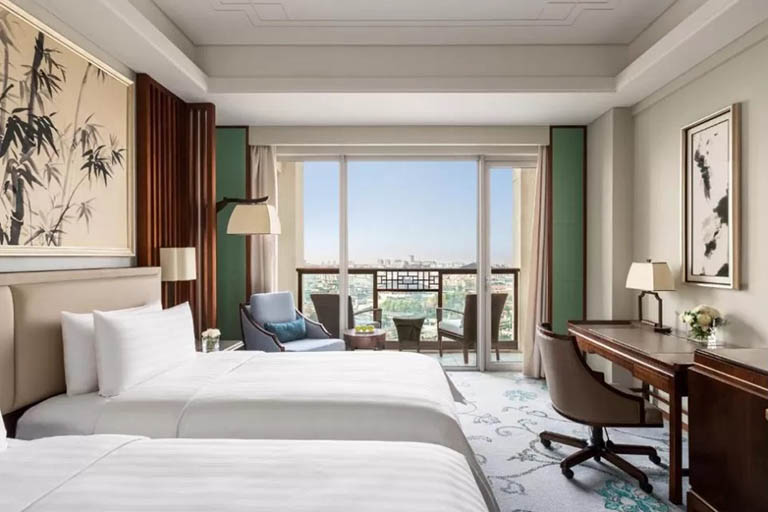 Shangri-La Hotel, Qufu
Extend Your Shandong Tour
Henan holds a tourist-friendly location in China. It is located in the middle of Beijing Shanghai high speed railway. It borders Henan Province in the west, share borders with Anhui Province and Jiangsu Province in the south, and connect with Hebei Province in the north. For an efficient Shandong regional tour, you can simply travel Shandong with Beijing, then extend to Shanghai, which is a classic China tour, or travel from Shandong to Henan for an in-depth Chinese culture exploration. If you prefer natural experience, travel southward to Anhui where the most beautiful mountain in China sits – Yellow Mountain. To explore the elegant part of Chinese culture, you can travel to Nanjing and Suzhou of Jiangsu Province which is close to Shanghai.
If you are keen on authentic Chinese culture, you are suggested to travel westward from Shandong to Henan to experience Shaolin Kung Fu and Buddhism culture, to Shanxi Province to explore traditional folk culture and appreciate architecture, to Xian to learn about Chinese history, to further Gansu to unlock the secrets of ancient Silk Road. Be fully connected to other parts of China by both flights and trains, you can also travel Shandong with Chengdu, the hometown of Giant Pandas and Sichuan Cuisine, Zhangjiajie, the famous Avatar world, relaxing, Yangtze River Cruise, even the holy land Tibet.
China Discovery is specialized in providing tailor-made China tours of different themes to different destinations. You will travel with a well-organized itinerary, don't have to worry about hotels, transportation and food, be taken care of by your personal tour guide throughout your holiday in China. Contact us to customize your own China tour now!
✔ 11 Day Golden Triangle Tour with Shanxi Highlights
✔ 12 Days Historical China Tour with Train Experience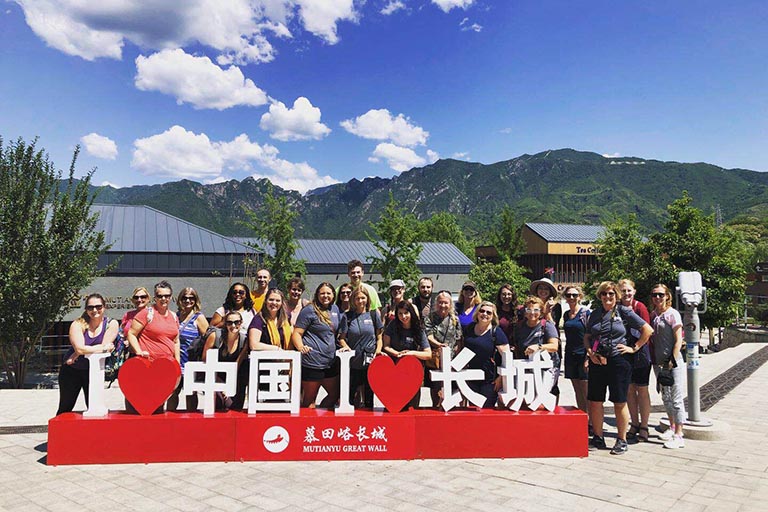 Our American Tourists Enjoyed Mutianyu Great Wall Tour in Beijing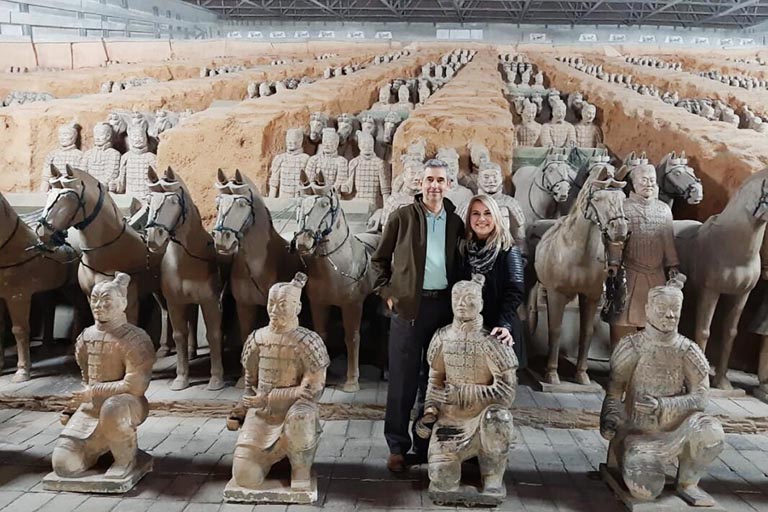 Visiting Terracotta Warriors in Xian with China Discovery
Travel with China Discovery
China Discovery is an experienced, professional and reliable travel companion devoted to offering high-quality and the best tour services for all travelers to China. In order to have a better travel experience of Shanxi and other parts of China, it's highly recommended traveling with us. We not only has one-to-one tour planning and visa assistance before your departure, but also provide convenient transfer, knowledgeable local tour guide, excellent accommodation and dining arrangements based on your requirements. Thus, you can enjoy a China tour with worry-free transportation and better understanding of local culture and history. You may select from our most popular Shanxi tours or contact us to tailor-make the best tour you want!
Our delighted clients at Xiaoyushan Park Qingdao
Top Shandong Destinations
More about Shandong Travel Guide
Recommended Shanxi Tours
Top 3 Shanxi tours chosen by most customers to explore Shanxi in the best way. Check the detailed itinerary, or tailor your own trip now with us.
6 Days Best of Shandong Tour

Jinan / Mount Tai / Qufu / Qingdao
4 Days Qingdao Qufu Mount Tai Essence Tour

Qingdao / Qufu / Mount Tai
9 Days Shandong Panorama Tour

Qingdao / Weihai / Yantai / Weifang / Zibo / Qufu / Mount Tai / Jinan
Start planning your tailor-made holiday to China by contacting one of our specialists. Once inquired, you'll get a response within 0.5~23.5 hours.
Customize a Trip
Have a question? Get answers from our travel experts or guests
Your Question:

Your Name:

Your Email: