How to Plan Qingdao Trip
Qingdao is a typical seafront city in Jiaodong Peninsula of Shandong Province. Praised as one of the cleanest, most elegant and most beautiful cities of China, Qingdao attracts numerous domestic and international travelers to have a body-comforting and mind-relaxing holiday. Moreover, world-famous Tsingtao Beer is also a huge lure for beer lovers. If you are the one who wants to escape from the busy life and slow down, visiting Qingdao is an ideal option. More than relaxing trip with warm sunshine, soft beach, great sea view and beer drinking, natural, architectural and cultural splendor can also be admired in Qingdao.
Traveling Qingdao is easy, but a well-organized trip planner can help you have a high-quality experience. Here we give you best ideas on how to plan a Qingdao trip to make full use of your holiday.
Top Recommended Qingdao Tours: 3 Days Qingdao Highlights Tour | 2 Days Qingdao City Short Stay
Best Things to Do in Qingdao
Qingdao offers countless big or small attractions to visit and experience during your tour. You can choose some of them according to your own interest.
Visit Qingdao Top Landmarks
Top attractions in Qingdao you must visit include Zhanqiao Pier, May Fourth Square and Olympic Sailing Center. Zhanqiao Pier is u sually regarded as the symbol of Qingdao. Zhanqiao Bridge stretches to Huilan Pagoda at the end of the pier, making a nice place for photography. May Fourth Square is located in the downtown area of Qingdao and there is an eyes-catching sculpture – The Winds of May located in the center of May Fourth Square. Just near May Fourth Square id Olympic Center which is a good site to appreciate the enchanting skyline of Qingdao. In the informative museum of Olympic Sailing Center, you can find many helpful and interesting exhibitions.
Planning Ideas: 1) It is recommended to travel Zhanpiao Pier together with Little Qingdao Isle which is a small island shaping like an ancient violin. 2) Visiting May Fourth Square and Olympic Sailing Center at night, you will see the best night view of Qingdao.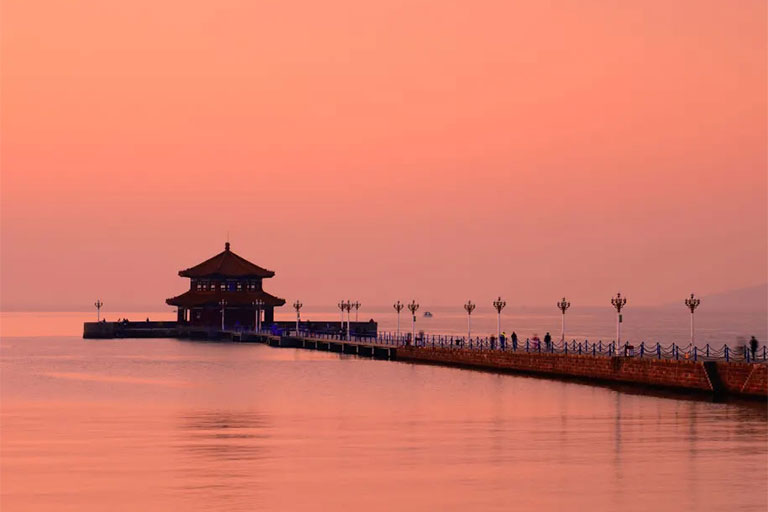 Zhanqiao Pier
Get Amazed by Featured European Architectures
If you are interested in different architectures, especially European architectures, you can have a good time in many places in Qingdao. Badaguan Scenic Resort is the No.1 site that you can't miss. Over 200 old buildings in different countries' style make Badaguan the Museum of World Architectures. Here you can enjoy Danish style Princess House, European castle-style Huashi House, Spanish Villa, etc. More than architectures, Badaguan is also very nice to have a leisurely walk. The peaceful street is lined with verdant trees. There are beautiful flowers in spring and colorful leaves in autumn to savor.
Badaguan is the best place to enjoy different buildings, but it is also quite easy to see other different architectures out of Badaguan, including Qingdao Beer Museum, Qingdao Catholic Church, Qingdao Protestant Church, Jiaozhou Hotel Former Site, Qingdao Railway Station and so on.
Planning Ideas: 1) After visiting Badaguan, you can easily walk to Qingdao No.2 Bathing Beach where you can enjoy great sea view and beach; 2) If you travel to Qingdao by high speed train from Shanghai, Jinan, Xian, Qingdao and Tianjin, you can book a train to Qingdao Railway Station.
German Governor's Residence
Have A Taste of China's Best Beer
What is the most qingdaoful thing to do? It must be taking a glass of Tsingtao Beer. It is China's best beer and you can find all over the world. Being no strong aftertaste and a bit sweet, Qingdao Beer is a must try if you are not allergic to alcohol. It goes greater with a taste of seafood in Qingdao. In addition to drinking Tsingtao Beer, we strongly suggest you visit Qingdao Beer Museum for more Tsingtao Beer experience. In Qingdao Beer Museum, you could see the time-honored brewing machinery and many past packaging of Qingdao Beer here. You will also be treated with two glasses fresh Tsingtao Beer here.
Planning Ideas:For some beer enthusiasts, just visit Qingdao during Qingdao International Beer Festival which is usually held in August. Lots of different kinds of beer can be savored and lots of wonderful shows will take place. You can indulge yourself in the happiness of this big Carnival.
A Taste of Beer
Other Recommended Attractions in Qingdao
Of course, Qingdao's charm is far more that. Laoshan Mountain, honored as the First Coastal Mountain, deserves your 1~2 days visit. This beautiful mountain offers both landscaped nature sightseeing and Taoist culture experience. It is also an enjoyable trip to enjoy the various kinds of seafood in the local restaurants. Recommended food street include Pichaiyuan Food Street and Dengzhou Road Beer Street.
Besides, there are various beaches (Golden Beach, Shilaoren Bathing Beach, No1~No.6 Bathing Beaches…) to spend a relaxing afternoon, various museums (like Qingdao Museum, Qingdao Nava Museum, Qingdao Shell Museum ) to display the history and present of Qingdao, various amusement parks (Qingder Underwater Park, Qingdao Haichang Polar Ocean World, Fantwild Dreamland Qingdao, etc.) to have kids fun. If you want to learn more about Qingdao experience, click Top 8 Things to Do in Qingdao.
How Many Days to Spend in Qingdao
No matter you want a short glimpse of Qingdao or a long holiday, a private tour according to your interest and time can be customized. Generally, a classic Qingdao tour takes about 2 days.
In 2 days, you can focus on the best experience of Qingdao, including strolling in Badaguan Scenic Resort, having a panoramic view of Qingdao from Xiaoyushan Park, enjoying sunbathing in one beach, exploring Tsingtao Beer in Qingdao Beer Museum, etc.
Itinerary
Features
Recommended Tour
Day 1: Qingdao Beer Museum + German Governor's Residence + Xiaoyushan Park + Zhanqiao Pier
Day 2: Badaguan Scenic Resort + Qingdao No.2 Bathing Beach + May Fourth Square + Olympics Sailing Center
City Essence of Qingdao
2 Days Qingdao City Short Stay
If you have 3~4 days, don't hesitate to add Laoshan Mountain in your itinerary. In The travel length of Laoshan Mountain can be adjusted according to your interest. You can choose a trip with hiking, sightseeing, photography, culture or all of them. If you visit Qingdao during Qingdao International Beer Festival, you can have more choices.
Tour Plan
Itinerary
Features
Recommended Tour
Plan A
Day 1: Qingdao Beer Museum + German Governor's Residence + Xiaoyushan Park + Zhanqiao Pier
Day 2: Laoshan Mountain + May Fourth Square + Olympic Sailing Center
Day 3: Badaguan Scenic Resort + Qingdao No.2 Bathing Beach
Best of Qingdao
3 Days Qingdao Highlights Tour with Laoshan Mountain
Plan B
Day 1: Qingdao Beer Museum
Day 2: Zhanqiao Pier - Little Qingdao Island - Badaguan Scenic Resort - Qingdao No.1 Bathing Beach
Day 3: May Fourth Square + Olympic Sailing Center
Great Beer Carnival
3 Days Tsingtao Beer Festival Tour
If you want to discover more highlights of the city with in one go, feel free to contact us to customize a Qingdao tour.
Best Time to Visit Qingdao
Influenced by oceanic environment and southeast monsoon, Qingdao enjoys a monsoon climate with typical marline features. The average temperature of the whole year is about 12.6°C. Generally speaking, the weather of Qingdao is quite comfortable, except for cold winter and early spring. However, its summer is never too hot. Even in hottest month – April, the average temperature is just around 25°C. The best time to visit Qingdao is March ~ November when the weather is most mild. Click here to learn more about Qingdao weather and best Time to visit Qingdao.
Planning Ideas: 1) Annual Cherry Blossom Festival takes in Zhongshan Park and lots of flowers can be exhibited. Traveling in spring allows you to feast your eyes on multi-colored flowers. 2) Traveling in summer, Qingdao International Beer Festival is a feast. 3) When the autumn comes, great autumn view can be appreciated in many places. Don't miss Laoshan Mountain and Badaguan Scenic Resort.
▶ Learn more about: Qingdao Weather & Dressing Tips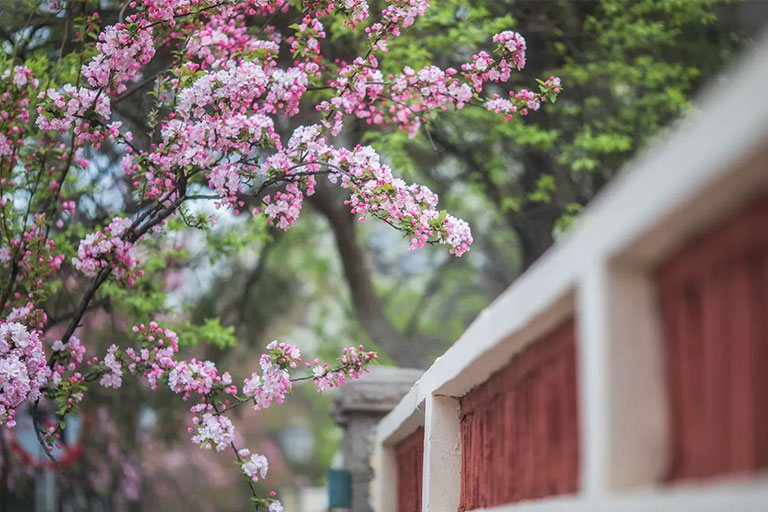 Cherry Flowers in Badaguan
How to Get to Qingdao – By Flight or High Speed Train
As an important port city of China, Qingdao is equipped with two international airports and several railway stations. It is convenient to travel Qingdao by flight and high speed train.
Flights to Qingdao: Qingdao Liuting International Airport can be reached by flights from 107 cities in 8 countries and regions. There are available international flights from Seoul (1.5h), Tokyo (3.5h), and Osaka (3h), etc. and domestic flights from Seoul (1.5h), Tokyo (3.5h), and Osaka (3h), etc. Qingdao Jiaodong International Airport is new built and but not open to air at present.
taking a high speed trains becoming a popular transfer means for a china tour. Among Qingdao's Railway Stations, Qingdao Railway Station and Qingdao North Railway Station are most frequently-used for high speed trains. You can get to Qingdao Railway station by trains from Beijing (4-5h), Shanghai (7h), Guangzhou (13h), Xian (9-23h), Tianjin (4-4.5h), Jinan (2-5.5h), Tai'an (3.5-6.5h), Yantai (1.5-2h), etc., and to Qingdao North Railway Station from Shanghai (7h), Guangzhou (30h), Xian (8-21h), Tianjin (4.5-10h), Jinan (1.5-5.5h), Tai'an (2.5-7h), Yantai (1.5h), etc. by high speed trains. Read more about How to Get to Qingdao>
Useful Links: Qingdao Airport and Flights | Qingdao Railway Stations and Trains | Qingdao Transportations
How to Get Around Qingdao
Transferring in/around Qingdao City is convenient as well. By subway, taxi, bus and ferry are all available in Qingdao. Till now, there are 4 metro lines available and 6 other metro lines are under construction.
Generally, many of the top attractions are located inside or close to the downtown area, including May Fourth Square, Olympic Sailing Center, Zhanqiao Bridge, Xiaoyushan Park, Badaguan Scenic Area, etc. Qingdao Beer Museum is about 7 km (30 minutes by car) to May Fourth Square, and you can get there by several bus and metro lines. Laoshan Mountain is a little far from the downtown area, about 22km (1 hour's drive) from May Fourth Square. You are suggested to take a taxi or use the private transfer service from a travel agency.
Click to Enlarge Qingdao Location Map
How to Extend Your Qingdao Tour
Extend Qingdao Tour to Other Destinations in Shandong
Qingdao is just one beautiful peace of Shandong, but Shandong's beauty is far beyond that. If you like China's long civilization, Mount Tai – a World Natural & Cultural Heritage Site, and Qufu – the hometown of China's world-famous philosopher Confucius both deserve you visit. It is all interesting to travel them with Jinan – the spring city as well. If you prefer different destinations with impressive seascape, it is also available to spend a week traveling other coastal cities such as Weihai, Yantai and Penglai together with Qingdao. For an-depth Shandong tour, you can travel all the top destinations together, which may take 7~10 days. All best experience of Shandong, including nature, culture, hiking, photography, etc. can be covered in the itinerary.
To More China Destinations
China is a off-the-scale-massive with stupendous scenery and breathtaking antiquity to admire. If you it is your first time to China, don't miss Beijing – old and present capital with many world heritage sites, Xian – old capital city of 13 dynasties, Guilin – most idyllic city with karst landscape and Shanghai – metropolis with featured skyscrapers. Of course, you can also travel Shandong with its close neighbors, including Shanxi Province (Datong, Pingyao, Mount Wutai, Hukou Waterfall) and Henan (Luoyang, Shaolin Temple, Zhengzhou, etc.)
Travel with China Discovery
In order to have a perfect tour to Qingdao, you can choose to travel with a professional travel agency like China Discovery. We master the most up-dated travel information and are specialized in offering travelers incredible Henan experience. Before your trip, our travel consultants will communicate with you one to one and make an itinerary according to your own travel length, interest and budget. As your itinerary is settled, we will book hotel, flight or trains for you. During your trip, our local travel guide will deal with all details for you and you just need to focus on sightseeing.
For more about private tour with China Discovery, you could contact us to tailor-make the best tour you want.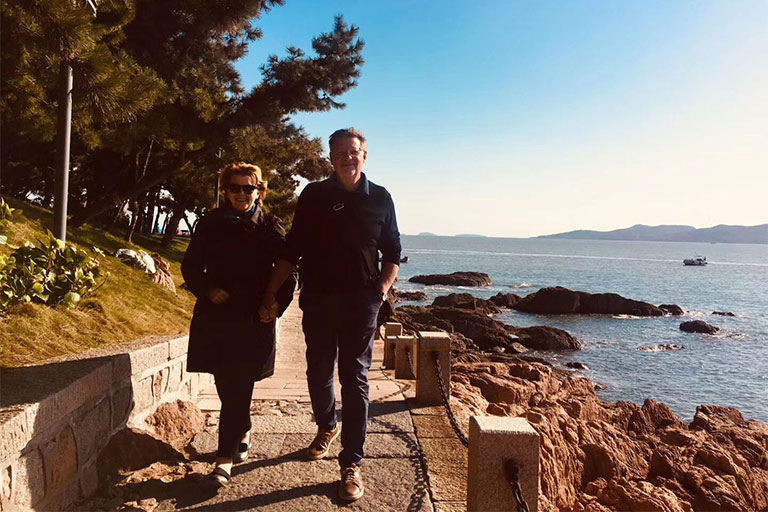 Our Delighted customer visited Laoshan Mountain in Qingdao
More about Shandong Travel Guide
Recommended Qingdao Tours
Top 3 Qingdao tours chosen by most customers to explore Qingdao in the best way. Check the detailed itinerary, or tailor your own trip now with us.
2 Days Qingdao City Short Stay

Qingdao
4 Days Qingdao Qufu Mount Tai Essence Tour

Qingdao / Qufu / Mount Tai
Start planning your tailor-made holiday to China by contacting one of our specialists. Once inquired, you'll get a response within 0.5~23.5 hours.
Customize a Trip
Have a question? Get answers from our travel experts or guests
Your Question:

Your Name:

Your Email: