Mount Tai Cable Cars - Route, Ticket, Opening Hours 2023
Visited by tens of ancient Chinese emperors, thousands of famous historical figures, and even Confucius, Mount Tai attracting lots of travelers from ancient times to the present. You can have a hiking journey to travel Mount Tai like the greats or take a cable car to the mountain top. If you are not a serious hiker, taking a cable car up or down is a great way to save your time and energy. For the pregnant, seniors, or kids, taking a cable car can make your whole Mount Tai trip easier.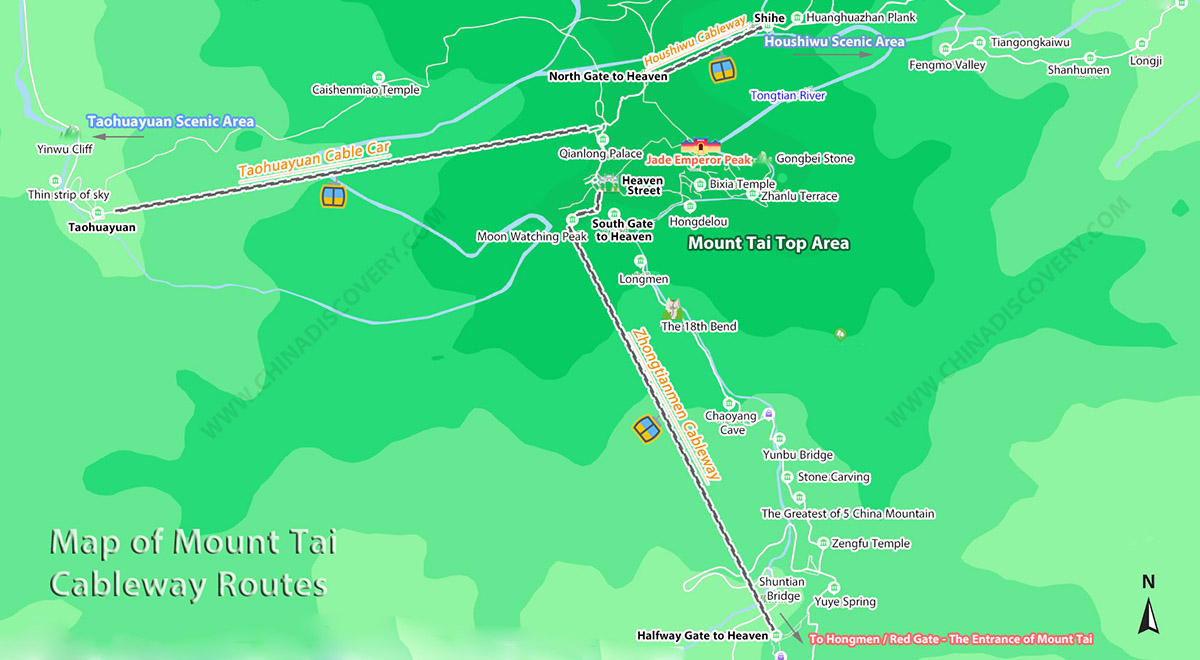 Map of Mount Tai Cableways (Click to Enlarge)
There are mainly 3 cable car routes, namely Zhongtianmen Cableway, Taohuayuan Cableway, and Houshiwu Cableway from 3 different inner scenic areas of Mount Taishan and all to the mountain top area. Among the 3 cableways, the Zhongtianmen cableway is the most popular one. The following is the detailed information about the ticket, operating hours, trekking suggestions, and tips on each cableway.
Zhongtianmen Cable Car 中天门索道 - The Most Popular One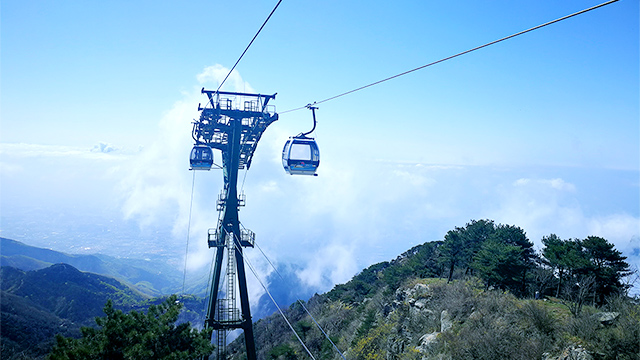 Zhongtianmen Cable Car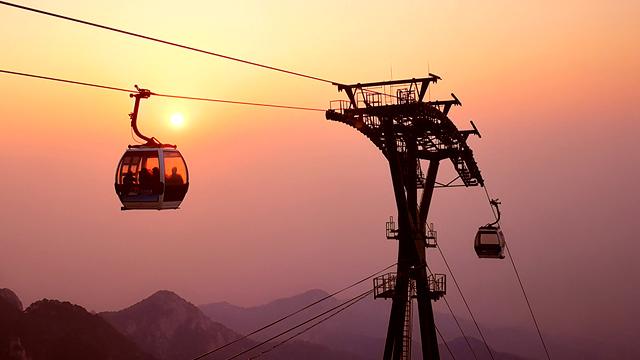 Zhongtianmen Cable Car
• Route: Zhongtianmen (Halfway Gate to Heaven) - Moon Watching Peak (Near South Gate to Heaven)
• Cableway Length: 2089 meters, about 6 minutes
• Operating Hours: April to October: 06:30 ~ 17:30(Monday to Friday), 06:00 ~ 17:30 (Sunday and Saturday); November to March: 8:00 ~ 17:00(Monday to Sunday)
• Maximum Capacity: 8 people
• One-way Tickets: CNY 100 for adults and children taller than 1.2m
Zhongtianmen Cable Car Station is the most frequently used cableway station in Mount Tai. There are two ways to get to Zhongtianmen.
Passengers can reach Zhongtianmen Cable car station through a culturally immersed hiking journey along the main route - Taishan East Road from the entrance of Mount Tai, Hongmen (Red Gate), all the way from the foot of the mountain to the halfway area, which takes about 2200 steps uphill. Along this way, you can see many ancient temples, carvings, inscriptions, steles, etc. This is the way the Chinese emperors and sages had visited.
The second way is to save energy and take a tourist bus to Zhongtianmen. Within half an hour, you can get to halfway of Taishan. There are 3 spots you can get on the bus, namely Tianwaicun Village Stop (West side of the Taishan foot area, CNY 30 per person), Tai'an High-Speed Railway Station (CNY 35 per person), and Tai'an City Center (East of Tai'an government ecology square, CNY 32 per person).
• Popular Mount Tai Tour: ✔ 2 Days Enjoyable Mount Tai Hiking Tour
• Note: Due to the great fame of Mount Tai, the trekking route to Zhongtianmen and Zhongtianmen Cable Car Station may get very crowded.
Taohuayuan Cable Car 桃花源索道 - Peach Blossom Cableway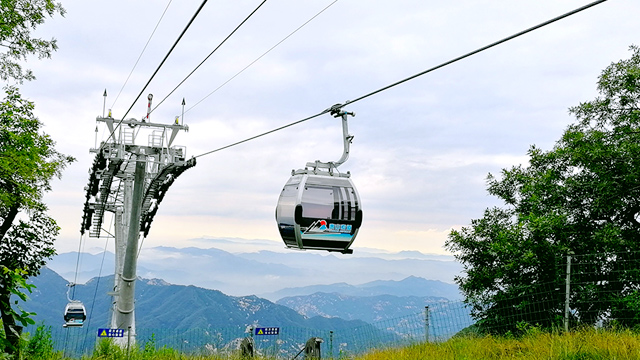 Taohuayuan Cable Car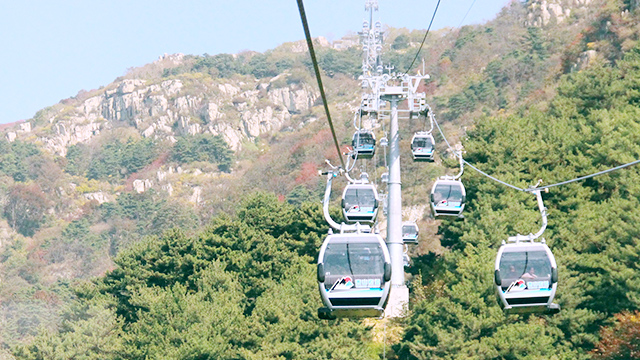 Taohuayuan Cable Car Station
• Route: Taohuayuan - North of Heaven Street
• Cableway Length: 2176 meters, about 7 minutes
• Operating Hours: April to October: 07:00 ~ 17:30 (Monday to Friday), 06:30 ~ 17:30 (Sunday and Saturday); November to March: 8:00 ~ 17:00 (Monday to Sunday)
• Maximum Capacity: 8 people
• One-way Tickets: CNY 100 for adults and children taller than 1.2m
Taohuayuan Cableway Station is less mentioned but popular among the locals with much fewer tourists than Zhongtianmen. If you go to visit Mount Tai for the second time or be more interested in its natural beauty, you can take a cable car here. Taohuayuan, meaning peach blossom, is worth a visit in the blooming season of spring. You can get to Taohuayuan Scenic Area from the entrance Taohuayu (Peach Blossom Valley), and hike or take a tourist bus to Taohuayuan. From Taohuayuan, you can take the cable car to the top area of Mountain Tai, near Heaven Street. The tourist bus fare from Taohuayu to Taohuayuan is CNY 30 per person, and the bus operates only from 7 am to 5 pm.
• Popular Mount Tai Tour: ✔ 2 Days Most Classic Mount Tai Hiking Tour
Houshiwu Cable Car 后石坞索道 - The Shortest and Least Visited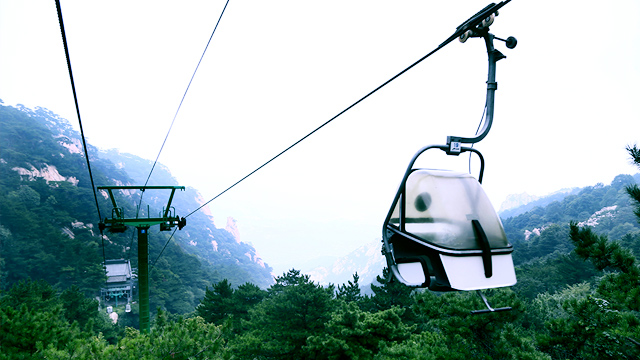 Houshiwu Cable Car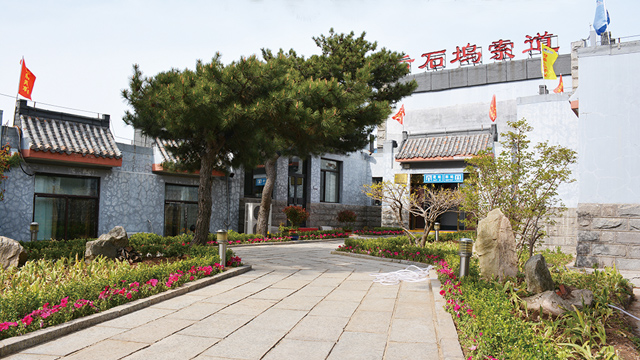 Houshiwu Cable Car
• Route: North Gate to Heaven - Shihe (Stone River, Houshiwu Scenic Area)
• Cableway Length: 518 meters, about 2 minutes
• Operating Hours: April to October: 08:30 ~ 16:00 (Monday to Sunday); November to March: Closed
• Maximum Capacity: 2 people
• One-way Tickets: CNY 20 for adults and children taller than 1.2m
The Houshiwu Cable Car is the shortest one among the three. You can get to Houshiwu Scenic Area by taxi from Tai'an City, and there is no tourist bus in Houshiwu Scenic Area. You can enjoy a pure hike, the beauty, and wildness of Mount Tai. With the least visitors and vendors, hikers can concentrate on the mountain itself, though the cultural relic sites are also much less than the other two paths. Houshiwu Cable Car will take you to the North Gate of Heaven, the top area of Mount Tai, and it is very close to Jade Emperor Peak.
• Popular Mount Tai Tour: ✔ 2 Days Taishan & Qufu Tour from Beijing by Bullet Train
Which Cable Car to Take on Mt Tai
1. Houshiwu Cable Car - Less Recommended for Independent Hikers
Though there are 3 operating cableways in Taishan, Houshiwu Cableway is less recommended than the other two cableways for it is closed in winter and the trekking route in Houshiwu to the cableway is the least visited and relatively wild, and you may get lost in the mountain area. Unless you are accompanied by a local tour guide, you are not recommended to travel as an independent hiker.
2. Zhongtianmen Cable Car or Taohuayuan Cable Car?
Zhongtianmen Cable Car can be the most recommended one for visitors who want to follow the most classic trekking route of Mount Tai and visited the cultural relics and temples. The cable car station stands on the central path the emperors and Confucius have visited, and most of the local people and people come to Mt. Tai for the first time will take Zhongtianmen Cable Car. However, its great fame also brings a swarm of people during the Chinese holidays and weekends. Unless you can accept the warning of the possible large moving crowd and noise surrounding you and long queue before the cable car station for the sake of visiting more temples and ancient inscriptions, you are recommended to go.
However, if you are not pursuing every detail of a cultural Mount Tai, the peak area offers a lot to see including the landmark inscriptions, and it is an area that can be reached via Taohuayuan Cableway. Following the route of peach blossom on the west side of Mount Taishan, you may encounter more surprises and pleasantness from nature. Also, it may get crowded too but less hustling than the situation in Zhongtianmen Cable Car station.
Tips for Taking Cable Car on Mount Tai
1. Adults and children with the height of 1.2m and above are required to buy full tickets, and children shorter than 1.2m are free to get on the cable car.
2. Patients with serious heart disease, hypertension, acrophobia, and mental disorder are not suitable to take cableway; The pregnant and passengers with limited mobility should carefully choose to take cableway under the supervision of competent personnel.
3. It is not allowed to carry items with a length over 1.5m, or width over 1.2m, or weight over 10kg on the cableway.
4. It is strictly forbidden to carry dangerous goods and controlled articles on the cable car, and smoking is strictly prohibited in the carriage.
5. Please do not take pets on the cable car.
6. The one-way running time of the cableway is under 10 minutes.
7. There are 8 passengers in each carriage of Zhongtianmen and Taohuayuan Cableways. The door will open and close automatically. Please do not push or pull.
8. In case of a temporary stop during the operation of the cableway, please do not panic and wait patiently for the cableway to restart.
9. Due to strong wind, lightning, and other weather conditions, cableway equipment failure, or other emergency reasons, as well as sudden physical discomfort of passengers, tourists can get a full refund of your tickets at the cableway ticket office.
How to Plan Your Mount Tai Tour
How to Get to Mount Tai: You can take both high-speed trains and normal trains to Tai'an from Beijing, Shanghai, Xian, Tianjin, Qingdao, Jinan, Weihai, Yantai, Zhengzhou, etc.
Best Time to Visit Mount Tai: From March to mid-October. It might be very crowded on weekends and the Chinese holidays.
Located in Tai'an City, Shandong, Mount Tai (aka Taishan Mountain), is regarded as the greatest of the Five Sacred Mountains in China, and listed as a UNESCO World Natural & Cultural Heritage Site in 1987. The highest Jade Emperor Peak is recorded about 1545 meters above sea level. Hiking uphill you can trek along the worshiping spots path the ancient Chinese emperors had come for; Reaching the top, you can have a panoramic view of the whole Taian city and enjoying the stunning sunrise and sunset, and it is recommended to spend 2 full days exploring the best highlights of Mount Tai including the Daimiao Temple (Museum of Taian City) at the foot of Mount Tai. You can also visit Mount Tai in a single day by taking sightseeing bus to Zhongtianmen, then hiking to the summit and descending by cable car.
✔ 2 Days Most Classic Mount Tai Hiking Tour
✔ 2 Days Enjoyable Mount Tai Hiking Tour
Taking a high-speed train and spending 2 more days, you can extend your trip to the nearby "City of Spring", Jinan which nourishes a number of famous springs and lakes of China, such as Baotu Spring Park, Daming Lake, Black Tiger Spring, etc. Also, about 85 km to Mount Tai is Qufu, the hometown of the greatest sage of China, Confucius, and you may understand the deep-rooted Chinese culture as you stepping into the Confucius Temple, Kong Forest, and Kong Mansion.
✔ 2 Days Taishan & Qufu Tour from Beijing by Bullet Train
✔ 3 Days Confucius Culture Exploration with Sidetrip to Mount Tai
✔ 4 Days Cultural Discovery in Jinan, Taishan & Qufu
Besides these cities near Mount Tai, Shandong greets you with not only the splendid culture but also the beautiful coastlines. The refreshing ocean air from Qingdao blows the fragrance from the old Beer factories; the colorful kites fly over the city Weifang and swans in pairs nestle in the havens of Weihai by the shimmering sea...all of these highlights of Shandong can be covered in about 8 days. Beyond Shandong, travelers often extend trip further to Beijing, Xian, Datong & Pingyao (in Shanxi), Luoyang & Shaolin Temple & Kaifeng (in Henan) and more stunning heritages and nature sights in China.
✔ 6 Days Jinan, Qufu, Mount Tai & Qingdao Tour
✔ 9 Days Beijing Shanghai Speed Train Tour with Confucianism Exploration
✔ 9 Days Shandong Panorama Tour
✔ 11 Days China World Heritage Tour in North China
Travel with China Discovery
China Discovery is an experienced, professional, and reliable travel companion devoted to offering high-quality and the best tour services for all travelers to China. In order to have a hassle-free journey and focus on the trip itself, it's highly recommended traveling with China Discovery. So, you can enjoy convenient airport pick-up and drop-off service and transportation to all scenic spots in a safe, clean, comfortable, air-conditioned, and non-smoking vehicle. Also, we will arrange a knowledgeable local tour guide, excellent accommodation, and dining arrangements to ensure you rest well and get a better understanding of springs culture in Jinan, Confucianism in Qufu, and Mount Tai culture in Shandong. You may select a favorite from our most popular Mount Tai tours or contact us to design a unique itinerary according to your personal time and preference.
Beautiful Sunset seen from Mount Tai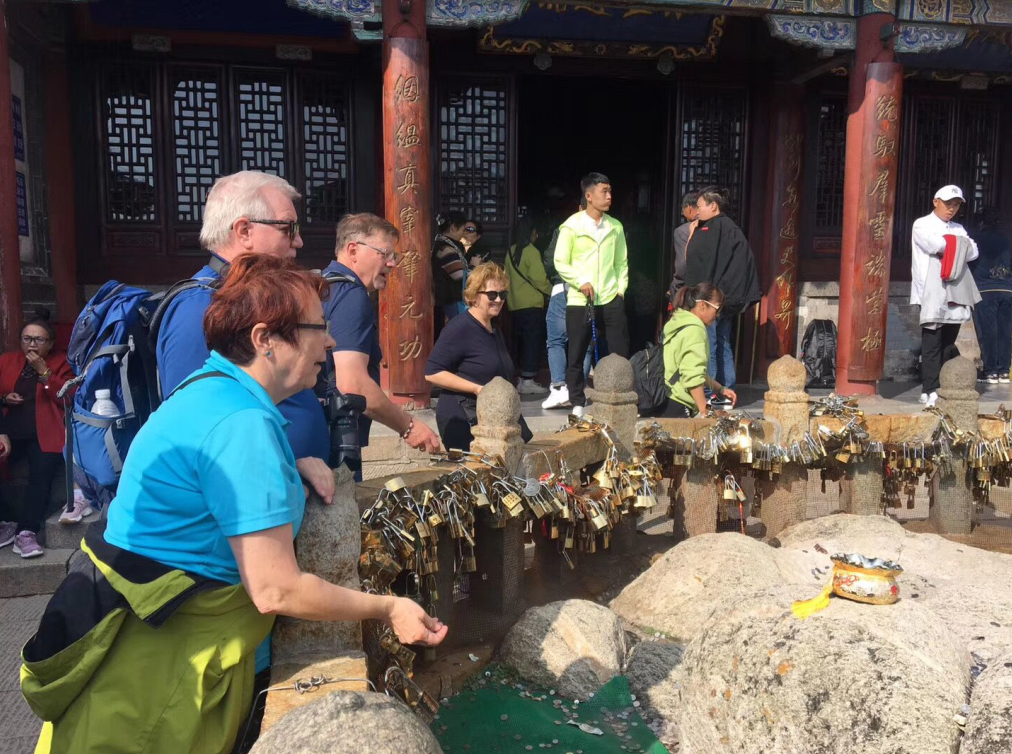 China Discovery Customized Mount Tai Tour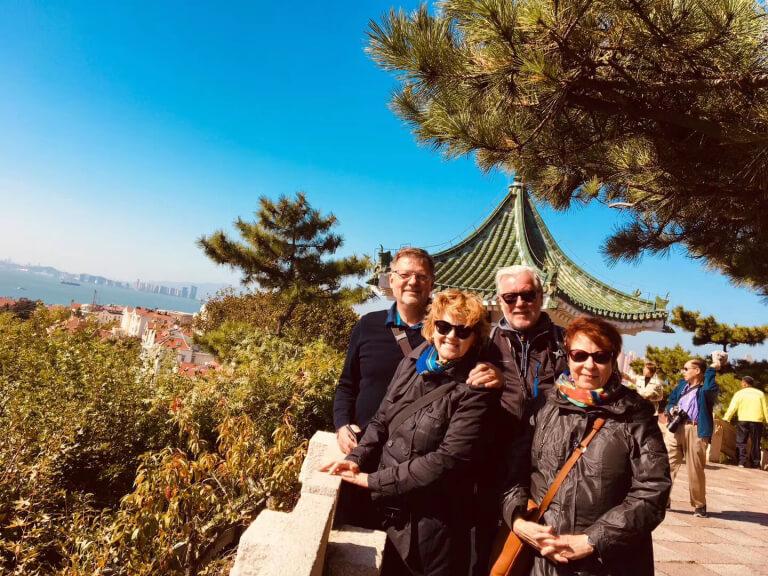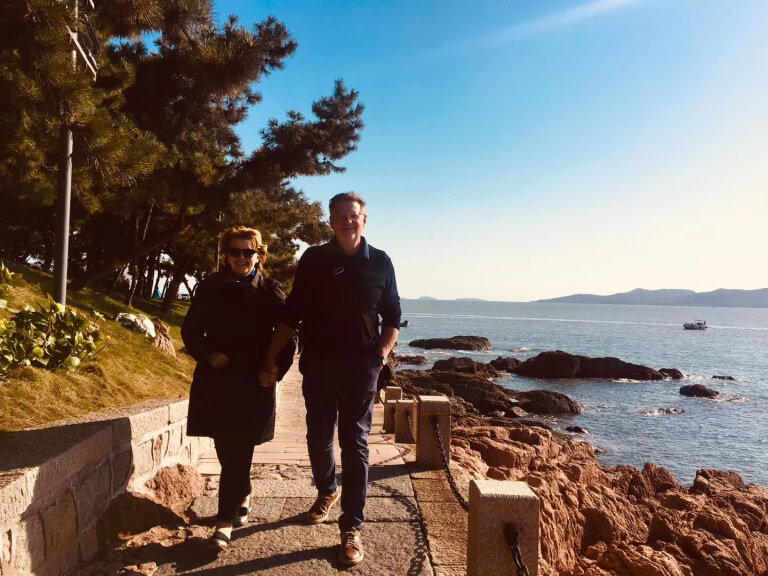 China Discovery Customized Shandong Tour to Qingdao (Xiaoyushan Park & Bathing Beach)
Top Mount Tai (Taishan) Tours
Helpful Mount Tai Travel Guide
Recommended Mount Tai Tours
Top 3 Mount Tai tours chosen by most customers to explore Mount Tai in the best way. Check the detailed itinerary, or tailor your own trip now with us.
2 Days Enjoyable Mount Tai Hiking Tour

Mount Tai
2 Days Mount Tai Qufu Tour from Beijing by Bullet Train

Beijing / Mount Tai / Qufu
Start planning your tailor-made holiday to China by contacting one of our specialists. Once inquired, you'll get a response within 0.5~23.5 hours.
Customize a Trip
Have a question? Get answers from our travel experts or guests
Your Question:

Your Name:

Your Email: