How Tall is the Great Wall of China
The Great Wall of China is one of the Seven Wonders in the World and the most magnificent man-made defensive structure. Many people may wonder how tall the Great Wall is to defend against the invaders. Now here is the answer. The average height of the walls is 7.8m (25.6 feet) and the altitude of its highest point is 1439.3 meters (4722.1 feet).
What is the Height of the Great Wall of China
The Great Wall is not only a single wall, but a complete defensive structure consisting of the walls (main part), watchtowers, fortresses, guardhouses, beacon towers and so on. The average height of the walls is 7.8m (25.6 feet) and in some places it can be as tall as 14m (46 feet). Generally speaking, the walls built on steep hills and in places with less significance are relatively low and those in flat terrains and critical locations are built high.
Highest and Lowest Point of the Great Wall
As the Great Wall spans over diverse landforms such as mountains and valleys, its highest and lowest point is more of a question about altitude. According to current record, the highest point of the Great Wall is in Huanglouwa (黄楼洼). It is 1439.3 meters (4722.1 feet) high, about 80km to the northwest of Beijing center. The lowest point is in Old Dragon's Head or Laolongtou (老龙头) in Shanhaiguan Scenic Area, Qinghuangdao, Hebei Province. It stretches all the way to the Bohai Sea, so its altitude is just equal to the sea level.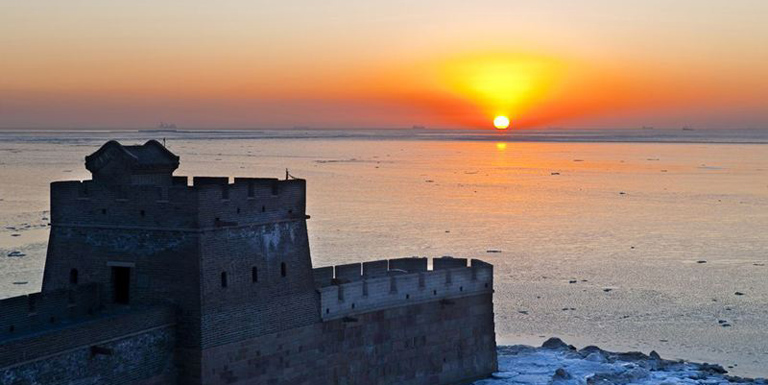 Laolongtou Connects the Bohai Sea
Great Wall of China Height for Famous Sections
| Section | Location | Wall Height | Highest Point |
| --- | --- | --- | --- |
| Badaling | Beijing | 6-9m (20-30 feet) | Watchtower 8: 888.9m (2916 feet) |
| Mutianyu | Beijing | 6-9m (20-30 feet) | Watchtower 20: 1039.6m (3410.8 feet) |
| Simatai | Beijing | Unknown | Wangjing Tower: 986m (3235 feet) |
| Jinshanling | Chengde, Hebei | 5-8m (16-26 feet) | >700m (2296.6 feet) |
| Juyongguan | Beijing | Unknown | Watchtower 12: about 1000m (3280.8 feet) |
| Jiankou | Beijing | Unknown | Ox Horn Edge: 1044m (3425 feet) |
| Jiayuguan | Jiayuguan, Gansu | 10.7m (35.1 feet) | Unknown |
How to Plan a Great Wall Tour
At present, it is most recommended to choose the sections in or near Beijing to make a Great Wall tour considering the feasibility and flexibility. It needs at least 2 hours to drive from central Beijing (Tiananmen Square) to any section of the Great Wall, so you are recommended to start your trip earlier than 8:00am. Then you can spend 3 or 4 hours hiking the wall. Badaling section is the most popular and touristy one. If you want to travel with fewer crowds, sections like Mutianyu, Simatai, Jiankou, Jinshanling, Huanghuacheng, Juyongguan are also good choices. After the Great Wall hiking, you can get back to downtown Beijing in the afternoon or head to another section of the Great Wall and prepare your hiking for the next day.
Great Wall is usually a part of a Beijing tour, so you can spend 2 or more days to explore other attractions in Beijing such as Forbidden City, Summer Palace, Temple of Heaven, Beijing Hutongs… If you have any ideas or questions about a Great Wall tour, please feel free to contact us, we will provide you with tailor-made tours according to your own interests, budgets, traveling time, etc.
Recommended Great Wall Hiking Tour:
>>2 Days Jiankou - Mutianyu & Huanghuacheng Lakeside Great Walls Hiking Tour
>>4 Days Classic Beijing Tour with Jinshanling Great Wall Hiking
>>4 Days Beijing Essence Tour with Simatai Great Wall Night Sightseeing
Great Wall of China Facts
Great Wall of China Guide
Recommended Beijing Tours
Top 3 Beijing tours chosen by most customers to explore Beijing in the best way. Check the detailed itinerary, or tailor your own trip now with us.
Start planning your tailor-made holiday to China by contacting one of our specialists. Once inquired, you'll get a response within 0.5~23.5 hours.
Customize a Trip
Questions & Discussions
Following are latest questions and answers from our webusers and customers. You can learn many useful information from the discussion and cases. You can also join in the discussions or ask your own question. Our experts will help you ASAP.
ms
why was the Great Wall of China built
Hi Yosra,
The Great Wall is a defensive military project in ancient times. It was mainly built to consolidate territories and resist invasion from others. It is not a simple isolated anterior wall, but a network of gateways, fortresses, and offices, forming a complete defense system. For more details, you can visit another page on our website:
https://www.chinadiscovery.com/great-wall/facts/why-was-the-great-wall-built.html
Have a question? Get answers from our travel experts or guests
Your Question:

Your Name:

Your Email: