How Long is the Great Wall of China
In China, people always call the Great Wall "Ten-Thousand Mile Long Wall (万里长城)", but how long is the Great Wall of China exactly? It is officially announced as 21196.18km (13170 miles) in total after a more than 5 years' measurement, among which 8851km (5,500 miles) still exist. 573km (356 miles) of the Great Wall stretches in Beijing, more than 40km (24.9 miles) of which has been restored.
How Long is the Great Wall of China in Kilometers (Miles)
According to a 5-year archaeological survey conducted by National Cultural Heritage Administration of China in 2012, the total length of the Great Wall in various dynasties is 21196.18 kilometers (13170 miles), about half the perimeter of the equator. It includes 43721 Great Wall heritage sites such as the walls, trenches, monolithic buildings, forts, and other related facilities. It is the first time that China has scientifically and systematically measured the length of the Great Wall.
How Long is Ming Dynasty Great Wall
The history of the Great Wall dates back to the Western Zhou Dynasty (1046 BC - 771 BC). But after thousands of years, many parts of the Great Wall built in ancient dynasties are incomplete now.
Today, the Great Wall we are talking about usually refers to the relatively well-preserved part, which was built in the Ming Dynasty (A.D. 1368-1644). According to the official announcement in 2009, Ming Dynasty Great Wall spans from Hushan (虎山) in southeastern part of Liaoning Province (辽东) in the east to Jiayuguan (嘉峪关) in Gansu Province in the west. It travels through 156 counties in 10 provinces and municipalities directly under the Central Government, namely Liaoning, Hebei, Tianjin, Beijing, Shanxi, Inner Mongolia, Shaanxi, Ningxia, Gansu, and Qinghai, with a total length of 8851.8km (5500.3 miles), of which 359.7km (223.5 miles) are trenches and 2232.5km (1387.2 miles) are natural defensive barriers.
Great Wall of China Length for Famous Sections
Badaling Great Wall: in Beijing, restored part 3.7km/2.3mi
Mutianyu Great Wall: in Beijing, restored part 5.4km/3.4mi
Simatai Great Wall: in Beijing, total length 5.4km/3.4mi
Jinshanling Great Wall: in Chengde, Hebei Province, total length 10.5km/6.5mi
Gubeikou Great Wall: in Beijing, total length more than 40km/25mi
Jiankou Great Wall: in Beijing, plan to restore 2.8km/1.7mi in 2022
Juyongguan Great Wall: in Beijing, total length 4.1km/2.5mi
Huanghuacheng Lakeside Great Wall: in Beijing, total length 12.4km/7.7mi
Huangyaguan Great Wall: in Tianjin, total length 42km/26mi
Hushan Great Wall: in Dandong, Liaoning Province, restored part 1.25km/0.75mi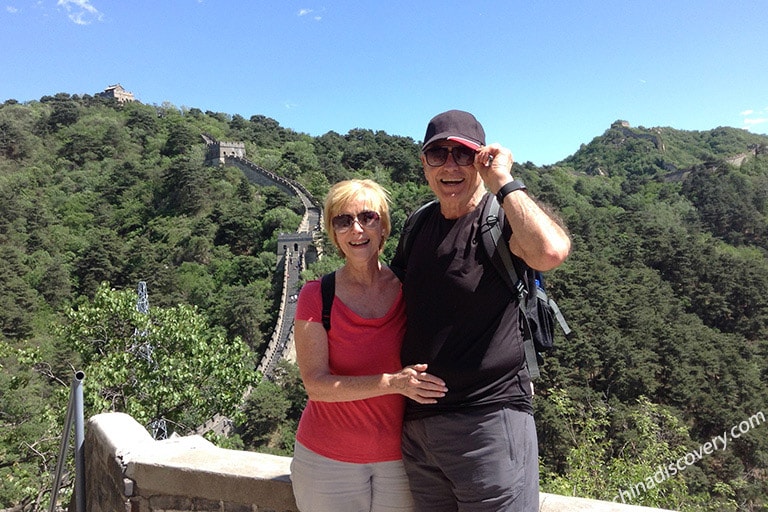 Mutianyu Great Wall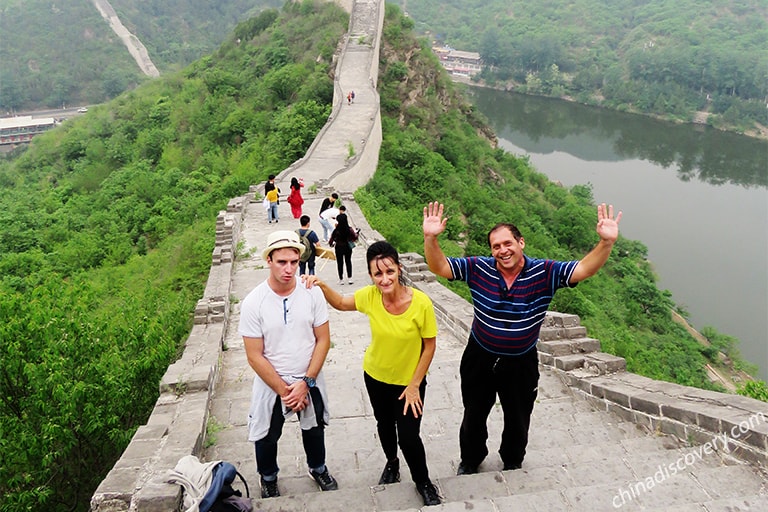 Huanghuacheng Great Wall
Where does the Great Wall of China Start and End
The Great Wall is not a continuous wall as many people may think. In the history of China, more than 20 dynasties and states have built their own Great Wall in different locations and lengths. The one built by the first emperor of China, Qin Shi Huang (259-210 BC) starts from Lintao (临洮) in mid-Gansu Province and ends in the southeast of Liaoning Province. There is no specific record about how long this Wall is, but it is since then that the Wall is called Ten-Thousand Mile Long Wall. Another dynasty that has put tremendous effort in building the Great Wall is the Ming Dynasty. As mentioned above, its west-most and east-most points are Jiayuguan and Hushan. Throughout the history, some parts of the Great Wall have been discovered and some has been destroyed. It is now generally recognized that Yumenguan (玉门关) in northwestern Gansu is the west-most point and Hushan in Liaoning Province is the east-most point of the Great Wall.
How Long to Walk the Great Wall of China
Generally speaking, the walking speed of adults is about 4~5km/h. As there are many steps, ups and downs, and even crumbled paths on the Great Wall, it usually takes more time to walk there than flat ground. Supposing you walk 2.5km an hour, to finish the whole 21196.18km will need about 8478.5 hours, i.e. 353 days. Of course, it is just theoretically, because neither can you keep walking for a whole year, nor are all sections of the Great Wall totally available for hiking.
It is more practical to walk one or two sections of the Great Wall at a time. For most sections such as Badaling, Mutianyu, Simatai, Huanghuacheng, 3 hours will be sufficient to take a hiking tour (not including the transfer time which is about 2 hours by car from central Beijing to the site).
>>2 Days Mutianyu and Jinshanling Great Wall Hiking Tour
>>2 Days Jinshanling and Simatai Great Wall Wild Hiking
How to Plan a Great Wall Tour
At present, it is most recommended to choose the sections in or near Beijing to make a Great Wall tour considering the feasibility and flexibility. It needs at least 2 hours to drive from central Beijing (Tiananmen Square) to any section of the Great Wall, so you are recommended to start your trip earlier than 8:00am. Then you can spend 3 or 4 hours hiking the wall. Badaling section is the most popular and touristy one. If you want to travel with fewer crowds, sections like Mutianyu, Simatai, Jiankou, Jinshanling, Huanghuacheng, Juyongguan are also good choices. After the Great Wall hiking, you can get back to downtown Beijing in the afternoon or head to another section of the Great Wall and prepare your hiking for the next day.
Great Wall is usually a part of a Beijing tour, so you can spend 2 or more days to explore other attractions in Beijing such as Forbidden City, Summer Palace, Temple of Heaven, Beijing Hutongs… If you have any ideas or questions about a Great Wall tour, please feel free to contact us, we will provide you with tailor-made tours according to your own interests, budgets, traveling time, etc.
Recommended Great Wall Hiking Tour:
>>2 Days Jiankou - Mutianyu & Huanghuacheng Lakeside Great Walls Hiking Tour
>>4 Days Classic Beijing Tour with Jinshanling Great Wall Hiking
>>4 Days Beijing Essence Tour with Simatai Great Wall Night Sightseeing
Great Wall of China Facts
Great Wall of China Guide
Recommended Beijing Tours
Top 3 Beijing tours chosen by most customers to explore Beijing in the best way. Check the detailed itinerary, or tailor your own trip now with us.
Start planning your tailor-made holiday to China by contacting one of our specialists. Once inquired, you'll get a response within 0.5~23.5 hours.
Customize a Trip
Have a question? Get answers from our travel experts or guests
Your Question:

Your Name:

Your Email: