How Big is the Great Wall of China
The Great Wall of China is the largest man-made structure in the world. But in China, people usually will not use the word "big" to describe the Great Wall. Its Chinese name "长城" means long wall. So here we will use some numbers about its length, height, and width, and some landmarks such as its biggest watchtower, pass, and fortress to show you how big the Great Wall of China is.
Great Wall of China Size – Length, Height, Width
As it is hard to measure the volume or floor space of the Great Wall, here we will talk about the size of the Great Wall of China from its length, height, and width.
Length: The total length of the Great Wall is 21196.18km (13170 miles), among which the well-preserved Ming Dynasty (A.D. 1368-1644) Great Wall is 8851km (5,500 miles).>>Read More about How Long is the Great Wall of China
Height: The average height of the walls is 7.8m (25.6 feet) and the tallest is 14m (46 feet). The altitude of the highest point (Huanglouwa) of the Great Wall is 1439.3 meters (4722.1 feet).>>Read More about How Tall is the Great Wall of China
Width: The top of the Great Wall is about 4-5m (13-16 feet) wide in average. The base is usually wider, whose average width is about 6.5m (21 feet). But in different sections, this may differ greatly from the average, for example, the width of Juyonguan section of the Great Wall on the top ranges from 1.2m (4 feet) to 16.7m (55 feet).
Biggest Watchtower on the Great Wall – Nine-Eye Tower
There are hundreds of watchtowers on the Great Wall, some stand still and some has been weathered over time. Nine-eye Tower (Jiuyanlou 九眼楼), the largest watchtower at the highest level, is located at the border of Yanqing County and Huairou County, about 110km to the north of Beijing center. With an altitude of 1141m, it is said that people can see Beijing city from here on clear days.
Built in A.D. 1543, Nine-eye Tower is a two-storey square watchtower with 9 look-out holes (1.65m/5.4 feet in height, 0.5m/1.64 feet in width) on each side of the walls. That is also how it gets its name. Now the remaining first storey is 7.8m (25.59 feet) high and 13m (42.65 feet) wide with a 1.2m (3.9 feet) wide circular walkway inside. This solid watchtower provides sufficient space for weapon or food storage and is a very good residence for the guarding soldiers in the past. There is a door (2m/6.6 feet high and 1.2m/3.9 feet wide) on each of the four sides so that people can get through the watchtower conveniently.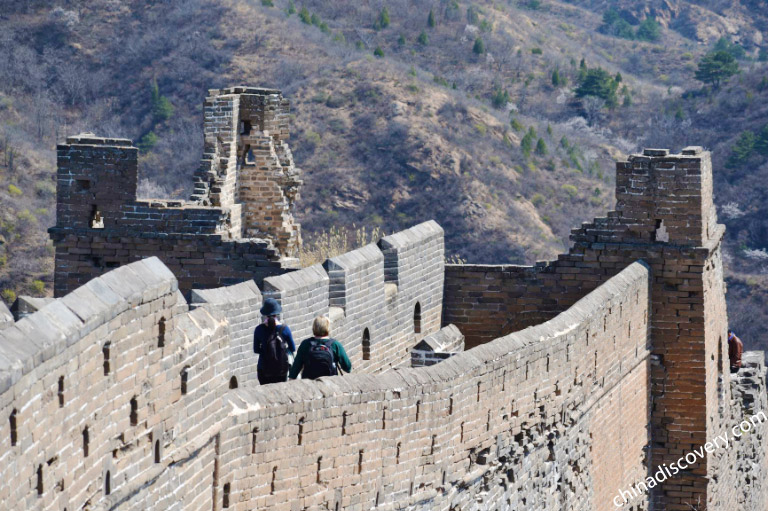 Remanent Nine-Eye Tower
Biggest Pass on the Great Wall
The countless large and small passes form an important part of the defensive system of the Great Wall. The biggest pass on the Great Wall remains a question because some passes are close in size and they are usually compared by their importance. Even so, we can still name some of them that are beyond doubt one of the biggest passes both in size and significance, for example, Shanhaiguan Pass (山海关).
Shanhaiguan, located in Qinhuangdao, Heibei Province, is one of the three greatest mountain passes of the Great Wall of China (the other two are Juyongguan居庸关 and Jiayuguan嘉峪关). It is built in A.D. 1381 with a perimeter of about 4km (2.5 miles). Its walls are 14m (46 feet) high and 7m (23 feet) thick. On the east gate called Zhendongmen (镇东门) stands a grand city tower. Its base is 12m (39.4 feet) high and the tower reaches 13m (42.6 feet). It is 10.1m (33.1 feet) on east-west side and 19.7m (64.4 feet) on south-north side. No wonder it is reputed as "the First Pass under Heaven".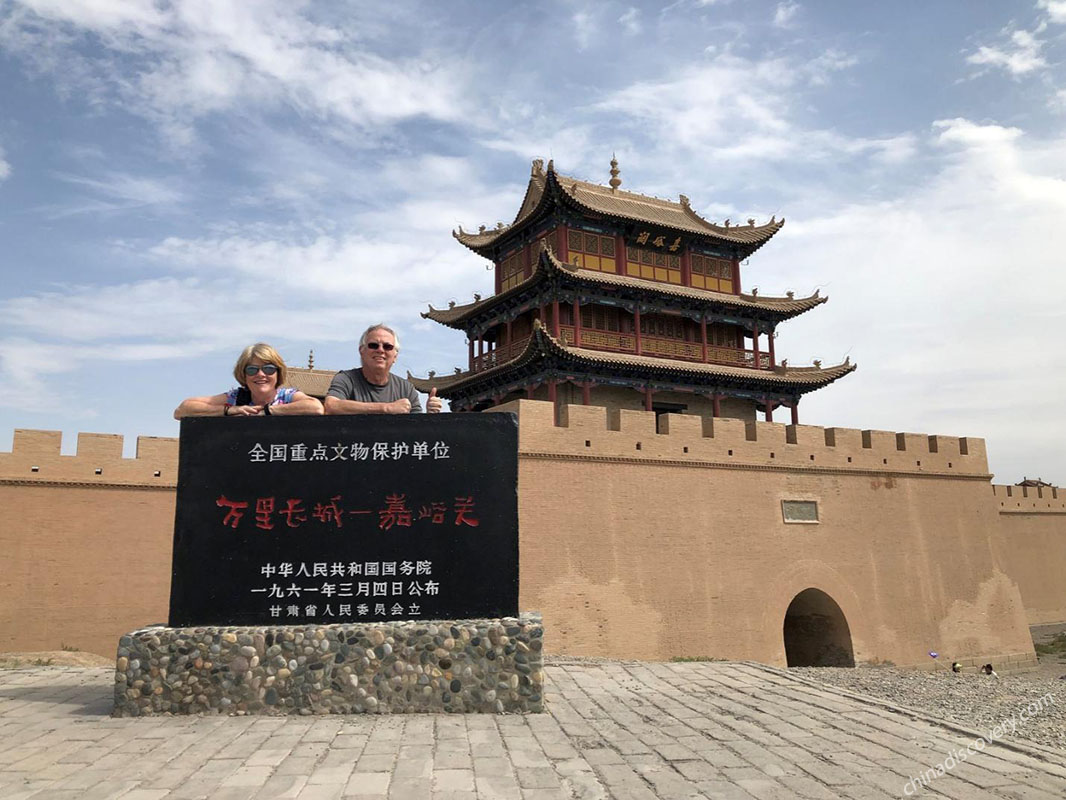 Shanhaiguan Pass
Biggest Fortress on the Great Wall – Zhenbeitai
Zhenbeitai (镇北台), located in Yulin, Shaanxi Province, is one of the most magnificent buildings of the Great Wall. It is known as one of the three wonders of the Great Wall of China (the other two are Shanhaiguan in the east and Jiayuguan in the west) and is titled as the "Greatest Fortress of the Ten-Thousand Mile Long Wall (万里长城第一台)".
Zhenbeitai is built in A.D. 1607. It is a square structure with four floors and a height of more than 30m (98.4 feet). Its base is 82m (269 feet) long in the north, 76m (249.3 feet) in the south, 64m (210 feet) in the east and west, covering an area of 5056 square meters. Standing on the top, you will have a panoramic view of the scenes for miles around.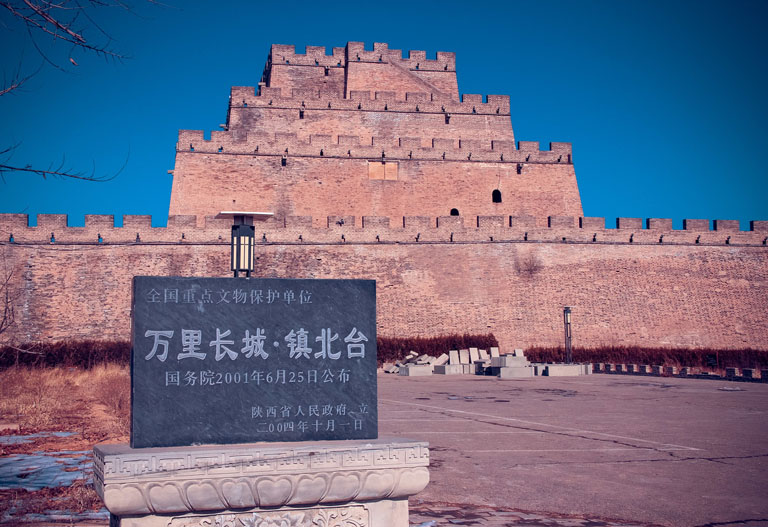 Zhenbeitai
How to Plan a Great Wall Tour
At present, it is most recommended to choose the sections in or near Beijing to make a Great Wall tour considering the feasibility and flexibility. It needs at least 2 hours to drive from central Beijing (Tiananmen Square) to any section of the Great Wall, so you are recommended to start your trip earlier than 8:00am. Then you can spend 3 or 4 hours hiking the wall. Badaling section is the most popular and touristy one. If you want to travel with fewer crowds, sections like Mutianyu, Simatai, Jiankou, Jinshanling, Huanghuacheng, Juyongguan are also good choices. After the Great Wall hiking, you can get back to downtown Beijing in the afternoon or head to another section of the Great Wall and prepare your hiking for the next day.
Great Wall is usually a part of a Beijing tour, so you can spend 2 or more days to explore other attractions in Beijing such as Forbidden City, Summer Palace, Temple of Heaven, Beijing Hutongs… If you have any ideas or questions about a Great Wall tour, please feel free to contact us, we will provide you with tailor-made tours according to your own interests, budgets, traveling time, etc.
Recommended Great Wall Hiking Tour:
>>2 Days Jiankou - Mutianyu & Huanghuacheng Lakeside Great Walls Hiking Tour
>>4 Days Classic Beijing Tour with Jinshanling Great Wall Hiking
>>4 Days Beijing Essence Tour with Simatai Great Wall Night Sightseeing
Great Wall of China Facts
Great Wall of China Guide
Recommended Beijing Tours
Top 3 Beijing tours chosen by most customers to explore Beijing in the best way. Check the detailed itinerary, or tailor your own trip now with us.
Start planning your tailor-made holiday to China by contacting one of our specialists. Once inquired, you'll get a response within 0.5~23.5 hours.
Customize a Trip
Have a question? Get answers from our travel experts or guests
Your Question:

Your Name:

Your Email: