Things to Do in Shaolin Temple, Dengfeng
Located at the foot of Mt. Songshan, Shaolin Temple, the origin of Chinese Zen Buddhism is surely the top attraction in Dengfeng for most tourists, especially the fans of Shaolin Kung Fu. Here you can visit the famous Pagoda Forest, appreciate the architectural complex, watch Shaolin Kung Fu show and do other activities.
What's more, the surrounding groups of Historic Monuments sites, together with Shaolin Temple and Songyang Academy, are called "the Centre of Heaven and Earth", listed in the World Heritage site in 2000, which are worthwhile for visiting with enough time.
Henan Travel Map
How to Plan Your Dengfeng Shaolin Temple Tour
How to Get to Dengfeng Shaolin Temple: Usually take private car from Luoyang (about 1.5 hours) or Zhengzhou (about 2 hours); or take direct bus from Luoyang (about 2 hours) and Zhengzhou (around 1.5 hours)
Top Things to Do in Shaolin Temple: See ancient Buddhist architectures; watch Shaolin Kung Fu Show; join Shaolin Kung Fu Training Program
Where to Stay During Shaolin Temple Tour: Most tourists accommodate in hotels in Dengfeng City while Shaolin Kung Fu learners can stay in Kung Fu school with basic facilities.
After arrival from Luoyang or Zhengzhou, ordinary tourists usually spend one day visiting Shaolin Temple - a UNESCO World Cultural Heritage and the birthplace of Chinese Buddhist Zen and Chinese Kung Fu (Martial Arts). One-day Shaolin Temple tour is a classic itinerary covering the best essence, which takes you to admire the sacred shrine with 7 courtyards, the Pagoda Forest and lots of ancient architectures. Besides the sightseeing, you can also watch a wonderful Shaolin Kung Fu show and even join in a short-period Kung Fu training class to learn some basic styles. Love nature and physical condition allows? Take half a day more to do an excursion on Sanhuang Village of Mount Song, walk on the amazing roads cliffside and witness unique mountain landform. (If you or your kids plan to take a longer Kung Fu learning near Shaolin Temple, you can also contact us to get more recommendations.)
✔ 2 Days Shaolin Temple Tour from Zhengzhou
✔ 3 Days In-depth Shaolin Kung Fu Class Tour

If you have one more day and are quite interested in ancient Chinese culture, Luoyang is another must-visit destination in Henan (if you haven't visited). The awesome Longmen Grottoes stretching by the riverside and China's first Buddhist temple - White Horse Temple are iconic sites for your Luoyang tour. Still, there are many remarkable cultural and natural sights in Henan worthy your exploration, including the spectacular Yuntai Mountain, mysterious Guoliang Village, interesting Yin Ruins of Anyang, ancient capital Kaifeng, etc. Finishing your Henan tour, you may extend your journey to Beijing, Xian and other major destinations in China as you want. You can choose from our most popular China Shaolin Temple tour packages or contact us to customize a trip based on your requirements.
✔ 3 Days Shaolin Kung Fu Tour including Luoyang Highlights
✔ 8 Days China Ancient Capitals Tour (Beijing/Luoyang/Xian)
✔ 11 Days Essence of China Culture Tour by High Speed Trains
✔ 15 Days China Kungfu Panda Family Tour
Our Customers visited Pagoda Forest of Shaolin Temple
Our Customers Visited Luoyang Longmen Grottoes
Get Inspired by Real Travel Stories of Our Customers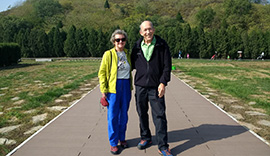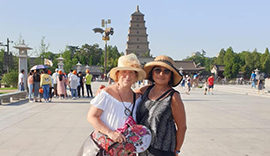 Our Delighted Customers
Top Dengfeng Shaolin Temple Tours
Helpful Dengfeng Shaolin Temple Travel Guide
Recommended Dengfeng Tours
Top 3 Dengfeng tours chosen by most customers to explore Dengfeng in the best way. Check the detailed itinerary, or tailor your own trip now with us.
3 Days In-depth Shaolin Kung Fu Class Tour

Zhengzhou / Dengfeng / Zhengzhou
3 Days Shaolin Temple Longmen Grottoes Tour from Zhengzhou

Zhengzhou / Shaolin Temple / Luoyang
3 Days Shaolin Kung Fu Tour including Luoyang Highlights

Luoyang / Dengfeng / Luoyang