Where to Learn Sholin Kung Fu - Shaolin Kung Fu Training 2023
Shaolin Kung Fu skills are practical and can be used to defend yourself against an attack. There are many other benefits you can get if you take a serious Kung Fu training. By practicing Kung Fu, you can get fit with an interesting way instead of gym routines, also improve your self-confidence, discipline and relieves stress of modern life.
Shaolin Temple is the birthplace of Chinese Kung Fu. The warrior monks and their disciples in the temple are the best practicers of Shalin Kung Fu. But it is quite difficult to find a good Kung Fu school without doing plenty of homeworks as there are many true and fake Shaolin Kung Fu schools and many uncertain information out there. Here we have concluded ultimate guide on how to learn authentic Shaolin Kung Fu in China and abroad with recommended Kung Fu schools. We even have designed Kung Fu Class Tours which can be added in your trips to Luoyang, Zhengzhou, Xian and other places in China.
Where to Learn Shaolin Kung Fu? Can I Take Kung Fu Training in Shaolin Temple?
There are hundreds of places in the world that teach Shaolin Kung Fu skills. Most of them are in China. You can also find some Kung Fu schools in some European, American and Southeast Asian countries. Some Kung Fu schools not only teach Shaolin Kung Fu, but also provide classes of Tai Chi, Qi Gong, Wing Chun, etc.
As the birthplace of all Chinese Kung Fu, Shaolin Temple also runs a Kung Fu Academy which might be the most authentic place to learn Shaolin Kung Fu. It is open for both Chinese students and foreign students. But it is usually more difficult to get registered than other school as it is so popular with all Kung Fu fans.
There are many good Shaolin Kung Fu schools as well as some unqualified ones. And learning Kung Fu usually costs a lot time and money. So you'd better learn as much information as possible before registering and paying for your Kung Fu class.
• Popular Shaolin Temple Tour: ✔ 3 Days In-depth Shaolin Kung Fu Class Tour
How to Study Kung Fu in Shaolin Temple?
The official name of the Kung Fu school in Shaolin Temple is the Song Mountain Shaolin Kung Fu School. Shaolin Temple is located at the foot of Song Mountain, and the Song Mountain Shaolin Kung Fu School is located next to the complex of Shaolin Temple. The nearest city is Dengfeng which is only about 15km from the Temple. To get to Dengfeng, you need to get to Zhengzhou or Luoyang first.
Song Mountain Shaolin Kung Fu School is fully authorized by Shaolin Temple to receive and teach international students. Many traditional Shaolin Kung Fu skills are taught, including Ba Duan Jin, Yi Jin Jing, Iron Coat, Iron Palm, Standing on Two Fingers, etc.
How Much a Kung Fu Training Costs?
The Kung Fu Training Costs include tuition fee and living expense. For short-termed Shaolin Kung Fu training, you can pay monthly. Referral monthly tuition fee is about $590. There are discounts for the next month, third month… For instance, the tuition fees are $540 for the second month, $490 for the third month, $450 for the fourth month… For long-termed Shaolin Kung Fu training students, the Kung Fu training costs are paid by year. Referral cost is $5980 for the first year, $5520 for the second year and $4320 for the third year, covering training, meals, lodging, administration, training uniforms and a free sword, etc. During your training, you don't have to pay any fee for using training facilities involved in your class like Shaolin weapons.
How to Register Your Kung Fu Training?
Option 1: Register on their website which has an Application Form. Provide your name, gender, age, contact information and training plan and summit the application. The administration office of the Kung Fu School will reply with email.
Option 2: Register in abroad branches of Shaolin Temple. Shaolin Temple has many branches in the world, including New York, Huston, Los Angeles, Berlin, etc. Sometimes, Shaolin Temple organizes cultural exchange activities with foreign country and invites foreign students to experience Shaolin Kung Fu, which is the best time to join the "Kung Fu Camp".
Option 3: Register with an agency who has co-operation with Shaolin Temple, such as CK Martial Hearts who organize packaged Kung Fu training from June to October to Shaolin Temple. They will take care of all training, accommodation, meals, clothes, etc.
Our kind remind is that you should do more researches, contact more agencies for details and try to find some formers students who studies in Shaolin Temple to make sure you get the correct information, because there are many fake Kung Fu schools and websites out there.
• Popular Shaolin Temple Tour: ✔ 3 Days Shaolin Kung Fu Tour including Luoyoang Highlights
Shaolin Warrior Monks
Learning Kung Fu in Shaolin Temple
Study Kung Fu in other Kung Fu Schools near Shaolin Temple
If you find it hard to register Kung Fu training program in Shaolin Temple, you can also go to some other Shaolin Kung Fu schools near Shaolin Temple. Some of them are professional Kung Fu Schools with legal licenses. Below are two recommended ones:
• Popular Shaolin Temple Tour: ✔ 3 Days Shaolin Temple Longmen Grottoes Tour from Zhengzhou
Shaolin Tagou Martial Art School (少林塔沟武校)
Shaolin Tagou Martial Art School is said to be the largest Kung Fu school in China. It is conveniently located close to Shaolin Temple Scenic Area. It claims all his Kung Fu masters had been trained in Shaolin Temple for years. Unlike the big class for Chinese students, the Kung Fu classes for foreign students have been optimized with max 10 students in a class led, with 6 hours training each day. There is no limitation on ages, but kids under 13 years old must be accompanied by an adult.
Address: Mount Song Shaolin Temple Tagou Wushu School, Dengfeng City 452470, Henan Province, China.
Telephone: ( 0086 ) 136 0768 0339 ( 24 hours available )
Email: shaolintagou@outlook.com
Website: https://www.shaolintagou.org
Shaolin YunTai Mountain International Culture and Martial Arts School (云台山国际武术学校)
YunTai Mountain International Culture and Martial Arts School is located in a vast geopark in the beautiful Yuntain Mountain, one of the most popular attractions in Henan Province. If you prefer a focused Kung Fu training that is far away from hustle and bustle, it is the ideal place. It training buildings, dormitories and dining halls are all recently built. Each dormitory has its own toilet, shower and air-conditioner. Kung Fu training programs include Shaolin Kung Fu, Wushu, Sanda (Chinese Kickboxing), Tai Chi, Qi Gong, etc.
Address: Huitou Shan, Yuntai Town, Xiuwu County, Jiaozuo City, Henan Province, China
Telephone: +86 (0) 156-39190088 / +86 (0) 391-2117111
Email: info@shaolin-yuntai.com
Website: https://shaolin-yuntai.com
Wechat-ID: SOS020901
• Popular Shaolin Temple Tour: ✔ 3 Days Luoyang & Yuntai Mountain Tour
Shaolin Tagou Martial Art School
YunTai Mountain International Culture and Martial Arts School
Study Kung Fu in other China Places
If you think Shaolin Temple and Kung Fu schools in Dengfeng, Henan, are too far away, or want to find a Kung Fu school with modern facilities, English-speaking teachers and flexible courses, you can also find Kung Fu Schools in Beijing, Shanghai, Shandong, etc. These schools are usually located in business districts. Below are some popular Kung Fu Schools:
Qufu Shaolin Kung Fu School (中国曲阜少林功夫学校)
This Kung Fu school is located in the birthday city of Confucius which is a beautiful and culturally historic UNESCO World Heritage City in Shandong Province, northeastern China. It was established in 2008 by the 34th Generation Shaolin Warrior Monk Master Shi Yan Jia under nod approval of current head abbot of Shaolin Temple – Shi Yongxin. It has rich experience of teaching Kung Fu to international students.
Address: Shimen Mountain National Park, Qufu City, 273100 Qufu City 273100 Shandong Province, China
Address in Chinese: 中国山东省曲阜市石门山风景区禅武林苑
Email: school@shaolinskungfu.com
Website: https://www.shaolinskungfu.com|
Office Phone: 0086 537 4507007
Mobile Phone: 0086 151 5373 0991
Whatsapp / Wechat: +86 151 5373 0991
Maling Shaolin Kungfu Academy China (马陵山弘禅武校)
This Kung Fu school is a small-scare academy which serves only for foreign students with many training programs of different martial arts. It was founded by Shi Xingjian who is the 32nd generation Shaolin Warrior Monk. Students are trained in groups of maximum 8-10 students per master. There is a translator to break the language barrier. Great meals and comfortable accommodation are provided.
Address: Maling Shaolin Kung Fu Academy, Cheng-gang, Xinyi city 221400, Jiangsu province, CHINA中国江苏省新沂市城岗马陵山弘禅武校
Phone: +86 159 5219 3919
Email: info@shaolin-kungfu.com
Website: https://www.shaolin-kungfu.com/
Skype: Maling Academy (lisa.guo1002)
Qufu Shaolin Kung Fu School
Maling Shaolin Kungfu Academy
Study Kung Fu Abroad
Thanks to the continuous promotion of Shaolin Kung Fu culture, you are able to learn real Shaolin Kung Fu without taking a long trip to China as more and more Shaolin Temples and Shaolin Kung Fu schools have been established around the globe. Below are some popular places where you can find some Shaolin Kung Fu training classes:
USA Shaolin Temple
USA Shaolin Temple is located in New York, with branches in Austria, Mexico, Trinidad and Tobago, South Africa, Chile and Argentina. It was established in 1994 by the 34th generation of Shaolin Temple warrior monk – Shi Yan Ming. It teaches both Zen Buddhism and Shaolin Kung Fu with the philosophy of "Heart to Heart, Mind to Mind".
Address: USA Shaolin Temple, 102 Allen Street, New York City, NY 10002
Telephone: 212.358.7876
Email: frontdesk@usashaolintemple.com
Website: https://www.usashaolintemple.com
Shaolin Temple Europe
The Shaolin Temple Europe is located in Otterberg, Germany. Its philosophy goes "It is essential to rediscover what is really important!". The temple offers both public lessons and private lesson of Shaolin Kung Fu, Qi Gong and many other Chinese martial arts. With beautiful courtyard-style temple and beautiful surrounding forests, Shaolin Temple Europe is a great place to enjoy a peaceful Kung Fu training and mind meditation.
Address: Shaolin Temple Europe, Weinbrunnerhof 4 – 6, 67697 Otterberg, Rheinland-Pfalz, Germany
Phone.: +49 (0) 63 01 / 798 2000
Fax: +49 (0) 63 01 / 798 2001
E-Mail: info@shaolintemple.eu
Web: www.SHAOLINTEMPLE.eu
Shaolin Club (Singapore)
Shaolin Club in Singapore is specialized in teaching authentic Shaolin Kung Fu for kids of different ages. Its philosophy is to stimulate the children's interest in martial arts, and gradually improve their speed, strength, endurance and flexibility, and at the same time help your child grow confidence and perseverance.
Address: 3 Ang Mo Kio Street 62, #07-27, Singapore 569139
Phone: (+65) 8787 9777
Website: https://shaolin-club.com
Hours:
Mon: 6.00pm – 9.00pm / Tue: 4.00pm – 7.00pm / Wed: 6.00pm – 9.00pm
Thu: 5.00pm – 7.00pm / Fri: 5.00pm – 8.30pm / Sat: 10.00am – 7.30pm
Sun:11.00am – 8.30pm
USA Shaolin Temple
Shaolin Temple Europe
Shaolin Club in Singapore
How to Plan Your Dengfeng Shaolin Temple Tour
How to Get to Dengfeng Shaolin Temple: Usually take private car from Luoyang (about 1.5 hours) or Zhengzhou (about 2 hours); or take direct bus from Luoyang (about 2 hours) and Zhengzhou (around 1.5 hours)
Top Things to Do in Shaolin Temple: See ancient Buddhist architectures; watch Shaolin Kung Fu Show; join Shaolin Kung Fu Training Program
Where to Stay During Shaolin Temple Tour: Most tourists accommodate in hotels in Dengfeng City while Shaolin Kung Fu learners can stay in Kung Fu school with basic facilities.
After arrival from Luoyang or Zhengzhou, ordinary tourists usually spend one day visiting Shaolin Temple - a UNESCO World Cultural Heritage and the birthplace of Chinese Buddhist Zen and Chinese Kung Fu (Martial Arts). One-day Shaolin Temple tour is a classic itinerary covering the best essence, which takes you to admire the sacred shrine with 7 courtyards, the Pagoda Forest and lots of ancient architectures. Besides the sightseeing, you can also watch a wonderful Shaolin Kung Fu show and even join in a short-period Kung Fu training class to learn some basic styles. Love nature and physical condition allows? Take half a day more to do an excursion on Sanhuang Village of Mount Song, walk on the amazing roads cliffside and witness unique mountain landform. (If you or your kids plan to take a longer Kung Fu learning near Shaolin Temple, you can also contact us to get more recommendations.)
✔ 2 Days Shaolin Temple Tour from Zhengzhou
✔ 3 Days In-depth Shaolin Kung Fu Class Tour

If you have one more day and are quite interested in ancient Chinese culture, Luoyang is another must-visit destination in Henan (if you haven't visited). The awesome Longmen Grottoes stretching by the riverside and China's first Buddhist temple - White Horse Temple are iconic sites for your Luoyang tour. Still, there are many remarkable cultural and natural sights in Henan worthy your exploration, including the spectacular Yuntai Mountain, mysterious Guoliang Village, interesting Yin Ruins of Anyang, ancient capital Kaifeng, etc. Finishing your Henan tour, you may extend your journey to Beijing, Xian and other major destinations in China as you want. You can choose from our most popular China Shaolin Temple tour packages or contact us to customize a trip based on your requirements.
✔ 3 Days Shaolin Kung Fu Tour including Luoyang Highlights
✔ 8 Days China Ancient Capitals Tour (Beijing/Luoyang/Xian)
✔ 11 Days Essence of China Culture Tour by High Speed Trains
✔ 15 Days China Kungfu Panda Family Tour
Our Customers visited Pagoda Forest of Shaolin Temple
Our Customers Visited Luoyang Longmen Grottoes
Get Inspired by Real Travel Stories of Our Customers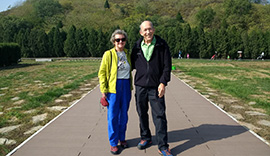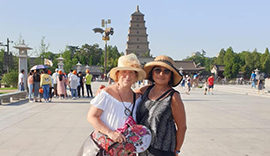 Our Delighted Customers
Top Dengfeng Shaolin Temple Tours
Helpful Dengfeng Shaolin Temple Travel Guide
Recommended Shaolin Temple Tours
Top 3 Shaolin Temple tours chosen by most customers to explore Shaolin Temple in the best way. Check the detailed itinerary, or tailor your own trip now with us.
3 Days Shaolin Temple Longmen Grottoes Tour from Zhengzhou

Zhengzhou / Shaolin Temple / Luoyang
8 Days China Ancient Capitals Tour

Beijing / Luoyang / Xian
3 Days Luoyang Shaolin Temple Mount Song Hiking Tour

Luoyang / Dengfeng / Luoyang
Start planning your tailor-made holiday to China by contacting one of our specialists. Once inquired, you'll get a response within 0.5~23.5 hours.
Customize a Trip
Have a question? Get answers from our travel experts or guests
Your Question:

Your Name:

Your Email: